Asian food is famous worldwide for its good taste, but also because it is extremely healthy and beneficial for human body. It is a pan that stands behind this miracle of Asia: the wok. This is an incredibly versatile cooking vessel with round base and very high margins.
It is especially used in the Southeast and East of Asia and it is also called penggorengan (in Indonesia), kuali (in Malaysia) kawa or kawali in the Philippines.
The size of a traditional wok ranges between 30 cm and 2 m. However woks with 36 cm diameters are the most common (so-called family wok for 4 servings), but there are also family woks with 20-91 cm diameter.
Woks made from plain steel are most prevalent. These are cheaper, relatively heavy, driving very fast heat and have a reasonable durability. Woks made from carbon steel are difficult to maintain and the food tends to stick.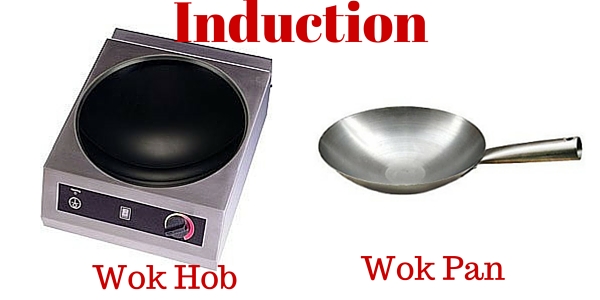 Very qualitative woks are forged by hand and consist of two carbon steel sheets, shaped by manual forging. There are also two types of cast iron woks: the Chinese wok is thin (3 mm thick) and the Western wok that is thicker, about 9 mm, heavier and it requires more time to heat up (yet, not with induction technology).
Cast iron woks are superior to carbon steel but more fragile. Finally, there are nonstick Teflon-coated woks, very common in the Western market, but these can be easily scratched and can't be used at high temperatures for stir-frying. (230 degrees Celsius).
The wonder pan and its benefits
Originally from China, the wok is perfect for cooking food with "stir-fry" method. According to this method, ingredients are very little fried in oil at high heat while stirring constantly. Such vegetables and meat tastes combine perfectly, but without being oil soaked. The ingredients can also stifle preserving their natural flavour and tenderness.
If you prefer a more intense taste and a richer consistency then you can cook food using the "deep fry" method by roasting it in a thick layer of oil.
The main advantage of the wok is its shape. It is concave and produces a hot zone at the bottom that allows food to be cooked on intense heat using relatively little oil. The high edges help you mix very well the ingredients and they will not jump out of the wok.
Curved sides give you a wider area to mix the food and allows pieces that are already cooked to be pushed on the curved edges and still be cooked at a slow temperature. Meanwhile, their place may be taken by food that need to be cooked at a very high temperature. The bottom curve allows the use of smaller amounts of oil.
However because of the curved bottom, a wok can not be used on a regular induction cooktop and we already know what great advantages offers the induction cooking (efficiency, fast cooking, easy to clean, safe, stylish look, portability etc).
Fortunately, new devices were designed and manufactured to allow us to use a wok on induction cooktops. This solution is called induction wok hob.
Next in this article we are going to enumerate some induction wok hobs and induction woks that can be used with them.
A) Induction wok hobs
This wok induction countertop is made of heavy duty stainless steel with one hob. The ceramic glass is easy to clean after each use and the control panel si very simple to operate. The temperature can be adjusted up to 464 degrees F and according to your current recipe.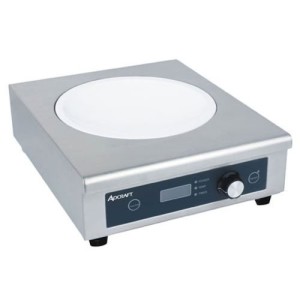 Adcraft IND-WOK120V. Is equipped with a timer that can be set up to 180 minutes. So if you know how long it takes for food to be cooked, you can set the timer and leave the kitchen to do some other activities.
Sure, the appliance has an overheating sensor and it will automatically turn off if it detects malfunction and overheating. Of course power is an important factor you may want to consider when choosing the perfect induction wok hob for your needs, so we must add that IND-WOK12V provides 120V and 1800W.
It measures 16.2 x 13 x 4.8 inches and the shipping weight is 15.7 pounds. Customers that bought this item are very happy with the choice as they rated it with 4.5 out of 5 stars.
If 1800W doesn't suit you, what about 3500W? This is the power for Cook-Tek MW3500G.
Cook-Tek is a well-known manufacturer in induction industry and often its products are very qualitative and appreciated both by home and professional users.
MW3500G is a 1-burner induction countertop with a great power indeed. That is why it is highly preferred by many professionals (such as restaurants). It is made of Chromium Steel, which is very durable. In fact, this model looks very solid and reliable.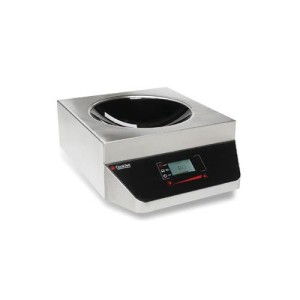 The control panel is at your hand and in the middle you will find an easy to read on display that will help you set the desired temperature.
It is made in the USA, its shipping weight is 32.5 pounds and its dimensions are 23.4 x 19.4 x 11.4 inches.
If you are looking for a precise induction wok hob, this may be a good choice because it has 9 power settings.
It is made of stainless steel (it resists very well to corrosion) and it provides 2200W. It is also a single wok induction burner that allows you to warm and cook food following the delicious Asian techniques with the special curved pan for perfect results.
It is portable and you can use it on a countertop. It has only 15.4 pounds and if needed you can easily remove it in the kitchen nearby a plug. Its physical dimensions are 15.2″ x 19″ x 6.25″ and it functions with 208 Volts and 10.6 Amps.
It does not have a timer, but considering Asian recommendations for cooking to a wok as you have to constantly mix the food, this may not be a serious disadvantage.
Also, if you are looking for a reliable brand, you can definitely choose Tarrison as this is a powerful company well appreciated on the wok induction hob's market.
This one is a little bit different in comparison to what we have talked until now. It is larger (17 inches long), slimmer, very modern and durable.
The shape is rectangular and it is practical because it will be very stable on the countertop. The control panel is built in and it offers several keys what allow you to set the cooking parameters as you wish (the temperature can be set from 25 power levels).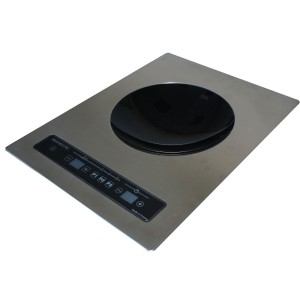 Of course, the price is a little bit higher in comparison to other wok induction hobs, but I believe its features offsets this thing. As the name slightly induce us, this appliance is made in France and it is highly stylish.
It is equipped with a timer that tells you when the food is ready and an automatic pan detection sensor. When you remove the wok from the induction hob it will automatically shut off unless you lay it down again.
The power is 3600W and this means it can heat the wok extremely quickly. Now you can easily prepare sushi, noddles and stir fry dishes at home.
Also made in France, this model offers very useful features when cooking with a wok. In comparison with the previous model that was 17 inches long, this one is 15 inches long.
It is not so thick because it measures about 6 inches high. It has a curved heating element with a coil that is 11 inches in diameter. The coil makes possible the heat to be transferred to the wok and it is ideal for use with traditional rounded woks.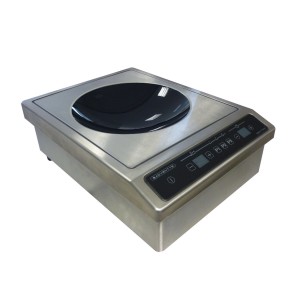 It is made of stainless steel (both sides and bottom) and is very resistant. It has a pan detection sensor and a power supply monitor. When something bad happens on its intern components, it will automatically turn off avoiding accidents.
So cooking to this wok induction hob is very safe and beneficial. Because its compact dimensions it can also be used for catering and on buffets.
So, back to Cook-tek, to a high-power induction wok burner that provides 5000 watts to a single hob. The wok bowl is made of recessed glass-ceramic that is very easy to clean up. On the control, you will find a knob that you can use to adjust the power.
For strong precision, this wok induction cooktop has 20 power setting. If it detects any overheating it will automatically shut off. Of course, it also has a wok-detection sensor and a self-diagnostic one.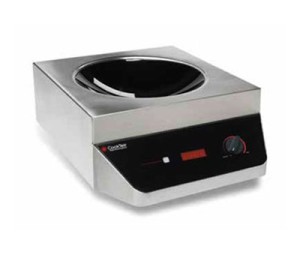 The display in the middle of the control panel is LED and it has an internal grease filter that will retain dirt so you could easily get rid of it. According to the manufacturer, the power cord is 6 ft long and it can be plugged to a standard outlet of 196-220v/50/60/3-ph, 13.9 amps.
Of course, it has a fan that ensures proper ventilation of the entire appliance. Whenever you want to cook healthy to a wok, you can use this induction wok hob that is specially designed for the Asian pans.
B. Induction WOK Pans
Now that we have seen some interesting options for wok induction hobs, let's see together what woks can you use with them.
But first we have to make a parenthesis.
The fact that you may need to replace your whole set of cookware in the kitchen may seem a little bit discouragingly. Many people see this as the main disadvantage of induction cooking. But you must see it on a long term. It has already been demonstrated that induction cooking is far more efficient in comparison to traditional cooking. And there are many more advantages.
If you decided and you want to buy a wok induction hob, it is essential that you understand this hob needs special induction (magnetic) wok vessels. If you don't have it, you need to purchase it. Here are some options:
Customers highly recommend this induction wok, because they awarded 4.4 out of 5 stars.
They are happy mainly because the food doesn't stick to the wok, because they can cook with very little oil (which is healthier) and because it heats quite fast although it is made of a thick material and it is heavy.
In fact, some customers say that the wok seems to be too heavy for ladies because it has 6 pounds. On a high-level power, the wok is heated in about 90 seconds. This induction wok is coated with diamond crystals that conduct the heat extremely rapidly.

Its dimensions are 20 x 11.8 x 4.5 inches and it does not include a lid. If you are searching for the best solution as a non-stick induction wok, this one may be a great option.
Is a very popular wok among customers because only on Amazon you can find over 790 reviews for it, mostly positive, highly recommending it (4.2 out of 5 stars). Unlike other similar ceramic woks, this has a very interesting design because it is green, with a very safe coating 100% PTFE and PFOA free.
In the inside, the wok is coated with ceramic and it is black. At high temperatures some materials like Teflon can release fumes and toxines that are bad for our health. But you can't totally forget about this worry with the 12-inch induction wok from Ozeri.
What is great to this induction wok is that food doesn't stick to the wok. However, it is very important that you use the right cooking utensils to keep the wok in good shape and away from sticking. The manufacturer ensures customers that the wok is made of durable materials and that is is extremely easy to clean after each use.
It is equipped with a heat resistant Bakelight handle and a magnetic bottom so that you could use it with special induction hobs. The heat transfers to the induction pan in few seconds and you can prepare food very quickly, yet so healthy.
Is part of a classic series and it has a 14-inch diameter. It is made from natural carbon steel with 1.5 mm gauge and looks like a traditional Chinese Wok with an extra wood handle, that you can use to easily mix the ingredients and tastes.
It can be used with gas and electric stoves, but because it has a magnetic bottom it can be successfully used also with induction wok hobs. The curved interior is perfect for stir-frying and its wider top and narrow bottom helps you cook with less oil in comparison to a classical pan.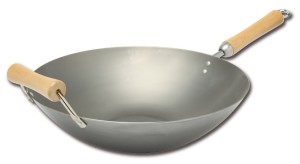 Because of its design and materials that it is made of, the induction wok cooks the food evenly as the heat is transferred to all of it. If you are looking for an authentic wok, this induction pan from Joyce Chen is a good option.
Is a cast iron wok that has a magnetic bottom and can be used with induction hobs. It is made of cast-iron and it measures 14 inches in diameter and 17 inches with handles (these are perfect for safe lifting the wok from the induction hob after ending cooking).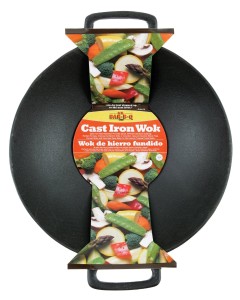 It is 4 inches deep so it is perfect for a 4-family meal. It is heavier in comparison to a traditional wok that is made of steel so the advantage is that it can absorb and retain heat at higher temperatures while stir-frying.
The manufacturers give some interesting advice and useful instructions on how to make the best of cooking with this induction wok. On Amazon, Mr. Bar-B-Q 06106X scored 4 out of 5 stars and there are a lot of customers who give positive feedback after using it.
So far we have talked about induction woks that do not include a cover, but his one comes with a made of glass lid that allows you to see how is the food cooking while the induction hob is on. It is all made of 3 levels of stainless steel (extremely resistant) and it has 12 inches in diameter.
The bottom is flat with 6 inches diameter, perfect for induction hobs. Like the majority of traditional woks, this one also includes an extra handle.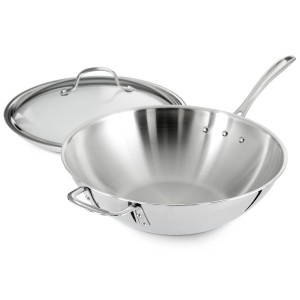 The design and the materials used for manufacturing this wok make it perfect for browning and controlling, steaming and simmering soups. It has a lifetime warranty and it can be cleaned in a dishwasher.
Because of the stainless steel and the long handle it has an elegant design but it is also practical. It has 8 pounds (3.74 lbs without the lid) and it measures 22.9 x 14.5 x 4.8 inches.
Also very appreciated among customers (4.6 out of 5 stars), this induction wok has an elegant stainless surface and a contemporary style that you can serve from it right from the table.
It is crafted from two metal layers and stainless steel materials that allow superior conductivity of the heat. If you want a more precise control for cooking on an induction wok this one is perfect.
Calphalon offers a lifetime warranty for this item which should strongly convince us of its durability and resistance over time. This 14-inch induction wok is versatile as you can use it for a large variety of recipes and cooking methods, and also for serving.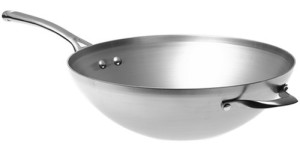 Many professional chefs choose to prepare food with this induction wok, because of its superior features, great materials and perfect design that allows total control while cooking and an evenly heating.
This is manufactured also by Calphalon, but this time we talk about a less wide induction wok. It has a 12-inch diameter and it is also made from extremely durable stainless steel.
It includes 5 layers of cooper and this allows consistent temperature all over the entire wok. In induction cooking, this is a very important aspect, so the design of the wok (flat magnetic bottom with large sides) is a factor that eases well-done cooking foods.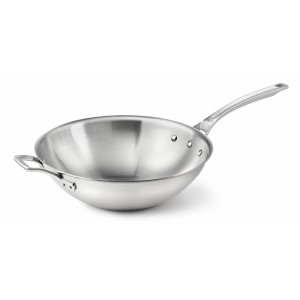 There are 2 inner aluminum layers that conduct the heat and 3 outer layers that form a reliable and beautiful surface. You can clean it in a dishwasher without being afraid that you will damage it. Specialists recommend stainless-steel induction woks because they can be used for high temperature cooking methods (for instance searing, stir and deglazing).
And we have already seen that with induction wok the aim is to prepare food using a little amount of oil, at high temperature while the results still remain good for our health.
This is the last induction wok we are going to discuss in this article. This induction wok is made in the USA, has a 14-inch diameter and it has a single long hollow metal handle (unlike traditional woks that use to have a second handle on it).
It is made of qualitative materials, heavy-gauge carbon steel and you can use it to season as in time it will not get damaged, unless you don't use it with care. Food doesn't stick to it. Optionally you can buy a pow wok handle that is not included in the pack.
Remember that the round bottom is not recommended if you want to use the wok with an induction wok hob. Unfortunately for this induction wok there is no rating from customers so we have little information concerning real feedback about it.
Conclusion
For ages, woks have been part of Asian cuisine, but recently the wok is being embraced by more and more professional cooks and amateurs from all over the world because it is a simple and versatile cooking solution and it has the great ability to help us prepare healthy meals.
If you want to use induction technology with woks, you can do this with induction wok hobs that are specially designed to meet the curved bottom of a wok. Also, it is important to choose woks that have a magnetic bottom if you want to use them on induction wok hobs, or else they will not work together.
As we have already seen, fortunately, there is a wide variety of induction woks and induction wok hobs on the market: different materials, designs, features. Finally, it's up to you to consider all these and opt for solutions that are best for your day-to-day cooking needs.