Induction Hot Plate: Digital, NSF Approved, As SEEN on TV with Reviews
As any induction stove, a digital induction hot plate needs less energy and gets to provide instant heat. With instant control of cooking energy for precise cooking control, this digital cooktop can be used anywhere if it is portable, just be sure you have an electric source.
This type of induction cooktop is designed with a digital control panel that shows all the power, temperature, timer and other adjustments. All you have to do is to discover the fastest and safest way to cook with digital hot plates.
As you probably intuit, NSF provides standards development and product certification; if a product is NSF Approved, it means the equipment is reviewed and tested before approval. As NSF is internationally recognized, this is why most food service equipment is NSF certified.
It is also the case for induction cookers; if an induction hot plate has NSF certification, you must know that the product and its components meet a set of safety and hazard standards that ensure the safety of users. For cookware, this NFS certification is related to tests for durability, design, and safety.
A cooktop NSF Approved is constructed in a sanitary manner and all the standards for sanitary design elements are actually guaranteed during construction and assembly. Also, it meets food safety standards and safety standards in their choice of materials and manufacturing processes.
If needed, here you have some examples of digital induction hot plates, NSF Approved, as Seen on TV with Reviews. With many features, all these induction hot plates are ideal for home, commercial or outdoor use.
1. Digital Induction Hot Plates
A digital induction hot plate can be a great investment as it helps you to keep your food warm, but also, is necessary when you need an extra stove for your numerous guests.
The hot plates are portable and you can take them with when travelling; it saves money as you can cook your own food. Here you have two examples of digital induction hot plates.
Certainly, Fagor Portable Induction PRO Cooktop, 1800W, Caramel is a versatile, powerful and easy to use induction cooktop that can be used for warm, simmer, boil, rapid boil, sauté, brown, sear, stir-fry, etc.
It is ETL approved USA and Canada, while its 8 pre-set temperatures guarantee you precise temperature control for your specific cooking needs.
With 8 user-friendly quick launch buttons, you can adjust the temperature and timer.
It takes just a few seconds for the pan to heat up and you can control the temperatures very accurately. It does take a few times in a learning curve but after that it is great.
The instructions provided by the manufacturer indicate that you should have all your ingredients prepared: this is very true as the heat is instantaneous and there is almost no lag time.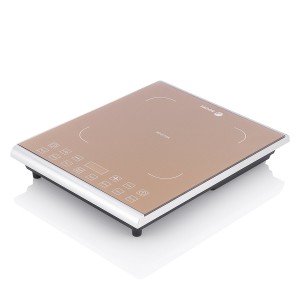 Check Reviews on Amazon
With a pleasant appearance, it works well and the user has the ability to adjust temperatures by 10-degree increments. It may take a few tries to find the optimal settings for scrambling eggs or pancakes, but be sure that there is no equal cooking utensil like this induction cooktop on the market.
If you have the cookware to utilize it, it is great and if you do not, you will need to buy some induction compatible pans. As the temperature controls are only an estimate, for temperature sensitive recipes, you will have to use a food thermometer.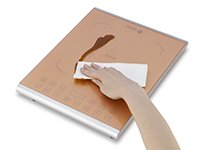 Check Details on Amazon
This product can be a great asset to the RV where the space is limited.
Using KitchenPRO HK3101 Portable Digital Induction Hot Plate , you are going to cook faster and with more control as this is a light-weight, convenient, energy-saving countertop induction burner.
With this induction hot plate, you have 5 precision cooking functions (hot pot, fry, BBQ, milk, water) and can choose from 10 temperature settings from 176°F to 536°F (80-280°C).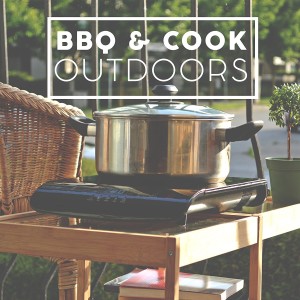 Despite other cooktops, this KitchenPRO is designed with an attractive polished durable easy-to-clean glass top; also, the stylish digital control panel is curved preventing the possible damage caused by larger pots or pans.
Having this induction cooker, you are going to discover a very practical way of cooking in other places, such as tables, outdoors, on the balcony or where desired as it works very simply and quickly and its cord is also long enough to use in those places.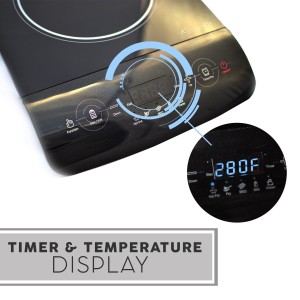 Check Reviews on Amazon
While for milk and water you have specific buttons, for other meals, you have to choose the temperature.
Also, be aware that the pot has to be the right one, otherwise it does not work.
Such a cooktop works awesome and you no longer have to heat your entire kitchen just to cook something fast.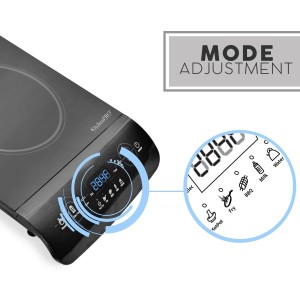 Check Details on Amazon
Regarding the safety features, you should know that the cooker incorporates auto shutdown if no pan is detected, timer and overheat protection, low and high voltage warning system and diagnostic message system.
It is the right time to fry things outside and not to leave frying smell in your house.
2. Induction Hot Plates NSF Approved
If you are interested in induction hot plates NSF Approved, Mr. Induction SR-652C Comercial Induction Plate or Eurodib Commercial Induction Hot Plate may be an option for your cooking needs.
Mr. Induction SR-652C Countertop Commercial Range Induction Burner, 2700-watt offers you the opportunity to customize your food service facility and revolutionize your food preparation. You are going to purchase the most advanced commercial induction equipment now available on the market.
In case you need, you can use this Mr. Induction SR-652C Commercial Induction Plate for various tasks: it is ideal for demonstration cooking, suite service, catering and buffets and so, you can rely on a very helpful aid every time it is necessary.
This Smart Scan technology that Mr. Induction SR-652C Commercial Induction Plate incorporates refers to the voltage, pan size and type recognition with 5 mm thick tempered glass cooktop.
Also, once with these features of Smart Scan technology, you have also two modes for making easier your cooking tasks: COOK and TEMP modes.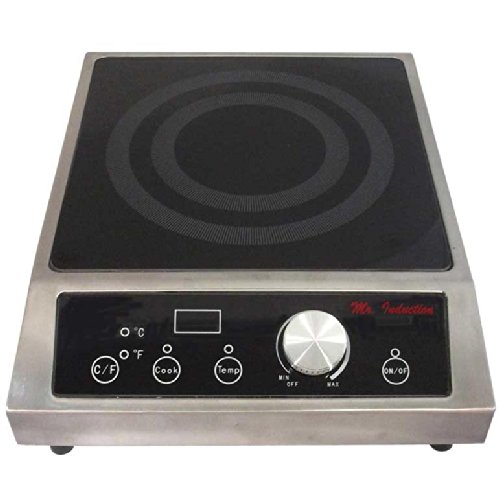 You can adjust the power and the temperature: there are 20 power modes from 250 to 2700W and temperature modes from 90 to 440 Degree F (in 20 Degree F increments, except 170-180/260-270/350-360 Degree F). Your adjustments can be noticeable on the large LED power and temperature display (both in Degree F or Degree C).
You also have a simple knob-set thermostat control and a touch-sensitive control panel that allows you to easily operate the induction cooktop. As you probably intuit, this item comes with some certifications, from CETL/ETL-Sanitation to NSF-4.
Eurodib Commercial Induction Cooker is a CE, ETL, and NSF approved item: in case you need a single burner or a commercial grade countertop induction cooker, now you can purchase what you want or what you need.
And buying this item, you get an excellent product that heats quickly and is perfect for boiling water. You can deep fry with oil or stir fry with wok; at the same time, this induction hot plate saves time and allows you to choose cooking time, temperature or power (the maximum output power is 3000 Watts with 10200 BTU).
For boiling up to 8 gallons of water, you need a pot that would fit this without overlapping, perhaps a good thick bottom stainless steel induction pot and it will be possible.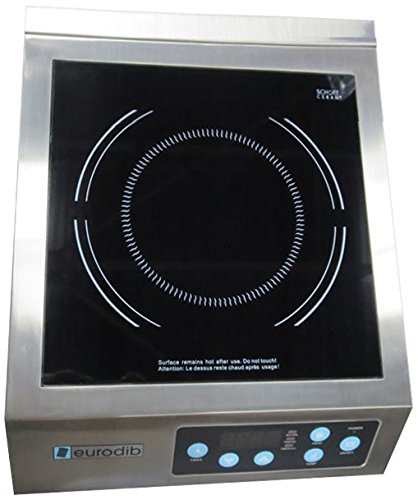 It is an electromagnetic radiation type cooker as induction cooking is created through magnetism, and for this, you need the appropriate compatible cookware (essentially, any metal that is magnetic).
3. Induction Hot Plate As Seen on TV
The NuWave PIC Induction Cooktop as seen on TV guarantees you a safe, affordable, eco-friendly, and portable induction cooking appliance.
NuWave Precision Induction Cooktop brings versatility in your kitchen as you will be able to boil, simmer, deep-fry, stir-fry, sauté, steam and sear, slow cook, barbecue, melt and grill with this induction cooktop.
This PIC induction cooktop is designed with 6 different pre-programmed temperature settings, but any user can choose from 52 different temperatures between 100°F and 575°F, that can be adjusted in 10-degree increments.
The item comes with programmable stage cooking functionality with up to 100 hours of program memory and performance.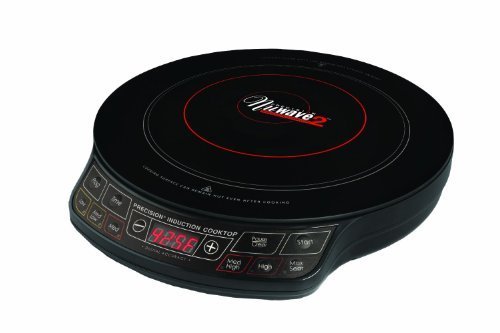 For more safety, you get a product with automatic shut-off when the induction-ready pan is removed from the cooking surface.
This cooker is portable and compact; the large cooking area measures 9 inches in diameter. With this cooking surface size, the PIC2 allows you a greater diversity in cooking vessels and portion sizes.
NuWave PIC 30141 Precision Induction Cooktop is a very energy efficient item and cooks quickly. It can also hit high temperatures, but this is not the case of a coil-type electric cooktop too.
The fan is a bit noisy, but unlike some cooktops, it does not continue to run once you turn off the burner; it only runs while you are cooking.
It is easy to pack up and travel with this cooktop to friends and family reunions; such a product is recommended for anyone, especially people in small apartments or rooms. And clean up is the easiest thing ever because you have to wipe off the grease splatter and it looks like new again.
4. Induction Cooker vs Hot Plate
First of all, an induction cooker uses magnetic waves to heat pans. The reason why the pots heat up evenly and quickly with an induction cooktop refers to the base of pots: the entire base is heated up at the same time, not just the middle parts.
As the vessel is heated and not the cooking surface, temperature increases can be achieved very quickly. Using an induction cooker is safer (induction cooktops are designed with numerous safety features) and more efficient as less heat is wasted into the kitchen.
If there is no pan on the cooking zone, no heat is produced and this makes the induction cooktop safe to touch.
Induction cookers may or may not be portable and cleaning an induction cooktop is extremely easy as you just need to wipe the cooking surface, without any splash or food residue.
On the other hand, a hot plate is a portable tabletop small appliance with one, two or more electric or gas burners.
With a flat or round surface, you can choose to use such a product in a full kitchen where a stove would not be convenient or practical or when travelling.
There is no secret anymore that a hot plate takes a while to heat up and so, you have to wait before starting cooking.
These hot plates can be electrically or gas powered stoves; the functionality is easy as the hot plates work by heat-transfer and this means that an electrical element or gas fire heats up the metal plate, which, in turn, transfers the heat to the cookware.
Being a portable cooker for heating and cooking food, you should get informed about the device and its different types and safety features before purchasing a hot plate. On the market, you will find a variety of different types of hot plates with their own unique methods and techniques for cooking.
4. Conclusion
Certainly, you have got the idea of induction hot plate NSF approved with all its advantages and disadvantages.
This can be considered a guide before purchasing a hot plate for your kitchen, a product that fits your needs. So, do not forget to take into consideration these above-exposed induction hot plates before making a decision!