Cooking food on grills or griddles creates savory flavours. When meat and vegetables come in contact with the hot surface they quickly get caramelized and covered by a specific tissue.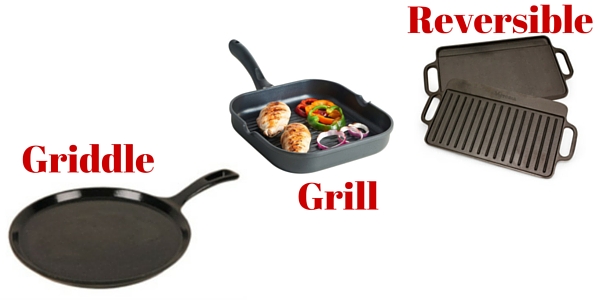 This intensifies the flavours and the final aspect of the food. That is why more and more people choose to cook with grill and griddle pans.
Differences between grill pans and griddle pans
So we use both grill and griddle pans for cooking food but while the names may produce some confusion, you have to know that there are some clear differences between them.
It is important to understand these, because depending on what you will eventually decide what to purchase, will determine what kind of foods you will be able to cook with it and what the final cooking results will be.
Grill pans
You will easily recognize a grill pan if you see ridges on its surface, where the food is placed in order to be prepared. Oil and grease slid down on these ridges so that cooked foods are healthier (and very delicious).
There are many types of grill pans on the market (made from different materials such as cast iron, cast aluminium etc) and some of them have an inclined surface, which help collect waste grease into a container.
People often use traditional grills to cook food outside kitchen (for camping and garden). But thanks to grill pans you can now prepare food on a grill right in your own kitchen by placing it on the burner.
When thinking about grills, most people have in mind hamburgers and hot dogs. That is because meat prepared on the grill has a specific smell, the grease is removed, and, in the end, you will see some grill marks on the meat surface that make food more appetizing.
Grill pans come in many different versions and can be used for indoor or outdoor cooking. If you want to use a grill pan with you induction cooker, you should read very well the description of the item and see if it has a magnetic bottom and is ready for induction.
Griddle pans
Nowadays, in modern kitchens, the traditional griddle has become more and more popular among chefs and amateurs. Unlike grills, a griddle has a flat surface which helps to prepare food more evenly. Also, the grease is not removed from the surface.
Typically a griddle is used to cook indoors and as the surface is flat you can also cook pancakes, focaccias, bacon, vegetables (such as onions, peppers, eggplants and zucchini) or any other food made of batter.
Reversible grill/ griddle pans
Some grill pans are reversible as they as can flip over to be griddles. These are more versatile, as you have grill and griddle in one single product. But while some grill and griddle pans are designed with long handles, on a reversible you can have only grip handles on both sides.
If you don't know what to buy: a grill or a griddle you have to see what are your specific cooking needs (even heating and cooking with a griddle pan or grill stripes on a grill pan). Fortunately, in the end, if you are not sure what to opt for, there is a solution you can go for: reversible grill/ griddle pans.

Induction Griddle Pans
This is made from Cast Aluminum and has a non-toxic flat surface. It can be used on any cooktop (induction too, because it has a round steel embossed plate on the bottom) and can be cleaned in a dishwasher.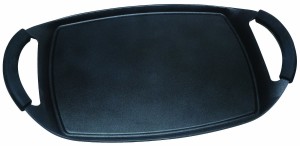 The cooking zone is 9.5″ X 12.5″ so it is large enough for cooking consistent meals. With this griddle pan from Burton, you can cook a large variety of foods, from vegetables to pancakes and meat. It is efficient and heats very fast. If you order it from Amazon you can save big on it.
This is popular and very appreciated among the customers (it rated 4.2 out of 5 stars) mainly because it is a naturally non-stick item. The flat surface is made of carbon steel, it ensures even cooking and the bottom of the griddle is 18 inches.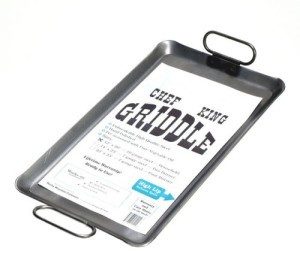 If you are looking for a free of man-made coatings, this is a great option. You can clean it easily, using a non-abrasive scrubber.
This one is rounded, made from high-quality cast iron, extremely durable, with a 10-inch non-stick surface diameter. It has a long handle and allows you a more precisely temperature control as there are no hot spots.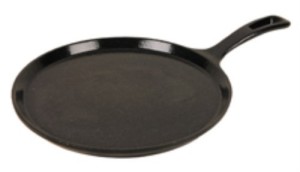 Just use it to cook great sandwiches, breakfasts, vegetables or pancakes. If you use light detergents and non-abrasive sponges to clean it, you can enjoy it for years.
It is also a rounded griddle, with a long handle, ready for induction technology, because it has a flat magnetic bottom. However, the handle gets hot while cooking so it is not designed to help you flip the food.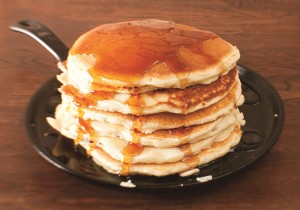 Over 1700 customers (4.6 out of 5 stars) purchased it on Amazon and offered positive feedback about it because it is indeed a reliable invest. You can use it with induction hobs, both indoors and outdoors.
Induction Grill Pans
In what concerns this barbeque grill pan, we can say that it comes with a 6.7 ounces oil drip tray that collects the grease. Nuwave 31104 is made from high-quality cast iron and it is coated with porcelain enamel.
It has two handles made from stainless steel in order to minimize the heat transfer so you can easily use them while the grill pan is on the induction burner. Its dimensions are 11-inch x 15-inch x 1-inch with a ½-inch depth and the weight is 9.5 lbs.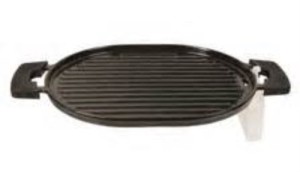 This item has scored 4.2 of 5 stars and customers who do not recommend it complain that it is too thin and that it doesn't cook evenly. All in all, the majority of customers say it is a great product and works very well as it offers total precision.
This grill pan made in the USA has a magnetic bottom and can be used on induction burners as well on any other stoves.
It is pre-seasoned, made from cast iron, square and deep, with two handles, a long one and an extra short one on the other side. You can use it for cooking delicious meat, vegetables and paninis.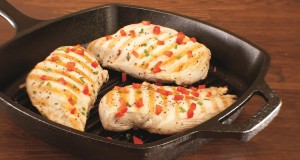 It has an oil coating both for a functional and good-looking purpose. Lodge promises you that with this grill pan you can obtain restaurant stripes on your grilled meat just like a professional.
It is perfect both for beginners and professional cooks. It has a large 11 inches diameter and 1.5 inches depth so it can be used by a medium family as it is very convenient.
Due to the wide ridged and the shallow grill, the food will be separated from the residual fats and you will finally enjoy delicious healthy foods. Also, because it is very large you can cook a lot of types of dishes (meat, but also vegetables, hot dogs, bread, breakfast etc).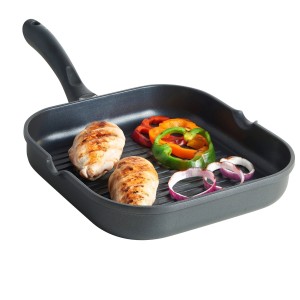 The interior non-stick coating is what many customers appreciate on this grill pan as it requires less cooking oil, is perfect for people who choose to cook healthy, with low fats.
The handle is made from plastic and the grill pan is made from cast aluminium, which means it is light (the shipping weight is only 2.8 pounds).
Reversible Griddle/Grill Pan
If you prefer both grill and griddle pan, you should opt for a reversible one. With a single item, you can have them both. This model from Lodge is rectangular and measures 20 x 10-7/16 inches.
It is made from cast iron so it ensures fast and even heating. Although you could think it is rather heavy in comparison to other light pans from other materials, you will be fascinated of how easy and convenient it can be and how well the heat is distributed to the whole cooking surface. Oil and grease are collected into the gutter and meat will remain delicious and more healthy.
For easy operating it provides 2 side-handles. When you receive it, you will observe that it is already seasoned so you can immediately use it. Cleaning is easy, just use some hot water on it. This reversible grill/ griddle pan is very appreciated by the customers who rated it with 4.5 out of 5 stars on Amazon. Use it for cooking fish, steaks, chicken, vegetables, beef and many more.
Finally we are talking about another rectangular reversible grill and griddle pan, made also from cast iron. Although the manufacturer says that it is large enough for a family, too many customers complain that the cooking surface is too small so you can cook a small quantity of food.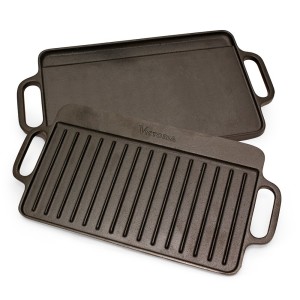 But if you need a compact reversible grill and griddle pan, this may be a good solution. You can cook a large variety of food on it and you can experience both the grill and griddle cooking results.