Induction Cooktop Cleaner Kit – How To Use it Right
If you have not ever used an induction cooktop, you will not experience the extraordinary way of cooking.
Certainly, these induction cooktops provide clean and efficient cooking manners: you can enjoy the benefits of professional cooking.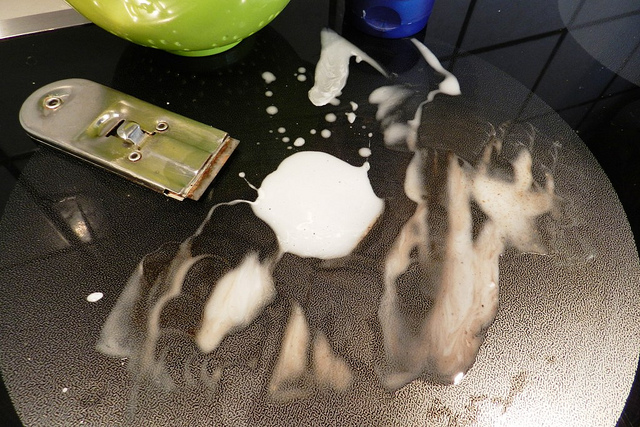 Being energy efficient, easy to clean and use, safe for domestic use, induction cooktops represent a great choice despite other conventional electric or gas cooktops.
Although it is a simple task, consider the fact that cleaning an induction cooktop is not about wiping off the spilled water: you have to learn more about induction cooktop cleaner kit and how to use it right.
How to clean an induction cooktop
Do you know how to clean an induction cooktop? Certainly, you have heard that one of the main advantages of these items consider the fact that they are very easy to clean than standard cooktops.
You have to do the cleaning for the part in contact with the pan or pot.
Taking into account this aspect, you will be surprised to find out that you will not have to deal with food or liquid that spills onto the cooktop.
But do not forget that the induction cooktop has a glass ceramic surface that is susceptible to scratches and abrasions.
This will not happen if you are going to clean regularly the cooktops using only products specifically designed for the appliances.
3 Best Induction Cooktop Cleaners
Which induction cooktop cleaner do you use? In case you do not know, there are some cleaning products for induction hobs that guarantee you the best results: using such an induction hob cleaner, you cooktops will look like new.
But, be aware of the fact that you should apply a small amount of induction cooktop cleaning cream to a clean and soft cloth in order to wipe this on the cooktop surface and then, to buff with a clean, dry towel.
So, let's find out which products for cleaning induction cooktops you should buy.
Cerama Bryte Ceramic Cooktop Cleaner is perfect for cleaning induction hobs: it is considered to be the number 1 Ceramic Cooktop Cleaner formula in the world.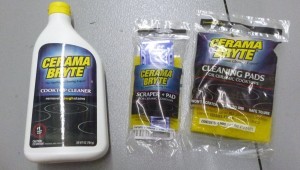 It is made in the USA and it is safe for all radiant and halogen cooktops.
Once you decide to order this product, you will receive:

You can use this kit on glass top as it is designed to remove all the burnt on food: so, you will have to deal with heating coils and drip pans.
You have to follow the next steps: squirt a little of it in a zigzag, use the non-woven and non-absorbing thin yellow pad to spread it, wait for the cleaner to dry out like chalk.
Then, you have to remove the cleaner (you can use either a paper towel or a kitchen towel or rag used for that purpose only) and at the end, any non-shinny parts can be scraped as it is probably some burnt food remnants which you can easily see when scraping off brown or black charred food.
In case you wonder if you should use this induction cooktop cleaner every time you cook, you should know that you can do it: you can use it daily, whenever there is residual as splatters, grease etc. on the stovetop.
If you are going to clean the stove every time it is used, the grease and food particles do not build up: in this way, the stovetop always looks new.
Cleaning induction cooktop will not be a problem anymore with Weiman Glass & Ceramic Cook Top Cleaner: this product is specially formulated to clean, shine and protect glass and ceramic smooth top ranges, countertops and all stove top surfaces.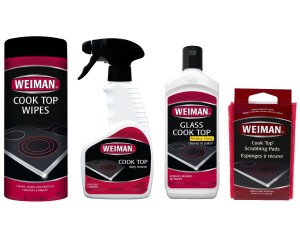 You will have wipes in order to remove grease, food residue, grime, water marks, etc. from range surfaces: you can do it every day.
As the manufacturer indicates, to maintain their beauty over time, cooktop surfaces must be cleaned regularly and properly.
The kit that you order contains all the essential products for keeping your cooktop smooth, shiny and protected: 10oz Heavy Duty Glass Cook Top Cleaner, 12oz Trigger Bottle of Cook Top Daily Cleaner, 30ct Canister of Specially Formulated Cook Top Wipes and a 3 pack of Cook Top Specially Engineered Cleaning Pads.
As you probably realize, glass tops can be easily scratched with traditional abrasive cleaners, sponges, and pads, but this will not happen with Weiman Glass & Ceramic Cook Top Cleaner: this product does not scratch and keep your range looking beautiful and new.
You will have also a convenient trigger spray bottle for better functionality and ease-of-use.
What about making cleaning induction hob a snap with Kitchen Tools Stainless Steel Cleaner Microfiber Cloth Towel?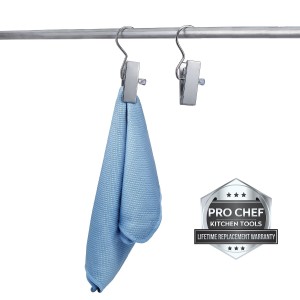 Despite the other cleaning products on the market, this is an essential tool for any kitchen, car or business.
Pro Chef Towels can be used to clean induction cooktop because of the microfiber's polishing abilities to provide a fast and easy approach to cleanliness.
You will not deal with towels that scratch or create a swirled appearance: these lint-free towels are perfect for cleaning stainless steel surfaces, glass, screens, and lens.
Do not forget about toasters, countertops to faucets, windows or mirrors: this cloth is constructed with a waffle-weave texture that is designed to absorb moisture more quickly resulting in a streak-free polished finish.
You should consider the expert tips in the report emailed to you after ordering: it is different from normal microfiber clothes as it is a tighter weave.
You will not have any problem with streaks and haze as in the case of a sponge or a microfiber: this microfiber polishing cloth which removes the streaks, haze, and any other residue so that you appliance shines again.
Kitchen Tools Stainless Steel Cleaner Microfiber Cloth Towel can be used without any stainless steel cleaning product: it works beautifully on its own.
Regarding the size of the cloths, each generously over-sized towel is 16 x 16 inches that are designed to keep your hands from touching the polished surfaces and for maximum absorbency.
Once you order Kitchen Tools Stainless Steel Cleaner Microfiber Cloth Towel, you will receive a pack of three blue cleaning cloths and a set of double-sided instructions about how to use them.
They are double-sided and slightly padded and have a sort of soft and silky feel to them; one of the corners of each also includes a hanging loop so that you can hang it if need be.
It is a fact that hobs get dirty very easily, whether you accidentally allow your potatoes to boil over or you prepare you tomato sauce and it gets a bit too bubbly in the pot.
Conclusion
Take into account these induction cooktop cleaner kits and you will be able to maintain a clean and shiny hob. Choose to clean up spillages quickly if you do not want to spend a whole day scrubbing at old food with these products!