5 Must Have Induction Cooktop Accessories for Your Kitchen
Induction cooktop accessories allow professional cooks to obtain superior results from induction cooking technology.
Most accessories make cooking with induction cooktops easier, more user-friendly and safer; some examples could be liquid crystal display or LCD, heat diffuser, induction cookware, induction skillets and whistling teakettles.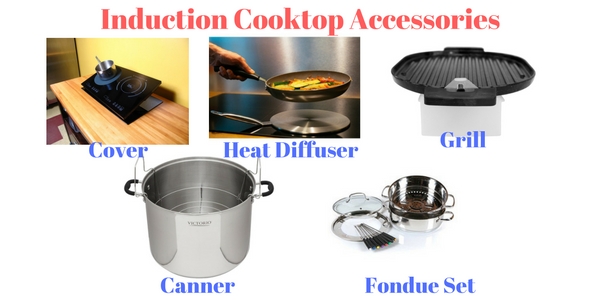 Such induction cooktop accessories are made of high-quality induction compatible materials and have superior construction and technology that help heat food evenly and precisely.
Those items are compatible with multiple induction cooktop models and will add value to your kitchen. Create your perfect cooking space: be inspired, get expert advice and make sure you buy all kitchen utensils and accessories you need to have the perfect family meal!
In case you want to complete your kitchen, now it is the moment to find the necessary accessories: here are 5 popular induction cooktop accessories that you must have, specially designed to maximize the advanced heating methods of induction cooking and produce exceptional results every time.
Searching for an induction cooktop cover? You should try True Induction Sp-101 Non-slip Rubber Cooking Mat: this keeps cooktop surface clean while cooking and cookware from moving during use.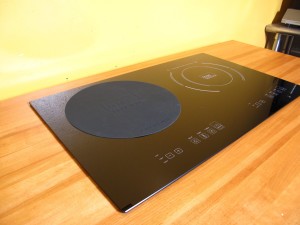 It will not melt due to True Induction technology; also, it is intended for use on True Induction Cooktop brand products only and not tested on other induction cooktops.
You can say that this product is the future of quick cleaning in the kitchen. All you have to do is to simply place the mat on the burner before use and the cooking mat then keeps the cooktop surface spotless and holds your cookware in place while you cook.
You should buy this product as it is perfect for the easy cleanup of spills and avoiding scratches on your cooktop.
To get an idea, the True Induction Non-Slip Rubber Mat is made of high-quality rubber with True Induction technology built to withstand the heat from a True Induction cooktop.
The diameter of the mat is 10 inches or 25.5 cm, and regarding the maximum temperature that this mat can be used at, it works fine at the maximum induction power: it will not melt or burn when used on an induction cooktop.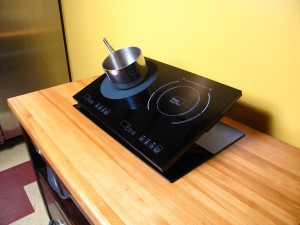 It should last at least a few years. You should wash rinse regularly with dish soap and also, wash induction top regularly too. If it gets sticky that is a sign of the heat setting being too high beyond its tolerance rating. It can be washed easily and should remove any sticky food residue.
For your information, when you put a non-induction pan on this product (a pan heavier than the design limit of the mat), it smokes, burns, and leaves gooey residue on your cooktop even on medium heat. It is a must have for induction cooking that will keep your induction top like new.
You can have also an induction hob heat diffuser as FeelGlad (TM) 9 Inch, the perfect gadget which allows you to use all of your pans on any induction surface.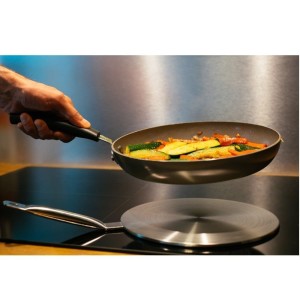 It is designed for use with any portable or built-in induction cooktop. Using this accessory, it gets to distribute the heat evenly, which in return improves the quality of your cooking and most importantly the taste of the food.
It is very helpful for moments when you cook heat-sensitive items such as caramel, rice, and oats or even when you simmer sauces since you can keep the temperature at low levels.
Also, the heat transfer rate could be reduced when using non-induction rated cookware with larger diameters, thicker base sections and large volumes of liquids and solids.
However, you do not have to buy expensive induction pans; and heat transfer sound and yellowing of disk can occur for this product in normal usage.
It is ideal for induction stoves or portable induction unit: certainly, you will enjoy the nice diffuser, convenient to have all sizes together. It works great and you can use your older pot and pans. This product is a good unit for uses advertised: try this handy item and you will love the lanyard!
If you need an induction griddle, you should give a try to Nuwave Precision Induction Cast Iron Grill With Oil Drip Tray.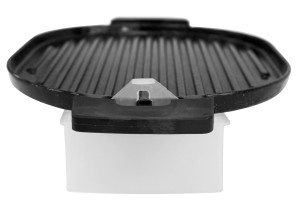 It is considered to use the best indoor grilling technology with oil drip tray: it is eco-friendly, energy-saving efficient and evenly cooks your food. It is not recommended to buy the item from unauthorized sellers as your warranty will not be granted as well as the quality of your product will not be promised.
With Nuwave Precision Induction Cast Iron Grill With Oil Drip Tray, you will have a product that ensures you the possibility to grill indoors or take the party outside or even to prepare everything from Saturday morning breakfast to everyday dinners.
This grill is built to last, heating evenly and consistently for the tastiest and healthiest cooking.
You can use Nuwave Precision Induction Cast Iron Grill With Oil Drip Tray on a gas stove as it is cast iron with a ceramic coating.
The grill has plastic handles that most likely will not withstand high temperatures in the oven; the handles can be removed by removing two screws that hold each handle on. The plastic drip and grease catcher probably cannot withstand high temperatures of oven either.
You can use it for meats and vegetable grilling indoors and on a regular electric burner: the grill works well for both steaks and fish.
Probably, you will find the oil drip tray very difficult to put on and take off. The other issue with the oil tray is that the little feet on the bottom on one side designed to cause the grease to flow to the drip tray are on the same side as the tray, which, of course, has the opposite effect.
But overall, it is a great accessory for your precision cooktop.
Also, you should try NuWave Ultimate Cookware Steamer and Fondue Set PIC if you need such accessory.
Once ordered, you will receive 3.5-quart stainless steel pan with see thru lid, steamer basket, fondue insert and 8 fondue forks designed for use with your PIC. With this set, you have everything you will need to have fondue fun, steam foods, and even make healthy soups.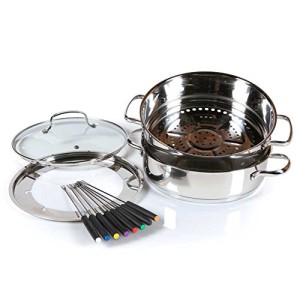 Such beautifully crafted and precisely contoured from premium grade stainless steel items are a must have in any kitchen.
The 3.5-quart pot is oven-safe up to 350°F and contains no PTFE, PFOA, or cadmium; plus, it comes with a premium tempered glass vented lid that is also oven-safe. The lid is great for simmering and steaming, as well as preventing food splatters.
Take into account that the 3.5-quart steamer basket is perfect for steaming, straining and so much more and the easy-to-use fondue insert and forks easily transform your cookware into the hit of your next party. The NuWave product is pure quality, heavy but great on the PIC. It is perfect for things that otherwise take hours in a Crockpot and is also very easy to clean.
A canner is also an essential kitchen accessory; but what about a multi-use canner? VICTORIO VKP1130 Stainless Steel Multi-Use Canner has double-sided stainless steel canning rack that lets you process by steam or water bath method and a built-in temperature indicator with 3 elevation zones eliminates guesswork and makes timing easy.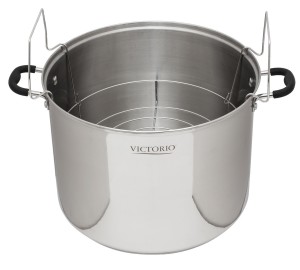 The indicator features 3 color-coded elevation settings to help ensure correct processing by either steam or water bath method.
This VICTORIO VKP1130 Stainless Steel Multi-Use Canner is the ultimate in canning versatility: being induction range compatible, it has a canning capacity of 8 pints or 7 quarts and 20-quart liquid capacity.
With a 5-year warranty, the pot is also so well made that you can lower the temperature of the stove to maintain the proper boil and temperature to safely preserve. The lifting rack is well made and sturdy and the handles are coated and set for easy lifting of a large heavy pot.
It is certitude that you will be extremely pleased with this canning pot. Also, you will find the temperature gauge on lid very helpful in gauging hot water bath for timing.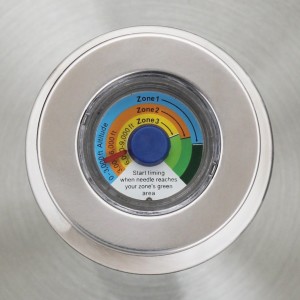 The top of the lid is so very helpful telling the user when to start timing water bath canning process. And as a tip, you can use this pot every day in the summer: you can make salsa, dill pickles, jellies, jams, pickled okra, etc.
6. Conclusion
Get ready to enjoy delicious and well-cooked meals with induction cooktops, induction-compatible cookware and accessories!
Such accessories above-mentioned give you more control over your cooking: these items include everything you will need to enjoy fondue fun, indoors grilling, steaming and canning, perfect heat diffusion and easy clean-up.