3 Delicious Induction Cooker Soup Recipes
If you want to prepare a soup on an induction cooker, you should make sure you use compatible induction cookware for a great experience in your kitchen.
It is recommended to purchase a soup pot and on the market, you will have many different types to choose from for various lifestyles and uses.
It is important to know that to make soups for a family of 4 (or about 8 servings), a 6 – 8 quart (5 – 7 liter) sized pot is ideal. Just remember that you will need a bigger pot to account for the liquid volume displaced after your poultry and other soup ingredients go in.
And of course, the temperature change is required for hard boiling or simmering.
But, before choosing the best soup pot that is right for you, think about what is important to you and your lifestyle; details about producing the best flavor at the highest level, valuing convenience and low maintenance cookware that saves you time, considering energy-efficient manner an important factor should guide you to your own personal decision.
And in order to make easier your choice, we have picked some of the most known delicious induction cooker soup recipes that you should try. Consider these meals and see if you have all the ingredients for their preparation; certainly, it will not take long to cook these soups with your induction cooker.
1. Turkey and Rice Vegetable Soup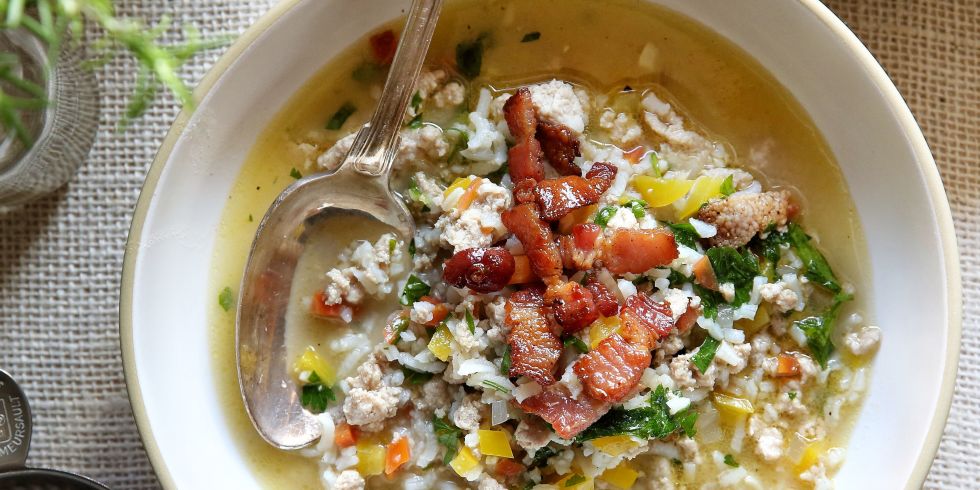 For this delicious soup, you will need the following ingredients: 1/2 c. bacon (cut into 1/2″ pieces), 1 lb. ground turkey, 1 garlic clove (minced), 1 c. chopped red onion, 1/2 c. chopped carrots, kosher salt, freshly ground black pepper, 1 yellow bell pepper (chopped), 1/4 c. dry white wine, 3 c. chicken stock, 1 c. cooked white rice and 1 c. chopped parsley.
Once you get all you need, you should know that using them, you are going to prepare a soup for four servings and the time of preparation is 20 minutes.
Definitely, you will consider this recipe very easy to make and at the end, you will be so enchanted that you will continue to prepare this soup whenever appropriate.
But, let's get to work; first, you will have to choose a large pot over medium in order to heat brown bacon until crispy and fat is rendered and then, to transfer bacon to a paper towel–lined plate. Also, be sure you drain all but 1 tablespoon bacon fat.
Now, it is the moment to increase the heat to medium-high and to brown ground turkey in bacon fat, about 3 minutes.
Then, you have to stir in garlic, red onion, and carrots and season with 1 teaspoon salt and 1/2 teaspoon black pepper and of course, to sauté for 1 minute.
The next step is to add bell pepper, white wine, and stock and to bring to a boil and simmer for 5 minutes.
Also, stir in cooked rice and parsley until warmed through and serve immediately with crispy bacon.
Every member of your family will love this delicious soup.
2. Vegetable Soup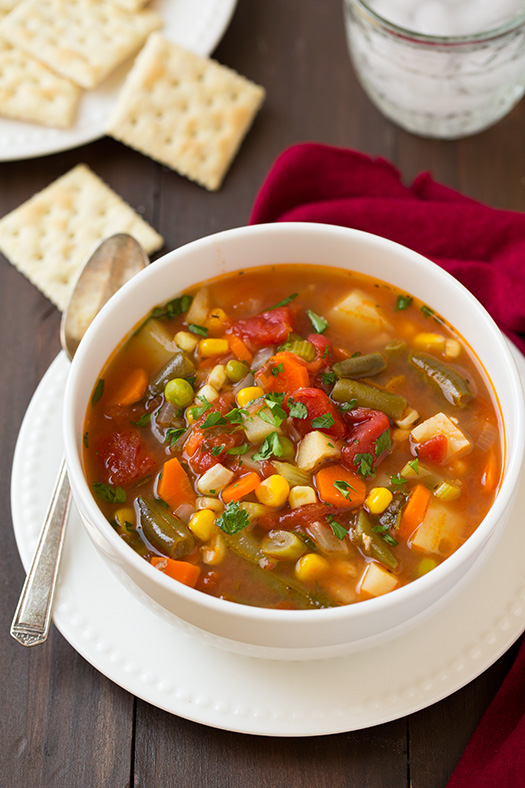 In case you are a fan of vegetable soup, you should prepare this completely delicious and easy to make soup; you will have to make some chopping and a fair amount of simmering and you have got a soup worth remembering.
Use half fresh veggies and half frozen so you still get all that freshness, but during the summer when you have all the fresh veggies on hand definitely feel free to use all fresh instead.
For this soup, you may need: 2 1/2 tbsp olive oil, 1 1/2 cups chopped yellow onion (1 medium), 2 cups peeled and chopped carrots (about 4), 1 1/4 cups chopped celery (about 3), 4 cloves garlic (minced), 4 (14.5 oz) cans low-sodium chicken broth or vegetable broth, 2 (14.5 oz) cans diced tomatoes (undrained), 3 cups peeled and 1/2-inch thick diced potatoes (from about 3 medium), 1/3 cup chopped fresh parsley, 2 bay leaves, 1/2 tsp dried thyme, salt and freshly ground black pepper, 1 1/2 cups chopped frozen or fresh green beans, 1 1/4 cups frozen or fresh corn and 1 cup frozen or fresh peas.
These ingredients are enough for a soup of 7 servings. The preparation time is about 15 minutes, while the cook time is 40 minutes. Be confident that you are going to prepare something tasty and healthy that everyone will appreciate.
In order to prepare the soup, firstly, you have to heat olive oil in a large pot over medium heat and to add onions, carrots, and celery; then, be ready to sauté 3 – 4 minutes and to add the garlic and again, to sauté 30 seconds longer.
The following step is to pour in broth (it is important that if you want a lesser ratio of broth, just use 3 cans then only 3/4 cup of the 4th can) and to add tomatoes, potatoes, parsley, bay leaves, thyme and to season with salt and pepper to taste.
If you like, you can have a really flavorful soup and all you have to do is to add in more dried herbs. Also, you can let the flavors of the vegetables shine through and not overdue it.
Thus, you have to bring to a boil and to add green beans; do not forget to reduce heat to medium-low, cover and simmer until potatoes are tender, about 20 – 30 minutes and add corn and peas and cook 5 minutes longer.
The recommendation is to serve this soup warm.
3. Spicy Sriracha Ramen Noodle Soup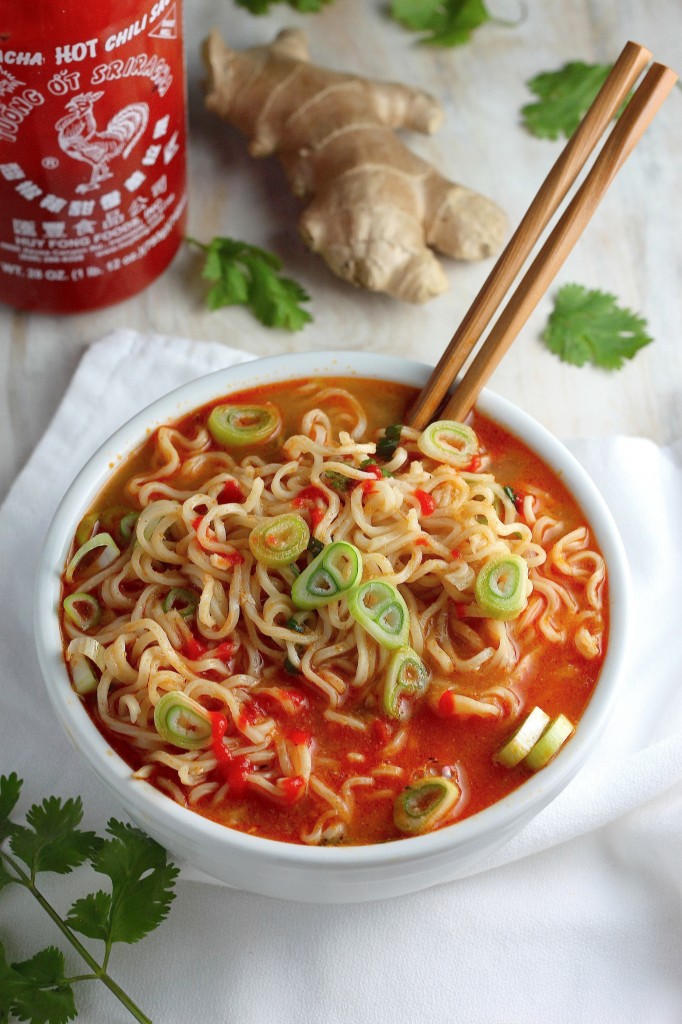 But what do you say about a spicy ramen noodle soup spiked with sriracha hot sauce and ready in just 20 minutes?
Now, it is the time to discover the recipe and you will learn how to cook it with your induction cooker. Get ready to fall in love with this soup and start preparing such easy, healthy, cozy soup recipes.
For six bowls, you are going to need 2 tablespoons sesame oil, 2 tablespoons sriracha hot sauce, 1 small onion (diced), 1 small roma tomato (diced), 1 tablespoon ginger (grated), 5 cloves garlic (minced), 1/2 teaspoon garlic powder, 1/2 teaspoon celery salt, 4 cups vegetable broth, 2 cups water, 1 tablespoon soy sauce, 1 teaspoon rice vinegar (optional, only if you like tang), 3 packages ramen noodles, 1/2 cup scallions (chopped), 1/2 cup cilantro (chopped), and 2 poached eggs (optional).
It is so simple to throw together all the ingredients in order to prepare this soup, even on a night where you do not feel like cooking. It takes only 10 minutes to prepare the soup and other 10 minutes to cook it.
Although it is hard to believe all these complex flavors come together and make a soul-satisfying bowl of goodness in such a short time, this soup can become your favorite rainy day comfort food.
For a delicious meal, be sure that you are following all the instructions. First of all, you need to add the sesame oil and sriracha to a large stockpot and bring to a simmer over medium-heat.
Continue to add the onion and tomato and cook for 4 minutes, stirring occasionally and then, the ginger, garlic, and seasonings.
After cooking for 2 minutes or until fragrant, make sure you add 2 cups of water and transfer mixture to a blender or food processor and pulse until smooth. You will have to return mixture to the pot and add the broth.
Then, it is the time to bring to a simmer, to add soy sauce and vinegar (if you want), and to simmer for 8-10 minutes. Of course, do not forget to taste and adjust seasoning as needed. At the end, you need to add the ramen noodles to the broth and simmer for an additional 2-3 minutes, or until the noodles have softened.
Also, you can add the scallions and stir to combine. From now on, all you have to do is to remove the pan from heat, to ladle soup into bowls, and to top with cilantro and eggs.
Enjoy this incredible soup together with your family and friends!
Conclusion
Just try these three delicious induction cooker soup recipes and you will enjoy fresh and healthy food.
You are not going to spend too much time in the kitchen and with an induction cooker, it will be so fast and easy to prepare whatever you like.
With an induction cooker, you can cook what you like and be sure that your food will be so tasty.