INDH-3102Hx Induction Double Cooktop Burner ensures double control and double power in just a second!
Looking for a cooktop with two burners?
How about INDH-3102Hx Induction Double Cooktop Burner? This chic and noble cooktop can turn to be very helpful for your daily cooking tasks, especially when you have to cook a complex dish or various ones for all preferences.
Just take a moment to have a look at all the characteristics of INDH-3102Hx Induction Double Cooktop Burner
in order to get an idea about how it will be to cook with this double burner cooktop.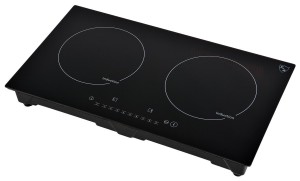 The unit is well built and your expectations regarding the use of this unit in the years to come will definitely be accomplished.
1. Controls
INDH-3102Hx Induction Double Cooktop Burner has a unique design with digital display and touch control.
The controls along the front slow you to position your pans to the left and right.
The touch controls are easy and simple to understand: turn the unit on, choose a burner to use, and choose a power level.
Temperature control is very sensitive which provides immediate heat adjustment.
If you change the setting, the pot responds instantly. There are 17 cooking levels that you can use to cook and fry numerous meals and are more than enough.
The digital timer can be set from 0 to 99 minutes in a 1-minute interval.

2. Surface
The cooking surface is made of scratch-resistant ceramic glass. It detects any spill or food residual and this is why your cooktop may often turn off.
But, you will be surprised to see how easy and simple it is to clean the cooktop.
With induction, you are going to be fast and this is because of how the induction cooker works and the technology involved.
This means that it is possible to warm up or cool down the pot or pan much quicker than conventional cooktops which saves you time and electricity.
3. Heating Elements
This unit comes with 17 power levels which give you absolute control over cooking temperature. The induction cooktop is quicker than gas units and also gives you advantages of being able to better control the power and set timers.
This means that it is great for going from a boil to a simmer. The maximum power output is 3100W, while the 2 cooking zones provide 1850W + 1850W (Shared Power).
The cooktop is quicker than gas units and also gives you advantages of being able to better control the power and set timers.
4. Power/Watts
The rating voltage is 208-240V (2x 110V), 50/60Hz.
It is designed and developed in Germany and ETL/UL safety certified. And do not forget the Green Power as a way to reduce the consumption of energy; every time INDH-3102Hx Induction Double Cooktop Burner is in standby mode, it consumes less than 1 Watt.
This is high power cooktop that takes 220V to work properly and it needs two 110V lines connected: black wire is 110V, white wire is 110V and green wire is ground.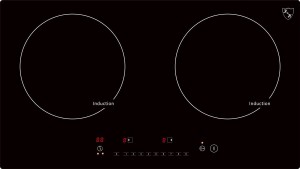 Check Price at Amazon
5. Sensors
INDH-3102Hx Induction Double Cooktop Burner provides automatic pot detection: you will know that you are or are not using compatible induction cookware.
More exactly, only cookware with magnetic bottom will work properly on an induction cooktop.
6. Ventilation
For avoiding the overheating, this unit does have fans for each burner.
Do not worry about hearing the fans: you can hear the fans, but they are not that bad.
After turning off the unit, you may continue to hear the fans for several seconds.
7. Safety Features
With a function of automatic security disconnection in case of liquid overflow, the unit shuts off immediately if it detects a spill.
In case you have children and you want more security, do not forget that you have a child lock that will keep the kids far for burns and other domestic accidents.
Also, to prevent overheating, the cooktop has an overheating protection feature: the unit will turn off if it exceeds a certain high temperature for a long time.
8. Accessories
This cooktop comes with a power cord so it can be hardwired or if your choice is to connect them to 208-240V 60/50Hz wall outlet, you would simply have to buy the proper plug that fits your outlet and connect wires.
It is 5-minute task and plug cost is $2-3. The manufacturer apologizes for the inconvenience but their cooktops are sold worldwide and it is impossible for them to provide proper plugs for customers in different countries.
INDH-3102Hx Induction Double Cooktop Burner is also delivered with removable rubber feet, a warranty certificate and a user guide in English that provides all the necessary information for cooking with such a double cooktop.
9. Dimensions
Here are the dimensions of the item: it measures 23.6″ x 13.3″ x 3″ and weighs 10.7 lb.
10. Pros
This unit can boil 8 oz of water in a 1 qt pan in approximately 45 seconds!
You can use this as a counter top unit but it can be mounted as a built-in in the counter
This is an incredibly powerful cooktop at a price that is far below its competition.
11. Cons
The pan is hot almost immediately so you have not a lot of time to start looking for oil or prepping food while it is heating up
12. Consumer Ratings
Considering the reviews of consumers, INDH-3102Hx Induction Double Cooktop Burner has
this consumer rating on Amazon
.
This cooktop is everything it is made out to be and problems may appear because people do not pay attention to the starting instructions of the unit.
The products of K&H carry a 1-year warranty. In case of malfunction, contact the customer service to start a warranty claim.
They will either repair or replace it with a refurbished or new unit at their discretion. Shipping cost will be covered by them. For customers that are not from the USA, they will provide necessary parts for their cooktops to be fixed.
13. Price
Such a product costs this price on Amazon
.
If you decide to purchase this induction cooktop, you are going to meet a technology that has been in use for many years by professional chefs and cooks and those who participate in World Championship cooking competitions.
INDH-3102Hx Induction Double Cooktop Burner
Destination Use
Indoor use
Design
scratch-resistant ceramic glass
Power Source
208-240V (2x 110V), 50/60Hz
Output Power
Max. power output: 3100W
2 cooking zone 1850W + 1850W (Shared Power)
Power Levels
17 power levels
Temperature Levels
N/A
Programmable Timer
Digital
timer that can be set from 0 to 99 Minutes in 1 Minute interval
Function Lock
Yes, child lock
Warranty
1 year warranty
Acoustic Warnings
N/A
Weight
10.7 lb
Dimensions
23.6″ x 13.3″ x 3″
Cord Length
4 1/2 ft long
Glass Cooktop Size
cooking zone 8.3″ + 8.3″ (min. 4.7″ up to 9.5″)
Safety Sensors
Automatic detection of pan
Automatic security
disconnection in case of liquid overflow
Overheating protection
Induction Cookware Sensor
Yes
Induction Overheat Sensor
Yes
Glass Cooktop Overheat
N/A
Free pan
No
Price
Amazon Link