GSW CU-18A Commercial Induction Cooktop – a great appliance among lighter duty cooking applications and smaller service items!
What do you use in terms of countertop cooking and warming equipment?
Have you tried a commercial induction cooktop? Such an appliance is always able to save time and money for you.
Be sure that this induction burner is great being among limited breakfast, lunch or dinner menu items and you can forget about searching anything else.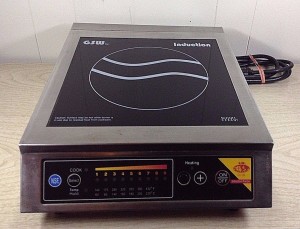 Warm, cook and heat using GSW CU-18A Commercial Induction Cooktop! With a special design, this cooktop is absolutely necessary for any commercial kitchen or cooking space.
Give a try to this professional solution in order to reach your foodservice goals.
1. Controls
With easy-to-clean touchpad controls, GSW CU-18A Commercial Induction Cooktop is definitely what you need: you can operate it easily using Power On/ Off key, "TEMP/ HOLD" function SELECT key, and Power / Temperature up / down adjust keys.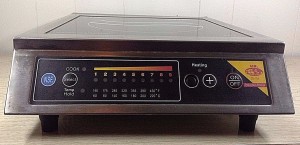 Also, you are going to observe some LED lights while using the induction cooktop: "heating" indicator light (pan detector), "COOK" function indicator light, "TEMP HOLD" function indicator light, and Power Level / Holding Temperature display LED lights.
2. Surface
Underneath the surface ceramic top plate, there is a high frequency (20-35 KHz) induction coil that heats the cooking utensil by magnetic friction.
It is important to put the appliance on a horizontal surface but to keep away from wall or objects at least 5-10 cm (2" ~ 4").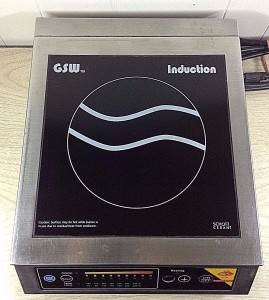 It is recommended to not touch the hot surface of the ceramic plate; although the induction range itself does not produce any heat during cooking, the heat from the pan will leave the surface of the ceramic hot!
3. Heating Elements
GSW CU-18A Commercial Induction Cooktop provides an 1800 watt induction heating zone, heat and temperature controls, attached 5½-foot power cord, and NEMA 5-15P plug and 5-20P plug.
It comes with one-year parts and labor warranty.
It is important to use pans of 12 cm (4.75") or larger in diameter; pans should be less than 26 cm (10.25") in diameter and made of iron, cast iron, stainless steel, and enamelware.
4. Power/Watts
For this 1800 watts unit, you need an individual 120V, 15 Amp electrical socket. It is rated at 120V, 15 Amp, and 50/60 Hz. Ensure close supervision when the induction range is used or near children.
5. Sensors
Your cooktop will automatically shut down if the pan is left on the induction range for more than 2 hours, or if the user does not operate any functions for more than 2 hours.
Also, if the induction range is left on for more than 60 seconds without a pan or with an incompatible pan, the unit will automatically shut off.
The induction range will not recognize any objects or utensils smaller than 5 cm in diameter and if the pan's material is not suitable for this induction range, the pan indicator will not work.
Once the pan's temperature becomes too high, and the temperature remains too high for 60 seconds, the unit will shut off automatically.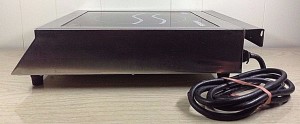 6. Ventilation
The commercial induction cooktop incorporates a ventilation system for avoiding the overheating of electrical components; this is why you should place the induction range on a horizontal surface and at least 10 cm away from the wall and other objects for proper ventilation.
So, do not block the air intake panel as blocking may overheat the unit.
7. Safety Features
Despite the safety features, you will be surprised to know that GSW CU-18A Commercial Induction Cooktop is designed with overtime detector, automatic safety shut-off, material compatibility detector, small object detector, overheating protection device, and IC auto reset device.
This IC Auto Reset Device refers to the fact with a main control microprocessor equipped with watchdog device, the IC will automatically reset when the software program goes wrong.
8. Accessories
Once you order this product, you will get the GSW CU-18A Commercial Induction Cooktop, its power cord, and user manual, but also wall stopper (lock washer; you can find this accessory enclosed in the box).
9. Dimensions
Here you have the exact dimensions of the product: 328*422*100 mm (12.91" x 16.61" x 3.93").
10. Pros
11. Cons
12. Consumer Ratings
GSW CU-18A Commercial Induction Cooktop is a recently launched product on the market and any consumer rating has not been established yet.
However, there are numerous reasons you should consider purchasing such an appliance; and its many features could be one of these reasons.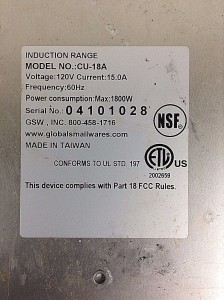 13. Price
For such a product, the price is $114.99; if you consider buying the unit for commercial use, you can be sure that you will not regret. Please read carefully all the instructions provided by the manufacturer before starting to use the item.
GSW CU-18A Commercial Induction Cooktop
Destination Use
Commercial use
Design
Black ceramic glass cooktop
Power Source
120V, 15 Amp, and 50/60 Hz
Output Power
1800W
Power Levels
1, 2, 3, 4, 5, 6, 7, 8, and 9
Temperature Levels
60, 90, 140, 160, 180, 200 and 220 °C
Programmable Timer
N/A
Function Lock
N/A
Warranty
N/A
Acoustic Warnings
Yes, there will be a short warning sound after unit shut off
automatically
Weight
N/A
Dimensions
328*422*100 mm (12.91" x 16.61" x 3.93").
Cord Length
5½-foot power cord
Glass Cooktop Size
pans should be less than 26 cm (10.25")
Safety Sensors
overtime detector, automatic safety shut-off, material
compatibility detector, small object detector, overheating protection device,
and IC auto reset device
Induction Cookware Sensor
Yes
Induction Overheat Sensor
Yes
Glass Cooktop Overheat
Yes
Free pan
No
Price
Ebay Link
Photos credit: ebay.com