Green Pan Induction Cooker – get innovative and eco-friendly cookware for a modern kitchen!
How many times have you heard the same phrase: "cook healthy" or "use eco-friendly products"?
Probably, it is also your case as there are some cookware brands that want to promote their new cooking utensils perfect for healthier dishes.
However, if you search for a green cooker or you want to compare this eco-friendly cookware, now you have the opportunity to meet Green Pan Induction Cooker (Amazon)
and to see if it fit your needs.
Consider all the features of Green Pan Induction Cooker before making a decision!
1. Controls
With a Green Pan induction cooker that boils water in 60 seconds at the highest heat level, you have a great aid in your kitchen.
The cooktop can be easily operated using the control panel with digital display: you have E-CHECK button, power setting button, – and + buttons, timer button and On/Off button.
On the control panel, you will notice power level indicator lights, power indicator light and timer indicator light.
With the E-CHECK mode, you are going to see the amount of energy that has been used by the appliance in kWh (kilowatt hours) during the cooking process, while the timer can only be set for a maximum of 2 hours.
2. Surface
The black stay-cool glass top can be easily cleaned: you can wipe off the heat-resistant glass cooktop and the body with a damp cloth or you can use a mild, while nonabrasive soap solutions are not recommended.
You should avoid placing metal objects such as forks, spoons, lids, cans and aluminum foil on the top plate.
Your cookware must have a flat bottom and a bottom diameter between 5 – 10 inches.
Choose a dry, level, sturdy surface to place the cooker and do not place it on tablecloth or carpet.
If you consider buffet or tabletop use, take care in order to avoid damage to furniture finish.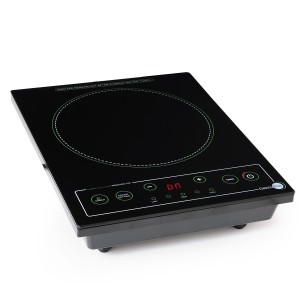 3. Heating Elements
With Green Pan Induction Cooker
(Amazon), you are going to have an extra burner that will help you in any circumstance.
It is really important to place the induction compatible pot or pan you are going to use in the middle of the top surface.
If your induction cooker does not function properly, it will display an error message with a code number on the display panel and the cooktop will stop functioning.
If this occurs, you may consult the user guide for detailed information.
4. Power/Watts
Regarding the electrical details, you should know that this appliance has a polarized plug; this means that one blade is wider than the other. And this plug works with any standard 120-volt polarized AC outlet, 60 Hz, while the maximum output power is 1500W.
You can increase the power level and all you have to do is to tap the "+" button. And you decrease the power level by tapping the – button.
The power level indicator will light up accordingly between Low, Med and High.
5. Sensors
Having a Green Pan induction cooktop
, you get a cooking device with automatic detection of cookware and overheating protection.
Also, the Green Pan induction cooker will work only with the right cookware: you can test your pots using a magnet or buy induction compatible cookware.
Search only for 18/0 stainless steel, stainless steel, aluminum or copper (with an induction compatible base) enameled iron or steel and cast iron.
Non-induction compatible cookware is copper bottom, glass, aluminum bottom and ceramic.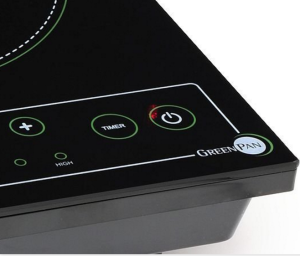 Check Price on Amazon
6. Ventilation
The cooker incorporates a ventilation system for preventing the damage of its components.
So, you should not block the air inlet or outlet vent. And be sure that there are at least 3-5 inches of free space around the appliance to prevent overheating.
7. Safety Features
Such an item is designed with a stay-cool glass top that makes the cooking a safer experience. However, you must not touch the top plate right after removing the cookware.
The induction cooker will automatically shut down if for any reason your pan gets overheated.
If you leave the induction cooker unattended during operation, the cooker will automatically shut off after 2 hours. When there is no cookware on the appliance, the display of the cooktop will show 'E0' and the appliance will beep periodically and will shut down automatically after 30 seconds.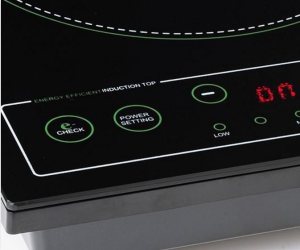 8. Accessories
The box of Green Pan induction cooker contains the induction cooktop with GreenPan Care and Use Instruction booklet and a short power-supply cord provided as there will not be any risk resulting from becoming entangled in or tripping over a longer cord.
You should know that longer detachable power-supply cords or extension cords are also available.
9. Dimensions
This Green Pan induction cooker measures 3″H x 11″W x 14″D.
10. Pros
11. Cons
12. Consumer Ratings
Although this new induction cooker allows you to prepare all kinds of tasty food in a healthy, eco-friendly and easy way, there are few people that have tried such an item.
This is why any consumer rating has not been established yet. Once people will find out the advantages of this cooktop, you will get the feedback that you want.
13. Where to buy & Price
Do you consider buying this Green Pan induction cooker? It is easier to order the item and you will have to pay only this price on Amazon
. You are going to receive a product with one-year warranty from the date of purchase. So, prepare yourself for a green cooking experience with this innovative pan.
Green Pan Induction Cooker
Manufacturer
GreenPan
Destination
use
Home
Controls
6 (E-CHECK,
power setting, – and + buttons, timer and On/Off)
Control
Panel
touch controls with digital display
Functions
Power, Timer, E-CHECK
Surface
black heat-resistant glass top
Color
Black
Power Source
120 V, 60 Hz
Output Power
1500 Watts
Power levels
Five heat settings (Low, Medium, High)
Temp Levels
N/A
Temp step
increment
N/A
Programmable
Time
2-hour programmable timer
Function
Lock
N/A
Warranty
One-year limited warranty
Acoustic
warnings
Yes, when there is no cookware on the appliance, the display will read 'E0', the
appliance will beep periodically and will shut down automatically after 30
seconds
Weight
N/A
Shipping
Weight
N/A
Dimensions
3″H x 11″W x 14″D
Cord Length
N/A
Led Display
No
Safety
Feature
an overheat sensor; an unsuitable-cookware detector; an automatic detection of cookware
Error Codes
Yes, if your induction cooker does not function properly, it will display an error message
with a code number on the display panel and the cooktop will stop functioning.
More information about error codes is available in the user manual.
Pan size
(bottom diameter)
your cookware must have a flat bottom and a bottom diameter between 5 – 10 inches.
Cookware
material
18/0 stainless steel, stainless steel, aluminum or copper – with an induction compatible
base, enameled iron or steel, cast iron
Free PAN
N/A
Around
Clearance
Make sure there is at least 3-5 inches of free space around the appliance to prevent
overheating.
Made In
China
Price
AMAZON LINK