GE PHP960SMSS vs GE PHP960DMBB – 36 inch General Electric Induction Cooktops with Five Cooking Elements
We will have a look at two electric induction cooktops from General Electric, the PHP960SMSS and the PHP960DMBB.
At first sight, there are no important differences between the two, they belong to the same product line and offer pretty much the same features.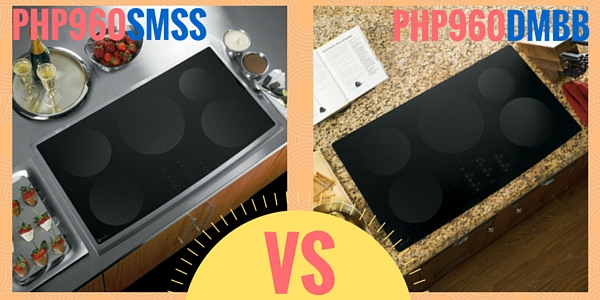 However, the PHP960DMBB
costs more than the PHP960SMSS
. So the question arises: why is there such a difference? What has the PHP960DMBB got that the other hasn't?
We looked into the details and we'll try to shed some light on that matter. At the end of this article there is a comparative table of the two appliances for quick reference.
The PHP960DMBB comes with five cooking elements varying in size from the 6" one (and 1800W of power) to the 11" one (and a top power of 3700W), proving enough space and power even for the larger pans or pots need for cooking pasta, for example.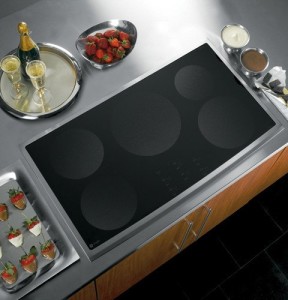 Furthermore, the electronic touch controls lets you set 19 different power levels to adjust the temperature needed for a specific dish.
And this is not all. The PHP960DMBB comes with a pack of safety features among which the most notable is the Pan Presence Sensor which detects when a burner element is left "on" and automatically turns it off when not in use along with the Control Lock that lets you lock the cooktop's controls, preventing the unintended activation of the appliance.
And for the more careless people out there, General Electric threw in a Hot Surface Indicator Light which illuminates when the cooking element is hot and active.
This indicator is not to be confused with the Heating Element "On" Control, which merely warns you that the cooking element is active, but it may not be hot.
On top of all that there is an Electronic Kitchen Timer to help you set and watch cooking times for the perfect dinner.
To conclude our technical overview of the PHP960DMBB cooktop, we should let you know that you need a professional electrician to install it as it requires some serious wiring due to its wattage.
Apart from that, inserting it into a countertop should be easy enough given you have the necessary tools and have a look at the specs sheet in order to meet the requirements for ventilation and such.
Oh, and a word of advice: make sure you use only cookware suitable for induction cooking, made of cast iron and the like, or you'll never be able to use it properly.
Now, enough with the technical data, let's get to the eye candy part of the appliance, which sports a black matte look and a frameless design that bring a touch of modern into the kitchen.
The cooking surface, made of ceramic glass, makes cleaning quick and easy enough to restore that appealing look in no time.
Overall, it's a top-notch induction cooking appliance with great looks. Some users have complained about it not working properly, making too much noise or even breaking after a short period.
On the other hand, there are more than satisfied customers who keep on saying what a wonderful device the PHP960DMBB is, so it is you who has the final decision, after all.
The PHP960SMSS cooktop looks like the younger brother of the PHP960DMBB. It has the same number of cooking elements, the same electronic touch controls placed centrally on the front panel, the same features and safety devices (as seen in the list below), it has even the same power cord length. Nevertheless, it's quite cheaper than its counterpart. And we'll try to find out why.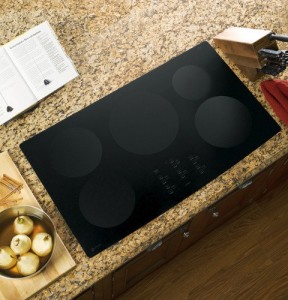 First things first, so we have put together a short list of features for the PHP960SMSS:
• 6" to 11" cooking elements (five elements with the following sizes: 6", two 7" elements, 8" and 11"). At it's highest setting, the 11″ element puts out 3700 watts of power, providing an incredibly fast time to boil water
• Electronic Touch Controls – for easy, point-and-cook convenience
• 19 Control Settings – 19 different power levels to adjust the perfect temperature for your meal
• Pan Presence Sensor – when a burner element is left "on" the sensor automatically turns it off when not in use
• Control Lock Capability – locks the cooktop's controls, preventing them for being unintentionally activated
• Electronic Kitchen Timer – provides notifications to help coordinate meal preparation and cooking times
• Hot Surface Indicator Lights – Illuminate when the cooking surface is active and hot to prevent burns or other injuries
• Heating Element "On" Light – lights up when the cooking surface is activated
• Upfront Controls – Controls are placed within easy reach on the front panel of the cooktop
Wiring and other installation requirements are similar to the PHP960DMBB model, so from the specs it is almost impossible to discriminate between the two, as mentioned above. For a side-by-side comparison of the two models refer to the table below.
Differences
But when you take a glance at them physically, you can easily see that there is a difference in looks: while the PHP960DMBB has an all-black matte mysterious look, the PHP960SMSS shines from every tiny spot of its clear ceramic glass surface and stainless steel casing.
And perhaps this is where the difference in price becomes evident. This is not to say that the PHP960SMSS is not good-looking, by no means.
It would integrate perfectly in any kitchen, especially one with lots of other stainless steel appliances around.
But the finishing materials are perhaps much cheaper than those used for its counterpart, hence the lower price.
Also, the fact that the PHP960DMBB is frameless adds to the complexity of the production process which, in turn, is reflected in the price.
One final practical thought on this: the frameless design of the PHP960DMBB and the materials used make it easier to clean than the other.
We all know that stainless steel, despite its name, can be a hard nut to crack in terms of cleaning. It may get hot during cooking and anything spilt on it turns into a burnt crust which could prove very difficult to remove (and require specific cleaning solutions).
PHP960DMBB
PHP960DMBB
PHP960SMSS
FEATURES
Cooktop Surface
Black Glass Ceramic
Clear Metallic Glass Ceramic
Cooktop Burner Type
5 Induction Elements
5 Induction Elements
Element – Left Front
7″ 2500W
7″ 2500W
Element – Left Rear
7″ 2500W
7″ 2500W
Element – Right Front
8″ 3200W
8″ 3200W
Element – Right Rear
6″ 1800W
6″ 1800W
Element – Center
11″ 3700W
11″ 3700W
Control Location
Front Center
Front Center
Control Type
Electronic Touch
Electronic Touch
Cooktop Control Features
Child Lock
Child Lock
Pan Presence Sensor
Pan Presence Sensor
Indicator Lights
5 Hot Surface
5 Hot Surface
Surface Element "ON"
Surface Element "ON"
Power Cord Length
36″
36″
Power Level Indicator
LCD Digital Display
LCD Digital Display
Timer
Yes
Yes
APPEARANCE
Color Appearance
Black
Stainless steel
Frameless
Yes
Stainless steel
WEIGHTS & DIMENSIONS
Approximate Shipping Weight
54 lb
54 lb
Cabinet Width
36 in
36 in
Cooktop Size
36 in
36 in
Cutout Dimensions (Width x Depth) (In.)
33-7/8 x 19-1/8
33-7/8 x 19-1/8
Net Weight
49 lb
49 lb
Overall Depth
20 7/8 in
21 in
Overall Height
3 1/4 in
3 1/4 in
Overall Height at Baffle (front)
4 5/8 in
4 5/8 in
Overall Width
36 in
36 1/8 in
POWER / RATINGS
Amp Rating at 208V
50
50
Amp Rating at 240V
50
50
KW Rating at 208V
8.7
8.7
KW Rating at 208V
11.6
11.6
WARRANTY
Parts Warranty
Limited 1-year entire appliance
Limited 1-year entire appliance
Labor Warranty
Limited 1-year entire appliance
Limited 1-year entire appliance
Price (on Amazon)
Check Price
Check Price
Conclusion
OK, now for the final conclusion: which one to buy?
Given that the two cooktops have similar capabilities, it all comes down to money.
If you have some money to spare, go for the more expensive one, the PHP960DMBB
.
But if you are on a budget or do not care too much about how it looks and only need it to get the job done, you should go for the cheaper one.
We showed you the facts from every angle we considered to be important, the choice is ultimately yours.