GE Induction Ranges 2017 CHS995SELSS vs CHS985SELSS
Interested in buying an induction range? What about a GE induction range very recently launched?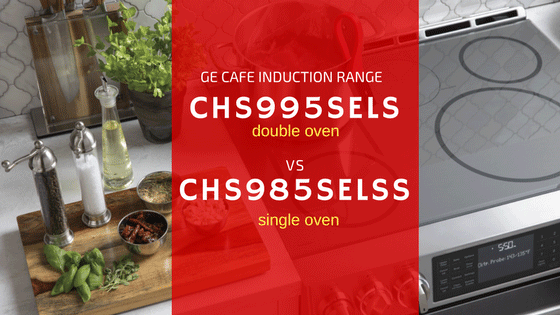 It is the right time to meet GE Induction Ranges 2017 CHS995SELSS and CHS985SELSS and at the same time, to compare both products in order to make an idea about their functionality, versatility and of course, design.
Let's start by discovering some aspects about CHS995SELSS and CHS985SELSS models.
1.GE Slide In Double Oven Induction Range CHS995SELSS
If you want to upgrade your kitchen with this slide-in induction range by GE, CHS995SELSS model is a great alternative.
First of all, you have a cooktop that features 5 induction elements for fast, efficient cooking.
You get two 8″ 2500-watt synchronized elements to evenly heat large cookware or griddles.
The already sleek cooktop is enhanced by the impressive look of these knobs.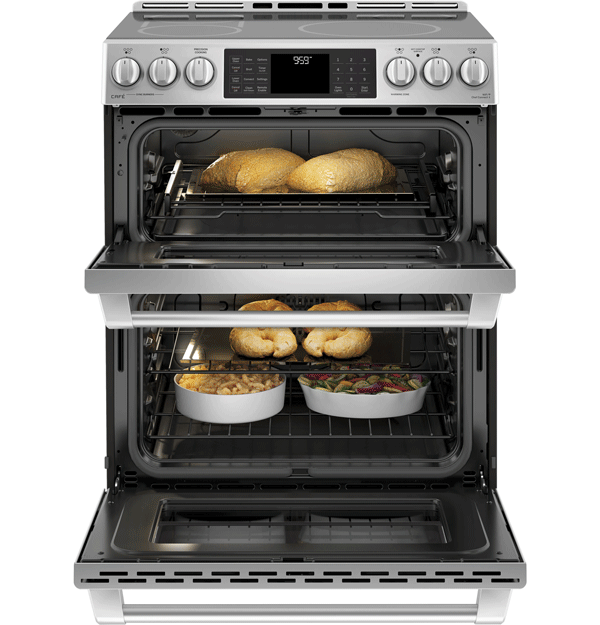 Magnetic induction cooking requires the use of cookware made of ferrous metals to which magnets will stick such as iron or steel.
It is recommended to use pans that fit the element size as the pan must be enough for the element to detect the pan and be able to deliver full power.
Then, you will definitely love the double ovens that provide 7.0 cu. ft. of capacity which is perfect for large Sunday dinners. Learn how to bake with true convection for perfectly even baking results on multiple racks. And the warming drawer is perfect for keeping your food table ready.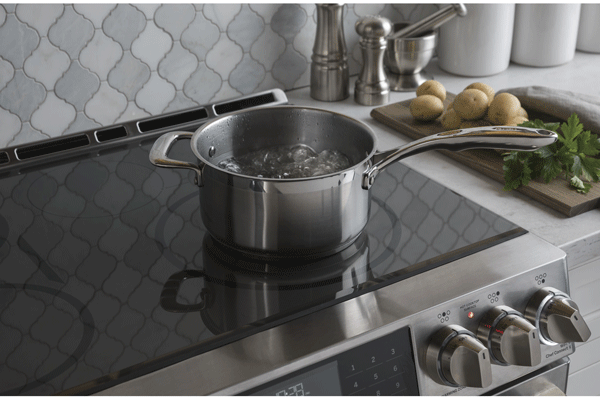 As some innovative features, you will be surprised to find out that you can easily control your range the WiFi Connect feature from the convenience of your smartphone.
And you have the possibility to use Chef Connect to synchronize compatible ranges and over-the-range microwaves, making cooking even more enjoyable.
Certainly, GE understands exactly what you need and exactly what you do not in your kitchen and in your life.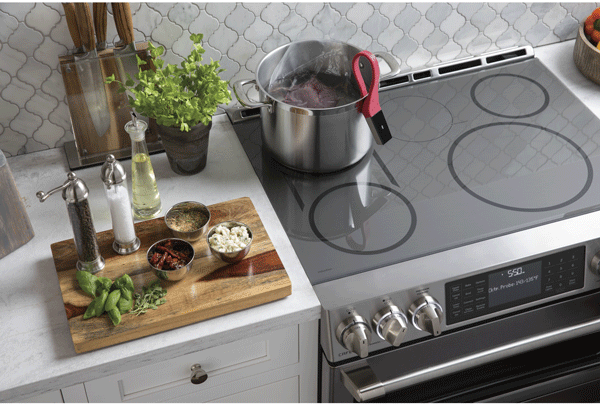 With features and design from real life, because when they build world-class refrigerators, dishwashers, ovens, washers, and dryers what they are really creating are good things, for life.
2. GE Cafe 30″ Slide In Induction Range CHS985SELSS
On the other size, you have CHS985SELSS model, a 30-inch slide-in induction electric range with a WiFi connection ideal for any kitchen.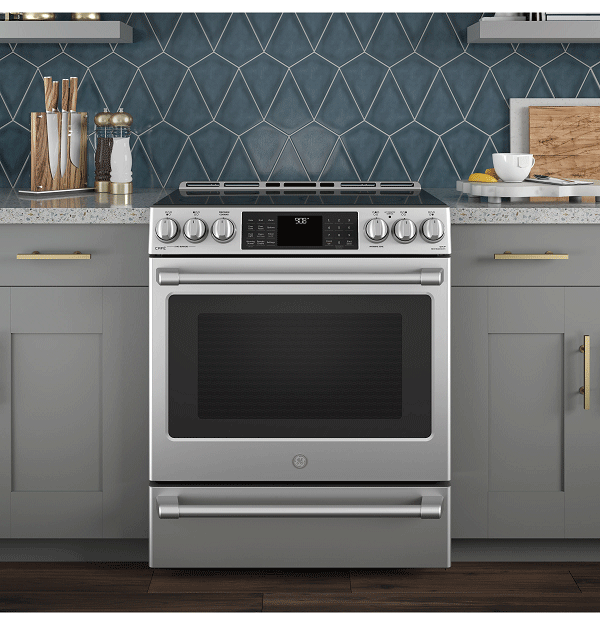 So, you should think about replacing your old 30" free-standing range with a new 30″ slide-in model and you will see that GE slide-in ranges are guaranteed for an exact fit to make replacement easy.
As in the case of CHS995SELSS, CHS985SELSS is designed with a cooktop that features 5 induction elements for fast, efficient cooking.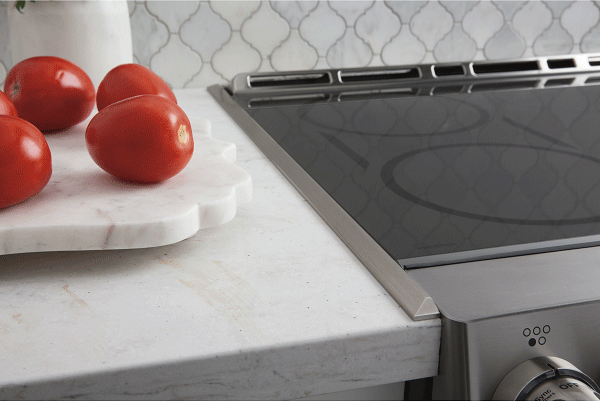 With the precision cooking probe, you can confidently cook delicate sauces, fondues and more to their exact required temperatures. And the knobs offer LED backlit to add style and functionality.
With an 11″ 3700-Watt induction element, you get the necessary power to boil a quart of water in 101 seconds, but also to prepare delicate sauces.

And if you do not know, Chef Connect gives you three options with a single touch; and so, for instant convenience, you can choose when to automatically synchronize clocks and the range elements with the microwave's surface light and vent.
This time you have to do with an oven that provides 5.3 cu. ft. of capacity, which, however, is perfect for a large Sunday roast.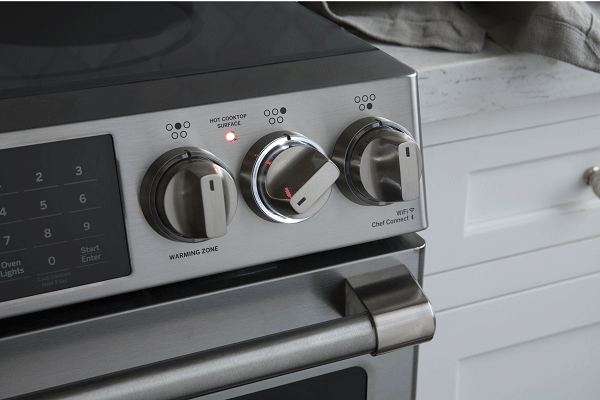 Forget about cleaning the racks: with this unit, you get self-clean, heavy-duty oven racks and these long-lasting racks look great and can be cleaned at the same time as the oven.
Also, you have a smooth-glide warming drawer for perfectly warm crispy chips and bread or keep side dishes warm until dinner is served.
3. Differences
At a first view, these two slide-in ranges may seem similar, but some differences between them may be highlighted.
CHS985SELSS slide-in range has a 5.3 cu. ft. oven that provides the following features: true convention, chef connect, WiFi connect, precision cooking probe, warming drawer and steam clean.
On the other hand, CHS995SELSS includes an upper oven with a capacity of 2.4 cu. ft. and a lower oven capacity of 4.3 cu. ft.
This unit has true European convection feature, WiFi connect, chef connect and warming drawer. You get the upper oven that preheats quickly while you will find the larger lower oven perfect for dinner parties and large meals.
Both models provide 3700W of power from its 5 cooktop elements to meet various cooking requirements, but the smallest level of power of CHS985SELSS is 100W, and of CHS995SELSS 80W.
Both have the same dimensions (overall width: 30″, overall height: 37 3/8″, overall depth: 29 1/2″). But the LED backlit of CHS985SELSS knobs add a refreshingly sleek ambiance on the range and your kitchen.
As you may expect, you will have to pay more for a CHS995SELSS unit than for a CHS985SELSS slide-in range.
Your choice should be made after considering all the features of both products: your cooking needs and preferences should be taken into account when deciding about kitchen appliances.
4. Conclusion
It is not a secret anymore that CHS995SELSS and CHS985SELSS models have some smart features such as WiFi connection, and Chef Connect.
They make these units the right acquisition for everyone who wants something new made using the latest technologies.
As an opinion, CHS995SELSS model is ideal for large families thanks to its double ovens which allow you to bake or to prepare various meals at the same time.
CHS985SELSS slide-in is the option for modern people, especially those who want a slide-in which may give them the freedom and support they need when cooking.
5. Comparison Tabel
GE CHS995SELSS Induction Range
GE CHS985SELSS Induction Range
Destination
Use
Indoor use
Indoor use
Design
smoothtop
cooktop very resistant to heat, ultra-low profile
smoothtop cooktop
very resistant to heat, ultra-low profile
Power Source
Volts:
240/208 V, Amps: 40 A, KW Rating at 240V: 15.5, KW Rating at
208V: 12.3
Amps:
40A, Volts: 240/208V
Output Power
5 induction
elements
Front left
output: 2500W
Back left
output: 2500W
Front right
output: 3700W
Back right
output:1800W
Middle back
output: 80W
5 induction
elements
Front left
output: 2500W
Back left
output: 2500W
Front right
output: 3700W
Back right
output:1800W
Middle back
output: 100W
Cooktop
Control Type:
Knobs
Knobs
Warranty
Limited 1 year
of parts and labor
Limited 1
year of parts and labor
Weight
236 Lbs.
N/A
Dimensions
Overall
Width: 30″
Overall
Height: 37 3/8″
Overall
Depth: 29 1/2″
Width:
30″
Depth:
29 1/2″
Height:
37 3/8″
Oven
Total Oven
Capacity: 7.0 cu. ft.
Upper Oven
Capacity: 2.4 cu. ft.
Lower Oven
Capacity: 4.3 cu. ft.
Oven
capacity: 5.3 cu. ft.
Oven Watts
3600 Watts
4000 Watts
Warming
drawer
Yes
Yes
True
Convention
True European
Convection
True
Convection
Oven racks
3
3
Oven Control
Type
Touchpad
Touchpad
Temperature
Probe
Yes
Yes
Timer
Yes
Yes
Wi-Fi
Yes
Yes
Steam Oven
Yes
Yes
Steam-Clean
Yes
Yes
Price
Link
Link