5 Best Fuzzy Logic Rice Cookers with Cake Function
Preparing a cake with a rice cooker? Now, it is not impossible anymore as long as you purchase a rice cooker with a cake function.
The Cake function turns out delicious cakes straight from the rice cooker.
You need to add the ingredients from your favorite recipe to the inner pot and then, to press the Cake button.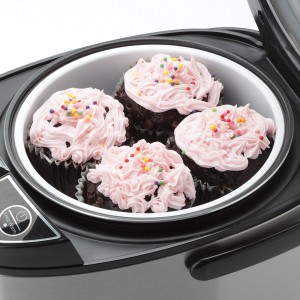 Just let the rice cooker steam bake away and you will never want to use your oven for cake again.
Here you have some cake recipes that can be prepared in a rice cooker: cheesecake, vegan cake, carrot cake, apple cake, Japanese style cake, chocolate cake, tofu cake, butter cake, sponge cake, banana cake, pumpkin cake and other delicious cakes.
Take your time in order to discover all the best fuzzy logic rice cookers with baking function.
The following examples will show you how easy you can prepare your preferred cake without turning on your stove. These rice cookers will do their job great.
Zojirushi NS-TSC10 5-1/2-Cup (Uncooked) Microcomputer Rice Cooker is designed with micro computerized fuzzy logic technology, an automatic keep warm, extended keep warm and reheating cycle.
Purchasing this unit, you get a rice cooker with a built-in retractable power cord, interchangeable melody, and beep signal.
With a steaming basket to double as a steamer and a cake menu setting to bake cakes, this Zojirushi NS-TSC10 is exactly what you may want for your kitchen.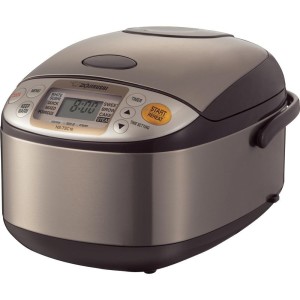 It is a 5-1/2-cup rice cooker and warmer that makes 10 cups of cooked rice; it also provides a variety of cooking functions including white rice or sushi, mixed rice, porridge, sweet, brown, cake, steam, and quick cooking.
Zojirushi is a premium brand and should not be compared to any other rice cooker as it produces the quality rice thanks to the Micom (microcomputer) fuzzy-logic technology.
Certainly, the rice will turn out perfect every time the cooker is used. It is so simple to use and the rice it produces even from lower quality grains is simply amazing.
The unit is relatively small; it fits under your top cabinets and the lid opens all the way under the top cabinets without hitting.
It is perfect for a family of 4 or 6 members as it makes roughly 9-10 cups of cooked rice (5-cup uncooked rice). The nice easy to clean non-stick interior and stylish stainless exterior will be observed in any kitchen.
Some other functions such as Mix and Cake are quite interesting add-ins bonus that you will not find in other brands.
You can make cinnamon honey apples, cheesecake, sponge cake and Japanese style cheesecake in this with no problems or lingering odors.
This seems more suited to those without an actual oven or cake pans, although it probably saves a bunch of electricity.
Aroma Housewares Professional Rice Cooker, Food Steamer & Slow Cooker provides a capacity of cups of uncooked rice resulting in 12 cups of cooked rice.
It includes accessories as Steam Tray, Rice Measuring Cup, and Serving Spatula.
You will discover easy-to-use functions: digital controls with automatic Keep-Warm and White Rice, Brown Rice, Steam, Slow Cook, Oatmeal, Soup and Cake functions.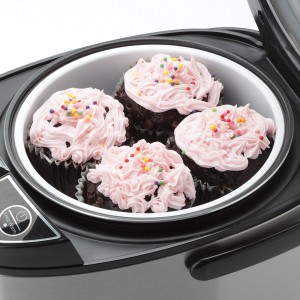 From cakes to stew, it cooks more than just grains. From breakfast to late bite, certainly, Aroma Housewares Professional ARC-616SB Rice Cooker with Cake Function will always be there when you feel hungry.
Programmable Oatmeal, Soup, Slow Cook and Cake functions are perfect and so, you have a helpful unit that has everything from breakfast to lunch to dinner and even dessert covered.
The control panel of Aroma Housewares Professional ARC-616SB Rice Cooker with Cake Function in the front offers a digital display and easy-to-understand functions.
It also has a picnic-style handle, making it easy to carry it with you wherever you need evenly cooked rice. It also offers a delayed timer so you can set it up to 15 hours in advance.
With this rice cooker, you also get a clear plastic measuring cup and serving spoon. The detachable power cable is a great addition that you will not find at other models in the same price range.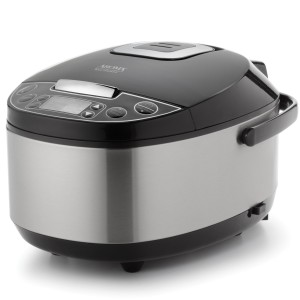 Check Price
The machine looks great and is user-friendly. You are going to have no issues with cleaning it. And the instruction book is your friend, so read it.
For Cake function, you will get all the directions from the Aroma website which has many recipes. Now, you are able to bake moist cakes and quick bread.
Be prepared to use it for oatmeal, steaming stuff, and even bake a cake and you could not ask for anything more!
This Tiger JAJ-A55U-PP 3-Cup (Uncooked) Micom Rice Cooker with Bread Maker guarantees you Synchro-Cooking function using "tacook" cooking plate in order to prepare two dishes at the same time.
You also have computerized cooking menus: Quick Rice, Synchro-Cooking, Plain Rice, Mixed Rice/Sweet Rice, Risotto, Brown Rice, Stew/Soup, and Cake Baking.
This is great for a single person if you are using it for the entire meal. But if you just use it for the rice and sides, it should be enough for one meal for two people.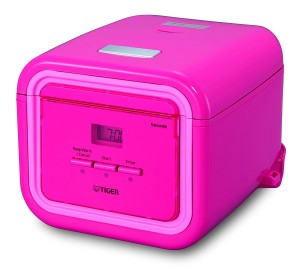 With only rice, well, it cooks around two and a half cups of uncooked rice. It is easy to use and clean with an extra panel on the front that seems to protect the controls somewhat and adds to the smooth appearance.
If you want to make Japanese cheese cake, this rice cooker is really good. Using the inner pot, you can bake cakes as described in the cookbook. And certainly, your cakes will be appreciated by the entire family and friends.
The multi-use synchro cooking function is really what makes this unit worth the investment; not only will your rice be perfect, but you can also steam the accompanying dish as well.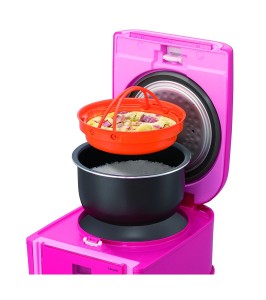 Check Price
It also comes with an inner steaming tray if you want to steam other dishes at the same time. One minor design flaw is that the electric cord does not automatically rewind back into the unit as in some other models.
When the rice is done, the rice cooker automatically changes to the keep warm mode, until you press the cancel button. This all-in-one is perfect for the busy working singleton or couple who do not want to compromise on the quality of home-cooked meals.
This HIBRO Asian Style 13 in 1 Multifunctional 5-Liter Rice Cooker with Advanced 3D Dynamic Heating, Reheat and Preset Function (Eb-fc57) guarantees you 13 preset automatic cooking programs as Rice/Cook, Fish, Meat, Soup, Pasta, Steam, fry, Cake, Yogurt, Steam, Rice Crust, Reheat, and Preset function (for starting cook anytime).
This rice cooker provides super thick nonstick inner pot for higher heating efficiency, durability and easy cleaning and a capacity of 5 liters for up to 8 persons, with advanced heating (3D heating with Fuzzy Logics) and dynamic and variable heating.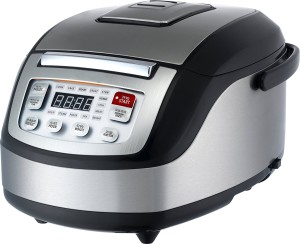 If you want nicely cooked rice and many other types of foods but you do not have much time to spend in the kitchen, this 13-in-1 Asian/Korean-style automatic multi-functional cooker is perfect for you and your family.
There are many cheaper alternatives with a single switch that can cook or keep warm with HIBRO EB-FC57 Multifunctional Rice Cooker.
This rice cooker can also keep warm, but it can also delay up to many hours, which is perfect to get it ready for coming home after work or for getting it ready in the morning before going to bed.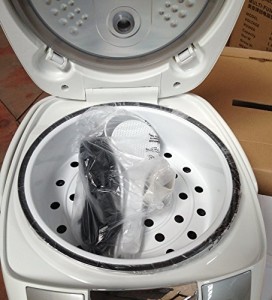 Check Price
This does not have a slow cooking function. It has a preset function. For instance, if you want to set it up before going to sleep, you can have food ready the next morning.
So it is a kind of a slow cooking. The "Cake" cooking function is also set to 50 minutes and no adjustment is needed.
Midea Sweet Rice Cooker provides easy and healthy cooking as you are going to spend less time in the kitchen and there will not be a ton of kitchenware to clean.
With its amazing 9 modes of cooking, this cooker has everything you need to cook all kinds of rice, steamed meats and vegetables, soups, oatmeal, cakes and more.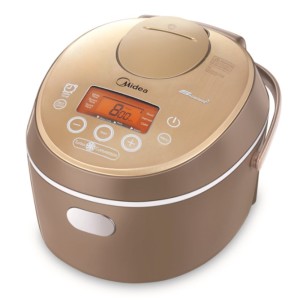 This rice cooker is both faster and does not leave a ring of burned rice at the bottom. It also cooks cakes perfectly, not drying them out. Using the soup function, you are able to make a delicious chicken soup with assorted vegetables. This unit is easy to clean, move and store.
It can make up to 10 cups of rice. It is great for those winter mornings as you can set the delay timer on it before you go to bed and your rice is already done when you wake up in the morning, perfect for your rice cereal.
It also has a wonderful steamer tray, which many of the more expensive units do not include.
This product is great for those people who are working full time, students especially in dorms and having a large party to serve food.
It is very simple to operate and keep your meal heated for a long time. This programmable rice cooker does a fine job on brown rice, congee, steaming, and even banana bread in cake mode.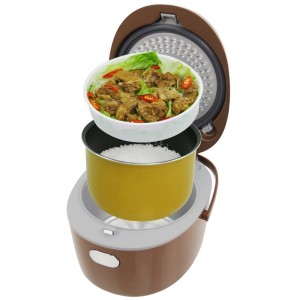 Check price
If you want to prepare cakes with Midea Sweet Rice Cooker you should follow the instructions on cake mix packaging or recipe, to mix liquid ingredients and cake mix, to add cake mix into the inner pot.
Then, you have to press the button "menu" and choose Cake function and press "start". After it finishes, it will beep and keep warm automatically. Be sure you remove the cake carefully by inverting the inner pot onto a flat dish or surface.
Conclusion
If you are looking for a rice cooker with cake function, certainly you will be able to make a decision after considering all the 5 best Fuzzy Logic rice cookers with cake function.
Whatever your choice may be, you have the certitude that your new rice cooker will do its job as it says. With a lot of cooking functions, you have one product that can cook some many dishes.