Fulgor Milano F6PIR304S1 Induction Range will inspire you thanks to its nuanced features both traditional yet innovative!
What do you know about Fulgor Milano F6PIR304S1 Induction range
? You may say that it is another freestanding range from the large variety of such items available on the market.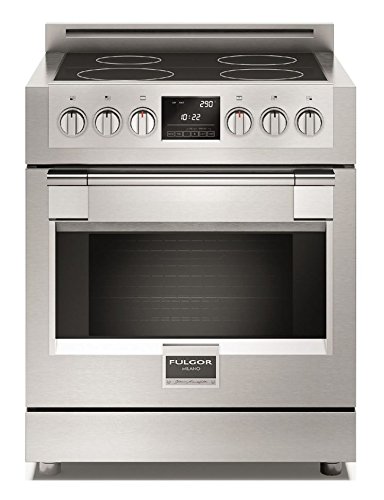 But this is not a simply range. This product revolutionizes your way of cooking and this is possible because of its reliability and versatility.
Let's find out numerous interesting aspects of this Fulgor Milano F6PIR304S1 Induction range.
1. Controls
It is so easy to use this Fulgor Milano F6PIR304S1 Induction range; you have an electronic white LED display with Celsius/Fahrenheit display, an illuminated knob for power setting, 12/24-hour clock format, child door lock and command lock, automatic fast preheat, and preheat bar (25%, 50%, 75%, 100%) that definitely, will help you in your cooking process.
Some features of the oven are True European Convection Bake (multi-level), Convection Broil, Convection Roast, Pizza (Lower Convection), Bake, Broil, Dehydrate, Thaw (Defrost), Proof (Warm), Keep warm (Warm Plus), Fast Preheat, and Pyrolytic Self-Clean.
2. Surface
With every beautiful aspect of this freestanding range, be sure that the gas cooking surface is no exception.
The combination between the classic Italian design with the professional style of Fulgor Milano electric induction range ensures high performance and spectacular looks into any kitchen in order to match any decor or design.
You should know that the black ceramic glass cooking surface is easy to clean. All you have to do is to just wipe down on the smooth top after you are done the cooking or to apply soap to makes it easier for yourself.
This cooking surface provides energy efficient heating induction technology and only heats induction cookware; the flat cooking surface is safe for your hands and also easy to clean.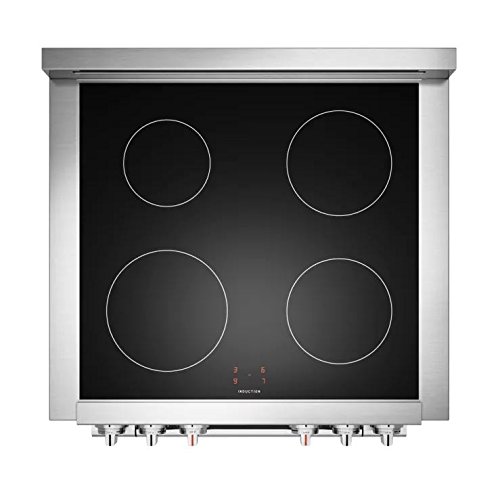 And of course, every burner allows you to temperate the most delicate chocolate or to sear a steak to perfection.
3. Oven
With Fulgor Milano F6PIR304S1 Induction range, you will enjoy a 4.1 cubic-foot oven with dual convection, a full-extension rack with stainless glides, commercial-style racks, and multi-level lighting.
The oven is characterized by quality found in the details; you get a fully featured extra large oven accessed through a delicately balanced, cool touch door.
This oven provides a telescopic rack for total extraction and maximum lighting and this offers clear visibility along with innovative technology and long-lasting materials.
Now it is the time to try an oven that delivers a powerful and unforgettable cooking performance as it is outfitted with all the right accessories.
The electric oven features the multi-pass broiler with a full reflective stainless plate that offers even broiling performance.
It utilizes the technology of two 1,300-watt elements which operate simultaneously for unsurpassed baking performance and even temperatures.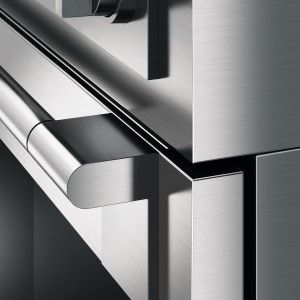 And for perfect visibility and clean lines, the wide glass cool-touch door is equipped with a shock absorber for stable, soft closing of the oven's door.
4. Heating Elements
There are 4 induction cooking zones with an elegant ceramic glass surface and booster function for each cooking zone.
5. Power/Watts
The electrical requirements of this product are the following ones:
Volts: 240 Volts
Minimum volts: 208 Volts
Frequency: 60 Hz
Amps: 45.8 Amps
Amps for minimum Volts: 48.5 Amps
Also, the induction range provides 9 power levels making it an energy efficient system. You have also a Booster function and this avoids shifting your pots or pans around as you can boil water fast with the booster or fast boil function on each zone.
With functions such as melting function of 113°F (108°F inside the pot), warming function 158°F (149°F inside the pot), Booster or fast boil function for each zone, automatic heat-up time and residual heat indication, your cooking will turn to be a breeze.
6. Sensors
If you are not sure that you are using the induction compatible cookware, the incorporated sensor will indicate you that your pots are or are not appropriate for the cooking surface of this range.
So every of the four burners will or will not turn on once a pot is place on it.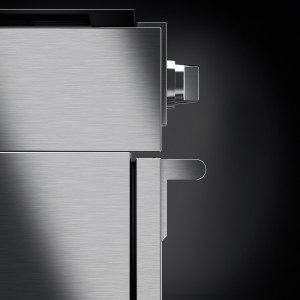 7. Ventilation
The cooling fan system guarantees a proper functionality of the range, and overheating or damage of internal elements is not possible.
8. Safety Features
As you may probably intuit, this freestanding range ensures safety and protection while operating.
Fulgor Milano F6PIR304S1
incorporates a pot detection system that will let you know if you are using the appropriate cookware and a child lock function and commands lock that will transform cooking with kids into a real pleasure without any risk of burning.
It is safe on your hand as induction technology only heats induction cookware. So you will never have to worry about accidently touch the cooking surface, but just be careful of hot pots and pans.
9. Accessories
The oven comes with two (2) chromed racks and one (1) full extension telescopic rack.
Also, in the packing box, you will find the installation guide and the user manual that you should read before starting to use this range.
10. Dimensions
The dimensions of Fulgor Milano F6PIR304S1 Induction range are the following ones:
Item Weight: 270 lbs.
Shipping weight: 291 lbs.
Height (to cooktop/ cooking grates/ with island trim): 35 3/8″; 36 3/8″; 38 3/8″
Width: 29 3/4″
Depth (to control plate /depth to handle end/ with door open): 27 1/2″; 29 3/4″; 47 3/4″
11. Pros
12. Cons
13. Consumer Ratings
Fulgor Milano F6PIR304S1 Induction range is a recently launched product available on the market; if you want to purchase it, you may not find feedback and reviews of other customers that have tried such a range. However, you can consult various technical details about this Fulgor Milano F6PIR304S1 induction range before buying it.
14. Price
For this Fulgor Milano F6PIR304S1 Induction range, you will have to pay this price
if you decide to buy it from Amazon.
Although you may think that it is a high price, considering the features and characteristics of this freestanding range, it will not take long until you will agree that this item worth every penny.
Take into consideration the range before making a decision regarding the cooking appliance that will fit your needs.