EurKitchen EK-IC-1 Portable Induction Cooktop – a perfect guide to any kitchen functionality!
Cooking and heating fast?
Easy cleaning?
This is possible although you may not believe it: EurKitchen EK-IC-1 Portable Induction Cooktop will change the way you are cooking at home or outside as it is small, compact and easy to store and all you need is a plug-in.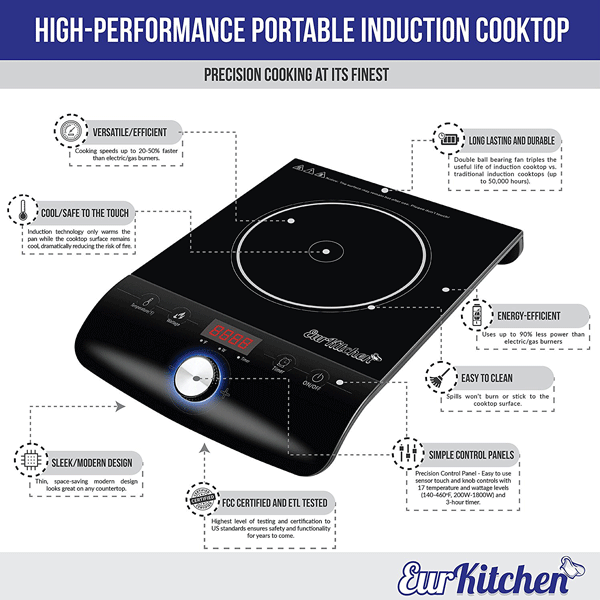 And these are not all the reasons you should buy this cooktop: below you will find out more about this product that will help you decide if it is right or not for you.
1. Controls
Enjoy simple to use precision power and temperature controls that includes a single illuminated control wheel and touch sensor buttons.
The dial controls the temperature and the wattage of the cooktop, as well as the timer.
From now on, you never again have to be chained to your kitchen.
Just prepare delicious and homemade meals wherever you find a plug-in.
2. Surface
With its crystal glass surface, the clean-up requires just a damp cloth.
So, spills and drips are easily wiped from the surface.
This care-free, portable induction cooker is ideal for cooking at home, in boats, RV's, dorm rooms or while travelling, for lab applications and truly anywhere with an electric outlet.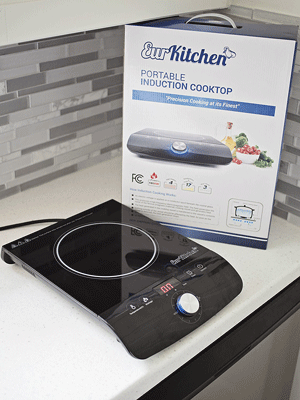 3. Heating Elements
Although it has only one burner, it uses only 10% of the energy of traditional heating plates and it cooks food 20% to 50% faster.
With this convenient cooking appliance, you can treat yourself to stir-fry dishes, stews and more, whatever you like.
4. Power/Watts
This must have revolutionary kitchen appliance has 17 power (and wattage) levels (every 20 degrees from 140-460 degrees F, 200W-1800W), a 3-hour timer and an LCD digital read-out.
It provides fast and efficient cooking that uses up to 90% less power than traditional gas or electric burners and prepares food 20%-50% faster.
It is built and certified to North American FCC Electrical Standards and ETL tested and here are the electrical requirements: 120V~60Hz AC.

5. Sensors
The unit detects if you are using or not appropriate cookware: it produces a high-frequency electromagnetic field to heat only the metal cooking vessel.
The technology is really cool as only the pan heats up and the surface does not stay hot when a pan is removed.
6. Ventilation
In terms of ventilation, the cooktop is designed with a double ball bearing fan that is going to triple the life of the EurKitchen cooktop, up to 50,000 hours.
7. Safety Features
You can be sure that this cooktop is the one of the most precise portable induction cooktop on the market, dispersing heat uniformly across the cooking surface of your induction-ready cookware for even heating of foods.
Enjoy the risk-free purchase as you are going to have 1-year money-back guarantee/warranty to ensure your ongoing satisfaction with your portable induction burner.
And if your EurKitchen Portable Induction Cooktop does not perform to your expectations, return it for a no-questions-asked 100% refund of your purchase price.
You can use this outside or at parties.
And you also feel much safer with the kids cooking on this: just put this on your island and cook a whole meal without heating up the stove.
But, you will need special magnetic pans for this to work. Or you can purchase an induction converter (7-9.5" in diameter) temporarily if you want to use non-induction-ready cookware.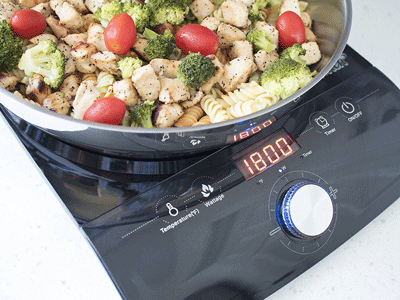 8. Accessories
Despite the unit, its power cord, and user guide, in the packing box, you will find an included temperature cooking guide that makes cooking with the EurKitchen induction Cooker super easy and guess-free.
9. Dimensions
The dimensions of the product are 15.2 x 11 x 2.4 inches, and the item weighs 6 pounds.
10. Pros
It heats up fast and easy to clean if anything spills on it.
So easy to use and cool to the touch
11. Cons
It heats only the metal cooking vessel and its contents
12. Consumer Ratings
People are very happy with this portable countertop induction burner as the consumer rating indicates.
For those who love camping, the unit is small, so it is easy to store in the camper when it is not used.
It cooks the food super fast, even much better than any traditional stove at home.
The fact that it is cool to the touch guarantees you safety and security if you have kids around you.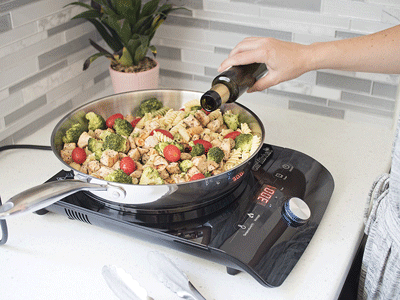 13. Price
If you decide to buy EurKitchen EK-IC-1 Portable Induction Cooktop, you can have it for this price at Amazon and all you have to do is to order the cooktop from Amazon site.
It is very sleek looking, but not only does it look good, it works really well.
So, definitely, you will be amazed how quick it heats up and how easy is to clean and maintain it.
EurKitchen EK-IC-1PortableI nduction Cooktop
Destination Use
Indoor and outdoor use
Design
crystal glass surface cooktop very
resistant to heat, a single illuminated control wheel and touch sensor
buttons.
Power Source
Built and certified to North American FCC
Electrical Standards; ETL tested. 120V~60Hz AC.
Output Power
1800W
Power Levels
17 power (and wattage) levels, 200W-1800W
Temperature Levels
every 20 degrees from 140-460 degrees F
Programmable Timer
a 3-hour timer and an LCD digital read-out
Function Lock
No
Warranty
1-Year Money-Back Guarantee/Warranty
Acoustic Warnings
N/A
Weight
6 pounds
Dimensions
15.2 x 11 x 2.4 inches
Cord Length
N/A
Glass Cooktop Size
N/A
Safety Sensors
Auto-detection of pot
Induction Cookware Sensor
Yes, it must be used with induction-ready
cookware (made of/includes iron and is attracted to a magnet).
Induction Overheat Sensor
N/A
Glass Cooktop Overheat
N/A
Free pan
No
Price
Amazon Link