3 Easy to Use Pressure Cookers Made in USA with Reviews
Finding an easy to use cooker pressure made in USA can be a difficult task, but once you find out the features that such a product should have, you will know what exactly you have to purchase for your kitchen and your cooking tasks.
If you are looking for a super-easy pressure-cooking experience, you should consider pressure cookers with easy-lock systems, settings for adjusting the pressure and steam cooking, solid handles for lifting, interior markings etc.
Then, you should also have a look at the safety features of a pressure cooker: this will prevent exploding when the pressure cooker is left unattended on the stove.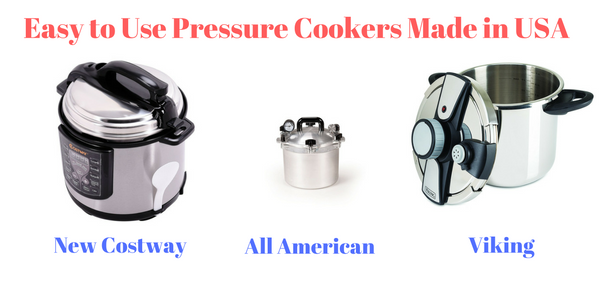 Modern pressure cookers incorporate safety pressure valve, visual pressure indicator, encapsulated base that does not allow developing of hotspots and stainless steel body that reacts least with the food.
For those who are searching for easy to use pressure cookers that are made in USA, the following examples will help them to get an idea about a great pressure cooker for any kitchen.
So, let's get some useful tips to which you should be attentive before purchasing a pressure cooker.
If you want an All-American Pressure Cooker, you should know that there are various sizes available for this item: you can choose a 10.5-quart, 15.5-quart, 21.5-quart, 25-quart, 30-quart or 41.5-quart pressure canner.
For example, a 25-quart pressure cooker/canner is capable to hold 19-pint jars or 7-quart jars.
An All-American Pressure Cooker is made of durable and hand-cast aluminum with attractive satin finish.
It comes with geared steam gauge, automatic overpressure release and settings of 5 psi, 10 psi, and 15 psi. It provides an exclusive metal-to-metal sealing system for a steam-tight seal but has no gaskets.
If you want to purchase this pressure cooker for canning and pressure cooking, it works great.
The pressure cooker has a pressure gauge and a weighted pressure valve. With the weight marked, you will know how many pounds of pressure you are cooking under.
Included with the cooker, there are also two racks: one for the bottom and one to place in between cans or jars if you are stacking them.
If you have trouble fitting it on top of the stove in your kitchen, you may consider pulling the stove out in order for the canner to clear the fan.
The canner is sturdy and heavy: with good handles, if you need help, you have the certitude that two people could pick this up before you put water and jars in.
On the other hand, the metal to metal seal works great and it is easy to get the lid on evenly. With the weighted pressure valve, you get a safe way to regulate the pressure.
And there is a rubber safety plug on the lid that will pop out if the vent gets plugged up, that way the thing cannot explode on you.
New Costway 6-Quart is a very safe item to use while saving half of the cooking time and energy for you compared with ordinary cookers. You should not hesitate to buy it as it is made in USA and is a new cookware developed by Costway high technology.
This New Costway Pressure Cooker is an aluminum inner pot having stainless steel outside and lid. Costway comes with a brand new and high-quality product and so, it is the right moment to discover the advantages of pressure cooker, rice cooker and innovation designs; safe and reliable, multi-functional, easy to operate, time and energy saving, etc., here are only some features of this pressure cooker.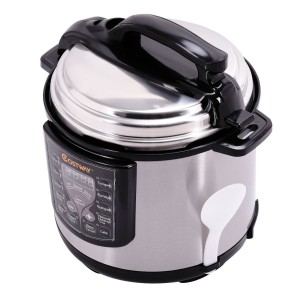 With this new pressure cooker, you are going to try automatically controlled temperature and pressure.
It has a fashionable design and you also get reliable safety, easy operation and energy saving and preset time for delaying cooking.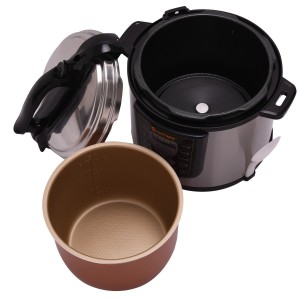 Check price on Amazon
This non-stick coating inner pot provides easy cleaning after each use. Such a pressure cooker will work fine but you have to figure it out yourself.
Before starting to use the product, make sure you read all the instructions and follow all the described steps.
And you have a new option: Viking Culinary Pressure Cooker with Easy Lock Lid.
It is made of shiny, gorgeous, thick stainless steel and has a lot of safety features built-in.
First of all, you have high and low-pressure settings to accommodate different cooking needs.
The innovative clamp-style lid allows locking in any position, and the quick release valve is necessary for fast pressure release.
You have in the interior of the pressure cooker convenient markings and this is perfect for easy liquid measurements and indicating the maximum fill point.
Working on all stove types, including induction, Viking Culinary Pressure Cooker 8 Quart can be used for preparing broths, soups, meat, poultry, vegetables, beans, grains and even desserts.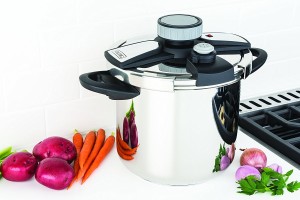 You can open and close the lid by turning the top knob. There are two clamps on each side of the lid that extend and retract to close it: when the cooker is pressurized, you cannot open the cooker until it is safe to do so.
There is a higher pressure, lower pressure, and a third setting for letting out the steam.
The item is also designed with two balanced insulated handles to lift the cooker and a steamer basket provided for steam cooking.
It is very well built but not overly heavy, the size is terrific and very useful for stews, beans and most general family dishes.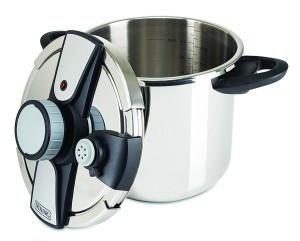 Check Price on Amazon
If you want to clean the cooker, you have to clean the seal. It is not difficult, but it may take extra time and care to make sure the seal is completely clean and dry.
This superb piece of equipment is ideal for doing meals and individual entrees.
Conclusion
If you want to meet a good pressure cooker, here you have best 3 easy to use pressure cookers made in USA.
From now on, it is up to you to make a decision considering the features and characteristics of each product.
Discover generous capacities and heavy base for even heat distribution with these pressure cookers!