Easy Homemade Chicken Vegetable and Noodles Soup Recipe
This is my family's favorite soup as I usually prepare it using chickens raised (by my mother-in-law) in the backyard (organic chicken).
The soup is very tasty and healthy, and my husband often says that it is a "star" dish because the chicken fat rises to the surface.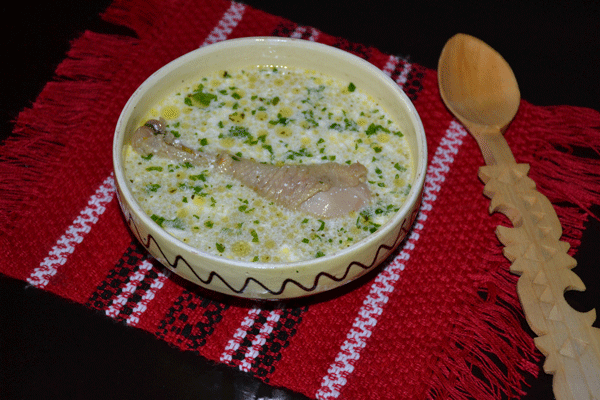 It has a sour taste because I use borscht (this ingredient is specific to our area).
For the soup, I need poultry, carrots, onion, parsnip, parsley, celery, red pepper and green herbs.
This soup can also be served with cream.
1. Ingredients
Vegetables and Noodles Chicken Soup
The soup is very tasty and healthy, and my husband often says that it is a "star" dish because the chicken fat rises to the surface.
Ingredients
poultry
1 carrot
1 red pepper
1 small celery
1 parsley root
1 parsnip root
1 large onion
noodles
parsely
dried lovage
borscht
2. Required kitchen utensils
– a knife for peeling and chopping the vegetables
– a wood cutting board for chopping vegetables
– a stainless steel spoon
– a 4-liter pot (4-quart pot)
– a small hole grater
– a pressure canner
– gas cooker (or any other source of cooking: electric or induction stove)
Step 1. Boiling the chicken
For this soup, you may use skinned and shredded chicken. Or you may consider carcass and bones from one roast chicken, but they can also be in pieces.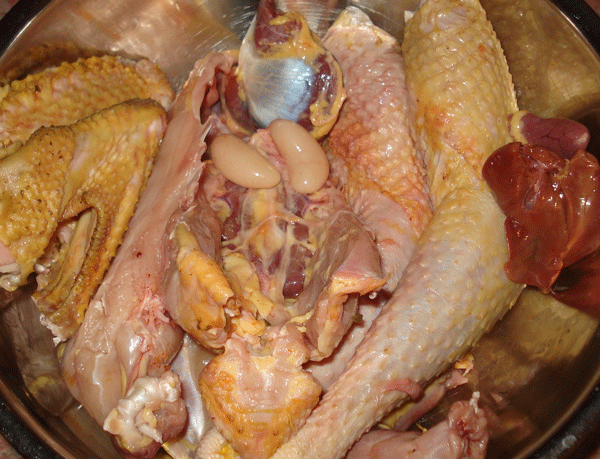 Put about 2 liters of water in a pot, and then put the chicken pieces.
Poultry should be cut beforehand. I use breast, thighs and drumsticks, liver, gizzard and wings. You bring them to a boil (all the chicken pieces with skin) after they have been washed very well.
Allow to boil over medium heat and remove foam.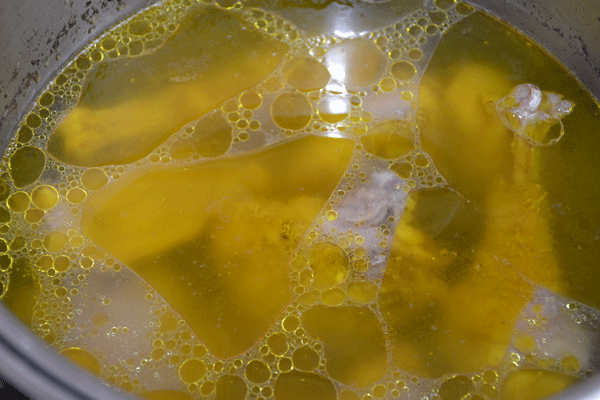 Then, I have used the pressure canner for boiling the chicken for 40 minutes. Being a chicken raised in the backyard, it would have taken too long to boil normally.
Step 2. Preparing the vegetables for soup
Peel all vegetables and wash them well.
Onions, carrots, and peppers are cut into small cubes and boiled in a pot with 2 liters of water.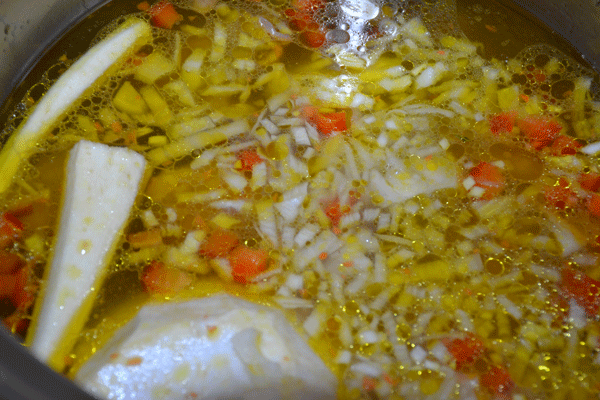 Add the unchopped celery, parsnip, and parsley (or cut them into cubes) and add a tablespoon of salt.
I prefer to remove celery, parsnip, and parsley root at the end because they give a sweet taste to the soup.
Step 3. Making the soup
Drain off the water (in which the meat was boiled) and add the chicken pieces to the pot in which the vegetables are boiled.
Fill the pot with water, if needed, bring to a boil over low heat until all the ingredients are cooked.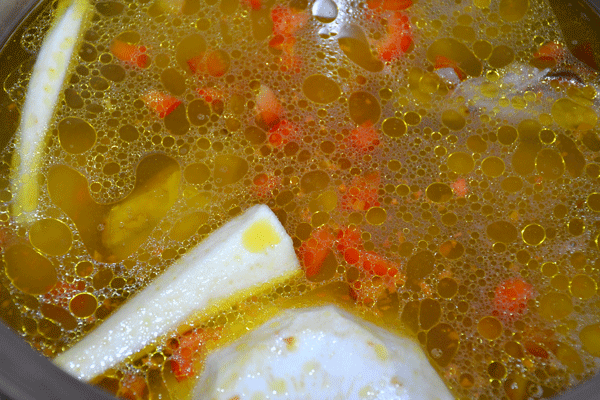 Step 4. Adding borscht
Add borscht to taste 10 minutes before the soup is ready.
Step 5. Adding noodles
Add the noodles and let them boil for 6-7 minutes.
Step 6. Preparing the green herbs
It would be ideal to use fresh greens that just need to be washed and chopped.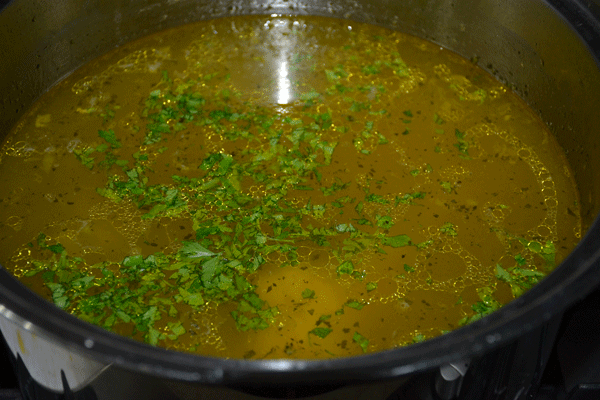 I only use fresh parsley and dried lovage. At the end, add the chopped green herbs, turn off the stove, let it infuse for 5 minutes, and then serve the soup.
Step 7. Decorating and serving
This soup can be served with sour cream and fresh parsley sprinkled on top.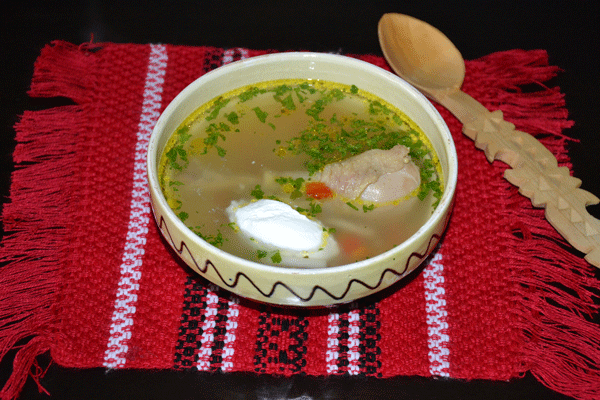 Mexican chicken soup recipe with rice
If you try this recipe, you should also consider a Mexican chicken soup recipe with rice. It is a very easy recipe as all you have to do is to just throw everything into your stockpot and you are done.
Then, only one pot gets dirty and the soup is healthy as you have lean protein from the chicken breasts and so hearty, yet light from the brown rice, spices, and chicken broth. It tastes amazing thanks to all of the used spices.
For this soup, you need chicken stock, long-grain rice, tomato, onion, diced cooked chicken, fresh lime juice, cilantro, and minced Jalapeno (optional). Cook the rice in the stock, stirring occasionally, until the rice is tender. Combine vegetables with chicken, lime juice, cilantro, and chiles. When the soup is ready, ladle it over the vegetables put in the bowls. Season and taste.
You can serve this soup as is, or go nuts with the toppings! Try with non-fat plain greek yogurt, loads of fresh cilantro, finely diced red onion, and plenty of tortilla chips!
Jewish chicken soup with matzo ball
Jewish chicken soup with matzo balls is considered a goopy canned condensed gross stuff. However, once preparing this recipe, you get a golden broth, filled with minimal toppings but plenty of flavors.
Also, you should know that there is a key: matzo balls should be made with seltzer and this gives the batter a good rest before shaping and cooking and of course, makes all the difference.
There is no big deal if you already have chicken stock ready on hand: just feel free to add the vegetables of your choice, and cook for half an hour before adding the matzo balls. And instead of dill for serving, you can add parsley or even cilantro!
For preparing matzo balls, you have to mix together the matzo meal, eggs, vegetable oil, seltzer, salt, and pepper. Cover and refrigerate for 30 minutes. Then, for modeling, do not forget to place a bowl of cold water next to your matzo ball mix as you will need to dip your hands in it so that the matzo meal will not stick to your palms.
This wonderful soup can be served with a matzo ball or two, some of the veggies, some meat on the side and a nice sprinkling of dill if you are into that sort of thing.
Chicken mushroom egg soup
And Chicken mushroom egg soup is a fast, easy, and very flexible dish, and this gives you the chance to add extra ingredients based on what you have on hand.
The things that you need to make this soup are chicken or vegetable broth, eggs, mushrooms and a splash of soy sauce. Of course, you can throw in a lot of veggies (such as onion, garlic), plus noodles, tofu or shrimp and so, this soup will become a very satisfying one-pot meal.
Regarding soy sauce (or tamari, for gluten-free), you should know that it varies considerably in saltiness, so when in doubt, use a bit less at first than you think you might need. It is very easy to add more, but not the other way around!
The secret of this soup is to slowly pour in the beaten eggs while stirring the soup. The egg will spread out into ribbons. Once you turn off the heat, just garnish with a few more chopped green onions and serve immediately.