Home
/
Buying Advice
/ Duxtop (9600LS) vs Max Burton (6400) Tabletop Induction Burners
Duxtop (9600LS) vs Max Burton (6400) Tabletop Induction Burners
Do you want to purchase a single induction cooktop?
How about a Duxtop model or maybe a Max Burton model?
If you have not decided yet, you may be interested in drawing a comparison between Duxtop (9600LS) and Max Burton (6400) Tabletop Induction Burners.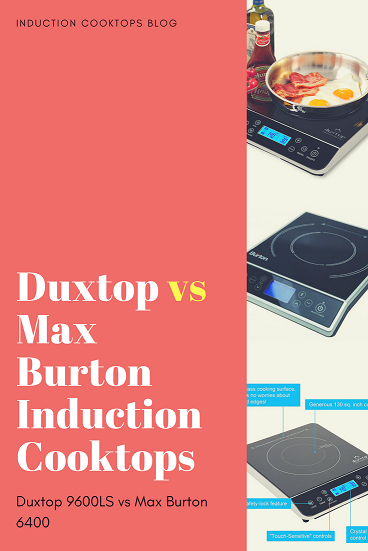 So, now you have the chance to see which are the advantages and disadvantages of having a Duxtop unit or a Max Burton item in your kitchen.
Just continue to read all our observations.
1. Duxtop 9600LS Tabletop Induction burner
Duxtop (9600LS) comes with a digital LCD sensor-touch control panel, child safety lock system (you have to press and hold the Safety Lock Key for 3 seconds to activate), Fast Boil button and Keep Warm button.
It uses 120 volts, 15 amps of electricity which means that it is standard in all homes and also, is lightweight and compact for easy handling and storage.
The cooktop has an auto-pan detection feature that will shut the unit off automatically after 60 seconds if there is no cookware on it, or the incorrect cookware is detected.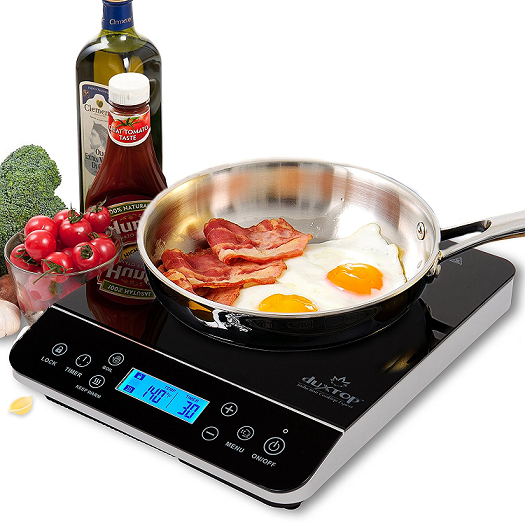 Also, Duxtop (9600LS) is equipped with diagnostic error message system and low and high voltage warning system.
If you consider buying this product, you should know that it is ETL approved and built to North American Standards and comes with 1-year manufacturer's warranty.
With this unit, you have a built-in count-down digital timer with 1-minute increments up to 10 hours, but also 20 temperature ranges from 100°F to 460°F and 20 power levels from 100-1800 Watts. And the power cord is a 5 ft cord.
In case you do not know, the cooktop automatically adjusts the magnetic field generated to the size of the cookware base so that very little energy is wasted during the cooking process.
For this tabletop induction burner, you should purchase Duxtop Whole-Clad premium cookware and other induction ready cookware such as cast aluminum enameled iron and steel, stainless steel with a magnetic bottom, or cast iron.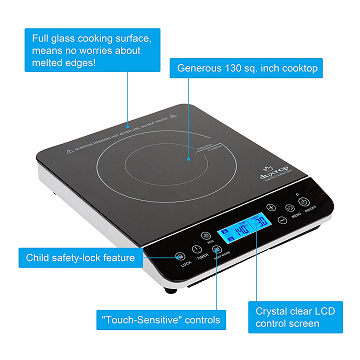 Your cooktop is safe to use, fast and easy to clean. Such a versatile and feature-rich cooktop is great for entertaining as you can use it as a stylish centerpiece on the table for outdoor parties or in the kitchen as an extra cooking zone.
2. Max Burton 6400 Induction Cooktop
Max Burton (6400) Tabletop Induction Burner provides a digital and simple touchpad that gives you very fine control over settings.
Definitely, you can save energy and safely cook anywhere with this versatile appliance: this is not the ideal burner for all types of cooking, but for sauces, soups, cheese dips, and anything that requires tight temperature control it works great.
The Max Burton 6400
lets you get the performance and control of a good gas cooktop, with the added benefit of excellent control over the temperature of the pan or skillet.
Do not be afraid anymore that you cannot maintain the temperature of a sauce, or set the temperature of a frying skillet: you can do it to any one of teen different temperature levels.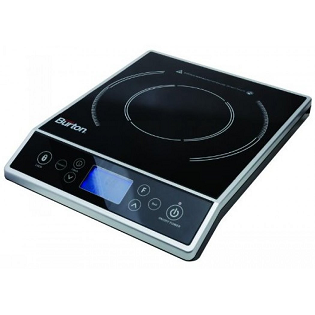 Because it plugs into a regular 120-volt outlet, you can get all of these features anywhere you have an electrical outlet.
When you press any of the buttons, it makes a loud beep sound; it is not terribly loud, but maybe you would not want it to use it in the middle of the night if you live in a small apartment with roommates.
Also, there is a fan inside that cools it down and spins for a minute or two after you turn it off; it is fairly quiet, about as loud as a computer fan.
With this unit, you can cook anywhere: dorm room, potlucks, socials; it also makes a great buffet warmer, too.
Learn how to adjust the temperature from 100° to 450°F in 25° increments to fine-tune heat from just keeping warm to a roaring boil.
With 1800W power, you can prepare meals faster and more efficient heating. And the 180-minute programmable timer is perfect for set-and-forget cooking.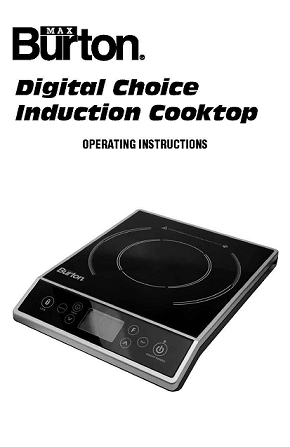 When cooking, make sure you are using induction such as cast iron, carbon steel, magnetic stainless steel or any other material with a built-in induction base.
Size, shape, and construction are all factors for suitable cookware. With this cooktop, the base must be made of ferrous magnetic materials and additionally should be flat and have a diameter no less than 4.5″.
3. Differences
When it comes to comparing Duxtop (9600LS) and Max Burton (6400), first, you should know that both burners have a maximum power of 1800 watts, but there are some differences.
The first difference refers to the price of acquisition: Max Burton 6400 (check this price at Amazon
) is more expensive than Duxtop 9600LS (check price at Amazon
).
The Max Burton 6400 is quiet, powerful, attractive, and has an infinite variety of settings including a "boil" and "simmer" button. Also, the unit can be set to cook on ten different speeds as well as precision temperature control.
For Max Burton 6400, you get two modes: power level (1-10) and temperature (in 25-degree increments, 100-450 degrees). The one downside of this is that if you use a small pot or kettle (for example a Takahiro kettle), it will be too small for the induction coil to sense.
However, Duxtop (9600LS) has a lot of features such as diagnostic error message system, Child Safety Lock system and low and high voltage warning system. And you have the possibility to choose from 20 temperature ranges from 100°F to 460°F and 20 power levels from 100-1800Watts. And as the exterior is totally glass, the unit is so easy for clean up.
4. Conclusion
Both units are perfect if you need an extra burner in the cooking space or you are looking for something to carry with you while going on holiday or camping.
In case you have to decide between these two induction burners, take into account that Duxtop (9600LS) is a very well-made burner, has a lot of safety features and delivers lots of heat in a very controlled way.
You have the chance to have a cooktop with the ability to cook by temperature, a terrific feature that you will really appreciate once you cook that way: no more guessing as the temperature you set is regulated automatically.
On the other hand, it would be nice if Max Burton 6400 had variable temperature control instead of the fixed increments. You can use it for sauces and soups, and anything that requires tight temperature.
However, it is ideal for campers, owners of old stoves, students, or elderly.
5. Comparison Table
Duxtop (9600LS)
Max Burton (6400)
Destination Use
Indoor and outdoor use
Indoor and outdoor use
Design
Black ceramic glass cooktop
Black ceramic glass cooktop
Power Source
120 volts, 15 amps of electricity – standard in all homes;
N/A
Output Power
1800Watts
1800Watts
Power Levels
20 power levels from 100-1800Watts
power level (1-10)
Temperature Levels
20 temperature ranges from 100°F to 460°F
teen different temperature levels: 100° to 450°F in 25°
increments
Programmable Timer
built-in count-down digital timer with 1 minute increments up to
10 hours
180-minute programmable timer for set-and-forget cooking
Function Lock
Child Safety Lock system (press and hold the Safety Lock Key for
3 sec to activate)
N/A
Warranty
1-year Manufacturer's warranty
N/A
Acoustic Warnings
N/A
N/A
Weight
7.3 pounds
7.8 pounds
Dimensions
14 x 11.4 x 2.5 inches
13.5 x 12.5 x 2.6 inches
Cord Length
5 ft cord
N/A
Glass Cooktop Size
N/A
it should be flat and have a diameter no less than
4.5″.
Safety Sensors
Auto-pan detection feature, Child Safety Lock system, Low and
high voltage warning system and diagnostic error message system.
Lock to hold settings, Auto-pan detection feature
Induction Cookware Sensor
Yes
Yes
Induction Overheat Sensor
Yes
N/A
Glass Cooktop Overheat
N/A
N/A
Free pan
No
No
Price
Link
Link