Which is better? Dacor RNCT304B vs. Dacor RNCT365B
Is there any reason why you would choose a gas stove over an electric, induction cooktop?
We think not. Induction cooktops are so elegant, stylish and smartly-designed that almost no one can resist them.
The induction cooktops we are analyzing today aren't just any products. They are high-end kitchen appliances with plenty of safety features and advanced cooking functions.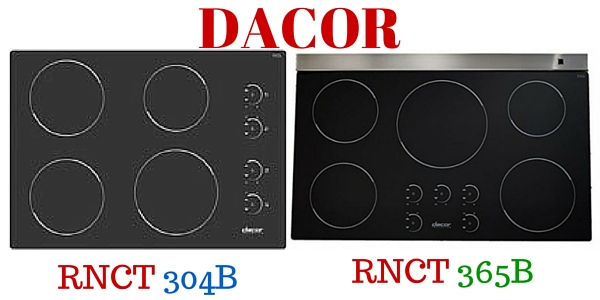 Let's see which one is better for your needs.
Overview of Dacor RNCT304B 30 inch Induction Cooktop
This is an induction cooktop that, unlike single-burner cookers, must be incorporated into the kitchen furniture with care, following the installation advice. The Dacor RNCT304B comes with 4 heating elements and a gorgeous design.
The 4 burners are different in size, so they can be used with various larger and smaller pots and pans.
The controls are positioned in the right side of the cooktop and are highly sensitive to touch. It's easy to cook when you have such a nice control panel at your disposal.
It features 2 important functions: the Power Boost, which can be used to heat up food or cook fast, by reaching high temperatures in less time and the SenseTech, which is used to detect the presence of cookware on the burner.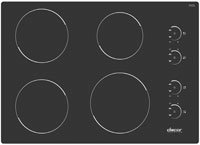 There are 4 main controls, for each burner. They are marked with a crescent line and have the on/off symbol in the center. The + and – symbols are present in the left side of each control and can be used to adjust settings like the temperature and power.
Its 30-inch size is suitable for most kitchens and is sometimes more practical than the 36-inch version that we've analyzed below.
As for the size of the heating elements, they are and configured in a way that helps cooks manage their daily tasks easier and more efficiently.
There are 2 elements with an 8-inch diameter and a wattage that can reach 1850 W and 2500 W when in Power Boost mode.
The largest burner's diameter is of 9 inches and can use up to 2300 W and 3200 W when the Power Boost function is active. The last and smallest burner has a 7-inch diameter and can use a maximum of 1400 W and 1800 W when Power Boost is enabled.
All heating elements can be used with the Power Boost function, which is great and rarely seen in induction cooktops. Whenever this mode is active, a red light will show up at the bottom of the control.
This model is 3-7/8 inches high and 21 inches deep and requires a 240V, 40A outlet.
Its glass surface is easy to clean and maintain using induction-compatible sprays and solutions.
It is easy and safe to operate. Red lights turn on whenever an element doesn't detect any cookware or activity. It is important to use the cooktop only with induction-ready pots and pans.
Also, there is an auto-shut-off feature that enables itself whenever the cooktop is on for a longer period of time than expected or when the power levels are not being set 10 seconds after turning on the unit.
Overview of Dacor RNCT365B 36 inch Induction Cooktop
This product's features and functions are very similar to those of the product above. They are both part of the same product series, Renaissance, and were designed with the user's comfort and safety in mind.
Its design is slightly different from the RNCT304B's design, as it measures 36-inches and its control panel is positioned at the bottom of the unit, instead of the right side of it. The touch control panel comes with the same control design, but it has 5 controls instead of 4.
Also, it has 5 heating elements with different sizes and power levels. All burners can use the Power Boost mode, just like the product above.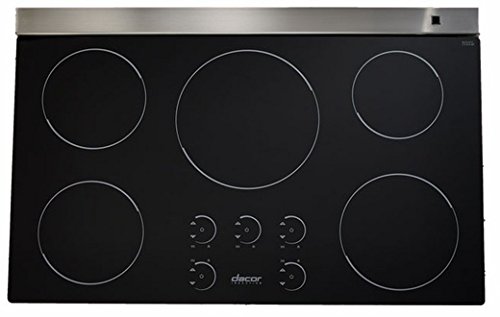 Here's how this induction cooktop is configured:
• 2 burners of 8 inches each that can use a maximum of 1850 W and 2500 W when the Power Boost mode is active.
• 1 7-inch element that can use a maximum of 1400 W and 1800 W when in Power Boost mode
• 1 8-inch element that can heat up using a maximum of 1850 W and 2500 W when in Power Boost mode
• 1 9-inch burner that can use up to 2300 W and 3200 W when in Power Boost mode
Its surface is also made of ceramic glass. Its height and depth are identical to those of the model
RNCT304B
. Other than the difference in size and design, the two models are very much alike.
The differences
The two induction cooktops are very similar, but they do differ when it comes to the number of heating elements and design. While the first product is smaller in size, measuring 30 inches, the second one is suitable for larger spaces, as it measures 36 inches.
The RNCT304B only has 4 burners, while the RNCT365B has 5 burners. However, the first product is more expensive than the second, paradoxically.
They feature the same functions and the same control panel type, as well as the same safety features. The intelligent burner layout is also present in both cases, helping users understand how to use the unit in a smart way, to save energy and effort.
The RNCT365B
is more powerful, having a burner that can reach a power level of 3700 Watts in Power Boost mode.
Summary
Both induction cooktops are suitable for individuals who are looking to transform their kitchens, turning them into efficient cooking spaces. These devices can help anyone save space and add some style.
The first product is suitable for almost everyone's needs. It is powerful, it has 4 burners, has features that help you cook in no time when you are in a rush and safety functions that will protect you and your family.
However, the second product is suitable for a tighter niche. It will be probably bought by individuals who cook large amounts of food or different meals for different member of the family. Its 5 burners wouldn't be necessary otherwise.
Although these are amazing products with incredible capabilities, there are a few minuses that raise some question marks. For example, there is no LCD or LED display that can help you see the temperature or the power level.
Also, the timer function isn't present, as well as the child lock function.
The 1 year warranty that the manufacturer offers for these products is a bit disappointing, but it's still better than nothing.
| Model | Dacor RNCT304B | Dacor RNCT365B |
| --- | --- | --- |
| Destination use | Home use | Home use |
| Controls | 4 | 5 |
| Control Panel | Touch control panel | Touch control panel |
| Functions | On/off, power adjustment | On/off, power adjustment |
| Surface | Ceramic glass | Ceramic glass |
| Color | Black | Black |
| Power Source | 240V | 240V |
| Output Power | 3200W | 3700W |
| Power levels | 8 | 8 |
| Temp Levels | N/A | N/A |
| Temp step increment | N/A | N/A |
| Programmable Time | No | No |
| Function Lock | No | No |
| Warranty | 1-year parts and labor | 1-year parts and labor |
| Acoustic warnings | No | No |
| Weight | 25 pounds | 25 pounds |
| Shipping Weight | 30 pounds | 30 pounds |
| Dimensions | 30 x 3-7/8 x 21 inches | 36 x 3-7/8 x 21 inches |
| Cord Length | N/A | N/A |
| LED display | No | No |
| Safety Features | Auto shut-off | Auto shut-off |
| Error Codes | Yes | Yes |
| Pan size (bottom diameter) | 7, 8, 9 inches | 7, 8, 9, 11 inches |
| Cookware material | Stainless steel, cast iron | Stainless steel, cast iron |
| Free PAN | No | No |
| Around Clearance | N/A | N/A |
| Made In | N/A | N/A |
| Price | $$ | $$ |