Cusimax CMIC-180 1800W Portable Induction Cooktop – discover how efficient is induction cooking!
Do you want to boil, deep-fry, steam, simmer, sauté, sear, and stir-fry?
Are you searching for a single induction cooktop that may guarantee all these cooking tasks?
Test the new Cusimax CMIC-180 1800W Portable Induction Cooktop
; it is specially designed for small kitchens, but also for restaurants and other culinary spaces.
1. Controls
This Cusimax CMIC-180 1800W Portable Induction Cooktop is designed with sensitive touch controls. With easy knob operation, you will enjoy a product that has a digital control panel with LED display window.
You get also 8 power levels from 200 to 1800 watts and a built-in countdown timer up to 2 hours for a wide variety of foods and cooking methods.
To design your cooking program, you can easily touch the control panel to set the cooking condition as you need.
Simply one touch on the Timer setting turns the control dial to set the required cooking time, so you can do any other thing you need during the cooking process.
The red indicator light will illuminate when the unit is turned on.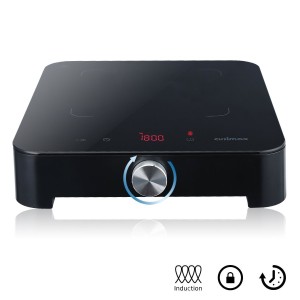 2. Surface
The generous cooking surface is made of black ceramic that is very resistant to heat.
As you may intuit, you have to use the right kind of cookware with Cusimax CMIC-180 1800W Portable Induction Cooktop, such as cast iron, enameled and stainless steel with a magnetic bottom, and the diameter should be no less than 4'' or more than 10''.
3. Heating Elements
With this single induction burner, you can braise, fry, deep fry, stir fry or roast even boil water in less time.
It is ideal for use in a busy restaurant kitchen, culinary schools or in the home as it saves your time doing many jobs such as to boil, simmer, deep-fry, and stir-fry, sauté, steam and sear, slow cook.
Check Price
The Cusimax has made an excellent decision in making the heating level control function a knob (on the front of the unit) rather than a button on the glass top.
Adjusting the heat level should be easy and the knob is immediately responsive and intuitive: left for the decrease, right for the increase.
Also, by placing the knob on the front of the unit the cook's hand is safely away from the hot pan.
4. Power/Watts
This portable induction cooktop is an energy-efficient induction unit that heats up faster and reduces your cooking time.
It is rated at 120 volts and provides 8 programmable power levels from 200 to 1800 watts for versatile cooking tasks.
5. Sensors
The portable induction cooktop is equipped with automatic pan detection function.
When it is turned on without a compatible cookware or cookware is removed from the cooktop during any working process, it will beep continually for 60 seconds and shut off automatically.
6. Ventilation
The cooling fan is powerful and as such somewhat loud but it is not terribly distracting, and certainly, you will get to the point where you will barely notice it.
Definitely, this induction burner should be recommended to anyone looking at inexpensive units.
7. Safety Features
Among the safety features, you will get a safety child lock that prevents children from touching.
Also, the auto-pan detection feature will automatically shut off when there is no compatible pot in place or cookware is removed from the cooktop.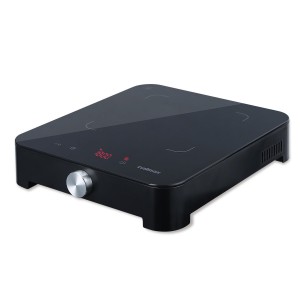 8. Accessories
If you decide to purchase Cusimax CMIC-180 1800W Portable Induction Cooktop, you can order it on Amazon:
you will get the cooktop, the power cord, the user guide and the warranty.
You can try it out for yourself, knowing that, should you change your mind, you are entitled to a full refund within the first 30 days, as well as the fact that each induction cooktop parts and labor is covered by the exclusive warranty for 18 months!
9. Dimensions
The actual dimensions are 2.5″ x 10.5″ x 12.25″.
Item weight: 5.5 pounds
Shipping weight: 6.4 pounds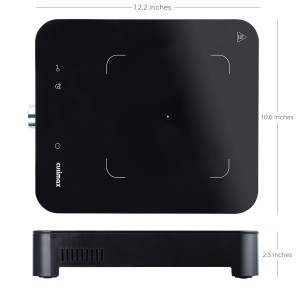 10. Pros
11. Cons
12. Consumer Ratings
On Amazon, this product has a medium consumer rating given by its versatile and smart features.
You should cook with Cusimax CMIC-180 1800W Portable Induction Cooktop and then, you will definitely notice the difference!
13. Price
For such a product, you will have to pay only this price on Amazon
with free shipping.
If cost is always a major factor in your shopping choices, be sure that the price is right on this unit and you will get much more than you pay.
Cusimax CMIC-180 1800W Portable Induction Cooktop
Manufacturer
Cusimax Inc Web: www.cuisimax.com
Destination Use
Ideal for use in a busy restaurant kitchen, culinary
schools or in the home
Design
Black ceramic glass cooktop
Power Source
120V
Output Power
1800W
Power Levels
8 programmable power levels from 200-1800 watts
Temperature Levels
Temperatures are not displayed
Programmable Timer
Timer up to 2 hours can be adjusted by the front control dial
Function Lock
Safety child lock is included
Warranty
18-month warranty
Acoustic Warnings
Yes
Weight
5.5 pounds
Dimensions
15.7 x 12.6 x 4.3 inches
Cord Length
N/A
Glass Cooktop Size
Cookware should be in diameter no less than 4'' or more than 10''
in order to work correctly
Safety Sensors
Safety child lock, auto-pan detection feature
Induction Cookware Sensor
Yes
Induction Overheat Sensor
N/A
Glass Cooktop Overheat
N/A
Free pan
No
Price
Amazon Link