CUSIBOX CB-IC001 1800W (120V) Induction Cooktop – versatile kitchen utensil for precise control in any cooking task!
Cooking with an induction cooktop is a breeze: forget about hours spent in the kitchen when it comes to cooking your daily meals and meet CUSIBOX 1800W (120V) Induction Cooktop
, an extra burner that turns to be very useful for those with a lot of or small cooking spaces.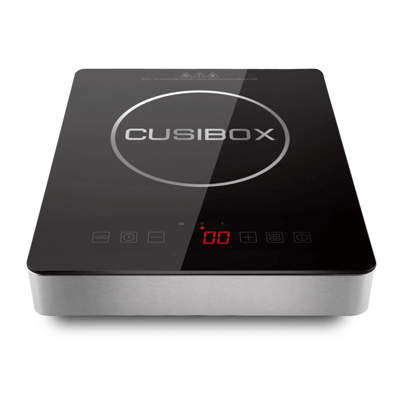 It is true that you need to purchase an adapter for the industrial plug or to change it, but consider the fact that such an appliance heats up rapidly and with a range of temperature and power levels, provides flexibility and versatility to anyone who uses for the first time induction, but also for those accustomed with this type of cookers.
Tip
: When you order
CUSIBOX CB-IC001
ask for adapter. They can send a commercial plug adapter upon request. The adapter is about $2 at HomeDepot.
1. Controls
The controls of the CUSIBOX CB-IC001 1800W (120V) Induction Cooktop guarantees you easy operation as all you have to do is to simply turn on the induction cooktop using the intuitive controls that help you precisely control the induction cooker's temperature.
The unit has a button to turn on and off the unit, a button to select between power and temperature and + and – buttons in order to increase and decrease the values, a button for activating the timer that ranges from 0 to 4 hours (for adjusting, you also have to use the + and – controls) and a lock button that restricts the access to the rest of buttons.
For locking and unlocking the cooktop, you have to press for 3 seconds the button.

2. Surface
With this induction cooktop, cleanup will be effortless as it features a crystal plate cooktop surface and stainless steel body to resist sticky spills, making cleanup quick and easy.
As you may probably observe, this cooker uses high quality stainless steel to ensure a more sanitary and durable cooktop that will last in the most demanding of home and commercial environments.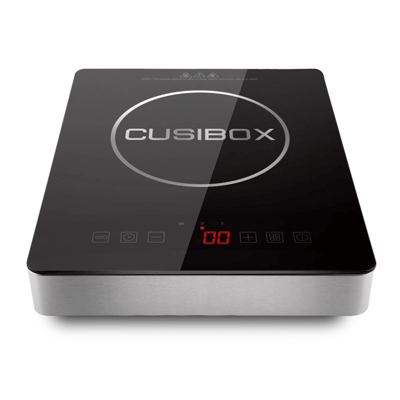 Check Price at Amazon
3. Heating Elements
It is the time to upgrade your kitchen with one of these induction cooktops today! CUSIBOX 1800W (120V) Induction Cooktop ensures durability, and the large cooking surface works wonderfully with your induction ready pans.
With a single burner, this cooktop provides the necessary heat for cooking whatever you like: you can select it with 10 different temperature settings (140°F to 460°F ) and 10 different power levels (100 watts to 1800 watts) that can be easily seen on the integrated LCD display.
If the unit exceeds a temperature of 460°F, you will hear an alarm and all you have to do is to remove the pan on the cooktop and allow the unit to cool down.
This is also a sign that you may need an outlet with the correct voltage.
4. Power/Watts
Being ETL approved, this cooktop can be adjusted using the 10 Power levels (in Watts: 100, 200, 400, 600, 800, 1000, 1200, 1400, 1600, and 1800).
But pay attention, as you just need to replace the receptacle plug with one purchased at the hardware store.
5. Sensors
If no cookware is detected, the cooktop will automatically shut off in 1 minute.
The cooktop will also detect the type of pan that you are using: make sure you have appropriate pots and pans compatible with induction cooking.
6. Ventilation
CUSIBOX CB-IC001 1800W (120V) Induction Cooktop
is designed with air vents and a fan for proper ventilation.
In this way, the overheating of all the cooktop' components is prevented and the appropriate functioning is ensured.
All you have to do is to make sure that there is enough space around the vents for letting the air circulate properly.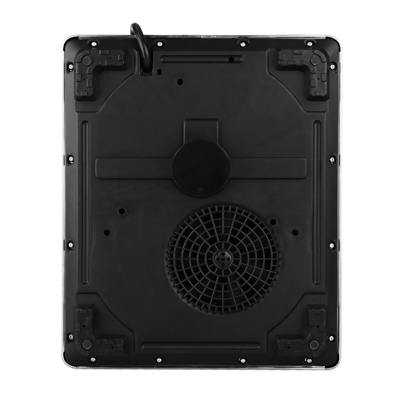 7. Safety Features
Definitely, this unit is completely safe: it provides intelligent safety protection which means that the cooktop will automatically turn off in 1 minute if no cookware is detected and incorrect voltage is detected.
As an overheat protection, the unit turns off after 2 hours of use without the timer or 4 hours of use with the timer and if the temperature level exceeds 460°F.
Also, there is a lock button that can be used every time kids are in the kitchen for preventing an undesired accident.
8. Accessories
Once you get the package with CUSIBOX CB-IC001 1800W (120V) Induction Cooktop, you will see that it includes 1 x CUSIBOX Induction Cooker and 1 x User Manual.
With this product, you also get a 1-year warranty and friendly customer service.
9. Dimensions
With a compact design, this cooktop measures 11.5 x 15 x 3 inches and weighs 5 pounds.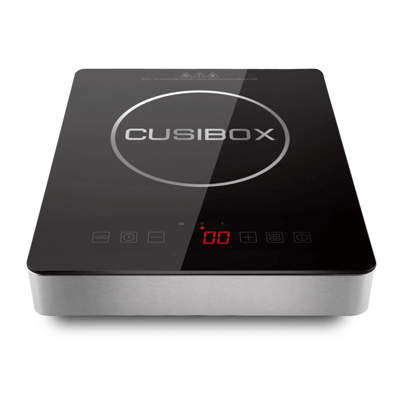 10. Pros
It has a smooth cooking surface so no food gets in any cracks
And of course, it looks great
11. Cons
Lock setting has to be held down to lock
Do not be surprised if you run your finger over the touch screen and it turns on
You need an electrician to change the plug as it comes with a non-regular plug or ask an adapter (free) from manufacturer
12. Consumer Ratings
Customers seem to be enchanted with their new acquisition as the consumer ratings is this at Amazon
.
What bothers them very much refers to the non-regular plug of this cooktop which means that they had to change it; also, they have observed the fact that some controls are very sensitive and often, you can get to activate them involuntarily.
Overall, this cooktop has many pluses compared to its minuses, as you have already found out.
13. Price
Buying this induction cooktop from Amazon will not cost you a lot: you have to pay only this price at Amazon
and you are going to have it in your kitchen.
You are going to enjoy a lovely, fast and simple experience while cooking thanks to this CUSIBOX 1800W (120V) Induction Cooktop.
14. User Manual Download
Click here to download the user manual for CUSIBOX CB-IC001 Portable induction Cooktop
15. Summary Table
CUSIBOX CB-IC001 1800W (120V) Induction Cooktop
Destination Use
Indoor and outdoor use
Design
the classy and stainless steel frame and polished crystal plate
surface
Power Source
120V, ETL approved
Output Power
1800W
Power Levels
10 Power levels – in Watts: 100, 200, 400, 600, 800, 1000, 1200,
1400, 1600, 1800
Temperature Levels
10 Temperature settings from 140°F to 460°F: 140°F, 212°F, 250°F,
280°F, 310°F, 340°F, 370°F, 400°F, 430°F, 460°F
Programmable Timer
0-4 hour timer setting
Function Lock
Yes
Warranty
1-year warranty
Acoustic Warnings
N/A
Weight
5 pounds
Dimensions
11.5 x 15 x 3 inches
Cord Length
N/A
Glass Cooktop Size
N/A
Safety Sensors
Intelligent Safety Protection : the cooktop will automatically
shut off in 1 minute if no cookware is detected and over heat protection
Induction Cookware Sensor
Yes, it must be used with induction-ready cookware.
Induction Overheat Sensor
Yes
Glass Cooktop Overheat
N/A
Free pan
No
Price
Amazon Link