Cuckoo vs Zojirushi Rice Cooker – Latest-Model Comparison (2018)
Looking for the newest models of rice cookers? Let's have a look at Zojirushi NP-NVC10/18 Induction Pressure Rice Cooker and Cuckoo CRP-FHVR1008L Smart induction Pressure Rice Cooker, which are the latest models manufactured by Zojirushi and Cuckoo.
All their features will help you make an idea about which one fits your daily needs of cooking.
Take your time to decide and so, you are going to purchase the rice cooker that will do such a good job in your kitchen.
1. Zojirushi NP-NVC10/18
If you want a Zojirushi model, you should consider Zojirushi Induction Heating Pressure Rice Cooker & Warmer 1.0 Liter, Stainless Brown NP-NVC10.
It comes with a rice spatula, a spatula holder, and two measuring cups (for regular rice and rinse-free rice). And of course, there are a lot of other reasons why you should consider such a unit.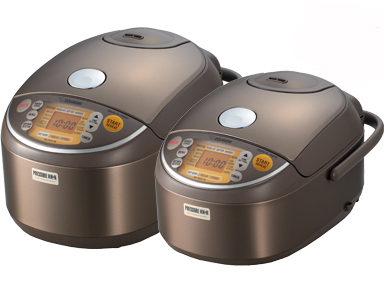 First of all, you will get the most intelligent rice cooker ever made as it is designed with advanced fuzzy logic technology with AI (Artificial Intelligence) capable of adjusting the cooking cycle for perfect results every time.
The inner pot is made of platinum and this is going to changes the water quality and allows rice to absorb water easily for better tasting rice.
Also, there are a lot of multi-menu cooking functions such as settings for white, mixed, sushi/sweet rice, porridge, brown, GABA brown and quick cooking.
Definitely, it all depends on what you use it for as if you cook only rice, then a regular model would suffice and if you are making mixed dishes that use meat and poultry than the pressure cooking option is a must.
Why induction heating? The answer is really simple: with induction heating, the inner cooking pan becomes a heat conductor, allowing for higher, more precise and more uniform cooking temperatures.
Certainly, induction heating took rice cooking to another level as it introduces another dimension to the heating process.
Check Price for NP-NVC10
If you eat rice at least 2-3 times a week, this is the best rice cooker you can buy. Sure, it is around this price and that may immediately turn a lot of people away, but be sure that you have never tasted rice before until you have tried it out of this cooker.
It is hard to say how much better the rice tastes, but the texture is almost like porridge: rice is no longer hard, but instead soft and somewhat mushy, yet not overcooked.
However, it does take a while to cook (about an hour). If that is too long there is also a quick setting available or you can set up a timer in advance to have rice ready for you when you come home.
This is the greatest investment you can make if you want the best rice for the rest of your life.
2. Cuckoo CRP-FHVR1008L
Now, let's discover Cuckoo CRP-FHVR1008L Stainless 3.0 Full-Screen LCD Smart Induction Heating Pressure Electric Rice Cooker, Pink Gold, with Cuckoo Electronics' very first full-screen color LCD display in the United States for easier navigation and settings.
This time you have to do with the Korea Premium IH pressure rice cooker: it is a smart induction heating electric rice cooker and comes with a new vacuum warming technology in order to maintain the flavor of the rice after it gets cooked for a longer lasting taste.
The Vacuum Heat Retain Technology of this rice cooker is an innovative warming technology that retains the rice's flavor and essentially saves up to 40 percent of energy.
It consists of a heat-holding layer sandwiched between two layers of stainless steel. And with energy eye sensor, your rice cooker is going to sense the darkness and turns into saving mode in an automatic manner.
The biggest advantage is represented by the fact that the rice cooker is made to feed up to 10 people and comes in its very unique pink and gold top and bottom coating to bring you a luxurious atmosphere in your very own kitchen.
The inner pot is made of full stainless material with a protective coating. Its curve design is perfect for distributing efficiently the heat while better cooking results will appear.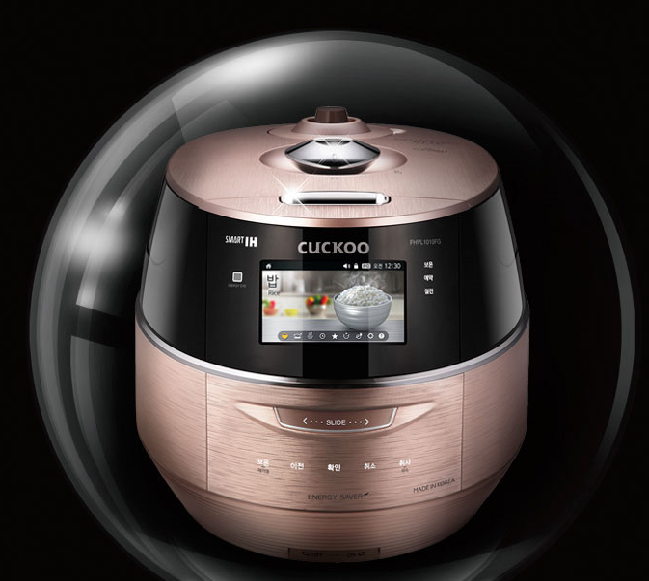 Check Price
Just take your cooking experiences to the next level with this rice cooker and you will not regret your choice.
The texture of the rice is fantastic, like the rice you taste in Korea, high-end restaurant. It also cooks super fast, and it is beautiful looking, looks more like a cool gadget than a traditional rice cooker.
It is not a boring rice cooker and worth your investment, but the only downside is it lacks the English setting (menu display is in the Korean and Chinese languages only).
3. Comparison
Considering all the mentioned features about Zojirushi NP-NVC10/18 Induction Pressure Rice Cooker and Cuckoo CRP-FHVR1008L Smart induction Pressure Rice Cooker, you should know that there are some differences between these two products.
Cuckoo model is significantly more expensive (check price) than Zojirushi model (check price), but this is somehow understandable as Cuckoo CRP-FHVR1008L Smart induction Pressure Rice Cooker features a lot of functions and controls.
Also, if you want a large rice cooker, you should know that Zojirushi NP-NVC10/18 Induction Pressure Rice Cooker has a capacity of 5-1/2-cup for a small family (2 memebers), while Cuckoo CRP-FHVR1008L Smart induction Pressure Rice Cooker is larger, with a capacity of 10 cups (1.8 liter).
Both rice cookers have approximately the same dimensions and some differences appear at the weight where Cuckoo CRP-FHVR1008L is heavier; they have a compact size, so storing aspects will not be a problem anymore.
With Cuckoo CRP-FHVR1008L, you can choose from almost 61 recipes (pasta, rice, soups, meats, chicken, porridges, steaming and cakes; 16 cooking functions and 61 built-in recipes on LCD Color Display) and so, you will know what to cook every day.
The Zojirushi model is perfect for cooking various types of rice (white, mixed, sushi/sweet rice, porridge, brown, GABA brown).
If you are looking for a smart and versatile rice cooker with a lot of functions and controls, you should give a try to Cuckoo CRP-FHVR1008L (it is able to lower and increase the pressure inside if needed), while you want an amazing rice cooker with basic features, you should take into consideration the Zojirushi latest model.
4. Table
| Model | Zojirushi NP-NVC10/18 Induction Pressure Rice Cooker | Cuckoo CRP-FHVR1008L Smart induction Pressure Rice Cooker |
| --- | --- | --- |
| Capacity | Up to 5.5 cups / 1.0 liter | 1.8 Liter |
| Color | Stainless Brown | Pink Gold |
| Interior | Platinum Infused Nonstick Inner Cooking Pan | Xwall Stainless Eco Curved Pot with Bubble Coating |
| Exterior | N/A | Premium materials |
| Detachable inner lid | Detachable and washable stainless steel inner lid | Yes, detachable inner lid |
| Display | easy to ready colored LCD control panel with multi-menu cooking functions | Full-Screen LCD Touch Side |
| Programmable Timer | Yes, clock and delay timer functions | N/A |
| Cord | N/A | N/A |
| Automatic Keep Warm | Yes, it will keep cooked rice at the optimal serving temperature for up to 12 hours. | Yes, auto temperature controlling device for maintaining the optimal temperature |
| GABA brown | Yes | Yes |
| Acoustic signals | Yes | Voice navigation only in Korean and Chinese |
| Weight | 13 pounds | 18.10 lb |
| Dimensions | 10-1/8 x 15-3/8 x 8-5/8 inches | 16.5 x 11.9 x 11.4 inches |
| Spherical pan and heating system | Induction Heating Pressure Rice Cooker & Warmer | IH Smart Pressure Cooker |
| | | |
| Menu settings | white (regular, softer or harder), umami, mixed, sushi/sweet, porridge, brown, GABA brown, steam-reduce, scorch, rinse-free and quick cooking | 16 cooking functions w/ 61 built-in recipes on LCD Color Display |
| Safety features | For safety, the appliance provides a pressure-control valve, a back-up safety valve, an inner lid filter, and a pressure indicator on the control panel, which locks the lid during pressure-cooking. | 21 safety features: remaining pressure emitting, automatic steam emission, lock checking, lid locking, secondary pressure release, magnetic safety sensor, malfunction indicator, blocking protection cover, alarm for overheating, secondary detachable cover, pressure control, inner pot detection, slow open mechanism, electric current fuse, circuit board fuse, thermal fuse, soft steam cap, pressure control, auto temperature controlling, sensor for 3 dimensional warming, nonrevertible safety device –solenoid valve |
| Accessories | a rice spatula, a spatula holder, and two measuring cups (for regular rice and rinse-free rice) | N/A |