Cuchen vs Cuckoo Rice Cookers (CJH-PC1003 vs CRP-CHSS1009FN)
In case you have to decide between a Cuchen rice cooker and a Cuckoo rice cooker, now you have the chance to compare two units of these brands.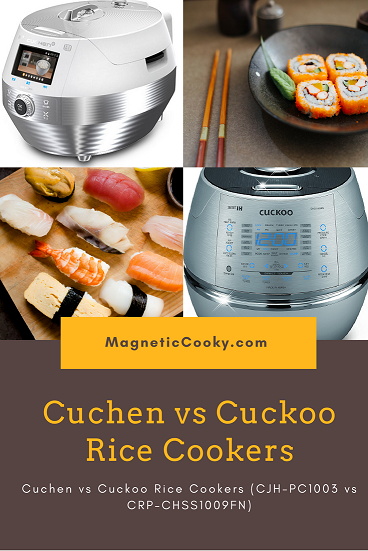 Cuchen CJH-PC1003 or Cuckoo CRP-CHSS1009FN may turn to be a great investment considering your needs, but let's see their functions and features before making a decision.
1. Cuchen CJH-PC1003 Rice Cooker
Cuchen CJH-PC1003 is a white IH pressure rice cooker with smart color LCD with a capacity of 10 cups.
Just choose from a various menu with smart dial while watching the menu with smart color LCD and you will have your dinner ready for your family and guests.
It is designed with a charcoal coating of the inner pan for strength and has a white and silver stainless steel body.
Among its features, you have the opportunity to try the reservation cooking feature and auto steam cleaning for more comfort and versatility.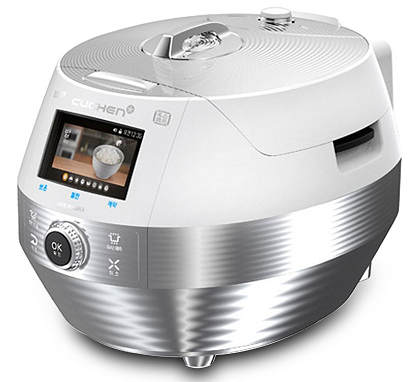 From now on, you have a speedy cook feature for mixed rice in 29 minutes (and white rice in 15 minutes) and this means that you have not to wait too long for your delicious meal once you get home from work.
Enjoy 1-year warranty offered from manufacturer (with warranty card included).
If you wonder, it has voice navigation in English and English manual book. As you may probably intuit, all Cuchen products selling have English manual and function button and are made for USA use.
2. Cuckoo CRP-CHSS1009FN Rice Cooker
Regarding Cuckoo CRP-CHSS1009FN
, you should know that it is also an Induction Heating programmable pressure cooker with the following electrical requirements: AC120V/60 Hz.
It also has a capacity of 10 cups uncooked (5 liters / 5.3 quarts).
The technology of this rice cooker combines Fuzzy Logic and Intelligent Cooking Algorithm for more flexibility while staying in the kitchen.
The inner pot of Cuckoo CRP-CHSS1009FN is a 304 Stainless Steel [3PLY Clad (STS 430 + AL + STS 304 + Coating) Sheet] with non-stick coated pot which is definitely ideal for every cooking task.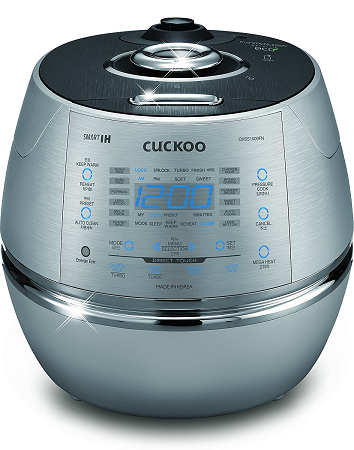 You get also a stainless steel detachable inner lid (easy to clean); the cooking pot and cover lid can easily be thrown into the dishwasher for no-fuss cleanup.
With double layered rubber packing completely seals inner pot, there will not be any leakage of steam and you will get a perfect sealing to preserve the flavor of food.
Try every of the 19 pre-programmed functions that ensure ultimate versatility as you can cook Sushi Rice, Chicken Soup, Porridge, Ferment Bread, Bread Baking, Chicken soup, and more.
If you want to change the way you cook with the Full Stainless Eco 2.0 series, this is your time with Cuckoo CRP-CHSS1009FN.
If you are among those that eat rice regularly, you will love this cooker or most any of the Cuckoo brand cookers.
The touch pads are a bit too sensitive. But that is a small sacrifice for a great looking. You have to choose the right kind of rice (medium grain-blend of new crop and the old) and water amount and then, let the machine do the rest.
3. Differences
And now, let's talk about the differences between Cuchen CJH-PC1003 and Cuckoo CRP-CHSS1009FN.
Both rice cookers are well made and are easy to clean manually. But, CRP-CHSS1009FN rice cooker has a cleaning cycle which makes it perfect for busy people.
Cuckoo CRP-CHSS1009FN model provides more menu functions than Cuchen CJH-PC1003 model: it cooks brown, mixed, white, sushi, glutinous and Gaba rice and also rises and bakes bread and cooks soup and porridge.
With the Cuckoo model, you can hear Korean speaking, too or can set English, Chinese and several different languages. Cuchen CJH-PC1003 has only English voice navigation.
The two rice cookers come with highly customizable settings, from cooking speed to rice softness.
For Cuckoo CRP-CHSS1009FN model, the operation of is quiet except when steam is vented near cooking completion (you hear a short burst as steam releases).
However, the manual of Cuckoo CRP-CHSS1009FN is not always understandable as there are translation errors or sentences that are not entirely clear, so certainly, you need time to accommodate with this item.
4. Conclusion
If you want a simple no-frills rice cooker, you may choose Cuchen CJH-PC1003: it definitely has exactly what you may need for daily cooking.
But if you are looking for something that will cook many things (bread cooking function and a cake function), then Cuckoo CRP-CHSS1009FN may be for you.
Although this thing is pretty expensive for what many would claim is just a rice cooker, Cuckoo CRP-CHSS1009FN model is made to get the most out of the rice you cook, and at that point, it is top notch.
So, for the person who only eats it every so often, this would most likely be overkill and not worth the money and Cuchen CJH-PC1003 model could be an alternative.
5. Comparison Table
Brand
Cuchen CJH-PC1003
Cuckoo CRP-CHSS1009FN
Capacity
10 Cup
10 Cups Uncooked (5 Liters / 5.3 Quarts)
Design
white / silver stainless steel body
Silver rice cooker, an unique stainless exterior surface
Dimensions
N/A
11.9 x 16.5 x 11.4 in
Weight
20 pounds
18.3
pounds, 16.5 lb
Functions
Reservation cooking feature / Auto steam cleaning/ Voice navigation
19 pre-programmed cooking functions, voice navigation, count-down
indicator
Menu Settings
Speedy cook for mixed rice in 29minutes (white rice in 15minutes)
Sushi Rice, Chicken Soup, Porridge, Ferment Bread, Bread Baking,
Chicken soup, and more
Inner pot
charcoal coating of inner pan for strength
304 Stainless Steel [3PLY Clad (STS 430 + AL + STS 304 + Coating)
Sheet] with Non-Stick Coated Inner Pot
Included accessories
N/A
a spatula and a rice-measuring cup.
Inner lid
N/A
304(18/10) stainless steel detachable cover lid
Cord
N/A
the cord is not retractable
Price
Check Reviews at Amazon
Check Reviews at Amazon