Crawford Kitchen IDCCKS8TC 1800W Double Digital Portable Induction Cooktop – cook fast and efficient!
Choosing a portable induction cooktop may be a problem, but if you are looking for a double cooktop, you must consider Crawford Kitchen IDCCKS8TC
1800W Double Digital Portable Induction Cooktop.
This is going to help you every time you have to cook outside or have to set up a kitchen in a rather small space.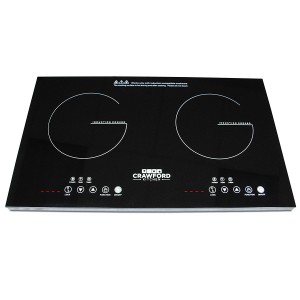 The unit has all the features and characteristics that you may need and want from a cooking appliance.
1. Controls
With a touch sensitive glass control panel, it is so easy to operate the Crawford Kitchen IDCCKS8TC 1800W Double Digital Portable Induction Cooktop.
You have controls for each of the dual elements for adjusting the power, temperature, and timer.
It features 8 temperature settings (from 140F to 460F) and 8 power output settings (from 200W to 1800W).
Using the temperature settings or the power output settings will help you control the entire cooking action.
This means that you will be able to make delicious recipes with great precision and repeatability.
And other features such as a 4-hour digital timer let you "set-and-forget" your slow cooked meals.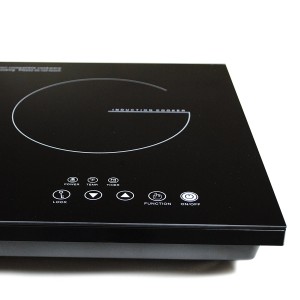 2. Surface
Lightweight compact design allows you to bring the cooktop wherever you need to cook a quick and healthy meal; it is an ultra-thin design of only 2.5'' thick.
Also, the induction cooktop has a built-in standard 4'' power cord for easy hookup.
The cooking surface is made of durable scratch resistant black crystal glass. It does not bake spilled food onto the elements like a traditional stove top. Spilled food wipes away easily.
3. Heating Elements
Certainly, by directly heating the metal in pans, there is no heat loss as there would be with a typical electric range, allowing you to cook foods quicker and at a lower overall cost.
Being light weight and having a convenient size, it is great for students on campus or camping lovers: simply plugs into a standard electrical socket.
4. Power/Watts
Definitely, buying Crawford Kitchen IDCCKS8TC 1800W Double Digital Portable Induction guarantees you an 1800W dual element induction cooktop that has more power and more features for your daily cooking tasks.
It is important to know that the dual element cooktop has 1800W of total power, meaning if one element is set to 600W, then the second one has to be set to less than 1200W (combined total cannot exceed 1800W).
5. Sensors
The unit will detect if there is any pot on the cooking surface; if the pot is not induction compatible and has not the exact diameter, your cooktop will not work.
6. Ventilation
The cooktop is designed with dual cooling fans that help cool the surface after use and avoid overheating the component elements.
The oversized cooling fan helps keep glass top cool, preventing spilled foods from sticking and burning in. Be sure you are not going to block the air vents while using this dual induction cooktop!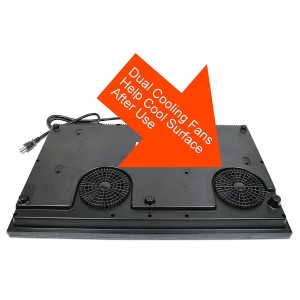 Check Price
7. Safety Features
Do not worry about anything: this cooktop is safe and induction is the fastest and the most efficient cooking way.
As long as there is no flame, it does not get hot without a pot on it, hence this is ideal around kids.
Built-in pot detection safeguard prevents the unit from operating without pot.
8. Accessories
Crawford Kitchen IDCCKS8TC 1800W Double Digital Portable Induction Cooktop comes with a user guide and warranty.
Make sure you are going to read all the instructions provided by the manufacturer and you cooktop will last a long time.
9. Dimensions
Here you have the exact dimensions of this induction cooktop:
26 x 2.5 x 15.5 inches
item and shipping weight: 14 pounds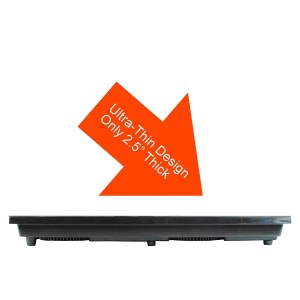 10. Pros
11. Cons
12. Consumer Ratings
Do not be surprised if you are going to find less information about Crawford Kitchen IDCCKS8TC 1800W Double Digital Portable Induction Cooktop.
It is a relatively new product launched on the market and people have not the chance to test it and to provide their feedback.
13. Price
If you decide to order it from Amazon, you will have to pay only this price on Amazon
.
With such a cooktop, it is impossible to not love cooking; in a short time, you will have your dinner or your lunch ready.
Also, it is great for moments when you need and extra cooktop or you have a small cooking space.
Crawford Kitchen IDCCKS8TC
Destination Use
Indoor and outdoor use
Design
Black ceramic glass cooktop very resistant to heat
Power Source
120V
Output Power
1800W
Power Levels
8 power output settings (from 200W to 1800W): the dual element
cooktop has 1800W of total power, meaning if one element is set to 600W, then
the second one has to be set to less than 1200W (combined total cannot exceed
1800W)
Temperature Levels
8 temperature settings (from 140F to 460F)
Programmable Timer
a 4-hour digital timer
Function Lock
Safety lock
Warranty
N/A
Acoustic Warnings
N/A
Weight
14 pounds
Dimensions
26 x 2.5 x 15.5 inches
Cord Length
a built-in standard 4' power cord for easy hookup
Glass Cooktop Size
N/A
Safety Sensors
Safety lock, auto-pan detection feature
Induction Cookware Sensor
Yes
Induction Overheat Sensor
N/A
Glass Cooktop Overheat
N/A
Free pan
No
Price
Amazon Link