Home
/
Buying Advice
/ Countertop Induction Oven Panasonic NU-HX100S Reveals You the Secret of Flavorful Food!
Countertop Induction Oven Panasonic NU-HX100S Reveals You the Secret of Flavorful Food!
Searching for an appliance that ensures you that is worth the price?
Or perhaps the one which guarantees you easy and fast clean up? Meet Countertop Induction Oven Panasonic NU-HX100S
that combines direct induction and dual heating to rapidly raise the temperature for precise cooking control.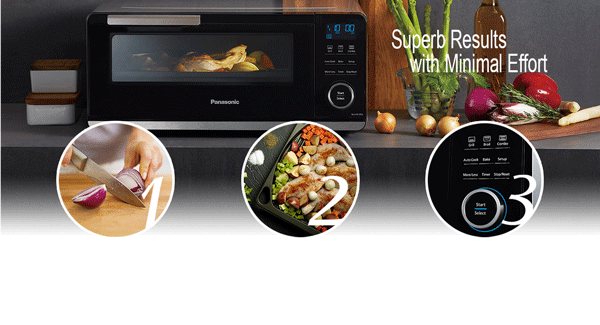 It guides you to prepare foods that are crispy on the outside, tender and moist on the inside.
You may say that it is kind of tiny for an oven, but it is possible for it to keep a casserole warm for you during Thanksgiving preparation, or heat one up rather quickly, without the odd hot-cold sensation of a microwave.
Let's discover more about this countertop induction oven.
1. Controls
You will be surprised to find out that the stainless steel countertop oven fits with any kitchen decor.
It comes dishwasher-safe die-cast aluminum grill pan and provides the following features: 6 pre-set menu items little or no preheating required adjustable temperature control, dishwasher-safe grill pan, contemporary design child lock multi-lingual word prompts and induction/dual-infrared cooking technology.
Enjoy a revolutionary cooking experience and just grill, broil, bake, reheat, roast and toast with one single unit.
It has an easy to follow digital display that primarily uses the knob on the bottom to scroll through options once programmable cooking is selected.
On the control panel, you have a display window for showing the present state (temperature, bake, cooking mode, keep warm, weight unit, time unit, auto cook, preheat, timer), a Grill pad, a Broil pad, a Combo pad, an Auto Cook pad, a Bake pad, a Setup pad, a More/Less pad, a Timer pad, a Stop/Reset pad and a Start/Select dial and all the explanations needed for these controls are available in the user guide.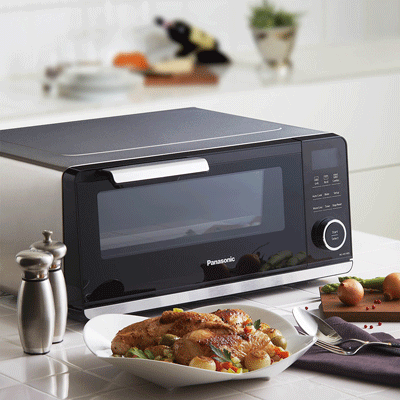 Rotating the dial, you can select the power and temperature levels, time, weight and auto cook.
Also, keep in mind that when a pad is pressed correctly, a beep will be heard and if a pad is pressed and no beep is heard, the unit did not or cannot accept the instruction.
At the end of any complete program, the oven will beep 5 times.
But, if you wish to have the oven operate with no beep, it can be eliminated.
2. Inside
The inside height of the oven is actually rather small in size and you will not be able to fit a whole chicken in there.
It is good for a house of up to four people. However, a 12-inch frozen pizza just fits, and there is a preset for that.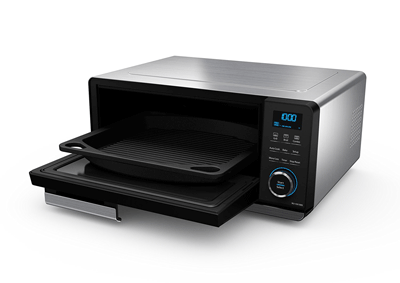 For cleaning the inside of the oven, you just wipe with a damp cloth after using. You may try mild detergent if needed, but do not use harsh detergents or abrasives: simply spray cleaner on a cloth.
Inside, there is an oven light not user replaceable: for replacing it, you should consult Panasonic for the nearest authorized service center for examination or repair.
The oven light will turn on during cooking and also when the oven door is opened.
3. Heating Elements
The unit is based on electromagnetic induction heating which means that if electricity flows in the magnetic coils underneath the top plate, magnetic lines of force are produced.
When the magnetic lines of force pass through the grill pan an eddy current is induced, and the heat generated by the electrical resistance of the grill pan is used for cooking.

The Panasonic oven has 6 auto cook presets, and they are poultry with vegetables, fish with vegetables, fish, frozen pizza, toast, and bagel.
It also provides a heating method using the broiling elements. This time, when broiling, heat is radiated from the two elements at the ceiling of the oven.
The broiling elements do not require preheating. For Bake and Combo features, the oven combines broil and induction heating methods.
4. Power/Watts
The voltage of this unit is 120 volts/ 60 htz and the maximum grill power level is 1,400 W, while the maximum induction + infrared power level is 1,710 W.
Regarding the temperature levels, you should know that you can adjust the temperature from 325 °F to 450 °F (325 °F, 350 °F, 375 °F, 400 °F, 425 °F, 450 °F).
For adjusting the power level when using the Grill feature, you can select from high, med-high, medium, med-low, low and keep warm.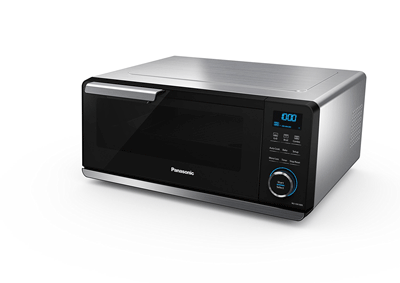 For Broil feature, you have high, medium and low as a range of power levels.
And for Combo feature with or without preheating, rotate the Start/Select dial to choose from Combo 1 (for meat, poultry, toast, and pizza), Combo 2 (for vegetables) and Combo 3 (for seafood).
5. Ventilation
Countertop Induction Oven Panasonic NU-HX100S
is designed with side and rear air vents.
It is very important to not block the air vents as if they are blocked during operation, the oven may overheat and be damaged. And make sure that you keep air vents clear at all times.
Placement instructions state that you should allow 15 cm (6") of space on the top of the oven, 10 cm (4") on the left and the other side open. If one side of the oven is placed flush against the wall, the other side or the top must not be blocked.
And just to remember, after using the oven repeatedly or for a long time, the fan may operate to cool the electric components.
This is perfectly normal, and you can take out the food from the oven while the fan operates and it is recommended to keep the oven plugged in until the fan motor completely stops operating.
6. Sensors and Safety Features
There is a Child Setting Lock feature that prevents the electronic operation of the oven until canceled. It does not lock the oven door.
In order to set or cancel child safety lock, you must press Start/Select Dial or Stop/Reset pad 3 times within 10 seconds.
And you can set child lock feature when the display shows "0". Also, if the oven overheats, a thermal safety device will turn the oven off and once happened, the oven will remain inoperable until it has cooled.
7. Accessories
Despite the appliance, there are some included accessories in the packing box: you will also get a die-cast aluminum grill pan (dishwasher-safe) and 26 recipe cookbook created by the Culinary Institute of America for Panasonic.
There are recipes for appetizers, family favorites, one-pan meals, baked desserts etc.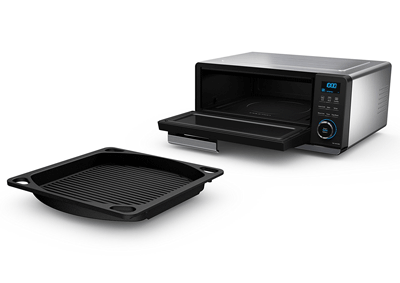 8. Dimensions
With a 0.5 cu.ft capacity, the oven measures 19.5 X 16.25 X 9" including the handle and weighs 29.3 pounds.
Inside, there is a 12 by a 14-inch removable nonstick plate that holds food and fits on top of induction surface.
And as you are supposed to leave 6-inches of free space around all sides of the oven, it may seem that this item takes-up a lot of room.

The inside of the grill pan is 12X8.5" if you are going to put a square dish inside it and because the top and bottom are rounded, it is 12X12.25" if you included the rounded parts.
But consider also the fact that this plate is heavy as it weighs over 6lb on its own! And you cannot fit anything taller than 3" inside the oven.
9. Pros
It cooks really fast, twice the speed of normal ovens so long as you do not use aluminum foil.
If you live in an apartment with a tiny oven or lack an oven entirely, this will more than do the job for you!
The grilling function makes it very easy to have a delicious steak and salad during the week
Really fancy look and nice LED lights and great internal lighting for food
10. Cons
Unfortunately, it requires really heavy pan (included) to properly cook food.
The interior is small: if you have a relatively large family this small oven will be a challenge
It is not good for toasting bread, bagels etc.
11. Consumer Ratings
The consumer rating of Countertop Induction Oven Panasonic NU-HX100S is this on Amazon
.
People who have tried this appliance are happy with the fact that the unit has a sleek and modern look, cooks faster, is easy to clean as the non-stick coating of the included pan works wonderfully well and comes with a nice cookbook with interesting recipes.
On the other hand, this oven is not super intuitive and will take some getting used to, so keep the directions close by.
It does not have a clock like your microwave or stove has and when it is off, it is off. Other dislikes refer to the high price and to the fact that this thing is terrible at toast.
Certainly, it may be considered a great appliance for those who want to grill, bake, broil, and reheat, having preprogrammed settings for specific food items, including meats, vegetables, pizza, fish, and more.
12. Price
The price of this Panasonic induction oven is this on Amazon
.
This is a quality first take on a countertop model. As you may observe, it is attractive, not too massive and, while instructions can be complicated, it is fairly easy to learn to use (with some trial and error).
Try this super high tech, next-generation convection oven that sits on the countertop. Definitely, it is a new style of cooking and pretty ingenious and you just have to follow the directions (at least until you get used to it).
13. User Manual
15. Summary Table
Countertop Induction OvenPanasonic NU-HX100S
Destination
Use
for household use only
Design
Japanese-engineered CIO
Control
panel
easy-to-use digital control
panel, display window and select dial
Auto-cook
presets
poultry with vegetables, fish
with vegetables, fish, frozen pizza, toast, and bagel
Cooking
time presets
Grill 60 min (30s
interval/10min, 60s/from 10min)
Broil 60 min (30s interval/10min, 60s/from 10min)
Combo 60 min (30s interval/10min, 60s/from 10min)
Bake 60 min (30s interval/10min, 60s/from 10min)
Heat
Induction
and Infrared heat
Cooking Functions
Grill
/ Bake / Broil / Toast / One Pan Meals
Capacity (Pizza)
12″
Capacity (Toast Slices)
4
Power
Source

120 V / 60 Hz

Output
Power
1,400 W (grill power level) and
1,710 W (induction + infrared power level)
Temperature
Levels
325 °F, 350 °F, 375 °F, 400 °F,
425 °F, 450 °F in 25 degree increments
Programmable
Timer
Yes
Function
Lock
Yes, Child Safety Lock
Warranty
One year parts & labor
Acoustic
Warnings
Yes,
when
a pad is pressed correctly, a beep will be heard
Weight
29.3 lbs
Dimensions
19.7 x 15.4 x 8.9″
Cord
Length
a short power-supply cord (or
detachable power-supply cord) is provided to reduce the risk resulting from
becoming entangled in or tripping over a longer cord.
Glass
Cooktop Size
N/A
Safety
Sensors
Child Safety Lock and over heat
protection
Induction
Overheat Sensor
Yes
Free
pan
Yes, unique, heavy-duty
dishwasher-safe grill pan creates barbeques-quality sear and sizzle
Other
included accessories
26 recipe cookbook
Price
Amazon Link