Costway 23108-CYPE Double Hot Plate Induction Cooker transforms cooking into a pleasure with its efficient features!
Looking for a small double cooker for your kitchen?
Or perhaps do you want a unit that incorporates the new technology of induction?
Take your time to discover what you can prepare with Costway 23108-CYPE Double Hot Plate Induction Cooker:
it is perfect for those who want to cook various dishes at the same time, without needing to spend hours in their kitchen.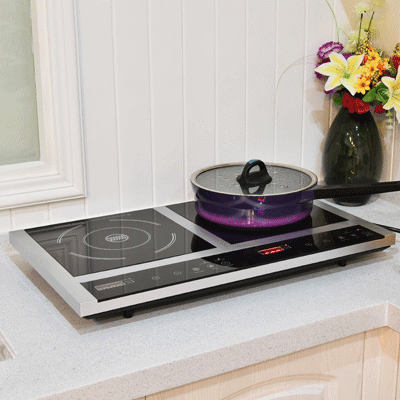 Give it a try and certainly, you will not be disappointed.
1. Controls
Definitely, temperature setting, digital LED display, and touch controls of the induction cooker make healthy cooking easier.
You have also a timer and overheat protection so that you can do other things when you use it and keep your safe.
Digital LED display and touch-screen controls will guide you throughout the entire cooking process.
2. Surface
The cooking surface is explosion-proof, high-temperature resistance, scratch-proof, and wear-resistant.
With a lightweight and compact design, this cooker provides easy handling and storage; regarding the cleaning, all you have to do is to just wipe cooker clean using dishwashing agent and a damp cloth.
And the compact shape is easy for storage after it is thoroughly dry.
The induction cooking is compatible with most regular brands of cookware.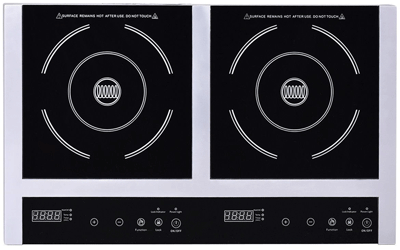 3. Heating Elements
Enjoy powerful performance with 2 burners as this induction cooktop will help you save much time doing kitchen tasks such as boil, simmer, deep-fry, and stir-fry, steam and sear, slow cook.
And the feature of dual burners is suitable for big families or restaurants. Cook using the 17 levels temperature setting from 140℉ to 460℉ and 0-175 minutes timer (with 5 minutes increments).
4. Power/Watts
The portable double electric induction cooker is perfect for you as it is quick heating up and cooling down.
The necessary specification of electrical requirements and the output power are shown below:
Voltage/Frequency: 120V/60Hz
Power (left burner): 300W-1000W
Power (right burner): 300W-800W
The product is built to North American Electrical Standards, 120V 60Hz AC.
It is so convenient to have two burners: it guarantees convenient cooking in smaller spaces and so, you are prepared to cook whatever you like including warm sauces, scrambled eggs, grilled cheese, but also, to boil water, make soup, cook pasta and vegetables and do so much more.
5. Sensors
Your cooker detects if you are using the appropriate cookware: for induction, you must get different pans or acquire a ferrous-magnetic interface disk to use an induction type cooking surface.
However, the cooktop will heat the disk and your non-magnetic pan in turn, but note that this greatly reduces the efficiency of the induction cooktop.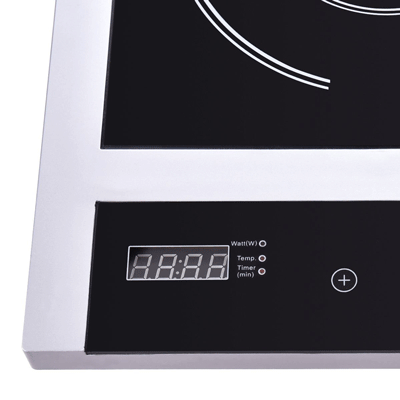 6. Ventilation
Designed with a ventilation system that prevents overheating, this unit provides safe cooking wherever you choose to prepare food.
Make sure you are not blocking the air vents, so leave some space around your hot plate.
7. Safety Features
Yes, such a cooker is very safe with its over-heat or high-temperature resistance protection and lock feature to prevent tampering and changing of a set temperature.
There are also 4 error codes for 4 most common errors.
Having a timer and overheat protection, you can do other things when you use it and keep your safe.
8. Accessories
The package that you receive once you have ordered the cooker contains 1 x induction cooker with power cord and 1 x user manual with all the instructions that you need to know when operating such a unit.
9. Dimensions
The overall dimensions of the product are 26.4''L x 15.7''W x 2.6''H, while the net weight is 14 lbs.
10. Pros
This is a great lifesaver for everyone
All the controls work and are pretty self-intuitive
It is very reliable, easy to use and clean.
11. Cons
The burners will not heat unless the pan is a certain type of pan: high-end pots and pans with encapsulated bases such as Wolfgang Puck pots and pans, Macy's Tools of the Trade, all stainless steel flat-bottomed will not work with this hot plate.
12. Consumer Ratings
Such a hot plate induction cooker has this consumer rating at Amazon
: overall, people are happy with their acquisition but the fact that it works with specific pans seems to disappoint them.
Sooner or later, everyone who chooses to purchase this unit understands that she or he can cook whatever she or he likes.
13. Price
For such a double hot plate with induction, you have to pay this price at Amazon
: it can be ordered here and in the shortest time, you will get it at your home.
Consider all the starting instructions provided by the manufacturer before using the plate for your daily cooking tasks.
Costway 23108-CYPE Double Hot Plate Induction Cooker
Destination Use
Indoor use
Design
The cooking surface is explosion-proof, high-temperature resistance, scratch-proof, wear-resistant and it comes with digital LED display and touch-screen controls
Power Source
Voltage/Frequency: 120V/60Hz
Output Power
Power(left): 300W-1000W
Power(right): 300W-800W
Power Levels
N/A
Temperature Levels
17 levels temperature setting from 140℉ to 460℉
Programmable Timer
0-175 minutes timer (5 minutes increments)
Function Lock
Yes, lock feature to prevent tampering and changing of a set temperature
Warranty
N/A
Acoustic Warnings
N/A
Weight
14 lbs, lightweight and compact for easy handling and storage
Dimensions
26.4''L x 15.7''W x 2.6''H
Cord Length
N/A
Glass Cooktop Size
the bottom size of applicable pan: ɸ4.7″ – ɸ10.3″
Safety Sensors
lock feature to prevent tampering and changing of a set
temperature 4 error codes for 4 most common errors
Induction Cookware Sensor
Yes, it must be used with induction-ready cookware or a ferrous-magnetic interface disk to use an induction type cooking surface.
Induction Overheat Sensor
Yes, over-heat or high-temperature resistance protection
Glass Cooktop Overheat
Yes
Free pan
No
Price
Amazon Link