Innovation in your kitchen with Bosch NIT8666UC 800 36″ Electric Induction Cooktop (Review)
Bosh is one of the most popular and reliable brands on the appliances market. Its products are of high quality and best valued by customers all around the world.
Bosh NIT8666UC 800 36″ has been long waited by people who were searching for a new model, a great-looking and extremely well equipped electric induction cooktop.
If you haven't already give up to your old gas stove, this is a perfect opportunity to switch to a new device that will surely make your life easier.
Induction cooktops use innovative technology that makes the burner heat just the pan, not the space around it. This thing gives Bosh NIT8666UC 800 36″ a maximum effectiveness.
Bosh NIT8666UC 800 36″ runs on electricity and offers great flexibility when we talk about installation. It can be embedded easily into any type of kitchen furniture. Besides, it has a modern design and it will perfectly fit in every stylish kitchen. And the advantages of Bosch NIT8666UC 800 36″ Black Electric Induction Cooktop does not stop here.
If you are looking to decide if this appliance is good for your needs, you will find here many useful information. Hope it will help you make the right choice. If not, at least you will better understand the induction cooktops principles and you will be able to compare several similar units.
So let's see what this 36″ model promises to you.
1. Controls
The control panel is very well positioned, in front of you, in the center. You can easily access it and use it. It is very comfortable.
The controls are soft, digital, touch sensitive. There are some icons on it and you will rapidly know how to work with the appliance.
There is an On/Off button on the left. Then, there are several buttons to set the temperature (from 0 to 9/ low, medium and maximum).
With Panel Lock, you can lock the control panel so that your children won't get to it.
Select the Speed Boost button when you are in a hurry and you want to boil (water, milk) faster.
Another two buttons are the AutoChef (helps maintain the exact frying temperature) and Timer, that helps you set the precise time for cooking.
There are also 5 little circles that help you rapidly select the element you want to activate and use.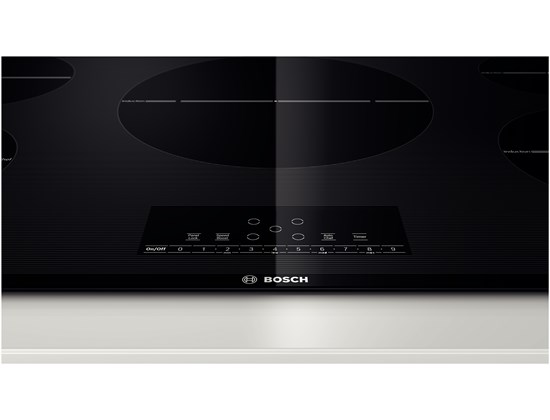 2. Surface
The surface is black and is made of ceramic glass. It is very elegant and the 5 cooking zones are softly highlighted.
Each of it has a horizontal white line in the center.
This will help you better arrange the pans. Down, on the center there is the control panel and the brand name Bosh. The control panel is easy to access as you have it just in front of you.
Being a black surface makes it very easy to clean and possible dirt will not be so obvious.
Anyway, it is recommended that you wipe away the spills as soon as possible so that they won't become difficult to remove from the surface.
It is very important to clean the surface when it is cool, not hot. You can use a wet sponge or paper towel or a cloth, but don't stab or chip the surface in any way. Try to protect it as long as possible.
You can find some other useful tips in the instruction manual you will find in the pack.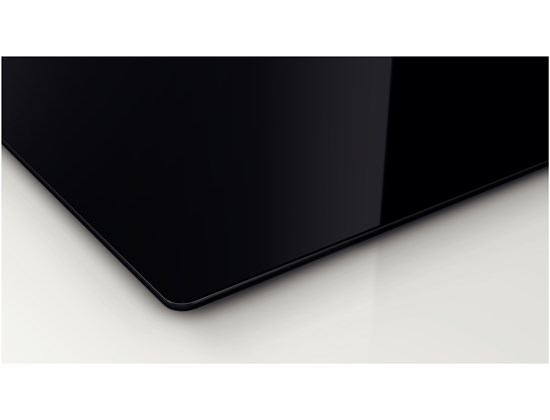 3. Heating Elements
This 36″ model has 2 equal elements on the left. However, these elements do not bridge but still work in a similar way because of their position.
There are five cooktop burners on the appliance. The first heating element is on the front left and it has 7 inches. The second heating element is back left and it has also 7 inches. The third heating element is middle back and it has 9″, 12″. The fourth is on the back right and it has 6 inches. This is the smallest. Finally, the fifth heating element is front right and its dimensions are 9 inches.
All burners are with booster, which means that they can boil water extremely fast.
Having such a numerous numbers of heating elements, makes Bosch NIT8666UC 800 36″ an ideal option for cookers and people who cook with several pans and pots at the same time. Moreover, you can adapt every mode of cooking with every heating elements dimensions.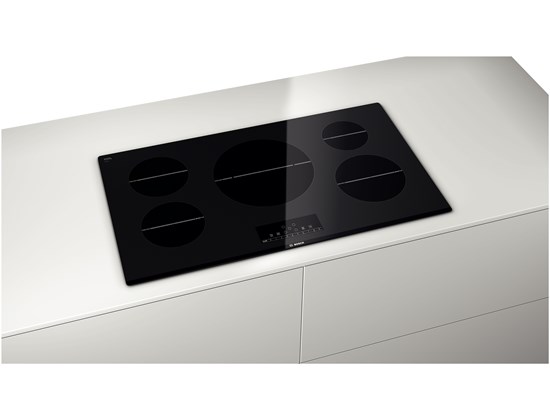 4. Power/Watts
This model is an induction cooktop with high wattage and great power. This means that it can heat pans and pots faster. And faster means you have more time remaining for your other personal things.
When you cook with Bosch NIT8666UC 800 36″, electric energy becomes your reliable partner and nature become your friend. What I mean to say is that this unit is not going to bring you exorbitant bills to pay or at least the total costs will be less then what you had with the old classic stove (gas or electric).
However, we are talking about a strong appliance because Bosch NIT8666UC 800 36″ has an impressive 4500 Watt 12″ Dual Element.
The five burners have a different power levels:
– the first heating element (7″) gets 1.8 kW (and 2.5kW in boost)
– the second heating element (7″) gets 1.8 kW (and 2.5kW in boost)
– the third heating element (9", 12") gets 2.2 ; 3.3 kW (and 3.4, 4.5 kW in boost)
– the fourth heating element (6") gets 1.4Kw (and 1.8 kW in boost)
– the fifth heating element (9") gets 2.2Kw (and 3.7 kW in boost)
Bosch NIT8666UC 800 36″ has electrical installation requirements, with 9600W and 40A. You should make the connection only with a cooper wire. You can find detailed instructions about installing this unit in the manual that comes in the pack or on the manufacturer's website.
5. Sensors
The most important sensor is the pan-size sensor. The Bosch NIT8666UC 800 36″ induction cooktop has 5 heating elements, everyone with its own pan-size. The appliance will work only when you put a proper size pan on these elements, as marked by the circle. The large burner requires a minimum of 12″, 9″ diameter pan. The other burners will need a minimum of 6″, 7″ and 8″ diameter of the pot or pan. So if the pan is too small the element will not heat.
There is also a safety sensor, that will not allow the element to heat if there is a metallic object on the element (a fork, spoon etc). In this way, the object will not heat up causing an undesirable accident.
6. Ventilation
For good functionality, the unit needs to be well ventilated so pay attention to manufacturer's requirements. In fact, ventilation seems to be quite the same for induction burners as for any other type of cooktop. For best performance, it is recommended to extend the ventilation hood 3 inches on both sizes of the cooktop.
7. Safety Features
Safety is one of the strengths of the Bosch NIT8666UC 800 36″. Induction technology diminishes the risk of injury in case of accidental touch of the burner. There are no flames, which is another important factor of safety. Consequently it can easily be used by people less agile in the kitchen, old persons, people with minor handicaps or less acquainted with modern technology.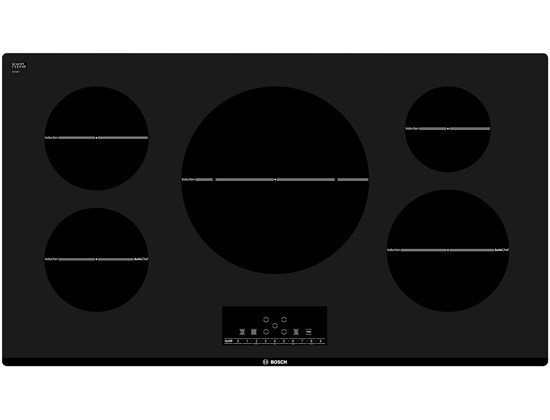 8. Accessories
No compatible cookware is included with Bosch NIT8666UC 800 36″. You have to make sure that you already have or you buy induction-ready compatible pans and pots. To find out if a pot or pan suits an induction burner you have to take the "magnet test", which means that you have to put a magnet on the pan's bottom and see if it sticks to it. Remember this rule. There is no need to learn the hard way.
Usually, pans manufactured of cast iron, black metal or iron will work for induction burners. Stainless steel pans will also work if the sole of the pan is made of magnetic stainless steel.
But you will find in the pack some detailed instructions that will help you use and deal with your new acquisition (very useful especially if you are new to induction cooktops).
Other accessories and cleaning products, as well as parts directly from Bosh, are available separately, according to their price list.
9. Dimensions
According to manufacturer specification, the overall appliance dimensions are 5/16″ height, 4 1/8″ width and it has 21 1/4″ depth.
Although it is large enough, with 5 cooking zones, every inch is cleverly used and you can easily embed it. In fact, we do know also the required cutout size, that is 4 1/8″ heigh x 34 7/8″ width x 20″ depth. The net weight of this unit is 50 lbs.
When finding the right position for the unit, you have to respect a minimum distance of 2″ from the rear wall and 2 1/4″ from the counter front.
The appliance comes with a power cord that is 37 inches length.
10. Pros
11. Cons
12. Consumer Ratings
I read some little reviews for this model on amazon.com and I found out that there were two customers who were very unhappy with the product mainly because it shuts off automatically after many hours of constant use. In their answer, engineers from Bosh sustained that this is an important safety measure. However, some other more reviews would have been relevant. So, in my search I found some more customers ratings on the manufacturer's website. Here the average customer rating is 4.1.
13. Price
On http://www.bosch-home.com/ the price for Bosch NIT8666UC 800 36″ is 2299 $, but you can find a better offer at Amazon.com
All in all, although it seems a little bit expensive, we have to recognize that Bosch NIT8666UC 800 36″ is a complex modern and great looking induction cooktop so if this review convinced you to buy it, maybe you should. If not, keep searching. Out there, somewhere, there must be "a best option" for your needs!