4 Best Rice Cookers under $50 with Reviews and Comparison Chart
Searching for a rice cooker under 50$?
Yes, a rice cooker is one of the most inexpensive kitchen appliances that you can buy, but definitely, you should pay attention to the needs you have regarding the rice cooking.
Rice cookers turn to be so useful although people get to underestimate them often.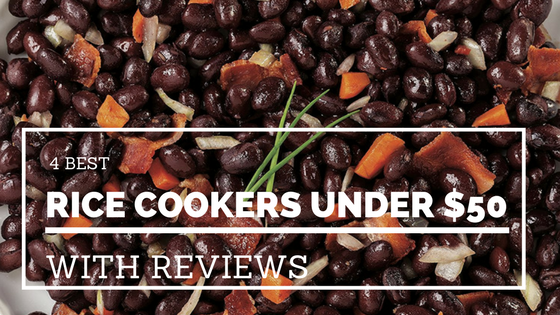 However, a rice cooker is a good investment which you will never regret, whether you have a family or you are single.
Rice cookers make cooking rice faster and trouble free and that rice turns to be better and fluffy in a rice cooker, rather than in a pot.
If you decide to purchase a rice cooker you need to consider some aspects of rice cookers that may include capacity size, menu options, heating element, price, etc.
The higher the price, the more functionality you will have, but you can even find great rice cookers at as low as under $50.
Surprisingly or not, good rice cookers can be had for around $50. Although many models will have steaming trays, the shopper should not expect much more in the way of flexibility from rice cookers in this price range.
They will usually have 2 – 4 settings and no programming features.
It is a truth that these rice cookers can be great bargains for people who really do not need the rice cooker to perform more complicated tasks.
There will be no induction heating or programming in this price range, either. In fact, the features become even sparser just under $100.
But, if you are looking for the best rice cooker under $50, let's see a list of the top 4 options of rice cookers under $50 and learn their pros and cons in order to decide which one is perfect for you and your cooking habits.
1. Aroma Housewares ARC-914S 8 Cooked Cups
Aroma Housewares ARC-914S
8 Cooked Cups is our first example of rice cooker under $50: it is a rice cooker and a food steamer that provides you restaurant-quality rice, delicious one-pot dishes, and healthy meals.
It is a convenient cooker with a compact capacity that let you perfectly cook 2 to 8 cups of any variety of rice.
Once you finished cooking rice, the rice cooker will automatically switch to Keep-Warm setting so there is no need for monitoring or stirring. And when the cooking is done, the inner cooking pot and all accessories remove for easy cleanup in the dishwasher.
It is also perfect for oatmeal, chili, soups and so much more and it comes with rice measuring cup and serving spatula. 4 cups are enough for most families.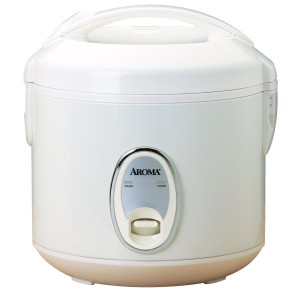 It has a drip container on the side to catch condensation. The size fits just right into standard kitchen cabinets. And for the price, it is worth replacing every 5-10 years.
It also has a steamer option which is an added bonus. You will never have a problem to cook any kind of rice, just remember if you lose the measuring cup, that it is 3/4 of a cup.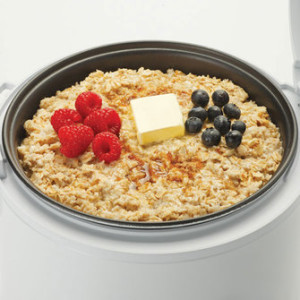 It is simple, it is straight forward, it works. Cook, warm and off/unplug are your option and it is all you need for perfectly cooked rice. It cooks up any kind of rice, including brown rice just right.
2. Zojirushi NHS-06 Rice Cooker
Another option is Zojirushi NHS-06 3-Cup Rice Cooker
, a rice cooker and steamer that features an easy-to-use single switch control and see-through glass lid with a stay cool knob.
It is also designed with stay cool handles for easy transport and durable nonstick inner cooking pan.
With a Zojirushi rice cooker, rice will be fluffy and delicious.
Forget about standing over the stove while it cooks. With this rice cooker, you have to just set it and leave. It provides durable nonstick inner cooking pans for quick and easy cleaning as all Zojirushi rice cookers.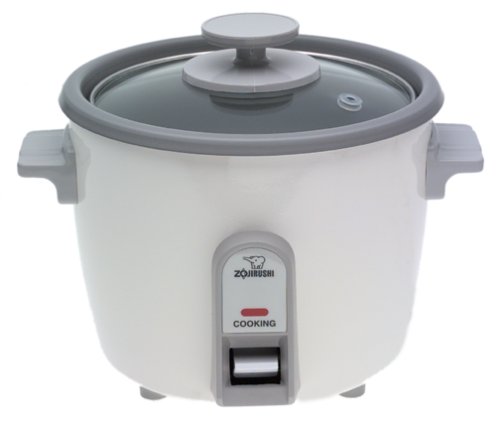 And all Zojirushi rice cookers come with a special measuring cup and nonstick rice spatula for serving.
The capacity of the rice cooker is stated in the numbers of 6-ounce cups of raw rice: this one cooks up to 3 cups of dry rice (white or brown) and keeps it warm up to five hours.
The cooker can be operated very simply: you have to push a switch to start it. The switch and a light turn off when cooking is completed, and the unit automatically goes into its keep-warm mode.
The rice cooker has a thermostat in contact with the bottom of the pot. When the temperature starts to climb above 212 degrees, that means the water has boiled out, the rice is done, and it clicks over to "keep warm" mode.
Now unplug it or you will get a crispy layer on the bottom. And of course, use the paddle they give you with the cooker to serve the rice.
3. Hamilton Beach Rice 37543 Rice Cooker
You may hear about Hamilton Beach Rice 37543 Rice Cooker
: with some versatile functions, it is in this price range.
Cook grains, hot cereals or even your favorite packaged rice mix without having to boil water or set a timer. The unit has an included 2-in-1 basket that can be used to rinse rice or grains ahead of cooking or use it to steam everything from salmon to zucchini.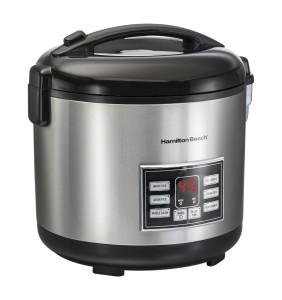 You can cook a variety of foods effortlessly with six different settings that take the guesswork out of cooking: White Rice (cooks all varieties of white rice, including short- and long-grain rice), Quick Rice (great for preparing rice in a hurry), Whole Grain (for brown rice, farro, quinoa, and other whole grains), Heat/Simmer (use this function for flavored pasta and rice mixes, beans, soups, and one-pot meals), Steam Cook (vegetables, meats, fish, and more), and Hot Cereals (great for oatmeal, grits, and cream of wheat).
Such an appliance cooks rice to the perfect moistness and texture, then shifts to keep rice warm until serving time.
The Delay Start feature lets you program cooking up to 11 hours in advance. Use the Keep Warm setting to ensure your dish stays at the right temperature until you are ready to serve it.
This rice cooker is extremely easy to use, and it also has a timer for those that want to have rice ready when you wake up.
You may observe the stainless steel finish of the exterior which makes it look more expensive than it is (and it is relatively cheap).
It can make up to 7 cups of rice. It does not have a rinse free option, unfortunately, so you will have to wash the rice grains if you want to cut down on the starch build up inside.
But overall it is a pretty good affordable rice cooker.
4. Cuckoo CR-0671V Rice Cooker
Last but not the least, Cuckoo CR-0671V Rice Cooker
is the most cost-effective rice cooker that can cook basic rice for up to 6 people.
It is the most simple and easy to use a rice cooker that uses a non-pressure function to cook and warm the rice cooker.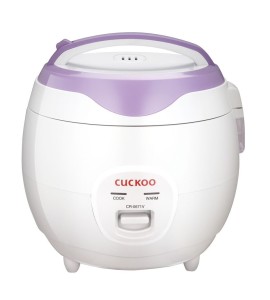 Made in China, CR-0671V is coated with violet color on top with a handle and a beautiful white colored body to give it simple yet intriguing look to entice your kitchen environment.
The only cons to this is no place to put the rice scooper, would recommend they put that on the next model.
It cooks rice and does not burn them in keep warm mode; brands that you get from BJ's club, Walmart, Target, Sam's club, online most in this price range tend to burn rice after a few hours after cooking so keep warm is more like burnt rice mode.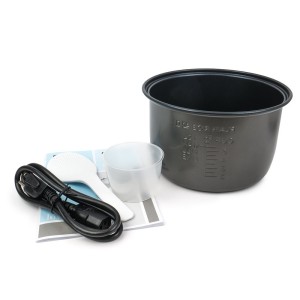 This one keeps rice warm for 3 days before the rice starts to turn different color but still no crispy burnt rice.
The included measuring cup is not a real 1-cup (8oz) measure but the quantity does accommodate the levels marked on the rice cooking insert.
5. Comparison Table
Brand
Aroma ARC-914S
Zojirushi NHS-06
Tiger JBA-T10U-WU
Hamilton Beach Rice 37543
Cuckoo CR-0671V
Capacity
8-Cup (Cooked) (4-Cup UNCOOKED)
3-Cup (Uncooked)
5.5-Cup
versatile 4-20 cup capacity
6 Cups Uncooked (3 Liters / 3.2 Quarts)
Design
It is coated with white color
It is coated with white color
microcomputer controlled rice cooker and warmer with a steam
basket
Stainless Steel
finish
It is coated with violet color on top with a handle and a
beautiful white colored body
Dimensions
9.1 x 8.5 x 8.7 in
7.8″ x 7.1″ x 9.1″
9.6-inch W x 13.1-inch L x 8.3-inch H
10.6 x 11.3 x 11.4 inches
10.2 x 11 x 10.3 inches
Weight
7 lbs
3.1 pounds
6.6 pounds
6 pounds
5.8 pounds
Functions
Keep-Warm
Automatic keep warm system
automatic keep warm function after the rice is cooked, and delay
timer
Delay Start feature, Keep Warm setting
a non-pressure function
Menu Settings
N/A
N/A
9 computerized cooking menu settings (plain rice, quick rice,
porridge, mixed rice, sweet rice, brown rice, multi-grain rice, slow cook and
steam)
White Rice, Whole Grain, Heat/Simmer, Steam Cook and Hot Cereals.
N/A
Inner pot
easy-to-clean, nonstick removable inner pot
The inner pan is made of aluminum which is then coated with a
non-stick material
1.4 mm thick rounded inner pot
Non-stick teflon coated pot
Non-Stick Coating
Inner Pot
Included accessories
Rice Measuring Cup and Serving Spatula included
Spatula, Measuring Cup and Steaming Tray
N/A
Measuring Scoop, and Rice Paddle
measuring cup
Detachable inner lid
it is hinged
N/A
Yes, an easy to remove and washable inner lid
Yes, removable lid
N/A
Cord
N/A
Detachable Power Cord
The cord is not retractable
26″ to the plug
N/A