9 Best Rice Cookers with Induction Heating and Reviews
What do you know about rice cooker with induction heating? Most of us use rice cookers, but we are not able to establish a top of these products; in order to get an idea about these aspects, we will try to offer you some information regarding the best induction rice cookers : in this way, you will know what rice cooker you should buy, if needed.
As most families eat a lot of rice every day, it is important to know how to cook it perfectly: there are some differences between induction rice cookers and rice cookers and you will notice them as soon as you decide to try such products.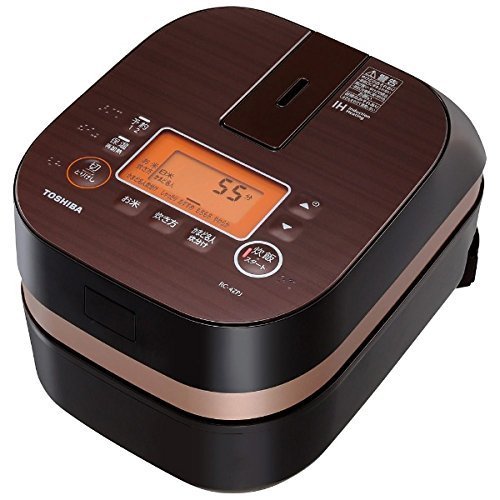 As in the case of many appliances, induction heating is achieved once the electrical current is used to heat the entire cooking pan and not just the bottom of the pot.
Having in mind this aspect, certainly you realize that an induction rice cooker is faster than a simple rice cooker: this means that your rice will not need any clumping at the end and will be delicious.
If you have not the chance to use such an appliance, now it is the right moment: soon, you will understand that an induction rice cooker is worth it.
1. What is an induction rice cooker?
An induction rice cooker turns to be an indispensable automated kitchen appliance needed to boil or steam rice.
Being an induction unit, the inner pot is heated up efficiently and so, your rice is cooked to perfection. Although the induction models are popular everywhere in Asia, nowadays people from the entire world are interested in purchasing such a great product.
If you want to compare electric rice cookers with induction rice cookers, you should know that induction heating models provide lower power consumption and higher thermal efficiency.
So, you get perfect fluffy rice very quickly and at elevated temperatures. And in case you are looking for some examples, here you have.
2. Induction Rice Cooker vs Regular Rice Cooker
There are several differences between rice cookers and induction rice cookers that you should think twice before making a choice.
First of all, an induction heating rice cooker needs the inner pot as that pot will be entirely heated up instead of a common rice cooker which will heat only the bottom of the external vessel.
Induction rice cooker is designed to be able to make instantaneous and precise adjustments: this means that you can adjust the temperature, the power, etc. every time during the cooking process and this is not the case for the other rice cookers.
On the other hand, as you already know, it is faster to heat the cookware with rice cooker induction heating.
And this will reflect in the rice cooking time; also, such appliances as induction rice cookers cook food more evenly and this can be explained by the high conductivity of the inner pot.
And what about the taste: rice definitely tastes better and fluffier if you choose cooking rice in induction cooker.
3. Is an Induction Heating Rice Cooker worth the money?
People who have tried an induction heating rice cooker and have learned how to cook rice on induction cooker are more than happy as they enjoy the better tasting rice.
You must be aware of the fact that such an appliance is more expensive, consumes more electricity than a fuzzy logic rice cooker in cooking and also, is heavier.
Despite these disadvantages, it is very important to know what you exactly want and to search for a qualitative product. If you want precision and more delicate temperature adjustments, you should try rice cooker induction; so, this is the time to start cooking rice on induction cooker.
4. How to Cook Rice on Induction Cooker
First, it is extremely easy to cook rice on induction cooker. As long as the source of heat heats around the cookware, you have nothing to worry about: your kitchen remains cool and the cookware does not get heated up. What a pleasure to cook during the summer!
Using an induction heat rice cooker, you will get a faster and efficient method to cook than the one that you will get with a conventional cooker: cooking rice is automatic in this type of cooker. Most of the induction cookers have different heating levels that you can adjust instantly and easily. And you do not have to watch the rice while is cooked: you can turn on the cooker and forget about it.
Induction rice cookers use pressure cooking, but also induction heating in order to cook rice. The adjustment of the pressure can be automatically done depending on the menu of the induction cooker. These induction rice cookers will be a great option if you want to cook different types of rice like Sushi rice, white rice, Jasmine rice, brown rice, Basmati rice etc.
5. Best 9 Induction Rice Cookers
5.1. Zojirushi NP-HCC10XH Induction Heating System Rice Cooker
Zojirushi induction rice cooker makes absolutely delicious rice and once you decide to try it and to cook rice, you will be sure that this induction heating rice cooker is worth it. What is interesting is the fact the rice tastes like it was just made after one-two days.
Buying this Zojirushi induction heating rice cooker, you will have an induction rice cooker and warmer: in contrast to the Zojirushi NP-HBC10 induction heating system rice cooker and warmer, you will pay a small induction rice cooker price.
With multi-Menu cooking functions and healthy cooking options (germinated brown rice, brown rice and GABA brown rice), you can prepare whatever you like.
Regarding Zojirushi rice cooker induction heating, you should know that your rice is cooked using superior induction heating technology that efficiently provides high heat and prepares flawless rice every time. Zojirushi induction pressure rice cooker has a clear-coated stainless steel exterior that fits any kitchen decor and makes cleanup a snap.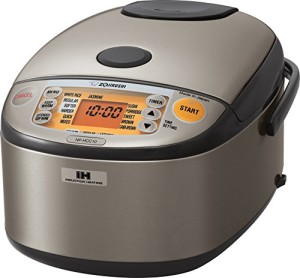 Using Zojirushi rice cooker induction, you will enjoy automatic keep warm and extended keep warm that keeps rice at the perfect serving temperature. For Zojirushi induction heating pressure rice cooker, you will have 1 year limited warranty on parts and labor.
5.2. Tiger JKJ-G18U Induction Heating Rice Cooker and Warmer
The Tiger induction rice cooker provides an inner pot with grip handle for easy carry. You have a preset cooking timer and so, you will have to watch the entire process of rice cooking: it is 10 cups rice cooker and warmer with 1400W of high-power induction heating and high-temperature 239°F steaming.
If you want to know how to cook rice in this induction cooker, you will see how easy it is with this product: with multi-cooking menu functions such as slow cooker and bread baking program, it will be a really pleasure to cook several kinds of rice as regular short-grain, arborio, jasmine, brown, and even sticky rice.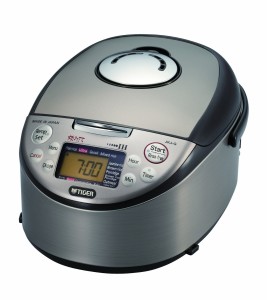 But prepare yourself for a big surprise: try to use Tiger JKJ-G18U Induction Heating Rice Cooker and Warmer to make great bread and even cakes. This induction rice cooker review assures you that if you buy this product, JKJ-G induction heating rice cooker will be the best investment you have ever made.
Cooking rice on induction cooktop will be so easy for you now: all you have to do is to pour in rice and water, and then set the timer; you can set any time within 24 hours. The rice will be done at the pre-set, and you will have flavourful and perfect rice every time.
5.3. Cuckoo CRP-EHSS0309F Smart IH Pressure Rice Cooker
Cuckoo induction pressure rice cooker can also be considered a great rice cooker with induction heating: it is X-wall stainless steel inner pot with 2 atmospheric pressures. Just enjoy a full stainless steel interior and stainless steel ventilation pipe system: you have a rice cooker made with you and your rice cooker's health in mind.
Also, Cuckoo induction pressure rice cooker comes with double layer cover packing, a blue LED screen with touch selection menu, voice navigation (it can be used for three languages: English, Chinese, Korean), and a unique body structure and this complements its premium inner build quality.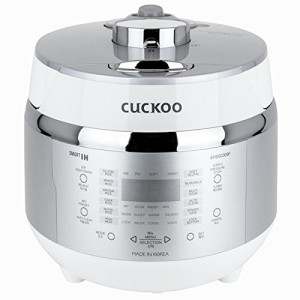 It is time to meet rice cooker induction and you are going to taste the difference: this world is full of differences, chewy but soft and just plain delicious and it will be clear if you try the same rice with different rice cookers.
Such an induction heating pressure rice cooker will assure you tasty rice that stays fresh for days, but not for hours. You have lots of cooking options, so do not be worried: you will learn quickly how to cook rice in induction stove. Once you buy induction pressure rice cooker, you will also receive a rice paddle and a measuring cup included in the price.
5.4. Panasonic SR-JHS10-N Microcomputer Induction Heating Rice Cooker
What proposes the Panasonic brand is induction heating rice cooker with overseas use microcomputer 1.0L IH and diamond fluorine processing Dokama. It is perfect for cooked and steamed Supports, white rice, sprouted brown rice, steamed rice, brown rice etc.
With a capacity of 1.0L (5.5 gou) (1 ~ 5Cup), you will be surprised to know that the heat convection of fine bubbles caused by the diamond reinforced fluorocarbon resin coating heats each individual grain of rice. This Panasonic induction rice cooker is a recently launched product on the market that assures advanced induction heating and so, rice can be heated more thoroughly.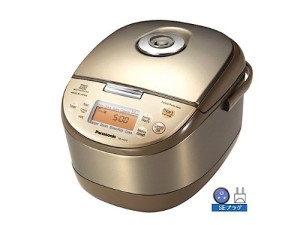 Cooking rice in induction stove can be so fast and easy: the outer side coat of the induction rice cooker including copper micro-particles keeps rice warm and you can serve a delicious dinner for your family or your invites. You can even wash the rice in the inner pot and this means that it is not necessary to prepare the rice before programming the cooker.
If you choose Panasonic SR-JHS10-N Microcomputer Induction Heating Rice Cooker, you will receive 2 accessories, the steaming basket measuring cup and the rice scoop. These accessories will really help you when starting the process of rice cooking.
5.5. Lihom LJP-HK100GDE Induction Rice Cooker
Lihom LJP-HK100GDE 10-Cup Rice Pressure Cooker is the rice cooker that will think for you: this rice cooker for induction stove comes with a cutting edge heating technology that allows equal cooking of each rice grain, making rice faster & tastier known as induction heating or IH.
As it has a Diamond coating, you will see that the inside surface of the inner pot is coated with diamond micro-particles making it more durable and scratch resistant. Cooking rice on induction stove is not so hard: the Golden Dimple inner pot design increases thermal efficiency resulting in faster and tastier rice.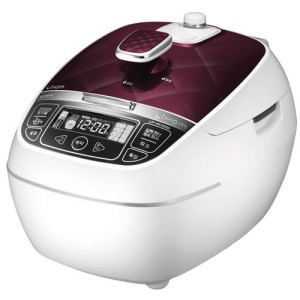 In case you want to know more about the process of cooking, the voice navigation system alerts you regarding the progress of your cooking, as well as other functions. And what about an easy cleaning: this product is designed with automated steam cleansing function that cleans the rice pot lid and nozzle parts.
Even if you are not a great cook, you will find so easy to use this rice cooker with induction heating: the nurungjee feature works well and makes good sticky rice.
5.6. Tefal Delirice 50HC2 Induction Rice Cooker
Tefal Delirice 50HC2 Induction Rice Cooker comes with 16 functions: Japanese rice, White rice, Brown rice, Normal, Soft, Hard, Quick, Steam, Small quantity, Soup, Congee, Porridge, Reheat, Keep Warm, Preset and Adjustable Timer.
Consider the fact Tefal is the world's leading cookware and small home appliances maker and this multifunctional machine comes with advanced heating technology that not only saves cooking time, but it is also energy efficient.
If you want to be able to cook perfectly fluffy rice and eat healthily at home without spending too much preparation time, now it is possible.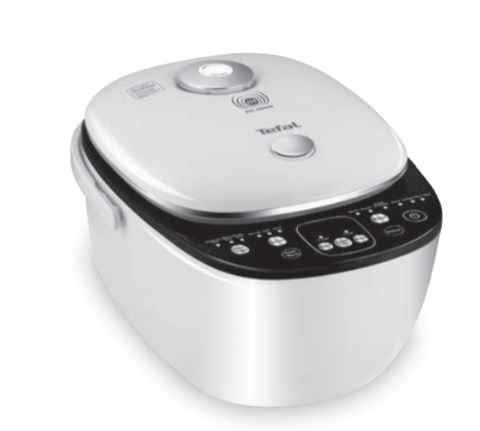 It is important that when you cook rice, you have to measure the rice with measuring cup and rinse it, to put the rinsed rice into the bowl and fill it with water to the corresponding water level (the graduations in cups) and to adjust the water quantity depending on your taste.
At the end of the cooking period, the appliance will automatically switch over to keep warm which will last up to 24 h. Be aware to not touch the inner surface of the appliance when the product is connected or after cooking.
Also, when the dish is ready, the appliance will make a sound with several «bip» and will enter into keep warm status with the lamp on and the screen will display «b».
To cook 1 cup of white rice (it serves 2 small or 1 large portion), use 1 measuring cup of white rice and then add one and a half measuring cup of water.
5.7. Hitachi RZ-W2000K-R Induction Rice Cooker
Or you can choose HITACHI Rice Cooker Steam pressure IH type Metallic Red RZ-W2000K-R
, a great product as it is very good to maintain a high temperature in the "vacuum heat seal".
It comes with Tetsukama implantation newly developed large-fired convection: it is a large thermal Tetsukama convection.
The cooking rice capacity is 1.0 L, while the dimensions of the rice cooker are 16.5 x 11.8 x 11.4 inches and 19.4 pounds. This product is an AC100V only and cannot be used as they are.
This product's frequency is 50-60Hz. If you use a transformer, it can be used.
With IH, the heat is transferred into the rice by the alternating electrical current. This minimizes damage to the original quality and taste of the grain. Pressure and Steam functions maintain a high temperature to thoroughly steam and cook rice.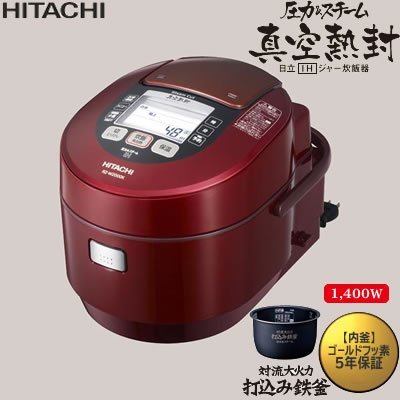 This Japanese market rice cooker is great: it takes a bit before getting used to the commands since they are all in Japanese as well as the large multi-line LCD display. However, it is built very well; actually, it is a bit heavy.
There is an enclosed CD (in Japanese) but it is easy to follow along. It covers parts, prep, and cleaning. This is a Japanese appliance meant for the Japan market. It is 100V and not 120V so you will need a converter to handle its 1500W operating power.
Consider the fact that the wide bottom shape center boils faster, and so the Unagasuru convection goes from the center of the inner hook. In a vacuum heat-insulating layer, the pursuit of the principles of the furnace is followed.
With a red design, the rice cooker fits in any modern kitchen or cooking space. Just take your time to learn how to use the rice cooker and so, you will have tasty rice for your family and your guests.
5.8. Sanyo ECJ-JG10W Induction Rice Cooker
Another appliance is Sanyo ECJ-JG10W 5-1/2-Cup Rice Cooker
with Induction Heating and Variable Pressure Control. It is a 5-1/2-cup micro-computerized rice cooker with induction heating and variable pressure control.
It is a locking device for safe pressure cooking that includes measuring cup, spatula, and manual with recipes. It is designed with an LCD clock and 24-hour delay timer, an extra-thick nonstick inner pot with the copper-coated exterior.
You get also 1-touch menu and texture options, steam and slow cook functions, auto keep-warm mode with this unit.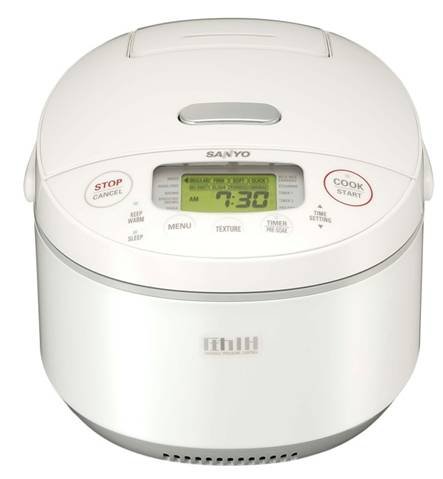 It measures approximately 14-7/8 by 10-1/2 by 8-3/4 inches. Superb consistency is acquired using the extra thick, two-layer 2.5 mm non-stick inner pot with copper coated exterior for maximum heat distribution.
Enjoy multi-menu and texture selections that are one touch and include rice dishes such as white, rinse-free, haiga, brown, sprouted brown, sweet, mixed, sushi, zakkoku, wild and Dol Sot Bi Bim Bab.
And of course, you have a pre-soak function: it allows for additional soak time before cooking ensuring a delicious rice dish. Steam veggies with the steam function and use the unique tray for preparing healthy foods.
Learn how to make stews and soup using the slow cook function of this Sanyo rice cooker. Also, pre-set your meal to be completed up to 24 hours ahead using the timer function; this is a great benefit for coming home or waking up to a hot meal.
After finishing cooking, you have the keep warm function that will keep food warm and delicious up to 30 hours and this is terrific. In addition, it is designed with a unique sleep function: this means that your food can be kept warm for an extended time and creates energy savings.
With Variable Pressure Control Technology incorporated by this unit, you get a rapid movement of rice within the unit during the cooking process and this will bring out the most delicious taste and flavor of rice.
Definitely, with induction heating, you get quick, even and efficient heating for your dish. It is very easy to use and the rice is incredibly delicious; it is as delicious as the regular Japanese rice.
5.9. Toshiba RC-4ZPJ-T Induction Rice Cooker
And Toshiba IH rice cooker
comes with the following accessories: Japanese manual, rice paddle, paddle stand, measuring cup (for about 1 Go for – about 0.5 Go).
The cooking capacity is 2.5 Go (450ml) cooking, while the cooking method IH system. The maximum rice cooking capacity is 0.45L rice and this is available for the amount of rinse-free rice, brown rice, barley rice to 0.36L (about 2 Go).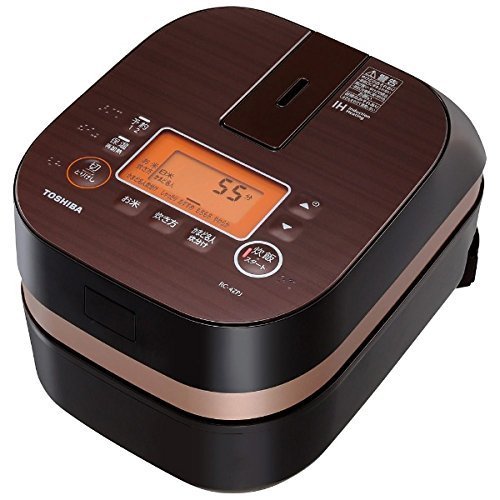 Here you have the dimensions: width 220 × depth 289 × height 180 mm (width 220 × depth 297 × height 383 mm when you open the lid). The body weight is about 3.8kg, while the power cord is a 1.2 m magnet (pluggable unit).
The following electrical requirements are power AC100V (50 / 60Hz) and maximum power consumption 1000W. If the power supply is AC100V (50 / 60Hz) specification, the recommendation is to drop the voltage to AC100V in the transformer or the like.
5.10. Tatung Induction Rice Cooker
So far, Tatung has not manufactured any induction rice cooker. But for those interested, there are some Tatung alternatives when it comes to conventional rice cookers and other products. Take your chance to try them and to experience success in your kitchen.
6. Conclusion
It is impossible to do not observe the differences between cooking rice with such induction cookers and with other pot: starting with the taste and multiple functions which allow you to prepare rice as you like, you will be able to preserve the cooked rice up to 48 hours.
7. Comparison Table
Brands
Induction Rice Cooker Capacity
Lid and Accessories
Material
Multi-Cook mode
Cleaning function
Voice Navigation
Zojirushi
5.5 cups / 1.0 liters
detachable and washable stainless steel inner lid, rice washing
bowl with side and bottom drainers, white and rice paddle, white
clear-coated stainless steel exterior, black thick spherical
inner cooking pan
Yes, multi-menu
cooking functions
NA
NA
Tiger Corporation
10-Cup
detachable
inner/outer lid and steam vent cap, stick spatula, ladle and rice measuring
cup included
non-stick coating inner pan with grip handle for easy carry, multi-layer ceramic coating
Yes, multi-cooking menu functions such as slow cooker and bread
baking program
NA
NA
Cuckoo
3-cup pot
full stainless interior lid and cover
X-wall stainless steel Inner pot
Yes, multi-cook mode to cook other dishes besides rice
Yes, automatic
steam cleaning function
Yes, English,
Korean, and Chinese Voice Navigation
Panasonic
1.0L (5.5 gou) (1 ~ 5Cup)
detachable inner lid and Steaming basket measuring cup, rice
scoop
diamond reinforced fluorocarbon resin coating, outer side coat
including copper micro-particles
Yes, micom
smart cake baking
NA, rice
washable in inner pan
NA
Lihom
10-Cup pot
Yes
diamond coating, diamond micro-particles for more resistance and
durability
NA
Yes, automated
steam cleansing function cleans the rice pot lid and nozzle parts
Yes, in
Korean and English
Brand
Induction Rice Cooker Capacity
Lid and Accessories
Material
Multi-Cook mode
Cleaning function
Voice Navigation
Tefal
10 cups
Lid and Lid opening button, Measuring cup, Rice spoon, Soup spoon
N/A
It is equipped with 16 functions: Japanese rice, White rice,
Brown rice, Normal, Soft, Hard, Quick, Steam, Small quantity, Soup, Congee,
Porridge, Reheat, Keep Warm, Preset and Adjustable Timer
No, it is possible
to clean the bowl and steam basket in the dishwasher machine
No
Hitachi
cooking rice capacity: 1.0L
N/A
type Metallic Red
N/A
Yes
No
Sanyo
5-1/2-cup micro-computerized rice cooker
It includes measuring cup, spatula, and manual with recipes
extra-thick nonstick inner pot with copper-coated exterior
It includes rice dishes such as white, rinse-free, haiga, brown,
sprouted brown, sweet, mixed, sushi, zakkoku, wild and Dol Sot Bi Bim Bab, makes
stews and soup, steams veggies
No, it is easy to clean
No
Toshiba
cooking capacity: 2.5 Go (450ml)
accessories: Japanese manual, rice paddle, paddle stand,
measuring cup (for about 1 Go for – about 0.5 Go)
N/A
rinse-free rice, brown rice, barley rice
No
No