6 Best Range Hoods For Induction Cooktop (30/36 inch Stainless Steel)
Although you may choose induction cooktops and induction compatible cookware that work awesome together, you must consider a hood or downdraft system.
This is necessary as the cooktop and the pan continue to make a lot of smells and smoke.
As you probably know, the surface of induction cooktops never feels hot because the heat comes directly from the pot or pan being used.

With a heat efficiency level of as much as 90 percent, this does not mean that ventilation is not needed. Air movement is still required in order to remove excess steam from cooking.
Another reason refers to the fact that filters built into ventilating hoods also help trap grease and accumulating food articles.
If you ever plan to sear or fry, certainly you will need some ventilation over the induction cooktop. For the aerosolized fat and the tiny fat droplets from your deep fat, you will need a ventilated hood grease catcher.
Let's have a look at some of the best range hoods for induction (30/36 inch stainless steel) available on the market.
Models with high CFM and multiple filters and granted, ductless types of hood ranges can be some great alternatives.
1. 30 inch Stainless Steel Range Hoods for Induction Cooktop
Broan QS130SS Allure Range Hood, Stainless Steel, 30-inch is designed with a two-speed fan with two-level light setting using dual halogen lamp design, but you must be attentive as bulbs are not included.
This item is made of stainless steel and is available in various colors: almond, bisque, black, white and stainless steel.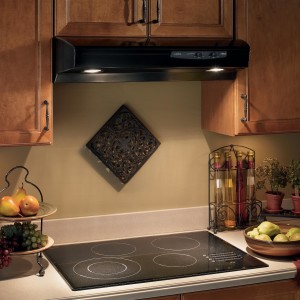 With four-way convertibility and quiet 1.5 Sones at normal speed, 220 CFM high setting and 30 inches wide, you get a range hood for induction cooktop with a fully enclosed design for easy cleaning.
The fan comes with 2 filters, each covering half the intake surface; they enclose the bottom of the fan so it gives it a nice finished look.
This range hood has three knock-outs, a 3-1/4″x10″ rectangular on the back, another 3-1/4″x10″ rectangular on top, or a 7″ round on top.
It comes with the rectangular damper (in order to keep cold air from coming into the kitchen from outside) but does not come with a damper if you choose to connect via the 7″ round pipe.
This hood is easy to install; the unit is built very good (heavy material), cleans easy, is very quiet on low and fairly quiet on high but it moves a lot of air.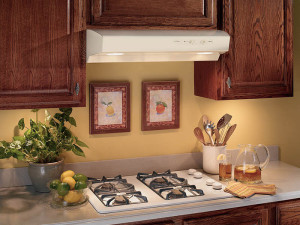 Check price
The lights are very good as is the recirculation of fan. You can install it as a non-vented unit and is going to do a good job. If you cannot vent to the outside, this filters and recycles from the kitchen range well.
The suction is great as well. Also, the unit comes with the option to duct either through the top of the back of the hood. There are holes outlined at the back and top for you to choose which way you want to duct, all you have to do is pop them out.
This XtremeAir PX10-U30 30″ is assembled in USA. Designed with a squirrel cage blower, this range hood is made of 1.0 mm non-magnetic stainless steel.
Purchasing this product, you are going to have 10 year motor warranty.
As you probably known, XtremeAir manufacturer is known for its quiet and powerful kitchen ventilation systems.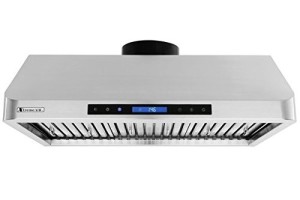 XtremeAir USA range hoods use metal squirrel cage blowers in their units for very powerful yet quiet ventilation.
This hood is not totally silent, and if you turn it up to medium high level, the sound is like an air conditioner in a car. This is comfortable sounding, and the frequency is more like a low rumble. This range hood is amazing; there will be no more smoke and food smell in the house.
LED lights add a nice touch, lighting up everything below. Just a little tip: you must keep your cooktop clean too, as it will light all the stains as well that was previously hidden in the dark!
As you may probably intuit, stainless steel is easy to clean, while also the grates underneath the hood look magnificent.
This range hood is awesome, but it is very heavy so if you buy this you will need someone to help install it.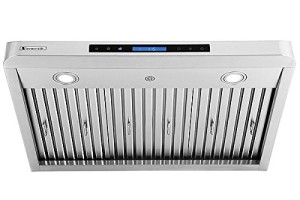 Check Price
The baffle filters are the same 1.00 mm non-magnetic (rust resistant) stainless steel that the hood is made of, so they just need to be taken out along with the oil tunnel and they can be dish washed or hand washed.
Kitchen Bath Collection 30-inch Wall-mounted Stainless Steel Range Hood is capable of ventless operation and there is no additional kit required.
With touch screen control panel and sleek modern design, this range hood has a height that is adjustable in order to accommodate your ceiling height.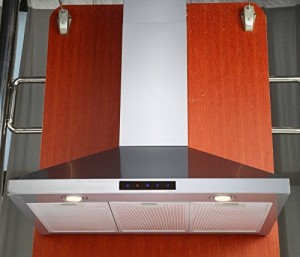 It looks very expensive, includes all necessary hardware, and can be vented or ventless. The fan power is unexpectedly strong. It works perfectly and really fits any kitchen design and for the money, it is the best buy and it looks great.
Most metal filters can be washed with warm soapy water, but some do not have any carbon inserts and can be put in the dishwasher.
And about the chimney, you should know that you can change the chimney with a longer one if you want, just make sure the straight piece to the roof fits around the square opening at the top of the air suction part.
If you are looking to update your kitchen, look no further. This range hood is awesome and looks great! It is easy to install, for those looking to it. It also comes with easy to understand instructions and it provides a quick setup.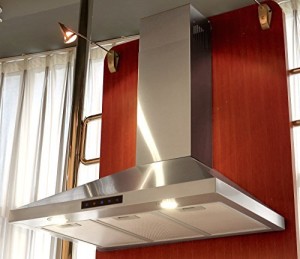 Check Price
During ductless operation, the air is recirculated back into your kitchen through a vent at the top of the chimney-piece. This can be used to vent to the outside; for the price it is amazing, looks great, plenty of suction and the lights are super bright.
2. 36 inch Stainless Steel Range Hood for Induction Cooktop
Purchasing this FIREBIRD FB-RH0003 Island Stainless Steel 36″, you will get a 3 years manufacturer limited period.
The air flow is 400 CFM, while the noise level is less than 65DB for ultra quiet operation. You will enjoy easy installation as this product comes with all parts and accessories up to the ceiling.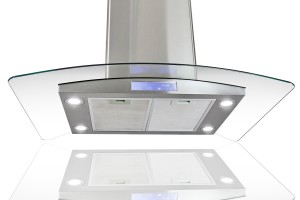 You will get an island mount style hood that is provided with telescopic chimney fits 8-9 ceilings. The filter of the range hood is dishwasher-friendly and easy to remove stainless steel outlet grease filters.
Function-wise, it is acceptably quiet at the highest speed and very quiet at the lowest speed.
Once you are going to install the item, throw the protective plastic cover pulled away from the stainless steel chimney, and the hood will shine like a name brand expensive piece of kitchen appliance.
With its touch screen, the hood has a 21st century appliance touch.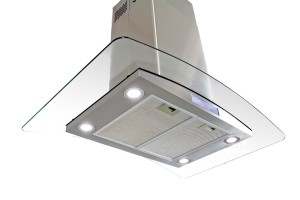 Check Price
Regarding the installation of this item, it is just typical of this type range hood. If you have exhaust pipe, ceiling support structure and power supply, it probably takes less than two hours for two men to get it done.
Select from the Firebird range hoods that incorporate all the modern features and a stylish design with performance. If you are looking for a hood to cover a wide area, you should choose FIREBIRD FB-RH0003 Island Stainless Steel 36″.
Z Line KB-36 Stainless Steel Wall Mount Range Hood, 36-Inch has a 760CFM 4-speed motor with timer and auto shut-off.
With a high-quality stainless steel design, you get a product that has dishwasher-safe baffle filters and directional lighting.
It measures 36″ x 19.7″ x 10.5″ and comes with blower and fan completely installed, and factory tested and this makes the installation one of the easiest in the industry.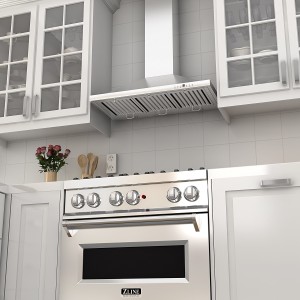 This hood can be vented through the wall instead of the roof and there are ducting kits available on the market.
It is coated with a protective film that protects the stainless finish until the final reveal and it may seem hard to peel off the film on the chimney extension unit. With 4 speed levels and adjustable lights, this hood looks awesome and does its job.
The installation is easily done and straightforward; you must find the center point of stovetop or range and the center of hood matches this point and mark two hanger holes at level into studs with provided heavy gauge screws.
The unit functions perfectly and is a very sleek and clean design; it looks good, buttons and display are decent, halogen lights are nice and articulate.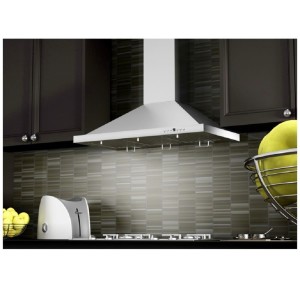 Check Price
The material of the hood is good; on the other hand, grease filters are very flimsy, easy to bend by hand. If you are looking to redecorate your kitchen or replace an existing hood, this model is worth every dollar.
Broan QS136SS Allure Range Hood, 36-Inch, Stainless steel is designed for electric or gas cooktops up to 22K BTU.
It provides Clean Sense charcoal filters that change color when replacement is necessary. With an operation of Quiet 1.5-Sones at normal speed, 220 CFM high setting, and four-way convertibility, you are sure that you purchase an item that is going to be 50-Percent quieter.
Available in a variety of colors (stainless steel, almond on almond, biscuit, black, white on white), this HVI Certified and UL Listed unit has a powder-coat finish to make cleaning painless.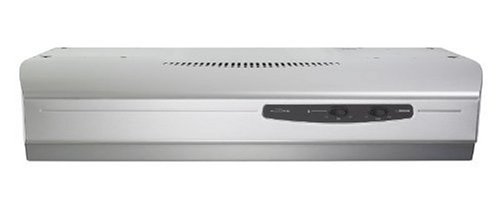 And, as the product has dishwasher-safe aluminum filter, such a hood is practically maintenance-free.
With quick-access controls, you can operate the fan speed and the two-level halogen lamps; you will figure out that it easy to adjust the ventilation or lighting.
The light switch has a half power light dimmer which works well in order to limit the power used, and substantially extend the bulb life.
This unit is very well made. It does exactly what you wanted it to do. The 50 watts lights can be a bit warm so you may keep it at the minimum setting which means plenty of light.
You do need another hand to hold it while you mount it, so it is not recommended trying to hold it while you are trying to drill the mounting screws in.
This range hood works the way a range hood should. It is easy to install with two people. Very quiet, this range hood is sleek and modern looking; certainly, having two options with the lighting is perfect, but be aware that you do have to purchase the bulbs separately.
Conclusion
Now, you can get an idea about the best 30/36'' range hoods made of stainless steel for induction cooktops.
Since you have these great examples of range hoods, all you have to do is to consult all their features and to consider your needs in order to choose what it right for your and fits your kitchen style.