Portable Induction Cooktops are becoming more and more popular among customers nowadays. Some people decide to buy one as an extra cooktop in their kitchen, some want to test induction technology before buying a more complex freestanding induction stove, some are limited by space and are looking forward to a cooktop with small dimensions (like students) and some, of course like the portable factor of these appliances and they buy one because they want to use it outdoors in the garden.
No matter the real reason, one thing is for sure: in 2018 popular manufacturers offer many great portable induction cooktops. In this article, I am going to show you which are the best portable induction cooktops this new year.
But first let's see what are the benefits an induction cooktop offers and what factors you should consider when buying one.
Why portable induction stoves are the best?
If you want to radically change the way you cook, you should try cooking with a portable induction cooktop. At first sight, an induction cooktop may not look so different from an electrical one. But its secret lays in the power of the electromagnetic field, which makes the pan generate itself the heat needed for cooking food.
Induction technology is the safest, fastest and the most precise method to cook food at a specific temperature like professionals cookers do.
1. They are efficient. Portable induction cooktops are extremely efficient because the heat is directly
transferred to the pan or pot. The portable cooktop remains cool while cooking and there is no risk of gas burns.
2. They are fast. If you are looking for instant results just choose a good and precise portable cooktop.
3. They are precise. Accuracy is another advantage because you can set the right temperature.
4. They are safe and simple to clean.
5. They are compact, easy to transport and to store. Perfect for small places and for cooking outdoors.
How to choose the best portable induction cooktop?
Here are some things you should consider:
1. Size and weight. Although many of them are named "portable", some of them are really compact and some are not. But think of your situation: Do you have a small kitchen?, This will be an extra cooktop in your house?, Size is not so important to you?, How and where will you use it?
2. Power. This is important if you expect your future portable cooktop to move fast and boil (water) rapidly.
Many specialists consider that power is more important than size and weight of a portable cooktop, but you should adapt this piece of advice to your own specific needs.
Yes, power is very important when choosing a portable cooktop, but if you have little space for it and some seconds more are something you can accept, then you may choose size over power.
3. Specific features. Induction cooktops may seem more or less alike, but there are differences among them and some may have features that other may lack. Here are some common characteristics: pan recognition, child lock protection, spill protection, advanced safe features, residual heat sensor, temperature levels etc.
4. Other factors: brand, accessories, price, design.
10 Best Portable Induction Cooktops in 2018
This is a very popular portable induction cooktop and quite appreciated as well. 4.5 stars out of 5 – this is how customers describe their experience with NuWave PIC Titanium. It was released in 2015 as an improved model of an older series.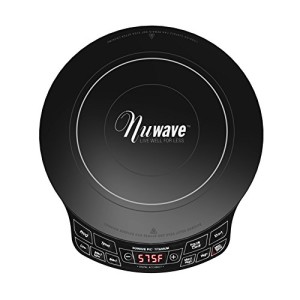 Power is one of its main advantages. It provides 1800 watts although it is very compact (16.2 x 14.3 x 3.6 inches and 6.5 pounds). The heating surface is 9 1/2 inch, a little bit larger than the previous model. You can easily use compatible cookware with a large magnetic bottom. In the pack, there are several accessories like a complete cookbook, a quick start cooking guide and a CD with useful instructions that will all help you to get familiarised with this cooktop.
Precision – this is another great benefit of this unit. You can choose from 94 temperature settings when cooking foods.
This feature gives you flexibility and allows you to cook according to your specific needs. And with a 5-degree temperature increments you have even more control on cooking temperature. Water can be boiled in only 60 seconds.
While on many portable induction cooktops you will find that the unit will turn off itself immediately when removing the cookware from the surface, this is not true with NuWave Pic Titanium, because it has a delayed turn of feature so you have 10 seconds to put back the cookware on the surface, before it will shut off.
It is less powerful (1500W) than NuWave Pic Titanium (1800W), but it attracts customers that are looking mainly to design and size rather to power. As its name stands, this is an ultra thin, very slim unit, 40% thinner in comparison to previous units according to the manufacturer. It measures 18 x 13 x 3.5 inches and weighs 6.5 pounds.
It has full glass surface so the controls are not from plastic and delimited from the cooking surface.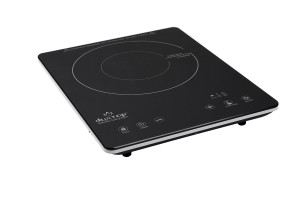 Its design is modern and the controls are easy to access and use because you only have to touch them. It is equipped with 15 power levels beginning with 100 Watts to maximum 1500W. Temperature can be set between 140°F to 460°F and it has a digital timer that can be programmed up to 170 minutes.
The rectangular cooking surface and the keypads on the glass are easy to clean. Further tips on how to best clean it can be found in the user manual included in the pack.
Customers rated this portable induction cooktop with 4.3 out of 5 stars and most of them have shown themselves impressed and pleased with its performances. It is built to meet electrical standards from Northern America, that is 120 V and 60 Hz and it comes with 1-year warranty.
It is one of the best portable induction cooktops in 2018. It measures 5 x 12.5 x 2.6 inches and weighs 7.8 pounds. It is a little bit heavier in comparison to the portable cooktops we have discussed by now, but it has a great power of 1800W, square cooking zone and control panel with digit touch controls.
The control panel is in such a way positioned on the lower side so that you can easily read on the display (that is placed in the middle) and change settings while there is a cookware on the surface. It is black with an elegant silver frame.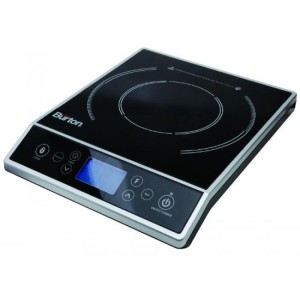 This portable cooktops provides 10 temperature power levels from 100°F – 450°F and on the control panel, you can easily distinguish 2 specific easy-to-access buttons for boil and simmer.
On the left, there is a lock button you can use for locking the menu when you are not in the kitchen or when you want to avoid changing the cooking settings by accident.
It has also a built-in timer with 180 minutes. The heating element under the cooking glass surface is marked by white curves across it.You can use Max Burton 6400 both indoors or outdoors as long as you provide the right power supply.
If you need a portable induction cooktop at a low price this may be a good choice. It has a built-in timer programmable up to 180 minutes and when the time is up you will hear a loud beep and the unit will enter into "the warm" mode. It also has a square black ceramic surface very easy to clean.
The control panel has digital keys which are very intuitive. The display is LED, simple to read on it and perfect to guide you throughout the whole cooking process. Aroma AID-509 allows you to consume less electric energy, up to 70% less in comparison to traditional cookers.
In what concerns the power, it can be set from 120 to 1500W, in 6 heat levels. You can easily set the temperature so that you may either boil water fast or keep the food warm at a low temperature.
The keep warm feature is something you may not find on many similar cooktops and if you usually need to programme the cooktop and take the food of the surface, later on, this may be quite helpful.
Unfortunately, you can't choose a certain level of temperature and this may be confusing at first sight, but once you get acquainted with it, you will rapidly understand how to set it right.
The heating element is 9 inches but some customers were happy to see they can also use cookware with 12 inches in diameter.
It measures 12″ x 15″ x 2-1/2″ and weighs 5.7 pounds. Although it is very compact, it has sufficient power, of 1600W.
The rectangular surface is all black with white rings that circle the heating element and guide you how to best place the cookware on it. The controls are integrated on the ceramic glass surface, at your sight, so you can also easily clean them when you remove the dirt from the cooking surface.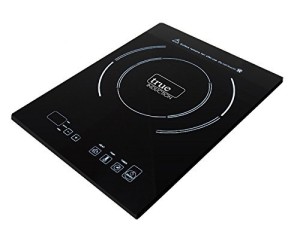 On the control panel, there are 10 quick-touch setting that help you set the temperature between 150 and 450 degrees F.
The built-in timer control allows you to cook while you are in another room, not precisely near the unit. So you can do other important activities out of the kitchen and return back when you will hear a warning beep that announces you the food is ready.
True Induction P3D has a single heating element with a 6 inches coil under the cooking surface and will automatically begin to heat once you turn it on. It is equipped with 2 sensors for pot recognition and position, so it will start heating only if you place a compatible cookware in the right place.
It has a simple control panel with only a few buttons on it, so it may be used by people that are not so familiarised with late technology and want to avoid complex menus.
The control panel is positioned on the lower side of the unit so there is little risk to accidentally touch them with a cookware. It is separated from the glass surface by a small plastic line and some customers don't like this detail as there are some chances for it to get melted.
Apart from the on/off button positioned on the right, you can also find the timer, temp, heat and adjusting keys + and -.
BergHOFF Single 1810027 can be programmed to maximum 150 minutes with increments of 5 minutes. The temperature can be set between 150 F and 450 F (65 C and 232 C) in increments of 30F. There are 5 levels of heat and on the LED display, you will see important information of cooking setting (including error codes).
The ceramic glass surface looks sleek and the edges of the cooktop are also made of plastic, which is again a worry for many customers. The cooking zone is very well delimitated with a white ring of 9.5 inches in diameter.
Fagor is very well known and appreciated appliances European brand as it seldom offers on the market very qualitative products, including induction cooktops.
It seems to me this durable, high-quality portable induction cooktop has a more interesting and different design in comparison to what we have seen by now. It is black with silver edges and stable supports.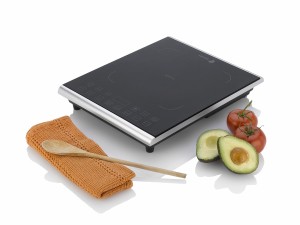 Not only the cooking surface is black and sleek, but also, the control panel you will find on the lower side. You can easily navigate through the menu and the quick-buttons on the control panel will help you a lot. In very little time you will get very familiar with the buttons and you will rapidly succeed in setting specific setting for every recipe.
The 8 quick lunch keys are warm, simmer, rapid boil, boil, saute, sear, brown and stir-fry.
The maximum temperature is 465 degrees F, but you can cook to lower levels as well, starting from 140 degrees F. You can increase and decrease the cooking temperature by 10 degrees increments.
As we have seen at the beginning, power is very important if you really need a fast unit and Fagor 670041900 provides 1800Watts which is a lot taking into account its compact dimensions. So you may enjoy an induction cooktop with both small dimensions and high power.
The user can adjust the timer by minutes up to 180 minutes. Fagor 670041900 is also equipped with several safety features that make it a reliable appliance to use even when children are around.
You should invite "Mister" SPT SR-964TS in your kitchen to fulfill many of your cooking needs. What I mean is that if you haven't already tested the induction technology with cooking, this is a great opportunity to start with, because SPT SR-964TS is a portable cooktop with small dimensions and at a very affordable price.
But first be sure you understand well how induction works and that you need specific cookware with magnetic bottom. Mr Induction – SPT SR-964TS, in particular, can be used with cookware from 4.5 to maximum 12 inches in diameter.
There are a lot of other models of induction cooktops at this price category that are not so qualitative and may even burn your meals. But SPT SR-964TS
offers a precise setting of temperature starting with 100 degrees F – this is quite low in comparison to many others models that cannot be used for cooking at a lower temperature.
In conclusion, if you are looking for a portable unit that you may use to cook a wide range of foods, this is a good choice. The maximum temperature is 390 degrees F. There are 7 power setting.
The timers can go up to 8 hours and it will automatically turn off when it reaches to 0, so there is no risk of burning food. It has also a pan detection sensor and includes a control lock system that makes it safe to use.
Its compact dimensions ( 11.81 x 14.17 x 2.48 inches ) make it easily fit in any kind of kitchen. It is also light and portable because it weighs only 4.5 pounds.
What we have here is a very good deal, at a low price, also including a stainless steel pot with a lid. While the majority of the portable induction cooktops do not include compatible cookware, this one does.
Particularly, if you have no induction compatible pan or pot in your kitchen yet and you are looking for a portable induction cooktop to experience a modern way to prepare food, then you may confidently opt for this solution.
It is provided with 8 power levels, from 300 Watts to 1800 watts and 8 temperature settings from 150 degrees F to 450 degrees F. The Polished Crystal cooking surface is elegant, black, sleek and looks amazing. It is so simple to clean and maintain in good shape.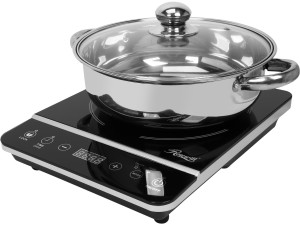 The large LED display is positioned in the center of the control panel so that you can easily see what you are setting. It does not lack the timer, that can be set up to 3 hours.
Rosewill RHAI-13001 is also versatile and allows you to experiment braise, deep frying, boil water, fry, roast and stir frying. At the same time, it helps you save time and money.
We included it in this list of the best induction portable cooktops in 2018 because of its portability ( it measures only 13.6 x 10.6 x 2.4 inches), high power, complex features yet simple controls and of course because of its very good price.
Number 10 is reserved for a special portable induction cooktop with a futuristic and attractive design. We admit it is not so powerful (1500W) in comparison to other similar single tabletops we have presented here (like 1800W).
But even so this is among the best portable induction cooktops of 2018 as it features modern performances, quality and once again, a beautiful design. The cooking surface is black and the place for the control panel is silver.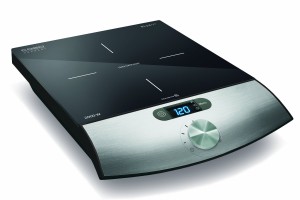 You can find the on/ off button, the Menu and a rotative knob to adjust time, heat and temperature. Quite simple, isn't it? On the display placed in the middle numbers appear in blue, which gives the whole unit a distinctive note.
The Power Wheel allows you to set the temperature from 160 to 430 degrees F and it includes 10 power levels. The pan detection sensor and automatic overheating system protection are also available on this model.
As a portable induction cooktop, it can be used in a small place or for cooking outdoors. Compatible induction cookware includes any type of pans and pots that have a magnetic bottom. To test it, just place a piece of magnet on it and see if it sticks there.