4 Best Korean Rice Cookers with Reviews and Comparison Table
Definitely, there are some differences between the $100 rice cookers and the $400 ones, but this should not make you up not choosing a cheap model.
You may be surprised to find out that a $100 rice cooker can turn to be ideal for your daily cooking, without a lot of features and functions.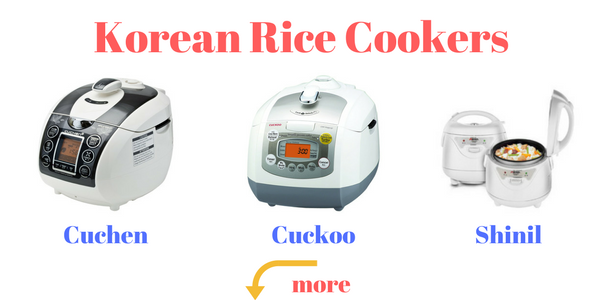 You should reconsider your habits: if you make different kinds of rice, grain, or oats frequently, a quality, more expensive model will make your job a lot easier.
But, if you make a lot of rice and want to save some time and effort, that is a good enough reason to get one, and even a cheap one will do the job.
Here you have some examples of Korean rice cookers that may help you while cooking rice without needing to pay too much for them.
Let's say, these examples are in-between options as they reflect performance and reliability at a great cost.
1. Cuchen WPS-G1012L Rice Cooker
Cuchen WPS-G1012L Rice Cooker
is a pressure cooker with a 10-cup capacity and elvan coating that enables to cook rice delicious.
You get a voice control, but is only in Korean; however, the settings on the menu buttons are marked in Korean and English.
Cuchen is a well-known brand in Korea, and this rice cooker is the best bang for your buck in terms of having all the features one could ever want from a rice pressure cooker, keeping rice warm without any dryness for at least up to 24 hours, and reliability when it comes to rice quality and flavour.
The bean rice and brown rice functions work perfectly as well, producing moist and sticky rice in each scenario.
As you may intend, it has not a galactic looking but it is still a very cute machine, and sleek. That newer model offers induction cooking on top of pressure cooking, and it has the English voice option, whereas this older model does not.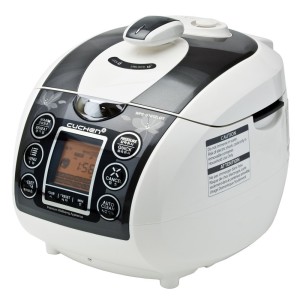 However, the older model buttons are pretty simple; if you figure out just one or two things, the rest is pretty easy.
Of course, pressure is more important in rice cooking than induction cooking and other features.
You will be glad to find out that Cuchen could offer a pressure rice cooker at such affordable level comparing with Zojirushi or Tiger, which puts pressure feature with IH and other non-important features and raises the prices.
It is made in Korea and officially imported to the USA. It is 110V and it also speaks Korean intermittently during the cooking phase.
It does not have Quick cooking menu since it is a pressure cooker, but it has Slow cook function and not only slow cook, it has steam, Gaba, mixed rice and one button cleaning function as well.
2. Cuckoo CR-0631F Rice Cooker
You may say that Cuckoo CR-0631F Rice Cooker
cooks better than a Zojirushi Induction Rice Cooker that costs this price: this appliance is superior in every way to a conventional rice cooker, does a better job of cooking rice, does it faster, provides a super easy cleanup and will keep rice warm for 24 hours!
This is a very nice and easy to use rice cooker. When making basmati rice you have to use an equal portion or ratio of water and rice.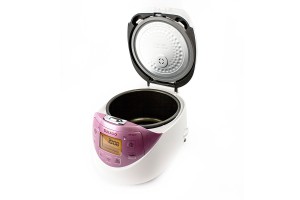 For example, you can cook 2 cups of dry basmati rice with 2 cups of water and select the glutinous rice feature and also select turbo. The rice will turn out like it should, separated and fluffy.
One of the great things about Cuckoo rice cookers is that they keep rice super moist and just-made-tasting for days on end; the small size made that capability obsolete.
This rice cooker makes amazing rice and does not burn the rice on the bottom/sides.
There are so many settings for different types of grains, time to cook/steam, and timer settings (up to 12 hours ahead of time).
The manual is fairly easy to understand. It is easy to clean, especially the top and vent that gets so much build up from the steam. When it is unplugged, it displays the time. The little slot on the side holds the rice spoon for easy access.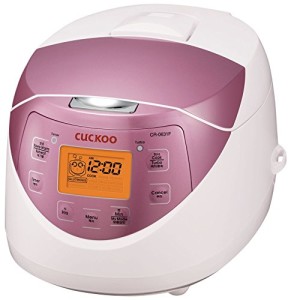 It is just a regular rice cooker that cooks white rice, brown rice, porridge, warming and is not a pressure cooker.
You will have to pay around this price for a pressure rice cooker. If all you are doing is cooking rice and you do not mind the wait time (negligible), this one should serve you well.
All U.S. Cuckoo rice cookers come with a standard 1-year manufacturer warranty that covers the cost of parts and labors.
3. Cuckoo CRP-FA0610F Rice Cooker
Cuckoo CRP-FA0610F Rice Cooker
cooks rice perfect and keeps it warm for days.
You can make porridge, steel-cut oats, potatoes, pineapple upside down cake, chicken, fish, pot roast; the list just keeps growing.
And of course, you will have grits, polenta, oatmeal in 20 minutes with no stirring or lumps. Just study the manual to be able to select the time you want and use your imagination and learn how to use all the controls.
This rice cooker has the ability to not just cook regular rice, but also variations of dark rice and also to make your normal rice "glutinous" (in other words, sticky like in a restaurant) through nothing but pressure and water.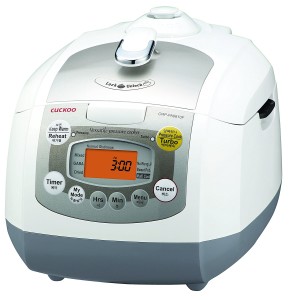 It can also make rice super fast via a turbo mode. It is great cooker and keeps pressured lid on top makes cooking rice a breeze.
It makes a lot of rice at a time, and this is a pressure cooker too as it sucks the air out when you close it and it keeps the rice fresh for a week. It also makes brown rice perfectly, which you will not be able to do on the stove.
With a 6 cups inner pot size and the ability to cook GABA rice, the rice cooker does more than rice, and the more you use it the more you love it.
Now, since you do not speak Korean, you do have a bit of a problem with its speaking to you in that language.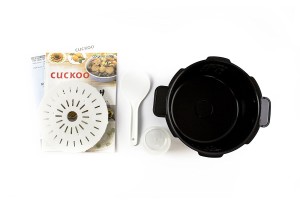 The only downsides are that it speaks to you in Korean, though instructions are in English, and it can make a startling noise when it lets out the steam; plus the steam can give off a slightly malty smell if that kind of thing bothers you.
4. Shinil KARC-HF350 Korean Rice Cooker
Or, maybe, Shinil KARC-HF350 Electric Rice Cooker could be your choice with 3D heating way, the best of the thermal effect.
Once you get the rice cooker, you purchase a model with one-button function, spatula fermentation function and internal memory.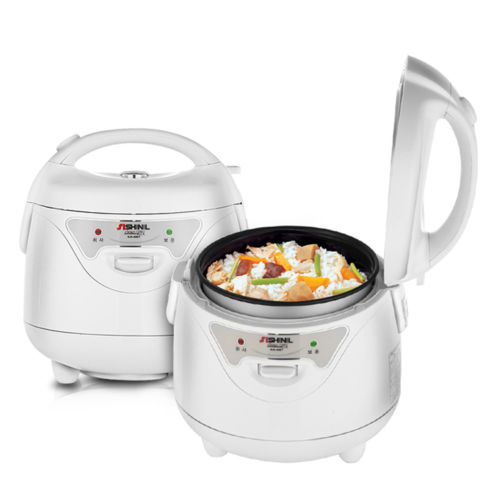 It covers from 200V to 240V generally, but however, there are two additional units that you might need if the voltage range of your country is not between 200 and 240V, for example, 110V: one is the transformer (change from 220V to 110V step-down) and second, the plug (change from type "C to your country type).
This item uses "220V" with type "C plug". Be aware that the use of the transformer is unnecessary for a person, who uses the item with 200~240 voltage. However, he or she would need a plug adapter for compatibility.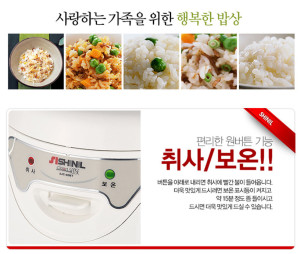 With its handle, the rice cooker is easy to carry around, while spatula handle, detachable power plug, 3D heating method and scale inside the container are other features that you should consider before buying.
Free US/Canadian or Australian adapter (plug) is included in the package.
5. Comparison Table
Brand
Cuchen WPS-G1012L
Cuckoo CR-0631F
Cuckoo CRP-FA0610F
Shinil KARC-HF350
Capacity
10 cups
6 Cups Uncooked (3 Liters / 3.2 Quarts)
6 cups uncooked (3 liters / 3.2 quarts)
N/A
Design
Duarable elvan Coating enable to cook rice delicious
Electric Rice Cooker
HP (Heating Plate) Programmable Pressure Cooker
Simple design
Dimensions
18.6 x 13.8 x 13.8 inches
17.6 pounds
9.3 x 12.5 x 8.4 in
6.8 pounds
10.30 x 10.50 x 13.50 inches, 11.9 pounds
230*220*246mm, Approx. 2.5kg
Power consumption
N/A
580W
990 Watts
400W
Handle
No
No
No
Yes, easy to carry around
Menu settings
Wellbeing cook function (Steam, Slow cook), GABA function, brown
rice function
Korean sweet brown rice, sweet white rice, regular short grain
rice, pearl parley and quinoa
porridge, steel -cut oats, potatoes, pineapple upside down cake,
chicken, fish, pot roast, grits, polenta, oatmeal
N/A
Inner pot
N/A
Non-Stick Coating Inner Pot
X-Wall Diamond Coated Inner Pot
Scale inside container
Detachable power plug
N/A
No
No
Yes
Voice navigation
Yes, the voice is
only in Korean
No
Yes, this model
only comes with Korean voice navigation.
N/A
Accessories
N/A
Rice paddle
White paddle
Spatula