A cold beer on a hot weather is the best thing that you could wish for. When you crave a tasty beer and then you get it, you can feel its amazing flavor and you think to yourself that that's the best drink in the world. This is how most of us feel, which is why we started thinking that maybe we could make our own beer.
It sounds crazy, right? Why should you make beer at home when there are so many kinds available in every supermarket? There is a simple answer to that question and it refers to the quality of the drink and the intensity of its flavors.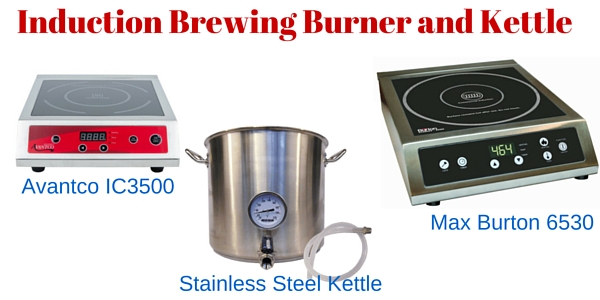 Making your own beer isn't an easy task, as you have to select the ingredients carefully and you have to brew it yourself, which is a bit time consuming. However, if you are a beer lover, you will find that it is worth the time and effort.
Homemade beer can become your favorite drink if you learn to do it properly. You can make such a good, flavored beer that you will never want to buy a branded one again.
The next question is "how are you going to make homemade beer using induction?" and that is exactly what you will find out in this article. Keep reading if you're curious about the simplest and safest way to make your own beer and enjoy the advantage of an amazing homemade drink.
First of all, let's find out more about induction home brewing.
What is Induction Home Brewing?
When you think about a brewery, the intense heat and an industrial space come to mind. It is only natural to think about it that way, because beer making is an activity that requires a lot of heat, a lot of liquid and some special ingredients. Also, the beer request is so big that it is generally made in huge quantities.
But what if you could make small quantities of beer, in a non-industrial space, such as your home and use a heat source that you can barely feel? Well, that is actually possible thanks to modern induction burners that provide us with heating solutions that allow us to use very high temperatures while brewing and still maintain a nice, cool environment?
Induction burners are ideal for home brewing because it offers the perfect conditions to create unique beer recipes and remain comfortable during the entire process.
Such devices usually come in small sizes and have a simple, touch or mechanical control panel that can be easily used to set the right power and temperature. They must be used with induction-compatible cookware that is made from ferromagnetic materials, such as a kettle, a large pot, a Maslin pan or a slow cooker.
Here are a few reasons why you should use an induction burner instead of gas or an electric cooker when brewing:

Why is homemade beer better?
First of all, homemade beer tastes infinitely better than any beer that you will find in a store. Except for the amazing taste, it is also a lot healthier than commercial beer.
You can choose your own ingredients and you can customize any beer recipe, so that in the end, you can drink the best beer ever.
When making homemade beer, there are no boundaries with regards to the flavors and grains that you can use. The techniques that you will use will vary in difficulty and complexity, but the effort will be totally worth it.
Another important reason why homemade beer is so much better than commercial beer is that the quantity of Vitamin B increases considerably. Therefore, it is less likely to have to deal with a hangover after drinking homemade beer.
What do you need to make homemade beer?
When it comes to the requisite, there are only two things that you need in order to get the brewing going: an induction burner and an induction kettle or pot. Optionally, you can use a kitchen thermometer, a large funnel, a kitchen strainer and a rolling pin.
As for the ingredients, you can use anything that you see fit. However, there are a few ingredients that are generally used when making homemade beer, such as:

With these six ingredients you can make a delicious American Simple Ale. The quantities should be adjusted depending on how much beer you want to make and on the intensity that you like.
If you decide to go with this recipe, then the first step is to pour the crystal malt in a freezer bag and crush it using a rolling pin.
Next, you must pour the water in the pot and add the crushed malt. Place the mix on the induction burner and set the temperature to 150 degrees. When the water becomes hot enough, turn off the heat and cover the pot for 30 minutes.
Then, boil the brew for a little while and add the malt extract. Boil again for about 60 minutes and turn the heat off again. Add the hops and any other flavors that you prefer. Let it cool down for a while and then start pouring it into sanitized bottles.
When pouring, add half tablespoon of sugar or corn starch in each 22-oz bottle. Pitch in the yeast when the mix has reached the room temperature.
Place the fermenter bottle in a dry, dark and cool spot for about 10 days to let the yeast to its job. You can check on it every day to see if it ferments properly.
After the 10 days have past, you can start the priming process, which means that you must add fermentable sugars before the final bottling. Just boil 2 ¼ tablespoons of sugar in one cup of water for approximately 7 minutes. After it cooled down, mix it with the beer and pour it in sanitized bottles.
Best Induction Cooktop for Brewing
There are a few induction burners on the market that are ideal for brewing. Here are the two best-selling induction brewing burners:
1. Max Burton 6530 ProChef 3000 W
This single-burner induction cooktop is a nicely designed appliance that can be bought for this price on Amazon
and can be easily used for home brewing.
It is a powerful, 3000-watt burner that comes with 13 power levels and 10 temperature settings.
Users can set it between 140 and 464 degrees Fahrenheit and can use the timer to program the cooking time.
It is equipped with a digital display and a touch control panel that is easy and comfortable to use. It includes the lock function that prevents the settings to be changed when enabled.
That is a great advantage because you can safely use the product around children. The automatic shut-off feature is another safety feature that protects the unit from overheating and the mix from burning.
This product can only be used with induction-ready cookware and has cookware detection capabilities.
2. Avantco IC3500 Countertop Commercial Induction Cooker 3500 Watt
This is an induction burner that comes with a gorgeous design and a similar price. It can be bought for about this price on Amazon
, it comes with a ceramic glass surface and one heating element that should be used with cookware with a minimum diameter of 5 inches and a maximum diameter of 10 ¼ inches (bottom).
It is a powerful induction burner that comes with an output power of 3500 Watts, a temperature range from 140 to 460 degrees Fahrenheit and a 180-minute timer. The wattage can be set starting from 500 W to 3500 W.
It is equipped with a digital display that shows the temperature and power, as well as the cooking time.
This product automatically shuts off if no cookware is detected, as well as when the maximum temperature has been reached.
If you are also looking for the best brew kettle for induction burners, here is one that will exceed your expectations:
Best Brew Kettle for Induction
1. HomeBrewStuff Heavy Duty 10 Gallon Stainless Steel Kettle with Valve and Thermometer Includes SS Barb and Silicone Tubing
This is a well-constructed, sturdy kettle that is made of stainless steel and has 1.2 mm thick sidewall and 5 mm thick bottom.
It comes with a ½ inch port ball valve and a silicone gasket. It weighs 18.2 pounds, it is 13 inches high and 17 inches wide.
Its 10-gallon capacity is great for beer making and can be used both at home and in a commercial environment. Also, it includes a stainless steel valve and thermometer that will make brewing easier.
It is induction ready and compatible with the induction cooktops above.
Now you have all the information you need to start making your own beer. Choose wisely and enjoy your beer!