8 Best High Sided Saute Pans Induction Ready with Reviews
You may want to know the reasons why you should choose a high sided saute pan.
The answer is very easy: a generously-sized cooking surface with straight, high sides makes the saute pan perfect for shallow frying, braising, and cooking down liquids.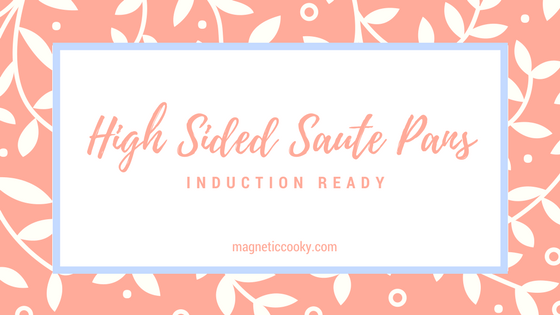 If you think of pans with the high side walls and the domed lids, you will find them also ideal for frying larger quantities of food, as well as blanching spinach and oath.
Also, the high sides prevent spattering or spilling. Suitable for all hob types including induction, these high-sided saute pans allow the convenience of browning or searing, then deglazing or finishing in liquid, all in one pan.
Despite all these cooking methods, you can purchase a high-sided saute pan for cooking fresh pasta sauces, and any dish that requires liquid added to sauteed ingredients.
To make saute pan choice easy, now you have the possibility to compare 8 best high sided saute pans induction ready with reviews in order to choose the one you need for your daily or professional cooking.
1. Calphalon
1.1 Calphalon 1891272 High Sided Saute Pan Induction Ready
Calphalon 1891272 High Sided Saute Pan Induction Ready
is known for its impact-bonded aluminum base that provides fast and even heating.
Also, its wide flat bottom is ideal for searing: the low sides let air to circulate to keep foods crisp but high enough to contain juices and prevent splattering.
Protected by Calphalon's full 10-year warranty, this pan is safe for the stove, oven, broiler, and dishwasher.
The long and ergonomic handle provides a secure grip even with the full and heavy pan; it stays cool even when the pan is hot and is double-riveted by hand.
With fill lines, measuring is so easy, and the holes of lid line up with pour spouts to drain liquids without having to use a separate colander.
Being durably constructed for reliable everyday performance, the pas is made from brushed stainless steel with an impact-bonded aluminum base.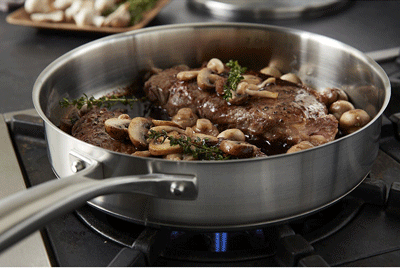 It is ideal for sauteed meats, meat sauces, vegetables, and more, and so, you should give it a try. You are going to have ample room for chicken breasts, fish, steaks, and vegetables.
It comes with a see-through convenience of a tempered glass lid with stainless steel rim and handle and so, you can effortlessly monitor your food as it cooks.
This saute pan is intended for gas, electric, electric ring, halogen, glass ceramic, or induction stovetops, and can be used with all types of utensils. So, you can use this pan safely in the oven or broiler.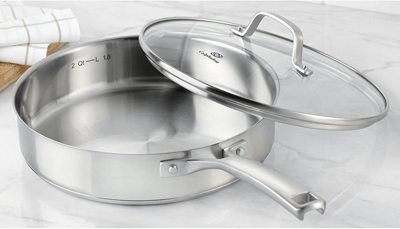 This pan is pretty lightweight of stainless steel: the lightweight is actually a very nice feature, and the solid bottom does a decent job of distributing heat. It also responds pretty fast to changes in temperature of the heat source.
2. All-Clad
2.1 All-Clad 4403 3-Quart High Sided Saute Pan – Induction Ready
This All-Clad 4403 3-Quart High Sided Saute Pan
provides tall and straight sides prevent splattering: it has a durable three-ply construction for even heat.
The stick-resistant 18/10 stainless steel cooking surface is ideal for sauteing, browning, and searing. It can be considered the essential cookware item for the novice or well-seasoned cook.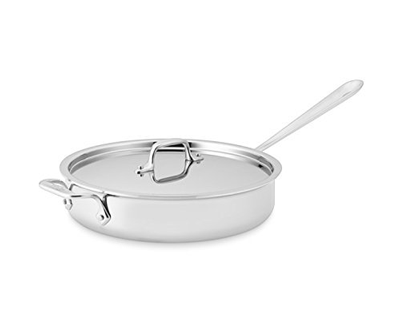 Or why not, a perfect bridal or housewarming gift?
With a stick-resistant 18/10 stainless steel interior and bonded three-layer construction with an aluminum core to deliver even heating, this pan is deeper than traditional fry pans.
The long and riveted stick handle is comfortable to use, and the easy-grip loop handle provides stability. Its lid helps control heat and evaporation: this means that it locks in moisture and heat to finish meals on the stove or in the oven.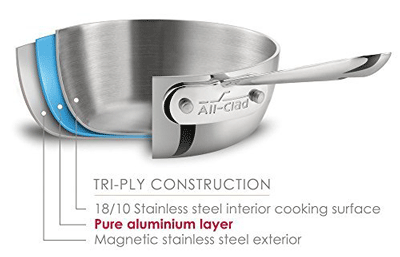 All Clad stainless pans are simply the best: the sides of the pan hold in juices and prevent splattering, and allow for easy turning with a spatula, this saute pan can be used for sauteing, searing, browning, etc.
It allows you to brown or sear, then to deglaze or finish in liquid, all in one pan. If you like your cooking tools, you will cook more with this pan.
It guarantees excellent heat transfer thanks to the aluminum core; even if your stove has hot or cold spots, All-Clads will account for this and still produce a surface with an even and constant temperature.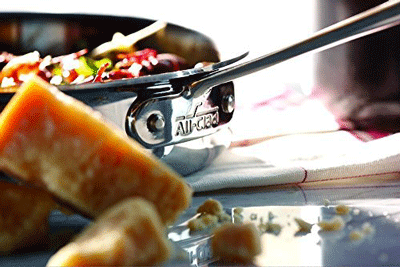 It is very sturdy and cooks evenly. As a recommendation, use a dishcloth or oven gloves to pick up if you have a lot in it as the handle can be a little unwieldy.
3. Cuisinart
3. Cuisinart FCT33-28HHigh Sided Saute Pan (5-1/2-Quart) – Induction Ready
Take your time to discover Cuisinart FCT33-28HHigh Sided Saute Pan (5-1/2-Quart)
, a 5-1/2-Quart saute pan with helper handle and cover.
You get a pure aluminum core enveloped by solid stainless steel ensures professional performance and the newest technology that allows heat to be evenly distributed along the bottom and up the side walls of the cookware.
Cooking is definitely easy as you have a saute pan that comes with a stay-cool, contoured stainless handles for a comfortable grip and a unique thumb rest allows for superb control and aids in lifting.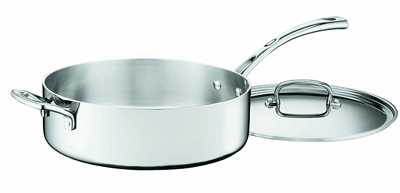 Use the pan on the stovetop, in the oven and under the broiler (oven-safe to 500 degrees F); also, the product is also freezer-safe, dishwasher-safe and induction-ready.
Made in France, the pan meets the highest standards of the world's finest kitchens.
The tight-fitting stainless lid seals in moisture and nutrients for healthier, more flavorful results everytime you cook.
Now, the consumers have everything they need to create world-class meals at home: just create everything from multi-course Parisian-inspired feasts to everyday family meals.
The pan heats up quickly and evenly and retains heat very well. It will maintain a boil at a noticeably lower temperature setting than the Wearever pan.
This product will confirm you that it is important to have the right tools for getting the job done properly.
If you love to cook, you will love these pots, if you do not like to cook, you will learn to, and love cooking with such pots.
4. Tramontina
4.1 Tramontina 80116/018DS High Sided Saute Pan (5-Quart) Induction Ready
A valuable investment is Tramontina 80116/018DS High Sided Saute Pan (5-Quart)
as it has a tri-ply clad construction (18/10 stainless steel, aluminum core, magnetic stainless steel) for quick and even heat distribution, without hotspots.
Made in Brazil, assembled and packaged in the USA, the saute pan is dishwasher and oven safe (up to 500 degrees F/ 260 degrees C) and compatible with all cooktops, including induction.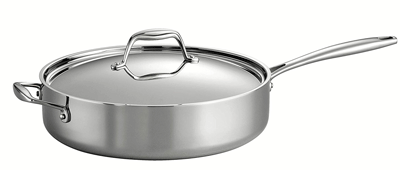 The cast stainless steel handles are riveted for stability and added support, while the lid is made of 18/10 precision-fitted stainless steel.
It is designed to withstand repeated usage even in the most demanding kitchens and so, this cookware is perfect for home and professional cooks who want the utmost in quality and performance.
Do not be surprised to find out that this cookware heats from all sides and not just the bottom! It is the ideal combination of the impeccable beauty and durability of premium 18/10 stainless steel.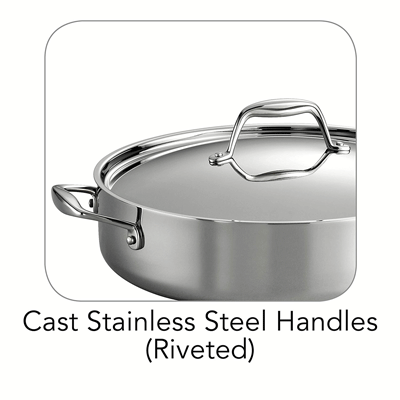 This fantastic pot heats really well and is easy to clean but the best part about it is the size: the size is perfect for omelets and other single serve fried food preparation.
Tramontina delivers an outstanding product at a half price of the leading brand.
Buy this pan if you do not mind experimenting with seasoning methods you can get a great nonstick pan.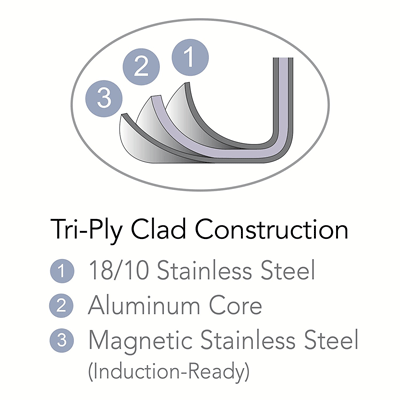 Plus it is a perfect world class crepe pan for no extra charge using clarified butter to season and lube.
As a concern, it is somewhat pricey but is well worth it compared to the competition.
5. Cooks Standard
5.1 Cooks Standard 02523 High Sided Saute Pan with Lid
Another induction ready high sided saute pan is Cooks Standard 02523 High Sided Saute Pan with Lid
.
It is made of stainless steel with an aluminum disc layered in the bottom.
That aluminum disc provides even heat distribution and prevents hot spots.
It is designed with a stainless steel lid that keeps in heat and moisture and with riveted handles that offer durability and stay cool.
This pan is compatible with induction, gas, electric, glass, glass, halogen, etc. and is oven safe to 500F and dishwasher safe.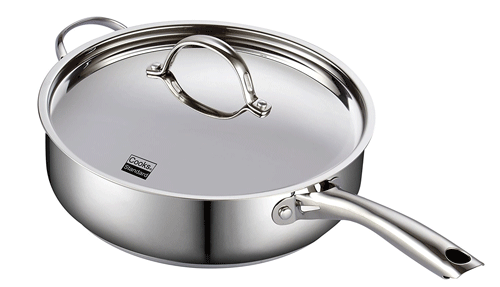 The pan itself has nice high sides and the large diameter fits a larger size electric burner for maximum heat and faster cooking. It has a fairly heavy core and sits perfectly flat so it works well on a glass-top range.
The handle stays cool (unless you use it in the oven) and a smaller loop handle gives extra stability for large dishes.
The glass cover fits well and has a steam vent on one side to reduce spattering and dribbling during cooking. As it cooks evenly and has great heat retention, the pan is perfect for everything from rice to pan-seared roast.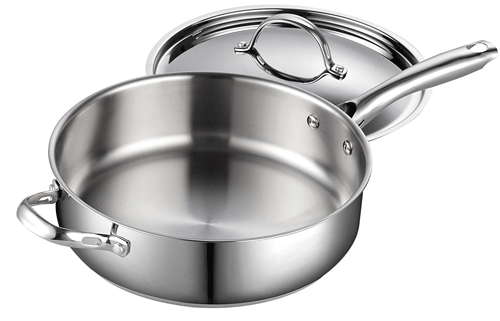 The dimensions of the pan are length 21 inches including both handles, width across pan 12 inches, the height of pan only without lid 3 3/8 inches, and height of pan including the lid to the top of the handle about 4 1/2 inches.
A big family needs big cookware and this pan fits the bill; the sides are nice and deep so it holds all the meats, pasta dishes, and sauces needed for a big family.
6. Emeril Lagasse
6.1 Emeril Lagasse 62957 High Sided Saute Pan (5-Quart) – Induction Ready
Also consider Emeril Lagasse 62957 High Sided Saute Pan
with an encapsulated aluminum base, which means that the cooking surface heats up quickly.
The magnetic stainless steel base is suitable for use on all stovetops, including induction. And the pan provides a convenient dishwasher-safe construction with integrated pour spouts and measurement markings.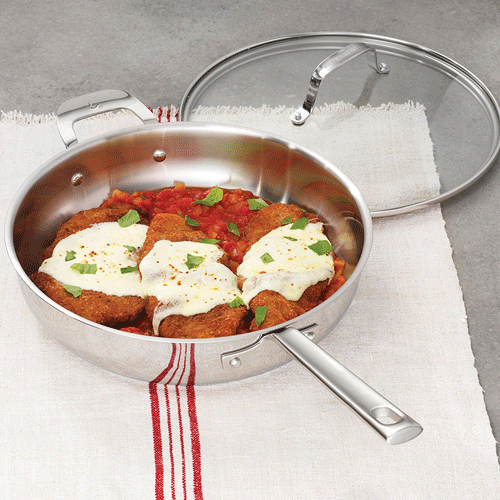 This saute pan has riveted stainless steel handles that go from stovetop to oven as stainless steel is safe to 550°F, but also, a tempered glass lid that is oven safe to 350°F.
Having a pan with a tempered glass lid, it is so easy to monitor cooking without lifting the lid and losing precious steam. It is generously sized and is perfect for braising, stewing, or cooking one-pot meals for a crowd.
Regarding the dimensions, the inside diameter on the bottom of the pan is 8.5 inches and the diameter of the top of the pan is 12 inches.
Having a non-stick surface, there are no chemical coatings to leach or flake into your food and the finish is indestructible. And for cleaning, just soak and scrub, but once you get the hang of using them you will not be seeing so much sticking.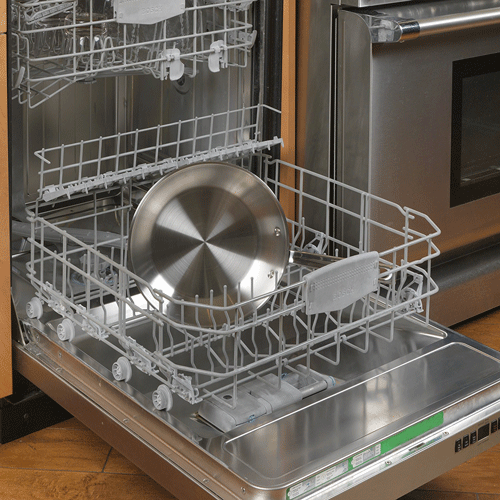 The size, construction, performance, and ergonomics work out great making the pan perfect for large recipes and even for finishing in the oven.
Using this pan will make want an entire set of this cookware and certainly, you can choose from a variety of Emeril Lagasse utensils.
Just remember to use butter, or oil first since the stainless is not stick less.
7. USA Pan
7. USA Pan 1535CW-1 High Sided Saute Pan Made in the USA (3 Quart) Induction Ready
USA Pan 1535CW-1 High Sided Saute Pan Made in the USA (3 Quart)
has a capacity of 3 quarts with a reverse panel bottom to help resist warping.
USA Pan is known as a Bundy family company which has proudly manufactured high-quality bakeware and provided jobs in the USA for over 50 years.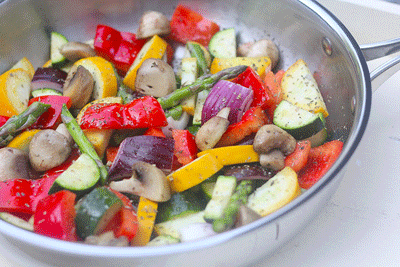 The cast stainless steel handles, stainless steel rivets and features an easy pour rim and vapor seal cover design.
You will be surprised to find out that the pan has a construction of true 5-ply clad stainless steel which means 5 layers of metal for durability and optimal heat conductivity.
The inner layer is surgical grade stainless steel (18/10). The outer layer of stainless steel is 400 series stainless steel (18/0).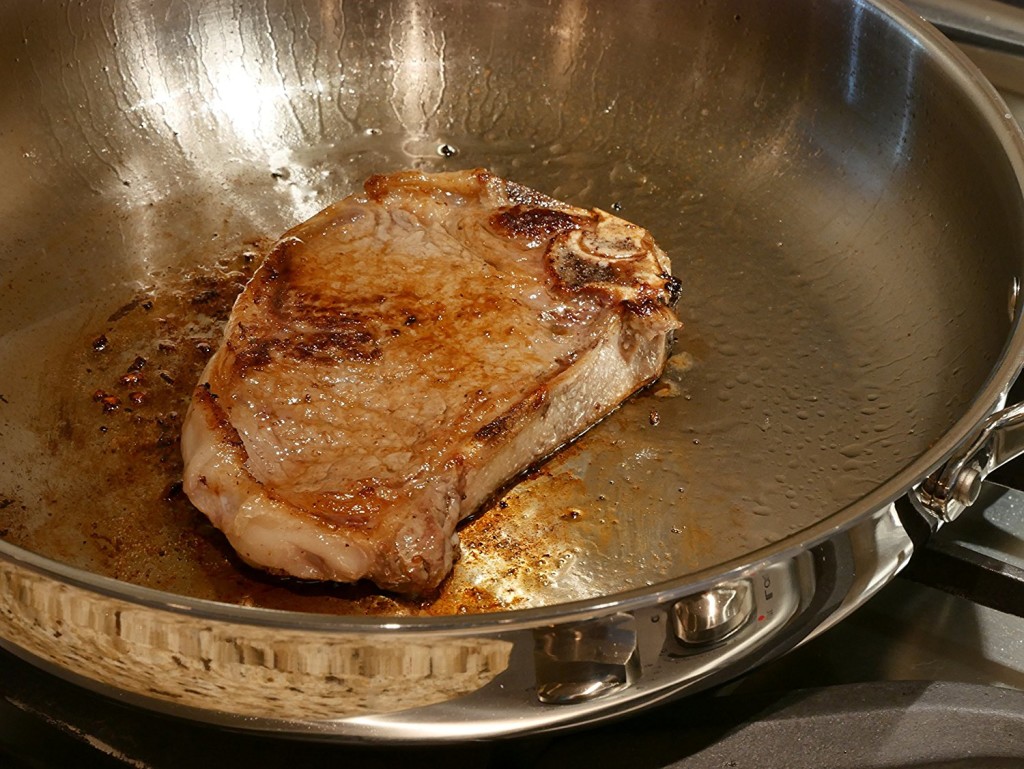 So, this pan can also be used on cooking surfaces such as gas, electric, ceramic glass, and halogen. Easy to clean and safe to use in the oven, this product is the top of the USA line quality.
For a beautiful design, these pots are hand polished to a mirror shine, providing a stunningly vibrant appearance in the kitchen and on the table.
A premium quality and high performance characterize such a pan and with these features, USA Pan becomes the predominant leader in the commercial baking industry.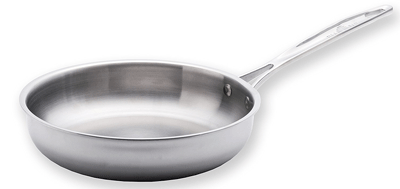 With this pan, you have the possibility to sear and brown meats in the pan, and at the end, to finish it in the oven.
This pan is 4″ tall with an inner diameter of 8″ and you can use it for sauces, puddings, soup etc.
Regarding the cleaning, some food may burn onto the pan occasionally, but once the pan has been soaked with soapy water, it usually cleans up pretty easily.
8. Viking
8. Viking Contemporary 4013-3060 High Sided Saute Pan (4.8 Quart) Induction Ready
Last but not least, Viking Contemporary 4013-3060 High Sided Saute Pan
provides a 3-Ply construction that delivers even heat distribution and retention for superior cooking results.
Its 18/0 stainless steel exterior and flat cooking surface make the saute pan induction ready. The surgical quality stainless steel cooking surface makes cookware non-reactive.
Being optimized for all cooktops including induction, this pan has conical sides that are angled out to provide more surface area for evaporation, and its walls retain more heat resulting in faster cooking times.
This product is oven, broiler, and grill safe up to 600°F/315°C (oven safe up to 450°F/232°C with glass lid) and dishwasher safe.
This combination of a modern, Windsor pan inspired design with the exceptional performance of 3-Ply stainless steel cookware guarantees a lovely cooking experience.
Its Viking signature stay-cool handle is ergonomically designed for a secure grip, comfort, and balance while remaining cool to the touch.
And the vented glass lid allows you to monitor the cooking progress of your meal while reducing the chance of boil-overs.
Another important aspect refers to the fact that the pan includes a unique sealed rim that completely encapsulates the aluminum layer inside the stainless steel, but also internal volume markings in both US and metric units that make measuring easy.
Now it is the right moment to discover this Viking pan designed to deliver professional performance for your home.