Buy a double cooktop and you can enjoy the advantage of 2 cookers while paying for it once.
Are you in the market for a new double burner induction cooktop? If so, there are a lot of factors to consider: apart from manufacturer and price, there are also important features like speed, ease of use, dimensions, built in timer and quality.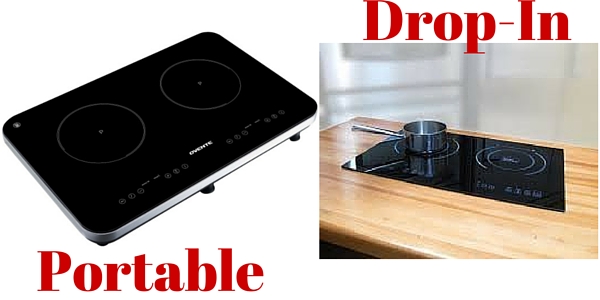 Besides, maybe the most important thing you have to consider before purchasing a double induction cooktop is to establish if you need a portable one or a drop-in stovetop.
1. What is the difference? – may you ask.
Well, a portable induction cooktop can be placed wherever you want anytime you cook. You can take it with you on vacation or outside, in the garden or use it on a terrace. It is also easy to store because if you don't need it for a long time, you can put it in its box and place it in a storeroom. This is why we say it is "portable", as you can move it from here to there.
In comparison to a portable double burner, a drop-in version is more limited when we think about flexibility. When you buy a drop-in version you find a specific place for it in your kitchen and there is where it will remain, whether you use it or not.
While portable double burners are freestanding units and can be easily installed, moved and stored, drop-in versions take a little more time to be installed (you have to make some safety measurements and respect certain clearances given by the manufacturer) and can't be moved (so easily) once you have already found the perfect place for it.
2. Why choose a portable double burner induction cooktop?
Customers who opt for this version, usually want to really enjoy "portability": to use the cooktop outside, take it on holidays, use it for some periods as an extra burner in the kitchen, on a trailer, in dorm rooms, or for a limited period of time in a rented apartment.
However, most people who are looking for the most portable solution usually opt for a single induction burner, but even so there are some customers who will need double burners induction cooktops.
3. Why choose a drop-in double burner induction cooktop?
If you want to change the way you cook and give up to your old heavy freestanding classical stove, you can opt for a drop-in double burner version. It will look very nice in your kitchen and you will enjoy lots of advantages given by induction technology (safety, efficiency, easy cleaning, better design). Unlike a portable cooktop, this the built-in version will not block your kitchen space.
There is no need to move it for cleaning the surface. So if you want to use a double burner very often in your kitchen and your portability needs are limited, then a better solution for your specific needs is a double burner to drop in the countertop.
4. Best Portable Double Burner Induction Cooktop 2016
True Induction S2F2 Cooktop - Best Choice
This is a double portable induction cooktop providing 1800W. The two burners are marked with two white rings that easily guide you to put the pan in the right place. The surface is made from ceramic, can hold up to 35 Lbs and you can easily clean it by wiping it when it gets cool.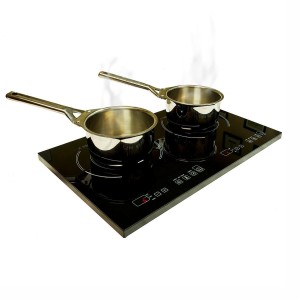 The control panel has 10 quick-touch features and you can use it to set the temperature from 150 to maximum 450 degrees F. It has a temperature sensor for safety purpose and it automatically shuts off if you don't use it within 150min.
Its dimensions are 23.5″ x 14″ x 2-1/2″ and its weight 11.2 pounds. It has a sister unit that can be dropped-in a countertop: model S2F3. When purchasing compatible cookware for this unit, make sure it has at least 4.5 inches diameter and no more than 10 inches. Price includes 2 years warranty.
This is also a portable model and it uses power sharing in such a way that each heating the element has 1800W when used alone. Sure you can use them simultaneously but in this the situation the total shared power will 1800W (not 1800W for each).
Temperature can be set in 10 levels (from 150 degrees F to 450 degrees F) and it has also a built in timer. Each the heating element has its own control panel so you can easily use the commands. The controls are touchpad. It is all black with stainless steel frame.
It can be used for cooking and also for keeping food warm. The surface is made from a very resistant glass, sleek and elegant. It heats up instantly and ensures even cooking. It measures 23.5 x 14.5 x 2.5 inches weighs 14.2 pounds and on Amazon it has a pretty good rating of 4.3 out of 5 stars. Comes with 2 years warranty.
This is a very interesting dual- element induction cooktop. Each heating zone has its own control panel and display. While a heating zone is smaller, the left one is larger. The built-in timers can be set up to 150 minutes giving you possibility to do other activities outside the kitchen. When you remove the pan you have 30 seconds to put it back or else the heat will automatically turn off.
This is a plus considering that there are similar models that shut themselves instantly when you lift the pan (to mix or add some ingredients for instance). The left heating element provides 1200W maximum and has 8 heat setting, while the right one provides only 600 watts and has 5 heat levels (this will never be as hot as the other one and gives you flexibility).
Each element heating can be used to its maximum power even if you use them at the same time. The right element can be used especially as a simmer. Total rating for this burner on Amazon is 4.6 out of 5 stars.
It is all black, with silver frame and incorporated touch controls, so both the cooking surface and the controls are easy to clean. It provides 1800W for instant heating and even temperature distributing. The manufacturer highlights that this model allows you to cook more efficiently as it is 90% more efficient in comparison to traditional stoves.
When cooking, you can choose from 5 timer levels and 8 temperature levels. In fact temperature can be set at minimum 140 degrees F and maximum 465 degrees F. Use it with compatible cookware made from cast iron or stainless steel.
In what concerns safety, you can be without worry because this double cooktop is going to turn off by itself if it feels the heat is too high. This way any overheating accident is prevented. The unit measures 23.8 x 2.8 x 15.8 inches and its weight is 13.3 pounds.
This is also an 1800W double induction burner, but the design is a little bit different. Each heating element is clearly separated from the soft touch control panel. There is a built in Timer (that can be set from 1 to 150 minutes, in increments of 5 minutes) and both temperature and heat can be easily adjusted: heat from levels from 1 to 10 and temperature from 150 degrees to 450 degrees F.
The surface is all black and the heating elements are nicely delimited by some thin white circles. The controls are very well marked with intuitive icons and this will help also customers that are not so familiarised with technology.
Each cooking zone has its set of controls and its LED display. Use it with compatible induction ready cookware with diameter between 12 and 26 cm. Its dimensions are 23 x 3 x 14 inches and the shipping weight is no more than 13.4 pounds.
5. Best Built-in/Drop In Double Induction Burner
Induction Double Burners like this can be used to cook for 4-5 persons so it is perfect for a family. It simplifies your job in kitchen and it has 2 control panels, each heating elements with its own. As I have explained in beginning of this article there are a lot of reasons why you may need a counter cooktop instead of a portable one.
This drop-in cooktop will look like part of your cooking place.
The surface is made from qualitative German smooth ceramic glass and it is continuous. It weighs 15.2 lbs and measures 3 inches height, 24.5 inches length and 15 inches width. Use it with induction pans and pots having a diameter of 4.5 to maximum 10 inches.
There are 2 built in digital timers that can be set to maximum 150 minutes with a 5-minutes increment. You can programme the 2 timers differently at the same time.
For operation, this unit requires a 120 volt, 60 Hz and 20 amp line. Detail specification on how to install it in the counter, inset can be found in the user manual from the pack. What you may need to know is that you have to leave at least 2.5-inch free space over the counter top around the cooktop and at least 3 inches from its base to the surface of any shelve. 4.7 out of 5 stars is the rating given by customers to this unit.
This 12″ two induction cooktop is also a drop in counter double cooktop with a more beautiful design. Maybe this is why its price is a little bit higher than the previous unit we have talked about. The surface of 12″(W) x 20″ (D) is continuous, all black, made from reliable glass.
The control panel is a little bit futuristic as there are only signs on it, no letters. While all cooktops I presented until now have the control panel on their front, this one from RamblewoodGreen is vertical, not horizontal and the control panel is placed under only one heating element. The heating zones are not the same, one is larger.
The diameters of the 2 heating elements are 6-1/2″ and 7″. The built in timer can be set up to 99 minutes. The cooktop also features a child safe lock system and a built in low power simmer setting. To install it you have to take into account that requires input of 220-240V and 60 Hz with 3000W output. Its dimensions are 20 x 12 x 2.8 inches and its is 11 pounds. The unit also comes with 2 years warranty.