Best 5 Induction Ranges with Double Oven (Slide In/ Freestanding) – Essential List
Interested in ranges with double ovens? Certainly, with such an appliance, you have the ability to cook two dishes at once, at different temperatures: you can set the temperature and baking time of each oven.
The ovens of ranges can be dual-fuel, gas or electric, with various cooktop features.
The main types of cooking technology on double oven ranges are thermal and convection: the difference between these two kinds refers to how these ovens heat the food.
Thermal ovens provide hot air to cook and also, convection ovens but there is a fan inside the oven that circulates the air for cooking evenly food.
There are ranges with an upper convection oven while the lower is a thermal oven.
If you want some tips regarding ranges with double oven, you should look for a product with plenty of features to give you cooking flexibility.
Then, you should consider the energy type of the range, which can be gas or electric.
Features as defrost and dehydrate settings for foods, delayed bake, warming option, self-cleaning capabilities, etc. are very useful.
Ranges with double ovens can have different configurations: a smaller top oven paired with a larger one below, or vice versa, or two ovens with the same size. If you use a double oven, you can employ the smaller one for most cooking and the larger one for holiday feasts. With these ranges, you can bake a pie in one oven while cooking a roast in the other.
So, slide-in or freestanding range with double oven? Or perhaps only an induction range with double oven and kitchenaid?
Whatever your option is, here you have a list with the best 5 slide-in and freestanding induction ranges with double oven that you should browse before making a decision.
1. Slide In Induction Range with Double Oven
Slide-in induction ranges with double oven lets you cook multiple meals at the same time: you have two ovens (lower and upper oven) that help you make desserts on the smaller compartment, and place the main course on the lower oven.
This means time saving, and if you are looking for examples of slide-in induction ranges with double ovens, here are some appliances that you should consider.
First of all, you have Electrolux induction range with double oven, more exactly slide in EW30IS65JS Wave-Touch 30 inch that gives you the opportunity to control the heat of the range as you like and at the same time, it can rivals any gas cook top.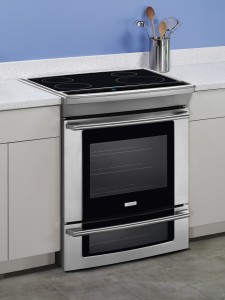 This 30 induction range with double oven has excellent ovens: the lower oven can be used as a food dryer as well as to proof bread because low heat is good for yeast breads to rise.
With an oven with more controls than any mere mortal would ever use, this induction cooktop range with double oven has a ceramic glass cooktop, wave-touch controls and a self-clean convection oven.
The touch-pad is amazing while the control of the induction elements is precise. The control panel is quite sensitive so it would get on to the standby with a drop of water on it, so just be aware it
Electrolux induction range double oven reviews show how easy is to control the appliance and fast to bring heat up or down by touch the heat control button.
The double oven electric range with induction cooktop does not take a long time to heat up if you use the rapid preheat button: the lower oven heats up to 450°F and is perfect for lasagna, chicken breasts, french fries, etc., while the larger oven roasts a chicken perfectly.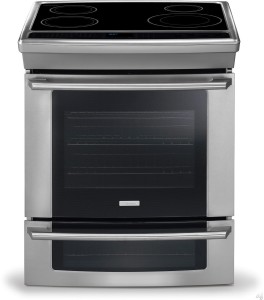 There are so many other features as proofs bread, perfect turkey, dehydrates food that you should try once you buy this induction range double oven slide in.
Samsung Induction Range with Double Oven NE58H9970WS 30 inch – Slide In is probably the best induction range with double oven that you are going to use in your kitchen.
With its Flex Duo divider, you are invited to switch between a single and dual-cavity oven setup in seconds, while the unique Visual Flame Cooktop with LED lighting provides visual feedback of a gas burner.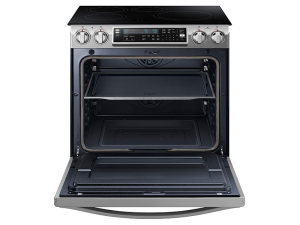 This induction range with double oven has a sleek and transitional design with traditional and modern elements.
This induction cooktop is characterized by the versatility of gas with the wide temperature range of electric burners.
Each burner managed to boil six cups of water in five minutes, with the front right burner boiling that amount in a mere three.
Reading these induction range double oven reviews, you will notice that people are unhappy with the cookies baked without convection as the bottoms are a little overdone compared to the tops: this induction range with double convection oven makes cakes that emerge perfectly uniform and require shorter cooking times.
The standard bake and true convection settings both take 10 minutes to reach 350°F. The broiler is similarly impressive, requiring only four minutes to reach the target temperature of 605°F.
Once you decide to buy this induction double oven electric range, you must take into consideration that you are going to have a Flex Duo system in order to cook two dishes at different temperatures simultaneously, with little noticeable heat or aroma transfer: this removable divider separate the single 5.7-cubic-foot cavity of Samsung induction range with double oven into separate 2.6- and 3.1-cubic-foot cavities.
The great performance in tests in both single and dual modes makes this induction cooktop double oven slide in a must have for your cooking space. This performance and convenience come at a price, but you can keep an eye out for sales and discounts and you will have nothing to regret.
2. Freestanding Induction Range with Double Oven
In case you want a freestanding induction range with double oven, here are some appliances that will make easy your daily cooking tasks: with the extra space your double oven range provides, you can cook a fabulous dinner for company or your whole family in little time.
2.1. Maytag Induction Range with Double Oven
So, what is your opinion about a freestanding induction range with double oven? Maytag induction range with double oven, freestanding MIT8795BS made in USA comes with the superior performance of this 6.7 cu. ft. capacity double oven.
Also, with this induction range and double oven, you have a 10-year limited parts warranty that covers the cooktop as well as the elements.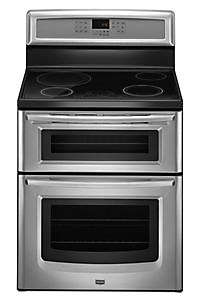 With such an appliance, you are going to prepare meals is a breeze with two ovens that preheat fast: be prepared to discover the speed of an induction cooktop that boils water in half the time. This range with induction top and double oven is designed with the power of Even-Air convection and you can enjoy evenly baked goodies every time.
This double oven range has heavy-duty oven racks and heavy-duty door hinges: you can start the feast on time, every time and cook multiple dishes at different temperatures with your double oven range. The bottom rack also rolls out using a ball bearing system for added durability and superior access to hot foods. And the sturdy racks can withstand the weight of your heaviest dishes while performing with smooth precision.
You are going to love the induction cooktop: the short time it takes to heat things up is amazing. And you can control the heat just like a gas stove.
Do not forget about the convenience of two ovens when you need to cook at different heat settings simultaneously, especially when cooking for guests: you can set each oven to start and finish at different times!
2.2. Belling FSE60DO Double Oven Induction Range Freestanding
Belling FSE60DO Double Oven Induction Range is the latest freestanding induction range of Belling.
This 60cm wide cooker from Belling features an overall capacity of 108 litres: it is similar to the freestanding multifunction double oven with induction hob FSE60I with some other features as a 60cm 'AA' rated electric fanned double oven with a LED programmable timer and four-zone induction hob with rotary controls.
The ceramic surface is extremely easy to clean and so are the oven interiors and this means that cleaning the FSE60DOP is never going to be a difficult task.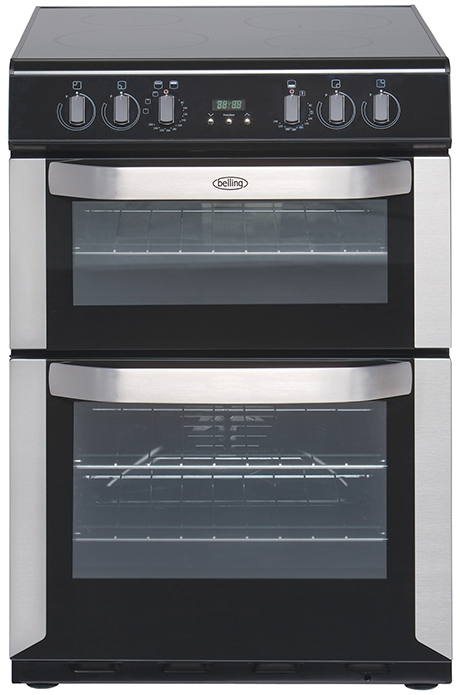 The main oven of this induction cooktop with double oven range offers 69 litres of space for those large family meals and the secondary oven features 39 litres, along with the ability to double as a grill.
This induction cooktop double convection oven has a conventional oven and grill in the top cavity and a fanned oven with a usable cooking capacity of 69 litres in the main cavity.
Despite the safety features, you can enjoy pan detection technology and a pan overheat sensor which prevents the cooking zone from reaching a dangerous temperature.
Also, you have a power boost function in order to provide additional heat as required.
2.3. Whirlpool induction range with double oven: WGO925C0BS – Freestanding
Before deciding if Whirlpool induction range with double oven WGO925C0BS – Freestanding is great for you, you should read the Whirlpool induction range double oven reviews: people are happy with the ease and efficiency, while the cleaning of this new appliance is a dream.
The stove top is sensitive and signals when you need to do something as moving the pan or removing something from the stove top. You will love the precise heat and cool down of the induction.
This Whirlpool induction range with double oven fits into a space where a standard oven used to be. It is 6.7 total cu. ft. electric model and features an 11″ 3,700-watt Induction Boost element and the AccuBake system.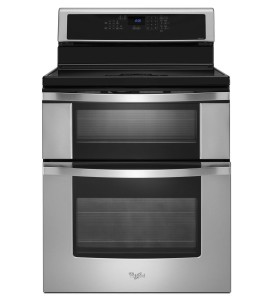 You have two control panels, one on the back and one on the stove surface towards the front; the back one controls the ovens and the front one the induction top. And there are a lot of setting features as sabbath mode that you should explore.
Regarding the double ovens, only the lower oven has convection and you can select either convection or non-convection baking mode.
And when using the lower oven, the upper oven gets a bit warm and this is perfect for proofing dough and for keeping things warm.
The specifications on Whirlpool's website say the ovens are thermal (upper) and convection (lower). Also, the cooling fan does run for quite a while after the oven is turned off.
For tastier roasts and baked bread, TimeSavor convection cooking technology helps you distribute hot air more efficiently to seal in flavors and juices.
The built-in sensor monitors oven temperature and the baking elements to deliver consistent, delicious results every time.
So, if all of these aspects fit your cooking needs, you should know that Whirlpool induction range with double oven WGO925C0BS – Freestanding is also available in white color: it is time for powerful cooking without feeling the heat from the cooktop.
2.5. Kitchenaid 4-Burner Induction Double Oven Convection Range: KFID500ESS
This 30-inch 4-burner induction double oven convection range is considered to be extremely powerful induction double oven range features with a Steam Rack that offers the ability to add moisture to the oven in order to enhance cooking results.
Recently launched on the market, Kitchenaid KFID500ESS features a unique bow-tie design with double oven with convection fan ensure the inside of the entire oven is heated to and stays at the perfect temperature.
It is a classy appliance as the controls on the top surface make it so easy and the speed of the burners is astounding.
The 11″ even-heat ultra element is very useful as it delivers consistent heat across the cooktop, including fast boils, precise simmering, and exceptional melting.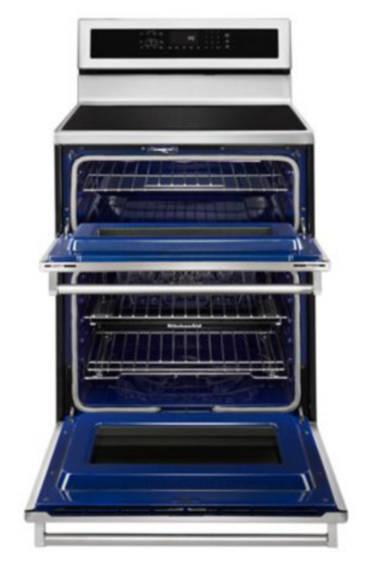 With stainless steel cooktop trim, you will enjoy a seamless transition to other surfaces that enhances the look of edges around stainless steel cooktops.
You have also SatinGlide Rack which means that you are going to move smoothly in and out, allowing effortless loading and unloading, even with large or heavy dishes.
With the Hidden Bake, you are going to forget about difficulty when cleaning as it covers up the baking element, making it easier to wipe away spills.
If you plan to use both ovens to bake pizzas, you will be surprised to see that the upper oven cooks just slightly slower, but the crust is evenly baked all the way in both ovens. If you live alone, the smaller top oven is a real asset, saving the bigger lower one for baking cookies.
The upper oven features (broiler, hidden bake element, interior light, oven window) are not the same as for the lower oven: broiler, convection oven, gliding/roll out racks, hidden bake element, interior light, oven window.
3. Brands with no Double Oven Induction Range Option
Take into consideration the fact that there are manufacturers that do not produce induction ranges with double oven.
Below you will find out some examples that will be very helpful while searching for the right appliance in your kitchen: certainly, with a combination of the right elements, you can have a beautiful product that will become your best friend in the kitchen.
3.1.GE Induction Range with Double Oven
We have contacted GE using their chat system and here is the answer: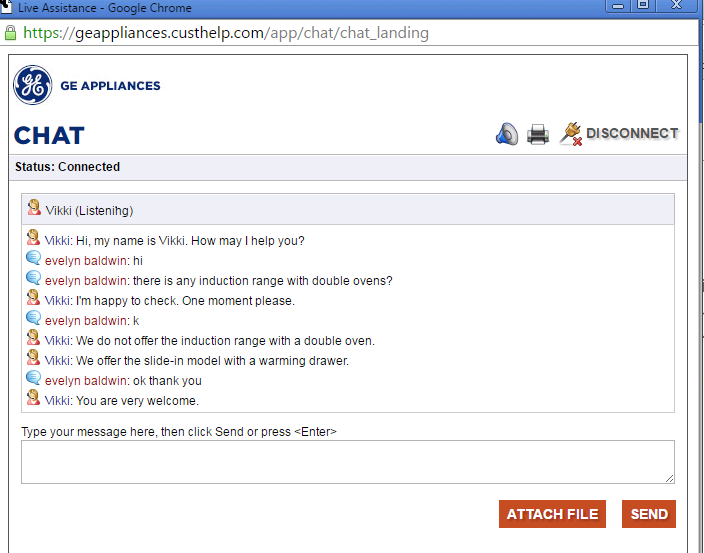 Looking for a GE induction range with double oven? On the market, there is no GE induction range with double oven, but you may consider Ge Profile Series 30″ Slide-In Front Control Induction and Convection Range with Warming Drawer. All the GE slide-in ranges are guaranteed for an exact fit to make replacement easy.
With this GE profiled slide-in range, you have 5-burner electric range that includes 3,700-Watt burner for faster boiling of water and 5.3 cu. ft. oven that allow you to cook multiple dishes at once, perfect for large holiday gatherings and every day cooking.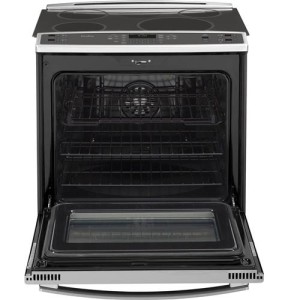 It comes with a one-year limited manufacturer's warranty and 3 oven racks that can be configured in 6 positions to accommodate a variety of baking needs.
The convection system of this induction range with double oven uses a fan to circulate heated air over, under and around food to seal in flavor and juices.
The oven window provides better visibility of the oven interior, allowing you to monitor cooking progress without opening the door and keeping oven temperatures steady and undisturbed.
With glass touch controls on the control panel, it is easier to operate the product. Choose the latest in appliance technologies to transform the way you live!
3.2. LG Induction Range with Double Oven
As LG induction ranges heat faster than conventional models, you will probably want to explore its complete collection: also, this time, you will not find any LG induction range with double oven.
But however, just keep in mind that you have a large variety of LG appliances that you should consider; also, by the time, you probably find on the market an induction range double oven produced by LG.
4. Conclusion
Before purchasing a slide-in or freestanding induction range with double oven, this is an essential list that you should have in mind: these appliances are created to cook the perfect meal with less time and preparation.
As a range with double oven allows you to bake twice the amount of food at once, this product becomes a necessity in each cooking space.