36 inch Built-in Induction Cooktops are great solutions when you need to switch from the traditional cooking to a more efficient and practical one: that type of cooking based on induction technology.
Next you can find the best 8 induction cooktops with generous surface of 36″ that can be dropped in your counter.
This is not a cheap unit but it is equipped with useful performances and has an impressive design. Regarding design and usability we can say it is a true delight.
The cooking areas are cross-shaped, an improved aspect if we consider that most of this kind of cooktops have circular cooktop shapes. And the aesthetic is also functional as each cooking area can adjust its size depending on the cookware's diameter you place in the surface.
This means each time, whether you use a small pan or a larger pot, it will provide even heating.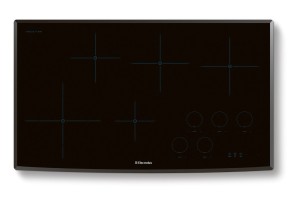 And the design is not its singular strong point, as this cooktop is equipped with several modern features. Each burner has its own dedicated touch control panel.
It can boil water in only 90 seconds and has a Keep warm setting. It allows to instantly adjust the temperature for optimum results (opt for delicate simmer or choose rapid boil).
It has 5 burner: a center one of 8″ that provides 2300 (boost to 3200W), a right front burner of 6″ that provides 1450 (boost to 2000W), a right rear one of 8″ (2300W – can boost to 3200W), a dual left front burner with 7/11″(3700W – can boost to 4800W) and finally a left rear burner with 7″ diameter and 1900W power (can boost to 2600W).
Cooktop weight is 60 pounds and its dimensions are 25 x 41 x 8 inches. Comes with 1-year warranty on labour and 3 years for parts.

2. GE Profile PHP9036SJSS 36″ Built-in Induction Cooktop
This cooktop has a more familiar look, with circles around the 5 heating elements (including one with 11″ and 2700W, two burners with 7″ diameter). These are very well spread on the surface so you could easily reach them and even use them at the same time. Unlike the previous model, this one has a stainless steel frame so it is little risk to easily break the surface.
It has a built-in timer to help you better coordinate meal cooking, pan sensor and size sensor for even heating, hot surface light indicators that warn you not to touch the hot area and control lock option that offers protection against accidental activation.
The buttons on the control panel are integrated into the black ceramic surface and to use them it is enough to gently touch them. With this digital touch controls, you can precisely control heat and always enjoy an easy to clean surface.
The entire appliance weight is 44 pounds, it measures 40.5 x 27.8 x 10.5 inches and comes with 1-year warranty.
On Amazon, this cooktop gathered over 4 stars from customers who have already purchased it.
3. Frigidaire FGIC3667MB Gallery 36″
A very good induction cooktop with 5 heating elements: a center one of 8″ and 2300W (can boost to 3200W), a left front one of 6″ and 1450W (can boost to 2000W), a left rear burner of 8″ with 2300W (can boost to 3200W), one on the right front of 10″ with 2500W (boost to 3400W) and the last one can be found on the right rear, it has 7″ and 1800W (can boost to 2600W). Each cooking zone has a hot surface indicator, integrated into the display.
Design is ravishing: the smooth ceramic glass surface is all black, thin, has no frame, and cooking zones are marked with white line crosses. The control panel is placed in center front and the controls are touch sensitive. The cooking zones and the control panel form a continuous surface that is easy to clean.
This is a versatile cooktop: with only one unit you can either gently melt chocolate or rapidly boils some water.
Cooktop weight is 56.6 pounds and it measures 21.5 x 36.8 x 4.4 inches.
4. Fagor IFA90AL 36-Inch Induction Cooktop
What Fagor offers, this time, is a large induction cooktop with stainless steel trim but it has a system unit that comes with no trim (Fagor IFA90BF).
Fagor IFA90AL is provided with 5 heating elements, a black ceramic smooth surface and built-in touch controls. Each heating element is nicely marked by an interesting thin ring. In the center, one can find the larger heating element.
It features complex adjusting of power and temperature for each zone, 12 cooking settings and 3 quick launch functions. Has overheating and over voltage detection (if temperature goes over 575 degrees F it will shut off by itself). It can be used with cookware that has a diameter of at least 5inches. Heating elements will automatically adjust energy to meet the diameter of the pan or pot you placed on it.
Item weight is 60.6 pounds, its dimensions are 20.4 x 36.9 x 2.8 inches and comes with 2 years warranty.
5. Fisher Paykel CI365DTB1 36″
Fisher Paykel is a brand from New Zealand very popular for quality and innovation of their products. This cooktop we listed here has 5 cooking zones that can boost to offer maximum power you need for rapid and optimum results.
The 5 heating elements we found on the black smooth surface are:
– 2.3 kW (can boost to 3.2 kW) placed on front left, 9″ diameter
– 1.4 kW (can boost to 1.8 kW) placed on back left, 7″ diameter
– 2.4 kW (can boost to 3.7 kW) placed on center, 8″ diameter
– 1.85 kW (can boost to 2.5 kW) placed on front right, 6″ diameter
– 1.85 kW (can boost to 2.5 kW) placed on back right, 8″ diameter
It has 9 levels of power and maximum power is 9.8 kW, because it also features power sharing, apart from having "boost" options. The controls are circular touchpads and can be adjusted by sliding your finger. Unfortunately, there is no timer available with this model.
Instead, there is a sensor for pan recognition, there are indicators that show when the area is too hot to be touched, childproof lookout and automatic shut down if it detects overheating.
Its weight is 60 pounds, measures 21 x 36 x 5 inches and comes with one year warranty both for labour and parts.
6. Thermador CIT36XKB Masterpiece Series 36″ Induction cooktop
This is a very interesting unit because from the first sight we can observe it has no cooking areas. The great the advantage with this cooktop is that you can put the cookware anywhere on the surface. Besides you can use up to 4 pans or pots, no matter the size and shape (but they have to fit on the surface).
This is something new, you will not find on many models, but it is extremely versatile and gives you more freedom in what concerns induction cooking. Forget about limited bottom diameters of induction cookware and thinking on how to better place the pan on a familiar limited induction circle.
So you can use up to 4 pans or pots and each of it can be boosted. The maximum pan size that can be 13 x 21 inches and can boost to 4.6kW while the minimum pan size that is 3″ x3″ and can boost to maximum 0.5kW.
The maximum power is 7.2kW (but consider that 2 pans/ pots can require maximum 3.6 KW. The controls are touchpads and there are 5 timers built in (4 for each pan/pot and an extra one that goes as an alarm clock. 17 levels of power should convince you of its great precision while cooking.
Other features that worth to be mentioned are: lock system, pot detection, allows moving a pan to another location and it has a color touchscreen display. Around the black surface, there is a stainless steel frame.
Warranty for this cooktop is 1 year for parts and labour and 5 years for glass surface and heating elements.
7. Dacor RNCT365B 36″ Renaissance
This cooktop has 5 heating elements, nicely circled by thin rings. Each of it can boost to a higher power for fast cooking. There are two heating elements of 8″ diameter, 1.85KW and can boost to 2.5kW, a larger one in the center of 11″ diameter and power of 2.4kW (can go higher with boost option to 3.7kW), a 9″ one (2300kW and maximum 3200 kW) and finally a little burner of 7″ (provides 1.4 kW power and can boost to 1.8kw). There are 8 levels for setting power plus the boost options so I am sure we can agree it offers consistent and precise heating of the vessels.
On the control panel, there are 5 touchpads, easy to use but, unfortunately, no timer available with this model.
Other important features are residual heat indicators for each cooking zone, an intelligent burner layout, fits heat to the pan bottom (there is no waste of energy) and an easy-to-read-on display.
It weighs 25 pounds and measures 40 x 26 x 8 inches. Warranty is for one year.
8. Bosch NIT5666UC 500 36″
Finally, but not the least performant cooktop from this list is Bosch NIT5666UC, made from very qualitative materials, also equipped with 5 heating zones: a larger one of 11″ diameter, two of 7 " diameter, one of 6″ and finally one burner of 9″. Each of it can boost power but the maximum power provided is 9.6kW (the elements may use power sharing). Also, each burner has its independent countDown timer and set of touch controls.Residual heat indicators can be found for each cooking zone on the, down the larger burner, to your eyes. The cooktop also features a pan detection sensor and a pan-size one, a lockout option and overheat automatic shutoff.
It has no frame around, but there is a system unit of it with the same performances but designed with stainless steel frame (NIT5066UC
). The surface is all black, but the cooking zones are coloured with a stronger shade of black, with a thin horizontal line in the middle, to better guide on how to place the pan. It is a very beautiful design that will suit every modern kitchen.
The cooktop weighs 59.2 pounds, measures 27 x 43 x 8 inches and price includes a 1-year warranty.