Best 30 Inch Built-in Induction Cooktop with Review
When buying a built-in induction cooktop many people are a little bit confused and don't really know what to choose: a 30″ or a 36″ range. Are you in this situation also? Are you rather skeptical about the allure that "bigger is better"?
In this article, we are going to present the best 30-inch build in induction stove you can find on the market. Let's clarify from the beginning that 30″ is the width of the surface, the face, not the cooktop's depth.
But first let's see some aspects to consider when choosing the right size for your particular needs.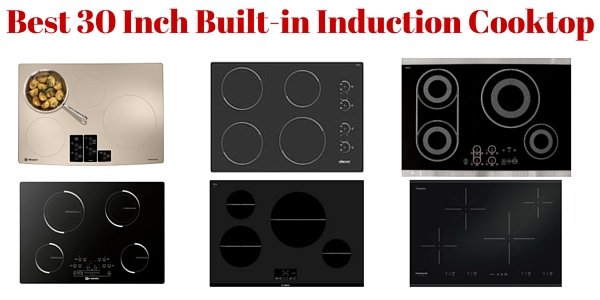 30″ versus 36″ Built-in Induction Cooktop
36″ ranges are fashionable nowadays but do you really need that much and do you have enough counter space? The choice should suit the needs of how you and your family eat and use the space.
30″ ranges offer a generous amount of space for a four-burner cooktop. I am sure you are rather looking for a good and resistant unit that cooks well, evenly than more "circles" available on the surface, that you may never use.
Criteria to consider when choosing the right size:
– How much do you cook? First of all answer this question. On the 36″ induction cooktop you will generally find an extra burner that may help you if you usually cook for numerous people. Are you really going to use it? If not, 4 burners may be all you need. However, some customers consider that the extra room between the burners on a 36″ unit is useful as a counter space.
– Kitchen size. If you don't have enough room in your kitchen stick to the 30″ size or else the kitchen may seem a little bit unbalanced and unpleased. A 30″ unit will look beautiful and adequate, not overlarge as a 36″ may seem.
– Dimensions. This is a real concern for many people as when installing a built in equipment you have to make some rigorous measurements and respect clearance cuts the manufacturer included in the user manual and that may differ from one cooktop to another. But it is obvious that when you plan to instal a 36″ induction cooktop you will need more space for it (eg: cutting into drawers, the size of the cabinet below). Check the installation instructions.
– Load needed. While 30″ induction range may need 30 Amperes, the 36″ units may require 50 Amperes.
– The extra cost may be an important factor to consider. While 30″ induction cooktops have a more accessible price, the 36″ models tend to be more expensive. So if you want a less expensive solution, go for a 30″ model (you can pick it from the list below).
1 . GE Monogram ZHU30RSRSS 30 inch Induction Cooktop
This 30″ induction unit is manufactured by the popular and very appreciated General Electric company. Unlike the majority of similarly built-in induction cooktops that have a black surface, this one is white, with a beautiful and interesting design, a reflective metallic finish that will look amazing in any kitchen.
There are 4 heating elements on the surface and the control panel in placed down in the middle, easy to access and use.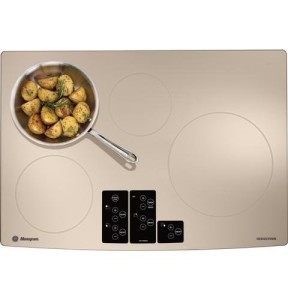 It has pan-recognition sensor that will automatically detect a compatible induction cookware with a magnetic bottom. Also, it will automatically adjust the heating to the size of the cookware, in such a way that energy will not be lost.
The controls are touchpads and each burner have its set of pads, including timer, lock functions and possibility to precisely set the temperature and the level of heat you are looking for each time you prepare food.
This is a very efficient unit, great looking and performant facilities.
We have already reviewed this model on our website and we discovered that its worth investment. Also with 4 burners available on the black surface, these are nicely marked with thin white lines along their diameter to better guide you on how to place the pan.
On this range, you can find 2 burners of 6-inch diameter each, one with 9″ diameter and a the larger one with 11″ diameter that is placed in the center.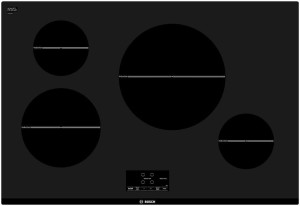 They are not at all crowded, but very well organised so you could easily use them all at once. Maximum power provided with this unit is 7.2 kW and I have to stress that each burner can boost and offer a the higher heat level in order to help you be more efficient when you cook.
The controls are touchpads and simple to access for every burner. There are 4 timers you can programme at the same time. Pan recognition, lockout feature, heat indications and pan size detections are also important characteristics to mention with this unit. It requires 4-1/8 inches clearance below the surface.
LG is big manufacturer of electronic and appliances manufacturer, so you shouldn't be surprised to find on this list a 30″ induction unit branded by it. 4 burners are available with this cooktop and two of them may be connected resulting a larger area that allows you to use longish cookware or with no familiar size.
The black surface is surrounded by a silver trim. On the control panel, we can find multiple touchpads, the timer available for each heating element, the lock feature, + and – to adjust the parameters and a useful warm feature. As for the cutout, you will need to respect these numbers: depth 20 1/4″, width 39 3/8″. 3.7 out of 5 is the rating awarded to this unit by customers who already purchased it.
Some customers complain that the warranty that is given by the manufacturer is only 1 year (except the cooktop glass that has 5 years warranty), while the majority praise it for cooking so fast and even.
This one is a powerful unit providing maximum 8.05kW. It has 4 heating elements beautifully marked with crosses along for futuristic and modern design.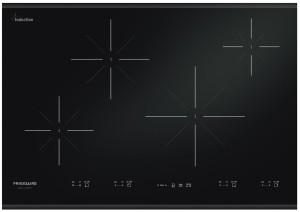 While on many similar cooktops, the controls are gathered in the center, this range has the buttons spread over the surface, below the burners. Unfortunately, no timer is available on it. Each burner has a different size: 6″, 7″, 8″ and finally the larger is 10″. Loaded need for this unit si 40 Amperes and the warranty is for one-year parts and labours.
Some features you will find on it are heat indicators, lock function, pot recognition, temperature setting. On the edges, there is a stainless steel frame. The top cutout dimensions are:
– Width: 29 5/8″ Minimum – 29 3/4″ Maximum
– Depth: 20 3/8″ Minimum – 20 1/2″ Maximum
– Height: 4 1/2″
It is very popular among the customers, gathering a 4.8 out of 5 stars rating.
Measuring 25 x 34 x 7 inches, this induction cooktop has a spectacular design, as rings along the heating elements are beautifully marked as clock's faces. At first sight the control panel may seem rather complex, but if we look closer we will rapidly discover it is not so difficult to use.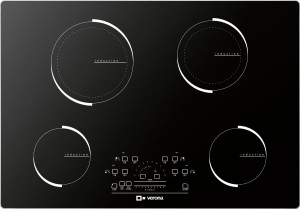 In fact, there are some extra touchpads that may help you to easily select your options. There are two burners of 6-inch diameter, one with 7″ the diameter and one with 8″ diameter.
In comparison to other cooktops we have spoke about that have a heating element of 11″ diameter, this may limit you. But if you don't usually use such large cookware, it may very well suit your everyday needs, plus it has compact dimensions and offers extra counter space on the surface.
Maximum power provided is 6.4 kW (Boost options is available for each burner). It also featured 4 Timers as alarm clock type, because you can;t control elements with them. Loaded needed is 30 Amperes and warranty is for 1 year. Required clearance below the surface is 2-1/2″.
This cooktop features an interesting, easy-to-operate control panel. Unlike others 30″ induction ranges with control panels below the burners, this one has the control panel placed along the left side of the black cooking surface.
There are 2 heating elements of 8inches, one burner of 7″ and the larger one is 9″. Maximum power is 7.4 kW and each the burner can boost to a higher temperature. Unfortunately, timer is not available on this cooktop.
Other features included are the pan detection sensor, indicators for heat, auto pan adjusting heat transfer and circular controls, very handy. Warranty is for 1 year and required load is 240 Amperes.
Conclusion
You can find many good offers for 30″ Built-in Induction Cooktops. May you choose one that best suits your kitchen's size and your family's needs.