Aroma vs Tramontina vs Nuwave vs Farberware Induction Cooktop
Ready for finding which induction cooktop is perfect for your cooking needs?
You may consider helpful this comparison between Aroma, Tramontina, Nuwave and Farberware induction cooktops.
In this way, you will see the major differences between them and draw your own conclusions.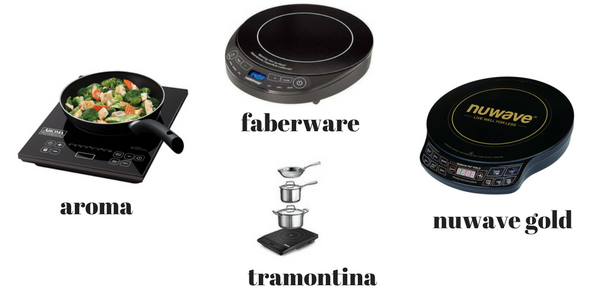 Here you have what you should know about these induction cooktops. Take your time to understand and to make a decision for your cooking habits.
Definitely, whatever your choice may be, you will not regret it.
1. Aroma Housewares AID-513FP Professional Induction Cooktop
Aroma Housewares AID-513FP Professional Induction Cooktop
provides quicker heating and operating up to 70% more efficiently than traditional gas or electric stovetops.
This is a perfect addition to any kitchen, RV, dorm room and so much more as it only operates when induction-safe cookware is in place and shuts off automatically once cookware is removed.
It is great for daily dishes and easy entertaining with its programmable timer that you can set up to 180 minutes, leaving you free to work in the kitchen instead of constantly monitoring your cooking.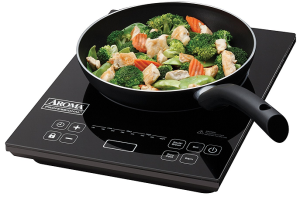 Just give a try to the fastest, safest way to cook with the Aroma Professional induction cooktop and frying pan.
With 8 temperature settings from 140˚F–450˚F and settings for Warm, Slow Cook, Boil, Saute'/ Brown, you have a perfect product as any other item made by Aroma.
Warm setting is the lowest indicating 140 degrees F. Up to 70% more efficient than traditional stoves, you have exactly what you need: power, efficiency and less cooking time.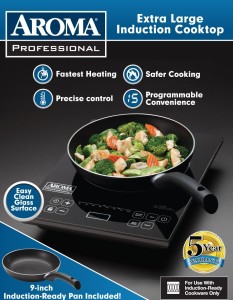 Check Reviews
And since the cooktop itself does not heat, spills easily wipe away from the ceramic cooktop surface for easy cleanup: certainly, it is an easy-to-clean ceramic cooktop.
Measuring 11.4 x 15 x 2.2 inches, Aroma Housewares AID-513FP Professional Induction Cooktop weighs just 7.5 pounds.
2. Tramontina 81500/100 Induction Cooktop
Tramontina 81500/100 Induction Cooktop
will reduce your cooking time, help improve your cooking technique and save you money on your electric bills.
This product is warranted by TRAMONTINA to be free from defects in material and workmanship for a period of five years from the date of the original purchase.
Tramontina 81500/100 Induction Cooktop can be used in the RV: it is the best thing ever as it is simple and quick and keeps a lot of heat out of RV. It is wonderful and the pricing is fantastic. The circle of the actual cook area where the pot will sit is an 8″ circle.
This induction cooktop will only work with cookware with a magnetic bottom. If a magnet sticks to the base of the cookware, it can be used. Glass, ceramic, aluminum, copper and other non-magnetic cookware are not compatible and cannot be used.
If the pot is put on top of it and stuff is being cooked, the pot will become hot. Because it is in touch with the cooktop, when the pot is removed, the cooktop will be hot to the touch. If the cooktop is turned on without a pot, it will not be hot, and it will turn itself off after a few seconds (it senses whether you have a pot on it or not).
The maximum output power is 1500 watts, and regarding the temperature settings, you have the opportunity to adjust from 140ºF to 425ºF.
It measures 14.25 x 11.375 x 2.5 inches and weighs 5.9 lb. Timer feature allows you to enter a selected cooking time on the cooktop: when the cook time has been reached, the induction cooktop will automatically stop heating and switch off.
3. Nuwave PIC Gold Induction Cooktop
Certainly, this Nuwave PIC Gold Induction Cooktop offers you some advantages such as precise temperature control adjustable in 10-degree increments and with a minimum setting of 100°F and an upper limit of 575° (Sear). It also offers a wider temperature range than competitor models.
Despite the safety features for a healthy and safe cooking, it includes automatic shut off when cooking time is completed. Enjoy its portability and compact size, but also the large cooking area of 9 inches in diameter allowing for greater diversity in cooking vessels and portion sizes.
Check Reviews
Nuwave PIC Gold Induction Cooktop can be used as a banquet/catering warming station among other functions.
It does the thinking for you as it offers state-of-the art programming technology with 100 hours of memory that allows you to save and recall favorite cooking procedures.
As you may intuit, it provides versatility to boil, simmer, deep-fry, stir-fry, saute, steam and sear, slow cook, barbecue, melt and grill using up to 70% less energy. It can be set for 600, 900 or 1500 watts.
The compatible induction cookware should be made of stainless steel, induction ready, or cast iron (anything a magnet will stick to), while aluminum will not work.
Lightweight and portable, the cooktop measures 16.2 x 14.9 x 4.7 inches and weighs 6.5 pounds.
Definitely, it does a good job without burning the chicken or the crunchies left in the pan, and do not forget its black design with gold lettering and markings that make it a great investment for any cooking space.
4. Faberware TEND30SS300 Multi-Functional Round Induction Cooker
Faberware Multi-Functional Round Induction Cooker comes with a one to 180 minutes timer, feather touch control, an automatic safety shut-off switch and six-stage power settings.
Make sure your pots and pans that you use on it are induction suitable/ compatible as induction cooking uses electromagnetism to turn cooking pans into cookers.
You cannot use it with glass, aluminum or copper but most others are fine. The temperature settings go up to 475 but it is too underpowered to get there, but with a pan full of food open frying it has trouble getting to 350 degrees. However, covering it helps a lot.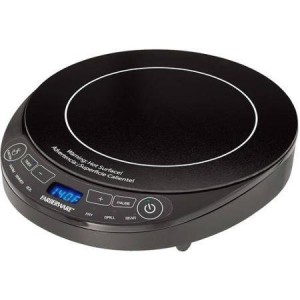 This cooker is 1300 watts.
You will love it as you can set this to different temperatures depending on what you are cooking. The heat settings are Warm, Simmer, Boil, Fry, Grill, and Sear. Also, the fan runs much quieter than on other units and shuts off fairly quickly when you are done cooking.
It might not be as flexible or have all the bells and whistles as more expensive induction cookers but for the price it works perfectly. You can cook chicken, quinoa, and eggs scrambled and hard boiled, cubed steak without problems.
5. Differences
These four induction cooktops seem very similar (all the units can be used outdoors or indoors being portable), but if you look closer, you may find some differences.
So, the big difference is that Tramontina 81500/100 Induction Cooktop comes with a five-year warranty, while for the rest of induction cooktops, you get an only one-year warranty.
In case you want a safe item, you may purchase Aroma Housewares AID-513FP Professional Induction Cooktop or Tramontina 81500/100 Induction Cooktop as both include a lot of safety features; the last cooktop is also the only unit with a lock function.
The most compact induction cooktop is Aroma Housewares AID-513FP Professional Induction Cooktop with the following dimensions (11.4 x 15 x 2.2 inches), while the biggest is Tramontina 81500/100 Induction Cooktop with 24 x 15.8 x 9.7 inches.
6. Conclusion
Definitely, if you consider purchasing one of these four products, you should know exactly what you want. Despite the Nuwave cooktop, Aroma, Farberware, and Tramontina cooktops come with induction pots and so, you get prepared for your cooking tasks.
As you may observe, there are cheap and expensive units; an expensive unit provides many features, and if you search for such an instrument in your kitchen, you should pay more for the induction cooktop.
Also, choosing a unit depends on how many times you are going to use it: if you consider using the cooktop occasionally, you do not need to spend a lot and so, Faberware Multi-Functional Round Induction Cooker turns to be a great investment.
On the other side, if you want something more versatile, you should consider Aroma Housewares AID-513FP Professional Induction Cooktop, Tramontina 81500/100 Induction Cooktop or Nuwave PIC Gold Induction Cooktop.
7. Comparison Table
Aroma AID-513FP
Tramontina 81500/100
Nuwave PIC Gold
Faberware
Round Induction Cooker
Destination
Use
Indoor
and outdoor use
Indoor
and outdoor use
Indoor
and outdoor use
Indoor
and outdoor use
Design
easy-to-clean
ceramic cooktop
Black
ceramic glass cooktop
black
ceramic surface with gold lettering and markings
round
induction cooker
Power
Source
N/A
120/60hz
N/A
N/A
Output
Power
N/A
1500W
1500
watts
1300W
Power
Levels
N/A
a range
of 120 watts to 1500 watts
It
can be set for 600, 900 or 1500 watts
6-stage
power settings
Temperature
Levels
8 temperature
settings from 140˚F–450˚F
temperature
settings are: 140, 175, 212, 245, 280, 320, 355, 370, 370, 390 and 425
degrees.
52
different temperatures between 100°F and 575°F

The settings go up to 475

Programmable
Timer
programmable
timer sets up to 180 minutes
Yes,
Timer feature
Yes
Yes,
a one to 180 minutes timer
Function
Lock
N/A
Yes,
lock function
No
No
Warranty
N/A
a period
of five years from the date of the original purchase
one
(1) year from date of purchase
N/A
Acoustic
Warnings
N/A
N/A
The
NuWave PIC Gold will automatically stop cooking once time has expired and a
"beep" sound will alert users
N/A
Weight
7.5 pounds
7 pounds
6.5 pounds
9.6 pounds
Dimensions
11.4 x 15 x 2.2 inches
24 x 15.8 x 9.7 inches
16.2 x 14.9 x 4.7 inches
17 x 15.1 x 6.4 inches
Cord
Length
N/A
It has a cord that's at least 4 feet long.
N/A

The cord is about 48″

Glass
Cooktop Size
N/A
Cookware must have a
flat bottom with a diameter
between 4.75 – 7.75 inches (12.06 –19.68 cm)
It offers a large cooking area,
measuring 9 inches in diameter
an area 4 or 5 inches across
Safety
Sensors
auto
shutdown, automatic pan detection, timer and overheat protection, diagnostic
message system
auto
shutdown, automatic pan detection, timer and overheat protection, diagnostic
message system
It
uses no red hot coil or open flames, essentially eliminating the risk of
fire, automatic shut-off features enhance the cooktop's safety, induction
technology warms the pan, but the surface remains cool to the touch
an
automatic safety shut-off switch
Induction
Cookware Sensor
Yes
Yes
Yes
Yes
Induction
Overheat Sensor
N/A
N/A
Yes
N/A
Glass
Cooktop Overheat
N/A
N/A
N/A
N/A
Free
pan
Yes, Frying
Pan, Black
Yes, 6
Pieces: 2 Qt. Covered Sauce Pan and 4 Qt. Covered Dutch Oven
No
A
frying pan
Price
Check Price
Check Price
Check Price

Check Price