5 Best Aroma Rice Cookers with Delay Timer and Reviews
Searching for a great rice cooker to buy? If you want a low-cost, basic model suitable for households with simple rice and steaming needs, you should consider an Aroma model.
With a user-friendly design, programmable digital controls and functions that include keep-warm, white rice, and brown rice, you will definitely make a great investment.
As the rice cooker is one of those small kitchen appliances that one never really thinks they need until they actually use one, Aroma rice cookers turn to be that must-have small appliance for the busy families who want to cook healthy recipes but short on time.
Although they are unsophisticated and cheap, there are a lot of reviews about Aroma rice cookers and people are very happy with their large capacity and functionality to cook rice. Let's have a look at our list with the best 5 Aroma rice cookers with delay timer and reviews.
Looking for an innovative Aroma rice cooker? You should consider the Aroma Housewares ARC-914SBD 8-Cup (Cooked) Rice Cooker and Food Steamer.
Having a great price, you should purchase this unit that yields up to 8-cup cooked and 4-cup uncooked rice.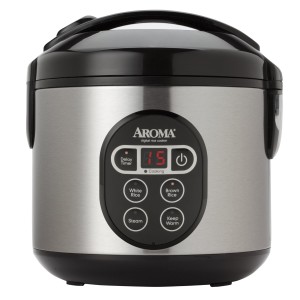 With easy to use functions (programmable digital controls with Steam, White Rice, Brown Rice, Delay Timer up to 15 hours and automatic Keep-Warm), the rice cooker comes with some accessories: steam tray, rice measuring cup, serving spatula, and exclusive recipes and coupons for Mahatma and Carolina Rice.
It is important to know that when the cooking is done, the inner cooking pot and all accessories remove for easy cleanup.
Choosing this rice cooker, prepare yourself to cook any variety of rice with specialized functions for both White and Brown Rice.
You can save time with the Quick Rice function which cuts cooking time by up to 50% or you can use the programmable 15-hour delay timer that is great for families on the go as it delivers delicious rice ready when it is needed.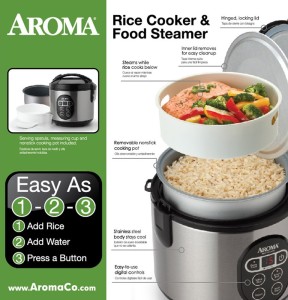 Check Price
You have to put the rice in the cooker in the morning and then, do not forget to set the delay timer to have rice ready and come back to perfect rice ready to serve.
Plus, no matter when rice is finished, the cooker will automatically switch to Keep-Warm for conveniently flexible meal planning.
At the press of a button, Aroma takes the cooking out of home cooking, turning kitchen time into your time as you will obtain restaurant-quality rice, healthy steamed meals, and delicious one-pot dishes. And you can be sure that it is extremely simple to use.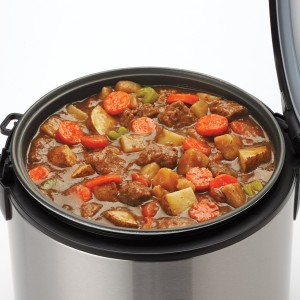 You need to add up to 4 cups of rice (or quinoa) using the included cup, to fill it with water (or broth) to the numbered fill line, and to set it using either the white or brown rice option.
To cook hard-boiled eggs, just fill the pot with a few cups of water, place up to 5 eggs in the included steamer basket, and set to steam for 15 minutes.
If you prefer a rice cooker with a large capacity, you may be interested in Aroma Housewares 20 Cup Cooked (10 cups uncooked) Digital Rice Cooker, Slow Cooker, Food Steamer, SS Exterior (ARC-150SB).
It is a new and improved Aroma 20-Cup Digital 3-in-1 Rice Cooker, Food Steamer and Slow Cooker that is designed to cook a good variety of dishes.
Its new function Flash Rice cooks those tough-to-cook grains quicker and so, you get your homemade dinner ready in a snap! This convenient cooker perfectly yields 4 to 20 cups of any variety of rice with specialized functions for both White and Brown Rice.
Once the rice is cooked, it will automatically switch to Keep-Warm function with no need for monitoring or stirring.
With a 15-hour Delay Timer for flexible meal planning, it includes steam tray, rice measuring cup, and serving spatula. The wide spoon that is included for the rice is wonderful and stores inside the cooker when not in use.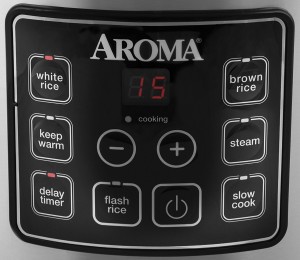 Check Price
This is a really good buy for people who want to eat healthier and have limited counter space by having a multi-use tool.
You need to take the vent out from the inside of the lid and clean it after each use. Also, the inner container is easy to clean by hand and the lid needs only to be wiped off with a paper towel.
Also, the unit is lightweight and is easy to pack if you need to move it.
The instructions are also very clear and very helpful and so, this product is great to anyone who wants to eat healthier and or make authentic rice recipes.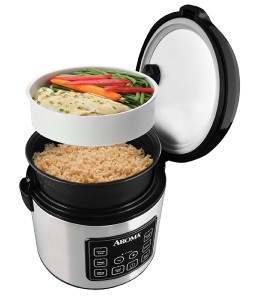 The cooker will use all the water, so if you want your rice firmer, use a little less water. On the other hand, if you want it more tender, use a little bit more water. Then just turn on the cooker and choose whether it is white or brown rice and forget it.
When the cooker is done it will go to keep warm mode for a maximum of 12 hours.
You may also consider Aroma Housewares 20-Cup (Cooked) (10-Cup UNCOOKED) Digital Rice Cooker & Food Steamer, Stainless Steel Exterior (ARC-1010SB) with a Sauté-Then-Simmer function that provides high heat for sautéing and allows automatic switches to simmer once the liquid is added.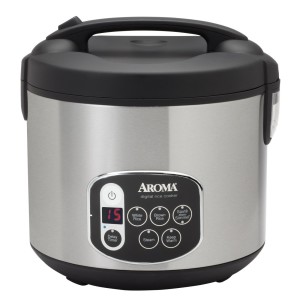 Capable of steaming meat and vegetables while rice cooks below, this unit yields up to 20-cup of cooked rice and provides easy-to-use, programmable digital controls with automatic Keep-Warm and White Rice, Brown Rice, and Steam functions.
Although the lid is not removable, it makes it hard to clean if you cook more than just rice and the electrical cord is not retractable so when it is not in used, the cord will be dangling; but, it provides you a dish washable steaming tray and good looking.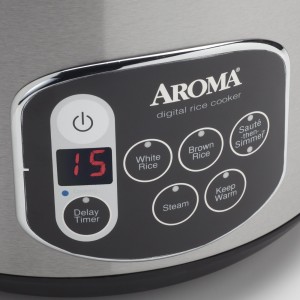 Check Price
The rice comes out excellent and is not going to stick to the bottom of the rice cooker and depending on the amount of water one adds, one gets just done rice or really soft rice.
This feature comes in very useful for making biryanis and fried rice. The best part about the rice cooker is that all the grains come out separately and so, you do not need to add oil or lemon juice to the rice.
This very versatile rice cooker can be used for making rice and chicken and beef stock; you can saute and then simmer for making stock as it allows browning the onions, celery, carrots and chicken bones without having to use a separate pan.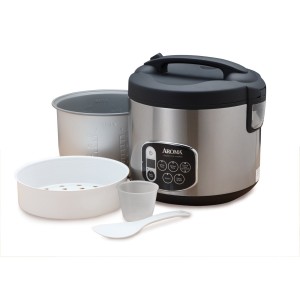 It is also big enough to accommodate a whole chicken, which is a plus. The timer function is great as well, as it allows you to set up rice in the morning and have it fresh and ready to eat when you get home.
If you are looking for something else, you should try Aroma Housewares ARC-2000ASB Professional 20-Cup (Cooked) Digital Rice Cooker.
It is delivered with a steam tray, rice measuring cup, serving spatula, soup ladle, and recipe booklet. In case you misplace the measuring cup, a 3/4 standard US cup is an exact replacement.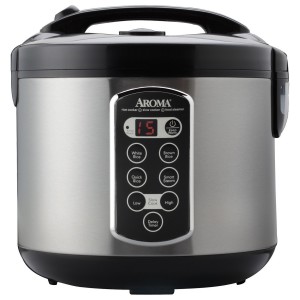 It provides a Smart Steam that allows for steam time to be set for automatic shut-off; or steam meat and veggies while rice cooks below.
You get easy-to-use digital controls for White Rice, Brown Rice, Quick Rice, Smart Steam, High and Low Slow Cook, Keep-Warm and a programmable 15-hour Delay Timer.
It perfectly prepares 4 to 20 cups of cooked and so, you can serve your family healthy, nutritious meals with the convenient steam tray. The steamer feature works great too while cooking your rice or on standalone but you need to add water.
It is time to forget about cleaning as removable nonstick inner pot and all accessories clean easily in the dishwasher.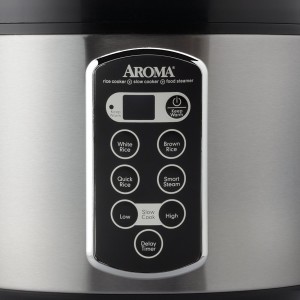 Check Price
If you make jasmine, basmati, Spanish rice or long grain rice, you would fill up the water line to the number of cups. The rice will still be pillowy but not sticky and not too dry.
If you use 2 cups of cal rose (short grain rice), you will fill up water to nearly 3-line level or at 3 and it will be sticky and pillowy for spreading on seaweed paper.
You just rinse the rice, put it in with clean water, and push a couple buttons. Then, you just hit the warm button and in ten minutes the rice is ready to go again. Certainly, this is tastier than microwaving and healthier than stir-frying it.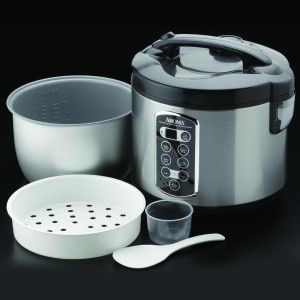 This unit has a presoak feature when cooking brown rice and it takes about an hour and a half to cook the brown rice the first time around. This product will exceed your expectations: it works great for rice, steamed vegetables, oatmeal, quinoa, and soups!
Aroma Housewares ARC-980SB Professional 20-cup (Cooked) Digital Rice Cooker, Multi Cooker is an ideal rice cooker for everyone who seeks a product that prepares a really good tasting rice.
It is designed with Sauté-Then-Simmer (STS) function; and as you probably know, it provides high heat sautéing that automatically switches to simmer once the liquid is added.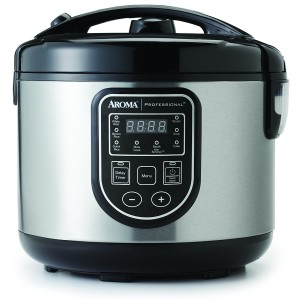 With this item, it is possible to make cereal-based porridges. However, when making rice porridge one shortcoming of this cooker, you cannot check on the degree of doneness.
It was much simpler making porridge the old-fashioned way over the stove and you can custom-cook your porridge on the spot.
This one can actually bake a cake and is so versatile: you can make plain rice, rice pilaf, wild rice bistro, Spanish rice, pork fried rice and many more side dishes. You can even steam veggies in it.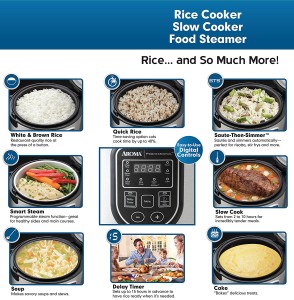 Check Price
There is no end as to what you can do with this rice cooker.
And the best part of all is that it is so very easy to use. You get perfect rice dishes every time and the compliments from family and guests just keep on coming. Just remember to rinse your rice until the water runs clear before you put it in the cooker.
The instruction manual is very easy to understand and has a lot of pictures. It also has a handful of recipes (eight): risotto, pot roast, green chile chicken and rice, rum cake, cupcake, jambalaya, chicken noodle soup, and oatmeal.
This Aroma is easy to clean: you just wash out your pot with soap and water or put everything in a dishwasher (plastic top rack).You can also easily clean the removable steam vent lid and the condensation collector if you find starch or hard water deposits.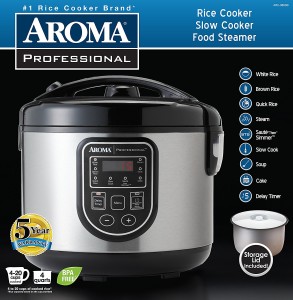 With this Aroma rice cooker come a spatula, and a measuring cup. It is important to use that measuring cup, as opposed to any stove top methods you may be accustom to.
This is a great machine as Aroma is a well-known brand and although its big capacity, it still sits compactly in a corner under your cabinets.
6. Comparison
It is certitude that these rice cookers from Aroma are all reasonable in terms of price (the cheapest is Aroma ARC-914SBD 8 Cup with Delay Timer, while the most expensive is Aroma ARC-914SBD 8 Cup rice cooker with Delay Timer).
Certainly, the price range makes this a great brand to start off with and all the models still tend to produce good quality rice.
Regarding the number of features of these rice cookers, it is not as high as some other brands and although the rice quality probably is not as good as models that make use of approaches like fuzzy logic, for a basic rice cooker, these options are a good investment and can work well.
With a smart steam, Aroma ARC-1010SB , Aroma ARC-2000ASB , and Aroma ARC-914SBD can steam meat and veggies while rice cooks below and for Aroma ARC-2000ASB 20 model, the steam time can be set for automatic shut-off.
Aroma is an American brand and has been able to produce a number of popular models.
Despite all these models, Aroma ARC-914SBD 8 Cup with Delay Timer yields up to 8-cup cooked rice, and Aroma ARC-980SB 20 Cup cooked Rice Cooker with Delay Timer can be used to prepare between 4 and 20-cup of rice.
With the last three rice cookers, you are able to cook up to 20-cup of rice.
All products come with a measuring cup, a serving spatula, a steam tray, and a recipe booklet. For those who want to purchase the latest products, the ARC-2000ASB 20 model is the ideal acquisition, while the rest of products are perfect for people who love eating rice and want to have always restaurant-quality meals.