Aicok BT-C20 1500W Portable Induction Cooktop – your all-in-one product for speedy cooking challenges!
Searching for a convenient alternative for not buying any more gas for a cooking item?
What about a portable induction cooktop? It saves you time, money and space and all you need is a plug-in.
If you consider such an investment, you should find out more about Aicok BT-C20 1500W Portable Induction Cooktop.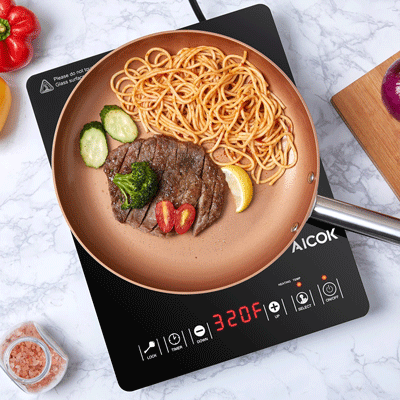 The following information will make you rethink at an induction cooktop for your kitchen or your camping and boating holidays, but also for cooking presentations and dorm needs.
1. Controls
The cooktop has touch-button controls with digital display for easy and intuitive use.
The buttons on the panel are easily readable and are waterproof in case you spill any liquids in it. Buttons are also easily accessible and clearly, depict what their function is.
It includes a count-down digital timer with 1 min increments up to 170 minutes on both the power and temperature modes, 120-minute automatic shut off.
You can use the timer, control the temperature and even lock it for safety around children.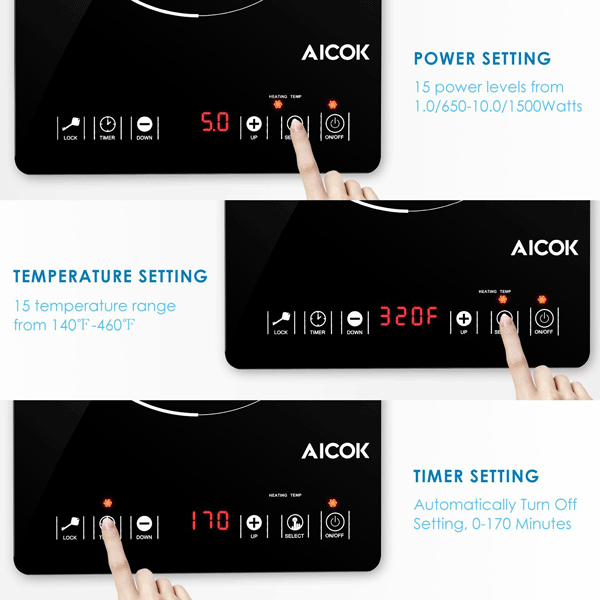 2. Surface
Regarding the surface, it is a polished A-grade crystal plate surface that offers lasting durability, easy cleanup, and elegant style.
It is a very large stable cooking surface that will exceed your expectations. The item is lightweight and compact for easy handling and storage.
The usable pans are made of steel, cast iron, enameled iron, stainless steel, having a flat-bottom with diameter from 12 to 20 cm.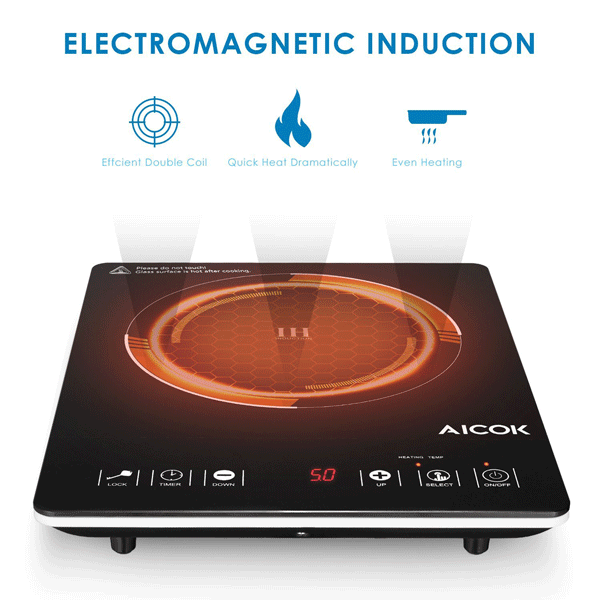 3. Heating Elements
As it is an induction cooktop, the power and precision come from an electromagnetic field below the glass cooktop surface that quickly generates heat directly to the pan.
So, this is why it cooks faster and loses less heat in the process. This 8.7-inch large center burner gets to accommodate multiple pan sizes and heat evenly.
Be sure that this 1500w induction cooker boils 2 quarts of water in less than 5 minutes.
It is also great for hotpot since it operates with electricity and not gas and fires which it is much safer for families with kids.
4. Power/Watts
On this portable cooktop, you can change the power level from 650 watts to 1,500 watts.
The temperature can go from 140 °F to 460°F. There are 15 power levels ranges from settings 1 to 10 (650 to 1,500 watts) and 15 preset temperatures ranging from 140 to 460 degrees Fahrenheit.
This cooktop is ETL and FDA approved product and its electrical details are: Power Rate: 1500W (and 1500 w is enough to heat fast) and Voltage: 120V/60Hz.
5. Sensors
For your safety, it will not operate without a pan or pot on top of it. Avoid using heat-resistant glass, ceramic container, copper, aluminum pans or pots with rounded-bottom measuring less than 12 cm.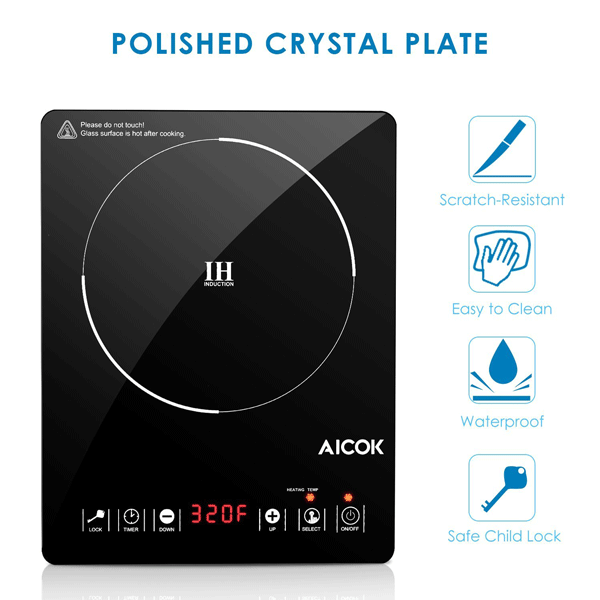 6. Ventilation
This portable induction cooktop is designed with air vents for proper ventilation avoiding overheating. It is highly recommended to not block the vents of the unit and to leave some space around it.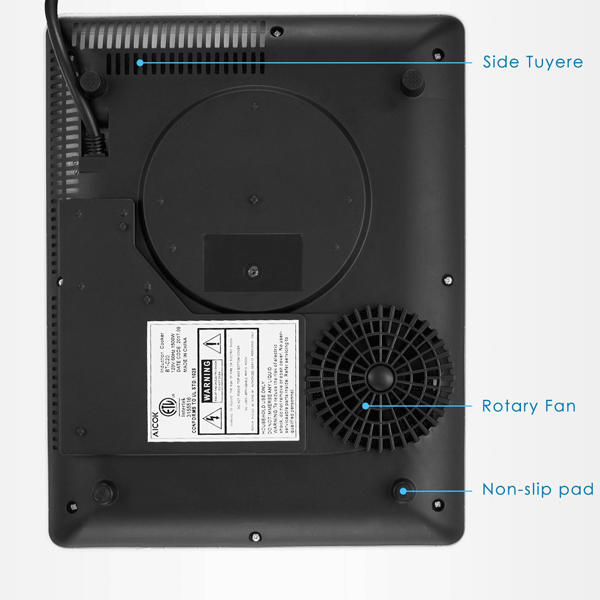 7. Safety Features
Some safety features of the cooktop are child-lock settings, cookware detection feature, non-slip feet and dual channel fast heat dissipation.
It has no sharp edges, had child lock settings, and non-slip feet as beveled edges with no sharp corners offer added safety.
8. Accessories
In the packing box, you will find 1 x Aicok Induction Cooktop and 1 x User Manual.
9. Dimensions
The unit measures 14.5 x 11.5 x 1.8 inches and weighs 6.3 pounds.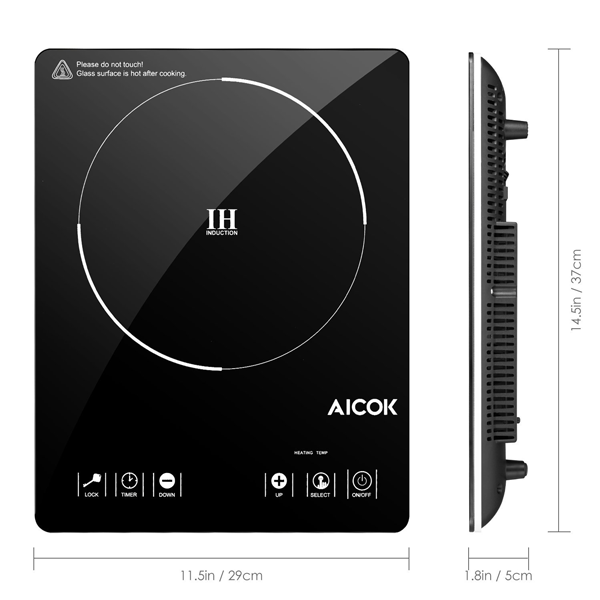 10. Pros
It is so convenient that you do not need to buy the gas, just need a wall outlet
There are no wire coils for suicidal food bits to leap into and burn
This portable cooktop is a good choice for cooking hotpot or barbeque at tableside
It is really powerful, getting the water boiled just in two minutes.
11. Cons
You may not find more information about the cooktop on Internet
Glass surface is hot after cooking and so, do not touch it
Though you need to make sure that the wattage is enough, or it will not work properly
12. Consumer Ratings
The consumer rating at Amazon proves that people are happy with their new acquisition.
Aicok BT-C20 1500W Portable Induction Cooktop is easy to use and a great product for its affordable price: it will not take long to learn how to change the temperature and timer and you will find out how great it is to be able to set a temperature when cooking, with no more scorching or burning.
13. Price
On Amazon site, Aicok BT-C20 1500W Portable Induction Cooktop is available at this price.
If it meets all your needs in terms of daily cooking, you can order it and it will not take long to have it in your house.
If you do not have a stove in the dorms, you can use this every once to make food.
Aicok BT-C20 1500W Portable Induction Cooktop
Destination Use
Indoor and outdoor use
Design
8.7 inch large center burner with a polished A-grade crystal plate surface.
Power Source
ETL and FDA approved product
Power Rate: 1500W
Voltage: 120V/60Hz
Output Power
1500W
Power Levels
15 Power Levels: 1.0/650W – 1.5/700W – 2.0/750W – 2.5/800W – 3.0/850W – 3.5/900W – 4.0/950W – 4.5/1000W
5.0/1050W – 5.5/1100W – 6.5/1150W – 7.0/1200W – 8.0/1300W – 9.0/1400W -10.0/1500W
Temperature Levels
15 Temperature settings ( Farenheit ):
140℉, 160℉, 180℉, 200℉, 220℉, 240℉, 260℉, 280℉, 300℉, 320℉, 340℉, 370℉, 400℉,
430℉, 460℉
Programmable Timer
Count-down digital timer with 1 min increments up to 170 minutes on both the power and temperature modes, 120-minute automatic shut off.
Function Lock
Yes, child-lock settings
Warranty
2 years manufacturer warranty
Acoustic Warnings
Yes, a warning that sounds if you pull the pan off
Weight
6.3 pounds
Dimensions
14.5 x 11.5 x 1.8 inches
Cord Length
N/A
Glass Cooktop Size
Usable flat-bottom pans/pots with diameter from 12 to 20cm.
Safety Sensors
child-lock settings and cookware detection feature
Induction Cookware Sensor
Yes, it must be used with induction-ready cookware (steel, cast iron, enameled iron, stainless steel, flat-bottom pans/pots with
diameter from 12 to 20cm).
Induction Overheat Sensor
N/A
Glass Cooktop Overheat
N/A
Free pan
No
Price
Amazon Link