Portable induction cooktops use 90% of the energy provided in comparison to only 50% utilized by other cooking techniques.
Indeed, they are very efficient, versatile, easy to clean, compact, handy, safe, ideal for small kitchens or anywhere an extra cooktop is needed.
But when you decide to buy an induction cooktop you have to understand how this technology works and that you need special compatible cookware. Fortunately, there are some offers on the market that include induction cookware, with magnetic bottoms.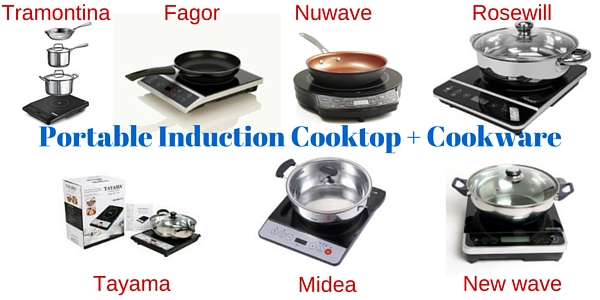 Why choose a portable induction cooktop with cookware included
If you have no induction cookware yet in your kitchen (or you may have, but you don't know that yet) you don't need to separately order special cookware and there is no need to loose time for finding proper cookware in a store.
Maybe you don't know exactly how to choose the right type of induction cookware or you just want to test this method of cooking and that is why you buy a portable induction cooktop.
Selecting the right induction pan or pot may not be so easy. In fact, surprisingly there are too many people that tend to get quite confused in what concerns choosing the right induction cookware for their future induction cookware.
So, if you buy a portable induction cooktop with cookware included you save time, money (because in many situations the price gets higher if you order the cookware separately) and you can use the cookware as soon as you receive it.
Types of cookware that are often included with portable induction cooktops:
– enamel cast iron pans/ pots
– enamel or steel
– cast iron
– some stainless steel cookware.
Cookware with copper bottom, made from glass, aluminum or pottery-type pans and pots will not work with a portable induction cooktop.
Next in this article, we are going to present some portable induction cooktops with compatible pan or pot included.
The cooktop
The burner has small dimensions, 17.8 x 14 x 2 inches and weighs only 9.8 pounds. The power can be set from 300 W to maximum 1600W and it has a built-in timer up to 150 minutes. It has a pan recognition sensor and if no pan is detected within some minutes it will automatically shut off. It has simple controls and is silent. Comes with a 10-inch heating unit.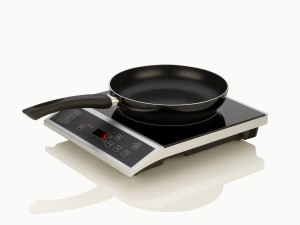 The cookware
An induction ready skilled is included in the set and this is made from quality cast aluminum. It doesn't have a lid, but according to the manufacturer, apart from the induction cooktop, you can use it with other stovetops too (like gas, electric, radiant).
So it is versatile. It has large size edges and a perfect shape and depth. Can be used for frying and sauteing because it has a flat bottom, heats fast and evenly and the food doesn't stick to it. It is black and elegant. Many customers show themselves very pleased
with its performances.
3. Nuwave Precision 14.5 Inch Induction Cooktop with Hard Anodized 9 Inch Fry Pan
The cooktop
A portable induction cooktop, very compact with a rounded design. It has 14.5 inches in diameter and when you cook you can easily select from 6 preset temperature settings. This cooktop from Nuwave is very appreciated among the customers because its precision as it can utilise an incredible number of 52 different temperatures.
The lowest is 100°F while the maximum can reach to 575°F. Its intern memory can save up to 100 hours of favourite cooking recipes and performances. With this black induction cooktop you can sear, slow cook, saute, simmer and many more. It measures 16.2 x 14.4 x 6.4 inches and weighs only 8.6 pounds.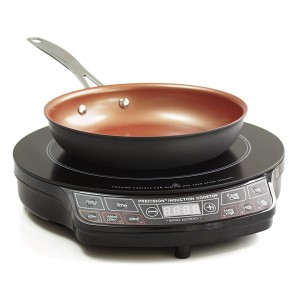 The cookware
A 9-inch Frypan without lid is included in the pack. This looks amazing mainly because it is hard anodized. Some customers find the quality of the free cookware very high and they use it often while others complain as they don't obtain superior results, partly because they fail to programme the right temperature and the right time for cooking.
The cooktop
It provides great power for a portable induction cookware: 1800W. The surface has a polished crystal finish and it looks very elegant and sleek.
The surface and the control panel are black and separated by a silver line of 1 cm. In the middle of the touching control panel, there is a large LED display with 4 digits. The cooktop can be programmed up to 3 hours.
In what concerns the temperature, there are 8 setting that may work from 150 degrees to 450 degrees. It is best used to roast, fry, boil, braise etc.
It measures 13.6 x 10.6 x 2.4 inches and weighs 8.2 pounds. On the surface, there is a 5″ circle and a 9″ circle around the heating element. You can use pots with a diameter size from 4″ to 10.5 inch (recommended 8.5 inches if you cook with oil).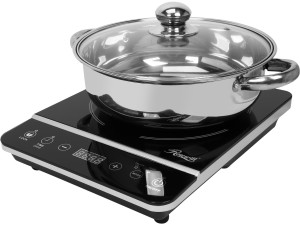 The cookware
In the pack is included a stainless steel pot with handles and a transparent lid that allows you to see the food while it is cooked. Unfortunately too many customers say that the pot is not so reliable and it hasn't met their quality expectations.
The cooktop
What we have here is a black portable cookware, with a rectangular shape, a white and rather complex control panel. Its maximum power is 1500W and it has safe features like overheat protection system. Temperature range begins with 100°C and can get to maximum 270°C.
It includes 8 cooking modesand several power settings that allow you to best adjust it according to your recipe. In the middle of the push buttons, there is a display on which you can read multiple information like time, temperature and heat.
The surface is 11″ in diameter, but the heating surface is only 8 inches. and The timer can be set up to 4 hours with a day in advance. It measures 3 x 6 x 7 inches and weighs 7 pounds.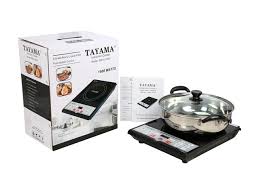 The cookware
The included cooking pot is made from stainless steel, it has a lid and two handles. Customers like the fact that it is offered for free and they find it useful because many of them don't know for sure how to recognize compatible induction cookware.
The cooktop
This portable induction cooktop features maximum 1500W (with 110V and 60 Hz). Its cooking surface is black and sleek. The control panel is white, very well delimitated from the rest of the surface and the controls are handy so that you can easily find the ones you need. In the middle of the control panel, there is a small display.
The on/off button is coloured in red. There is no need to hardly push the controls, just touch them and the cooktop will react immediately. Like all induction cooktops, it is safe to use and it automatically switch off it detect any inadvertence.
The power can be set in 10 levels, which should be quite accurate to help you obtain superior results. There is also a 3 hours timer, a keep warm function and Boost option (for boiling water even faster). It measures 380 x 290 x 61 mm and weighs only 2.5 kg.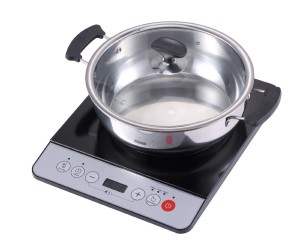 The cookware
If you are new to induction it is recommended to buy an induction portable burner with a cookware included. This model from Midea comes with a stainless steel pot, silver, with handles very safe design so that you won't burn your hands when taking the pot from the burner. It has also a lid which is transparent and you will be able in any moment to see when is the food done, without being needed to take the lid of the pot.
Te cooktop
This portable cooktop from NeeWave provides 1800W (and 120 V) so we can say it is among the most powerful portable induction burners. The heat can be set from 140°F to 464°F in 10 levels. The included timer can go up to 3 hours, so you can programme it to cook and leave the kitchen. When your specified time is up and the food is done, the cooktop will make a loud sound.
In comparison to many other induction cooktops, this one has a 1-year warranty with a full replacement guarantee. It measures 31cm x 38cm x 5.3cm and weighs 10 pounds. It has a rectangular shape, touchpad keys and an easy-to-read-on display in the center of the control unit.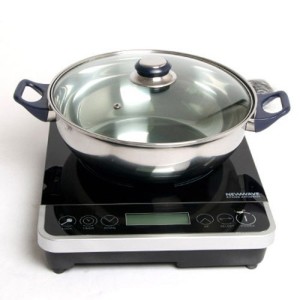 The cookware
Price for New Wave NW200 includes a free cooking pot with lid and handles on left and right. These are safely dresses in a special material so that the user won't get burned when putting hands on the pot over the burner.
Some customers complain they didn't get the free pan in the pack but the manufacturer once again highlights that the pot is indeed included in the price. So when order or buy this cooktop ask the vendor and be sure you will receive the free induction pot.