6 Induction Omelette Pan with Reviews
Omelettes are some of the easiest foods that you can make. Except for being so delicious, they are high in protein and are a good source of vitamins and minerals.
Although some recipes can be more complicated than others and involve more ingredients, the omelette is still one of the breakfasts that anyone can make.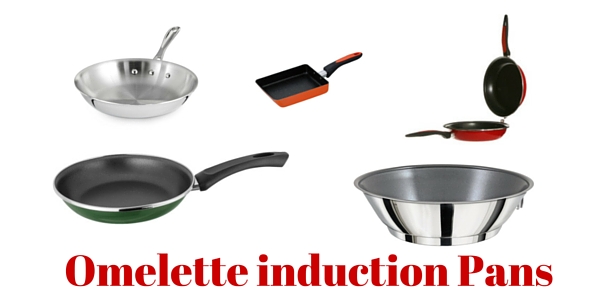 If you want to surprise yourself with the best breakfast, you need to get ready first. An induction omelette pan is essential, especially if you use an induction cooktop.
The best induction omelette pan isn't easy to find, but if you pay attention to details, you will find it right away.
When using an induction compatible pan to make an omelette, you practically make sure that the mixture won't stick to the bottom or get burnt and therefore, that you will be able to serve a healthy breakfast that looks good at the same time.
The only ingredients you need once you have the best induction ready omelette pan are the following:

When you have everything at hand, you can start beating the eggs with 2 tablespoons of water, cheese, ham, salt, pepper etc.
Add warm butter in a non-stick pan and pour in the eggs. Set the temperature at medium on a small or medium hob and wait until you can see that the edges of the mixture become golden.
Then take a turner or a palette and start pushing from the edges towards the centre. Lift the edges just a little bit to see if the omelette is cooked. If not, cook it for a little while longer. When it's cooked on one side, simply turn it like you would do with a pancake or lap it.
When it's cooked on both sides, simply place it on a plate and leave it to cool down. That's it! You have made the best omelette.
If you're planning on cooking a lot of omelettes but you haven't found the induction non-stick omelette pan that you want, you should continue reading.
We reviewed 6 of the best-selling such products that are available on the market right now.
1. Calphalon Triply Stainless Steel 8-Inch Omelette
This induction omelette pan has been designed especially for those who want to eat healthy, delicious breakfasts. It is a small pan, suitable for smaller induction hobs, but it can be found in larger sizes, too, such as 10-inch, 12-inch or 14-inch.
It can be bought at about $35 online, which a good price giving its sturdiness and elegant brushed stainless steel exterior. It has an aluminum core with 2 layers that ensure even heating. Its bottom is flat and wide and it is very easy to manoeuvre, especially when cooking an omelette.
This product includes a clear glass lid that allows users to cook easily and efficiently and monitor the foods inside. Also, its handle remains cool during use and has an ergonomic design that makes it very comfortable to use.
The great thing about it is that it can be used with any heating source and it is dishwasher safe.
2.Magma Products Gourmet Nesting Induction Stainless Steel Omelette Pan
Magma's omelette pan for induction hob is another small pan that helps users to cook the best omelettes quickly. It is a bit more expensive than the previous one, but it comes with a heavy-duty encapsulated base and a non-toxic, non-stick coating. It costs about $48, it has a 18-10 mirror stainless steel polish and a comfortable handle.
It is very easy to clean and it is dishwasher-compatible, which makes everything so much easier. Its triple clad base is made of ferromagnetic stainless steel and it is induction-ready.
Also, it can be used in the oven at up to 500 degrees Fahrenheit. If you need a heavy duty omelette pan that you will use intensively, then this is the one you should buy.
3. Calphalon AccuCore Stainless Steel Omelette Pan, 8-Inch
Yet another 8-inch omelette from Calphalon, this time, is in the top preferences of buyers. Its price is higher than the previous products', but so is its quality. It can be bought for approximately $69, which is a good price having given its amazing design and construction.
This omelette pan is made of 5 layers of copper and has a base that ensures the controlled, even heating of the food. It is a small omelette pan for induction hob that is also compatible with dishwashers and with other heat sources, such as gas cooktops, halogen and more.
This pan also features a long handle that stays cool during use. However, its biggest advantage is the fact that it is covered by a lifetime warranty. Therefore, you will make a long-term investment when buying this pan.
4. Magefesa Nonstick Frittata Skillet Pan
After analysing this pan for a while, one could say that it is truly the best omelette pan for induction cooktops. It is worth its price thanks to its gorgeous design, sturdy construction and ease of use.
All buyers are delighted with the fact that the package includes 2 pans that hook together. The one above works as a lid and helps cook the food in a healthy and efficient way.

The good thing is that the pans can be used independently, too. These 9-inch pans are a bit larger than the ones we've seen so far and have non-stick interiors and enamelled exteriors. They can be used on all sorts of heat sources such as gas, electric or induction.
Their red exterior makes them look stylish and their handles are comfortable and easy to use.
5. WAHEI FREIZ Omelette Pan Tamagoyaki-ki Induction Heat MR-6497 from Japan
This is another small pan from Wahei Freiz, a Japanese manufacturer that brings to the market an unusual, practical design. This pan is made of non-stick aluminum. It measures 7 x 5.1 inches and it has a rectangular shape. Giving the fact that it isn't round, more food fits inside of it.
It has an orange, enamelled exterior and although it is lightweight, it looks pretty sturdy. It features and ergonomic handle with a rubber grip that makes it almost impossible for users to drop it. This product offers the value for money that you were looking for.
6. Judge Induction Green Omelette Pan 20cm
Judge's pan is a 20cm omelette pan induction compatible that you will fall in love with. It has a dark green exterior that is extremely stylish and enamelled coating that ensures that it can be used with any type of heat source.
It can be bought for only $28, being the cheapest product on this list. If you aren't fond of green but you still like this product, you can go for the Judge Induction Vanilla Omelette, which comes in light beige.
This omelette pan comes with an ergonomic handle that remains cool during use. It can be used to fry all sorts of foods, but it is definitely ideal for omelettes.
Check out all of these omelette pans next time you shop online or in your favorite store. If you already own one, share your experience with us.