Are you looking for new cookware sets for your induction cooktop or freestanding induction range?
Picking the right cookware will worth the investment and will make your cooking experiences more interesting, enjoyable, healthier and easier.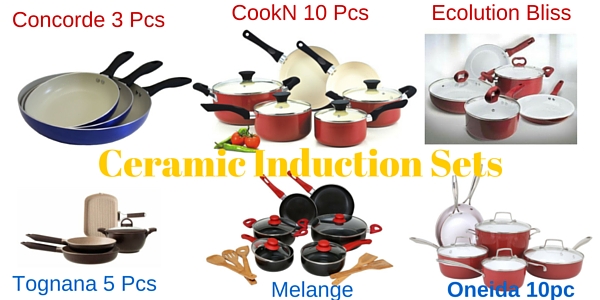 The first thing you have to consider is that not all pans and pots are created equal when we refer to them as being induction ready. One of the best and healthier type of cookware you can use with induction cooktops is ceramic induction pan/ pot. Let me be more specific.
Non-stick ceramic cookware sets have lots of benefits. Pans and pots made from this material are extremely versatile and that is why they are becoming more and more popular among professionals and amateur cookers.
The most important thing we have to notice to this kind of cookware sets is that they can be used at high temperatures without diffusing chemicals that are bad for our health. Specialists tend to consider them the least reactive cookware available on the market.
Specialists also say that ceramic induction cookware sets are much healthier in comparison to other non-stick pans and pots. This is because traditional non-stick materials contain chemicals that are bad for our health. But ceramic cookware coating does not contain harmful chemicals like:
1. PFOA – stands for perfluorooctanoate, which is a synthetic substance that can lead to some diseases like diabetes or other chronic renal problem. It should definitely not be used when cooking for small children.
2. PTFE – stands for polytetrafluorethylene and it may usually be found in Teflon cookware. At temperatures over 680 degrees, it can spread harmful chemicals that can put our health in danger. Even at low temperatures like 560 degrees, F pans that contain this chemical can release toxic substances.
3. Cadmium – this is a heavy and extremely harmful metal. If one exposes himself to cadmium for a long period of time it can develop fever, pain in the muscles, edema, pneumonitis, bronchitis. To little children, cadmium can cause brain diseases.
4. Lead – is similar to cadmium and is also very harmful especially for children under 5. Long exposure to lead can cause fatigue, loss of appetite, stomachache, insomnia, discomfort and, even more, nerve damage, hearing or vision atrophy. However, there are also some ceramic pans and pots that contain small quantities of lead. In some states, there are rigorous rules in what concerns the maximum acceptable level of lead in pans and pots or other similar products.
Pros
Cons
Advanced 3rd Generation Ceramic Coating Non-stick Cookware set – Induction Ready, Non-Toxic PFOA Free
Unlike the 10-set we have already talked about that is made in China, this one is made in Italy. It is more expensive but more qualitative. There are 5 pieces in this set:
– a pot with a tempered glass lid and silicone seal (9.6"/ 24 cm),
– 2 frying pans with different diameters (11.2"/ 28 cm and 9.6"/ 24 cm)
– one pan suitable for grill (24 x 34 cm/ 9.6"x 13.6").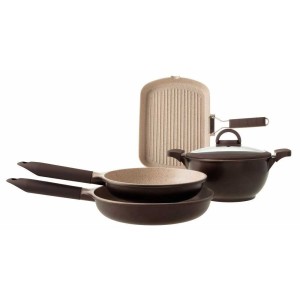 They are elegant, with white interior and elegant material painted in brown at exterior. Tognana is a very well-known and appreciated Italian brand that offers quality ceramic cookware at a high standard (and prices too).
Pans and pots included in this set are coated with durable 5 layers German material and finished with a ceramic non-stick material. This German coating is 10 times more resistant in comparison to Teflon and it is non-toxic. The design is extremely elegant and practical. This set acquired the maximum rating from customers: 100%.
This set consists of 15 pieces:
– 2 frying pans (8" and 10.25"),
– 2 saucepans (1.5 quart and 2 quart),
– a soup pot with glass lid (4 quart),
– a Dutch oven also with glass lid (5 Quart)
– 5 utensils made of wood.
The pots and pans are black with red, anti-slip handles, coated with scratch resistant ceramic material free of PTFE, PFOA, cadmium, and lead. You can safely clean them in a dishwasher. The thick gauge aluminum ensures even cooking of foods. The 4 lids are made of glass and you can easily see food while it is been cooked.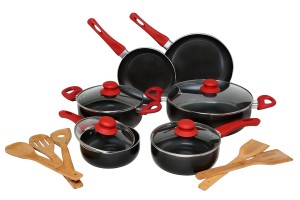 The 5-set ustensils include different spatulas and spoons.
This set has a very good price and includes many pieces, but unfortunately, customers have rated lower Some problems involve chipping paint and not working properly with induction cooktops (several customers complain that only the 2 largest pans work with their induction cooktop).
What we have here is a beautiful set with pans and pots designed with white interior and red handles and coating. The 8 pieces included in the set are:
– 3 fry pans (one of them with glass lid) of 8", 9.5", 11"
– a saucepan of 2 quart with glass lid
– a 5-Quart pot also with a lid.
All of them are coated with non-stick and non-toxic ceramic material with flat, magnetic stainless steel induction bottom, which make them also ready for induction cooktops.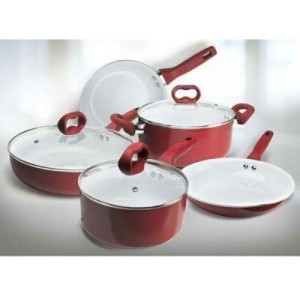 Although they are made in China, they are highly qualitative, ensure even cooking and come with lifetime warranty. Since food does not stick to it, there is no need to use oil or butter, so you can prepare healthy meals. With this set, you can braise, fry, saute and sear food. It is scratch resistant and easy to clean both on the interior and exterior sides.
Is your kitchen painted in blue? Or you just love blue? Even if the answer is no, this set of 3 ceramic nonstick fry pans may be what you are looking for to use with your induction range. Like all ceramic sets we have discussed by now in this article, this one is also both non-toxic (PTFE and PFOA free chemicals) and non-stick.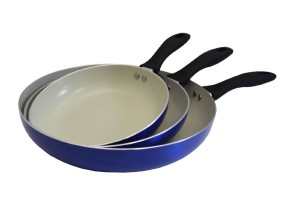 All 3 fry pans have black, silicone and long handles so there is little risk for you to burn your fingers. The interior is made of an elegant beige ceramic healthy coating.
The blue set includes:
– one 8-inch fry pan,
– one of the 9.5-inches
– a larger one of 12 inches in diameter.
Unfortunately, there is no lid in the pack, so if you need one you would have to buy it separately. These pans are produced in China and they didn't receive any feedback from customers yet.
The last set we included in this list is a complete 10 pieces bundle, including fry pans, saucepans and large pots with lids, all of them with forged aluminum non-stick ceramic coating. People will appreciate the design, the mix between intense red (outside) and clear white (inside), with forged stainless steel handles. The lids are tempered glass so you can easily monitor how food is cooked without being necessary to lift the lid and eliminate humidity.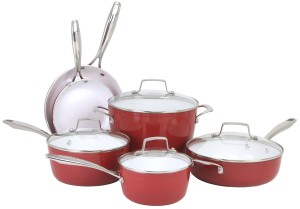 The set includes:
• one 1.5-Quart saucepan with lid
• one 3-Quart saucepan with lid
• one 3-Quart saute pan with a lid with a long handle and an extra one for helping you mix the food
• one 8-inches fry pan
• one 10-inches fry pan
• one 6-Quart stock pot with two handles on both sides
All of them ensure even heating and are capable of minimizing hot spots that can burn your food. They are easy to clean and free of toxic substances like PFOA and PTFE. However, the manufacturer does not say anything about the presence of cadmium and lead in the non-stick coating.
This set contains 10 red pieces: fry 2 pans (one of 9.5 inches and one of 8 inches) and 2 pots and 2 sauce pans, these 4 with lids made of glass (you can easily see through them while cooking). The pots and sauce pans you can find in the set are
– a Duch oven 5-quart,
– a casserole of 3 Quart,
– a sauce pan 1 Quart
– a sauce pan 2 Quart.
They look very fine and are very resistant. The ceramic coating material is PTFE/ PFOA free, cadmium and leads free. They contain thick gauge aluminum material that ensure even cooking. The coating is also anti-slip, is soft on touch and comfortable.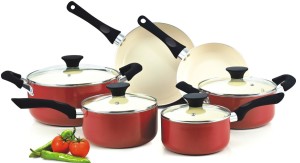 Cookware remains cool when placed on a functioning cooktop. The interior is white and the exterior material can resist to high heat and can be easily cleaned. The manufacturer recommends using wood, silicone or plastic utensils for it.
This ceramic cooking set obtained good ratings from a lot of customers that have purchased it. From their feedback, we have learned that they have found the cookware highly durable and that the non-stick surface does not scratch so easily as long as you use proper utensils.
Conclusion
In conclusion, before purchasing any pan or pot, read well the description made by the manufacturers and make sure the cookware you intent to order is free of PFOA, PTFE, Lead and Cadmium. Non-toxic Ceramic Cookware sets we have talked about in this article are safe to use and induction-ready.