Best 5 Burner Induction Cooktop for 2018 with Reviews and Comparison Chart
Choosing an induction cooktop with 5 burners can be a difficult decision to make, but certainly, some information about the best kitchen appliances of this type may guide you through the entire process of purchase.
Here you have the best 5 burner induction cooktops with reviews and comparison chart that turn to be competitive on features: from now on it is up to you to select the one that corresponds to your cooking needs.
1. Thermador
1.1 Thermador CIT365KM 5 Burner Silver Induction Cooktop with Frame
Thermador CIT365KM 5 Burner Silver Induction Cooktop
with a frame is a 5 burner induction cooktop manufactured with the highest quality available and with a stylish and innovative design.
Perfect and great gift idea, this appliance ensures your satisfaction and the satisfaction of people to who you decide to offer this cooktop.
Including an exclusive induction component technology, the unit is as responsive as gas and as convenient as electric.
If you want the flexibility of five burners and a large burner for oversized pans, this induction cooktop has both.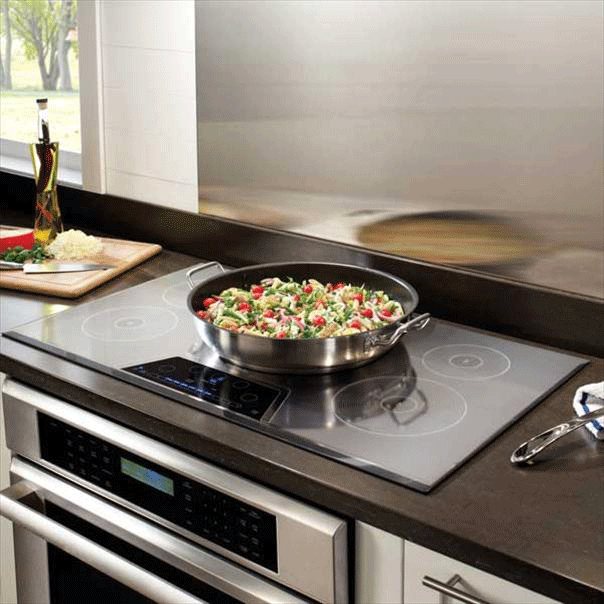 The fact that price causes sticker shock and there is lame customer service and poor installation instructions can be considered a minus, but the unit provides incredibly rapid heating, a broad range of heat levels, "Keep warm" setting and easy cleanup.
Cleaning the surface is easier than for an old coil burner cooktop with the enameled steel frame: a quarter-sized squirt of ceramic cooktop cleaner rubbed into the surface after wiping down with a damp sponge leaves it looking like new.
You get the largest cooking element on the market measuring 13 inches that provides 40% more usable cooking area than competing cooktops and ideal for accommodating oversized skillets, pots, and pans.
Also, it is the most powerful (4600W) round heating element in its class.
Unlike a gas stove, there are burner sizes which are more suited to various pot sizes. But for those burners, you need pots that are compatible.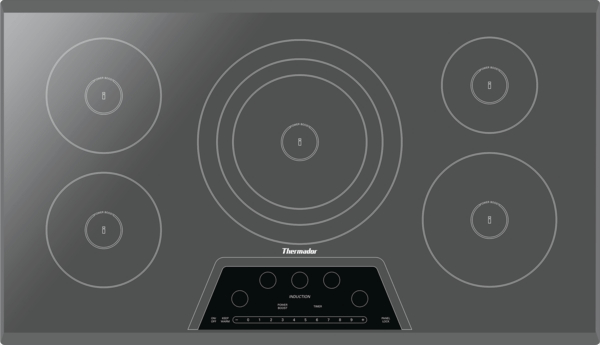 Also, when cooking, put a paper towel or parchment paper between the pot and the burner to avoid scratches.
Enjoy the chiseled and angular design that defines the suite of Thermador Masterpiece® Collection appliances.
For any Thermador induction cooktop, you receive a 2-year limited warranty for the entire appliance, parts, and labor.
2. GE
2.1 GE 5 Burner Induction Cooktop PHP9036DJBB Profile™ Series 36″ Built-In Touch Control
With this GE Profile™ Series 36″ Built-In Touch Control Induction Cooktop PHP9036DJBB
, you are going to enjoy accurately control your heating and rapid and precise heating with four induction elements.
Consider the fact that GE cooktops are a guaranteed exact fit which makes replacement easy. It is so easy to cook with 5 induction cooking elements on a sleek glass surface.
It is certitude the fact that GE Profile products offer the best in contemporary design matched with the latest in appliance technologies to transform the way you live.
You get Digital Touch controls for all elements, including the 11 in. 3700-Watt for rapidly boiling water, lets you choose quickly, while pan presence and size sensor allows you to cook efficiently.
It is designed with a ceramic glass smooth surface and this makes cleaning quick and easy. It comes with a red LED display that helps achieve a modern look that complements the entire kitchen.
Customers get surprised by the bold and dramatic look and state of the art features, but in this way, GE appliances provide the perfect combination of style and innovation throughout your kitchen.
Also, your cooking task is guided by the hot surface indicator lights that illuminate when the cooking surface is active for added safety, plus Cooktop "On" indicator light that lets you know when an element is active.
And with control lock capability, you can lock the controls, preventing unintended activation. If you lift a pot off a burner to stir it will flash the icon and shut off after several seconds.
Be aware of the fact that the glass top is very slick and pots can slide all over, so, just be careful. If you want the glass to be "streak-free", you can use a cotton towel and "CeramaBryte" cooktop cleaner
as paper towels and regular glass cleaner leaves streaks.
The cooktop display is hard to see in the evening and you need lights to turn on or off the cooktop.
3. Electrolux
3.1 Electrolux EW36IC60LS 36″ 5 Burner Induction Cooktop
Electrolux presents EW36IC60LS 36″ 5 Burner Induction Cooktop
with an exceptional and professional temperature control and cooking flexibility.
The dimensions of this appliance are height 4-3/8″, width 36-3/4″ and depth 21-1/2″. Make sure you consider the fact that the needed cut out is 35 7/8″ (min width) 36 (max width) and 20 3/8 (min depth) 20½ (max depth).
Providing unbelievable performance, the induction cooktop really does boil water in less than 60 seconds.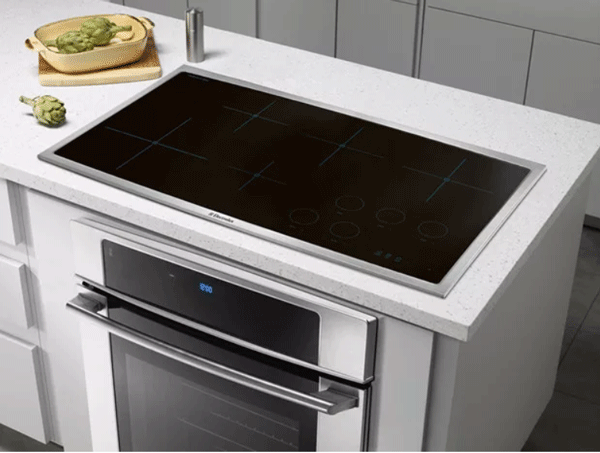 Be aware that once you use the proper cookware, the performance is outstanding. Definitely, it looks gorgeous, is incredibly easy to use and clean, and takes about 2 minutes, using stove top polish, a paper towel, and a soft cloth.
In case you have used a gas cooktop for many years, this induction cooking is a totally new experience. Electrolux EW36IC60LS 36″ 5 Burner Induction Cooktop is designed with controls that are responsive and high and low settings that are incredible.
If you love cooking, you will love it even more with this cooktop although you will need new pots and pans.
For fast and accurate cooking, when you want to get something up to a boil, you use a high setting, then when you want to take it down to a simmer, you just push the dial, and it immediately becomes a simmer and this is frankly amazing to cook on this stove.
Your induction cooktop is going to automatically adapt to different cookware sizes to provide consistent heating on all pots and pans for improved cooking results, but you must make sure that a magnet sticks to the bottom of the pot or pan in order to work.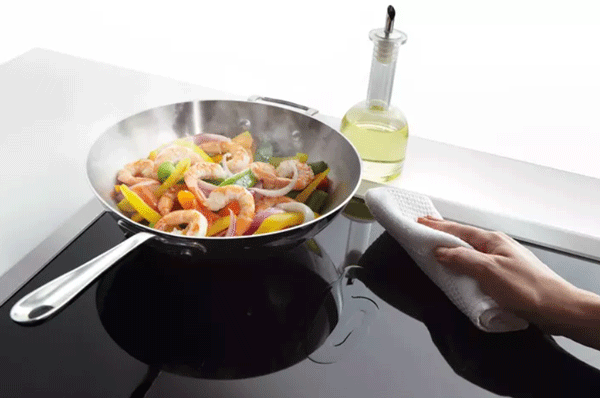 You do not have to guess while cooking as this cooktop offers you the possibility to quickly set the heat to your exact needs at the touch of the button with 25 digital preset touch settings and with no preheating required.
Cooking 70% more efficient than gas and 20% more efficient than electric, you learn how to reduce your energy bill, protect the planet and experience better cooking results with this incredible cooktop.
Get your cooktop with 3-year coverage on parts and one year on labor free of charge.
4. Fisher Paykel
4.1 Fisher Paykel CI365DTB1 36″ 5 Zone Induction Cooktop
Fisher Paykel CI365DTB1 36″ 5 Zone Induction Cooktop
is designed with 5 induction cooking zones, 3.7 kW PowerBoost function for each cooking zone, 8 heat settings, user-friendly soft touch controls and No Pan indicator.
If you want the ultimate item in induction cooking, you should know that this modern cooktop offers you the speed, precision, and simplicity of electronic control, and the easy-care elegance of a black ceramic glass surface.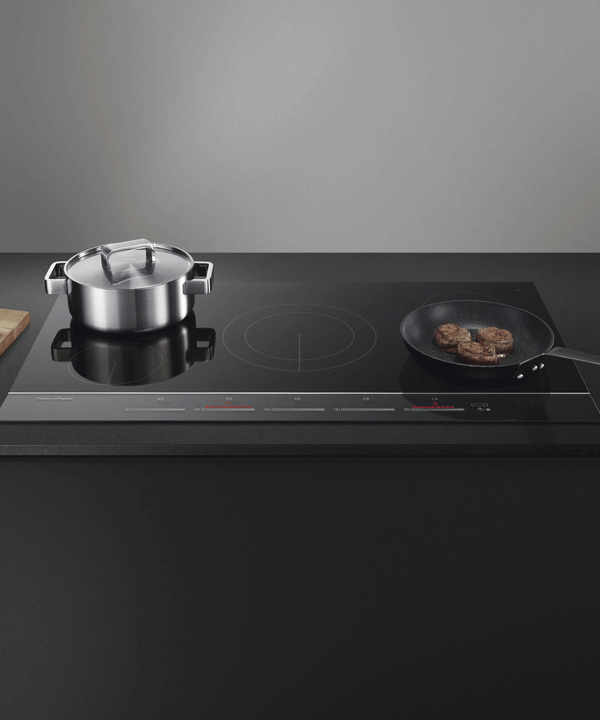 Use the key lock to lock the control panel to avoid the cooktop being switched on accidentally.
Including touch and slide controls, you get an immediate reaction when you adjust the temperature so you do not waste time in the kitchen and this means an instant response, going from a boil to a simmer in a few seconds.
It is not a secret anymore that with induction, your cooktop only starts heating your pot or pan once you have placed it on the ceramic surface and stops as soon as you remove it.
This means no more worries about curious little fingers or leaving an element on.
The PowerBoost and GentleHeat features let you cook with the needed precision: with the touch of a button, you will obtain very high or very low heat fast ideal for diverse cooking tasks such as searing meat and melting chocolate, while an integrated timer keeps you on track for easy cooking.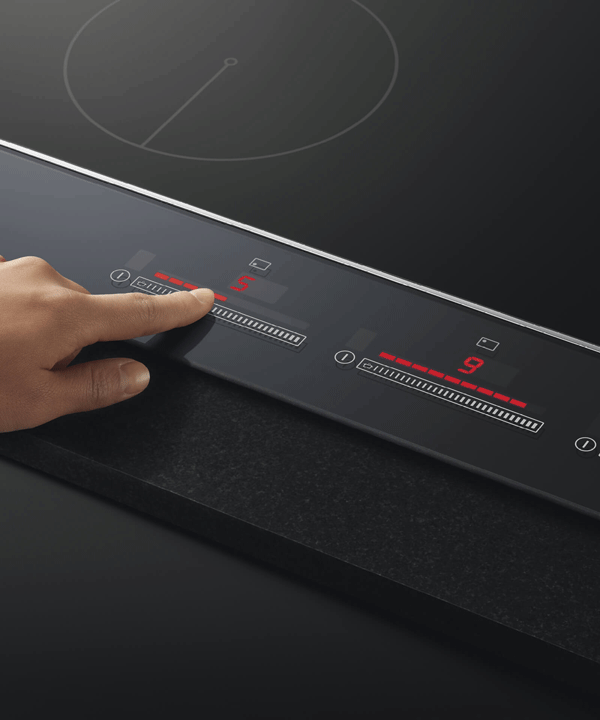 Ensuring accurate and consistent temperature control from very high to very low heats, Fisher Paykel CI365DTB1 36″ 5 Zone Induction Cooktop allows you to sear, sauté and temper like a professional.
If you wonder about cleaning, you should know that the durable ceramic cooktop surface just needs a quick wipe after use to maintain its good looks.
5. Miele USA
5.1. Miele 5 Burner Induction Cooktop KM 6370
Give it a try to Miele 5 Burner Induction Cooktop KM 6370: it provides 5 cooking zones, Con@ctivity 2.0 communication between cooktop and hood, and Direct Selection Plus control.
You will love the fact that this flush mounted black Ceran glass induction cooktop from the Miele KM63 series offers the sleekness and ease-of-use that consumers have come to rely on from the Miele brand.
With 5 variable zones, it means that you can use different sized pans for placing them anywhere on the cooktop, and with PowerFlex technology, you have the possibility to combine two zones into unique large ones.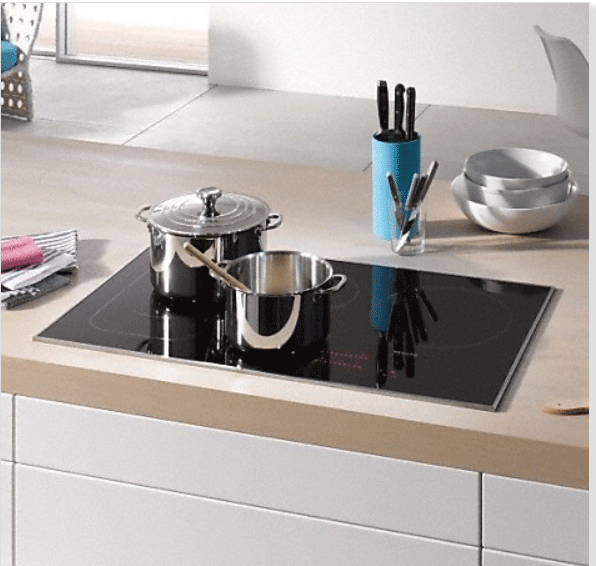 Or for particularly high-performance cooking, try the Miele TwinBooster technology and this allows you to combine the power of two separate cooking zones into a single zone.
A glass surface is a real relief: the surface remains relatively cool and hardly anything can burn onto it. Splatters and other types of staining are easy to remove thanks to the smooth surface.
Con@ctivity 2.0 communication between cooktop and hood is definitely a plus: your cooktop communicates directly with the Miele hood for proper ventilation catered specifically to your cooktop activity.
The auto heat-up setting turns down the heat from its initial power (for fast heating up) to a lower temperature (for further cooking). Such a feature makes you turn down the heat in time for avoiding burned food and also saves energy.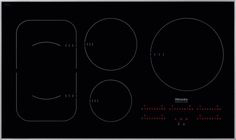 Stop&Go function for all cooking zones can be reduced to power level one with the single touch of a button.
The overheating protection brings you more efficiency: in the case of extreme use the ceramic glass or other components will not overheat as the feature switches off every heating element.
This is also available if some liquid or another item gets onto the surface by mistake: be always protected from unintentional power adjustment.
6. KitchenAid
6.1. KitchenAid KICU569XSS 5 Burner Induction Cooktop
Again, you have to do with a 5-element induction cooktop that combines precision and speed.
KitchenAid KICU569XSS has five independent cooking surface areas and also, allows the flexibility to convert four cooking zones into two large cooking zones providing additional space to accommodate specialty cookware: this is the bridge function included in the list of cooktop's features.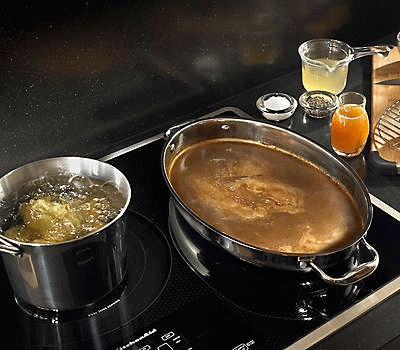 By electromagnetic technology, it means that the cooktop directly heats the pan while keeping the cooktop surface cool to the touch.
With twelve power levels, you get the necessary power to rapidly boil water and to sear scallops to perfection. So, you get various levels of heat to fine tune cooking techniques ranging from melting chocolate and simmering a sauce to searing meat or achieving a rapid boil.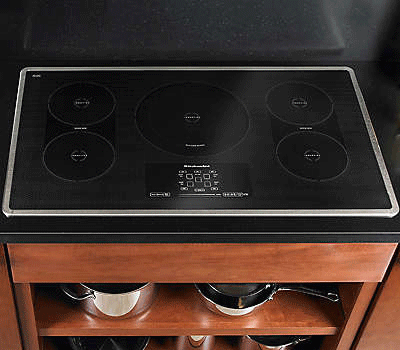 In case you need, you have a performance boost features that allow you to exceed the maximum heat-level setting for up to 10 minutes, which is perfect for rapid boiling.
The touch activated controls integrate seamlessly into the surface and include a slider for heat-level selection.
As you may intuit, the cooktop is so easy to clean, works wonderfully well and brings the liquid to a boil in 30 seconds, but cools down immediately.
However, you do have to have pots and pans that a magnet will stick to. And there is some minor noise from the cooktop, which is good in that one can tell that the hubs are working (since there is no flame as with gas or glow as with radiant).
The speed of heating of the pan is much faster than the radiant. But the bigger difference is the speed of cooling.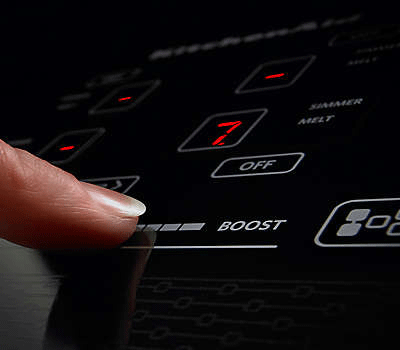 In the time it takes to lower the setting from say "9" to "3", the boil-over is stopped and simmering can begin.
But it is a major flaw in the design of this cooktop that other brands do not have an issue with unless you are trying to use the small pot on the largest hob.
7. Wolf
7.1. Wolf CI365T/S 5 Burner Induction Cooktop
If you search for a short description of Wolf CI365T/S 5 Burner Induction Cooktop, all you should know is that is highly efficient, exceptionally safe and easy to clean as it stays relatively cool.
All you have to do is to turn an element up or down, and the temperature response is instantaneous, up to 40% faster than gas or electric.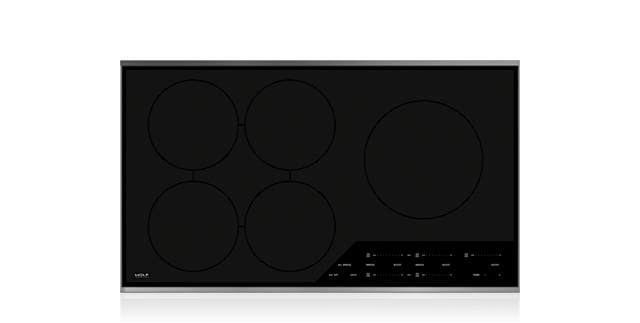 It provides five elements and five bridging options and you will discover an unrivaled ability to accommodate the widest possible variety of pan sizes and dish preparation.
Also, the 36″ Wolf induction cooktop offers 10 different cooking configurations to accommodate the dish preparation.
Wolf's large burner is on the right and this is very handy as the big pan needs the most attention, but if you are left handed it is maybe not so good.
Producing high highs and very low lows, the cooktop is perfect for faster sears and boils or gentle simmers and melts and turns to be a low-end finesse that other induction cooktops may not give you.
And during cooking, you may not afraid of the heat wasted or lost into the air because energy is supplied directly to the cooking vessel.
Feel free to use hard-to-fit cookware like grills, griddles and fish pans all at the same time. With its black ceramic glass surface, you are going to forget about scratching, staining, impact, and heat.
You get also the illuminated white LED sliding touch controls that are crisp and easy to read and a brushed stainless steel frame that makes the cooktop a sleek focal point in any type of kitchen.
In case you leave a hot burner on, you will not get energized elements without an induction-compatible pan on the surface and this means more safety.
Built with superior-quality materials, the Wolf cooktop is designed to last a minimum of 20 years under far heavier use than any home cook will ever subject it to.
8. Samsung
8.1. Samsung NZ36K7880UG/AA 5 Burner Induction Cooktop
Learn how to turn Samsung NZ36K7880UG/AA 5-burner Induction Cooktop on and off from your phone: this is the new generation of smart kitchens. You can always monitor the cooktop from your phone and will never have to worry about whether you have left it on.
With Wi-Fi Connectivity, you get the maximum safety and peace of mind as you monitor the cooktop at any time using a smartphone App that allows you to set the cooking timer and provides alerts when it finishes.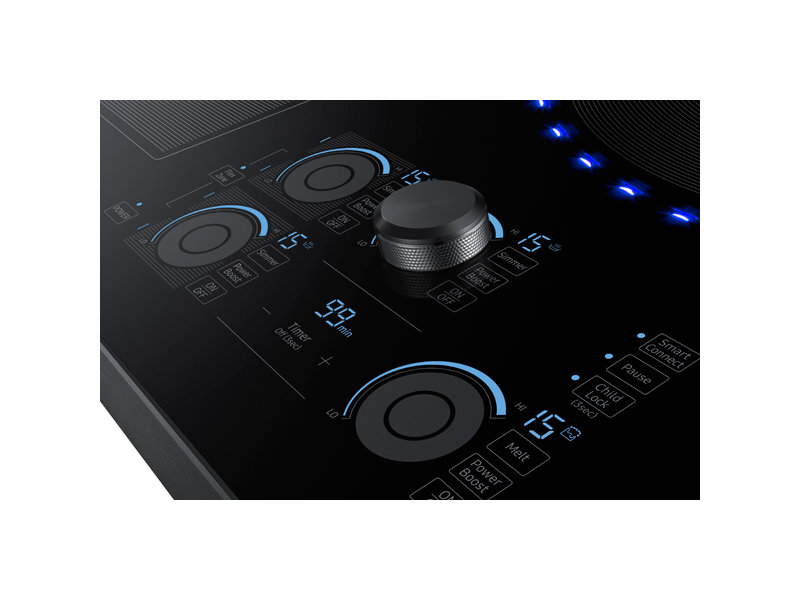 And let's not forget about the fact that it connects to the matching hood through Bluetooth and every time when you turn on the cooktop, the hood will automatically start working.
Try the 15 power levels to get just the right amount of heat for each meal, while the simmer and melt settings give you precise cooking options; you can simmer delicate sauces or melt chocolate at just the right temperatures.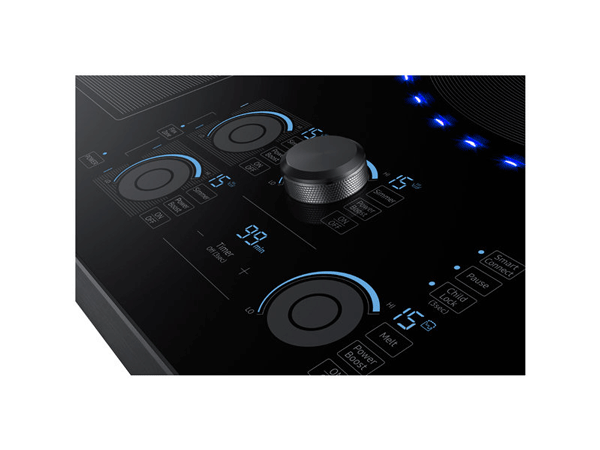 Be impressed by the fact that the cooktop boasts a sleek black stainless steel finish and plenty of modern conveniences.
The design includes a removable magnetic-analog knob and touch controls offering choices for controlling this cooktop, and LED surface lights that shine on pans for a gas-cooking look with the precision of induction.
The safety shutoff feature automatically turns off any cooking zones if things have been left cooking on them for a long time or there is no change in the operation after a certain period.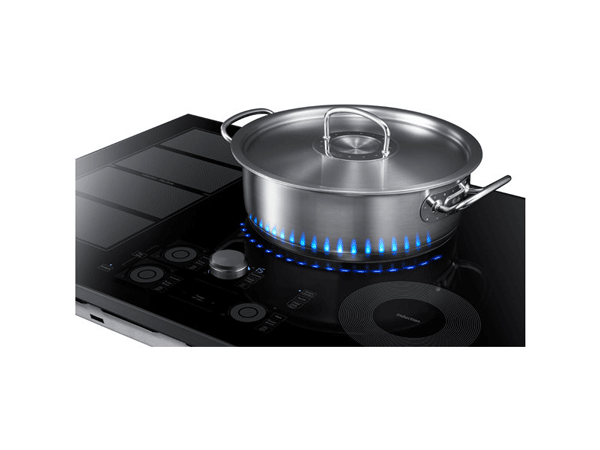 You have also a 2 Stage Residual Heat Indicator lets you safely and efficiently use any residual heat for cooking. And the safety lock functions allows for the control panel to be completely locked with just the touch of a button.
9. Comparison Table
Brand
GE Profile™ Cooktop PHP9036DJBB
Miele KM 6370
KitchenAid KICU569XSS
Wolf CI365T/S
Samsung NZ36K7880UG/AA
Design
Black on black, frameless
All-round stainless steel frame

stainless-steel

Stainless Steel Trim
Available in Stainless Steel trim or Black Stainless Steel trim
Surface
black glass surface
elegant glass ceramic surface
ceramic glass
Ceran glass-ceramic surface
a sleek black stainless steel finish
Controls
Digital touch controls
Operation via touchpad sensors multiple direct dial
touch-activated controls
touch controls
a removable magnetic analog knob or digital controls
Burners
Element – Left Front: 7″ 2500W
Element – Left Rear: 7″ 2500W
Element – Right Front: 8″ 3200W
Element – Right Rear: 6″ 1800W
Element – Center: 11″ 3700W
Front Left Burner Output: Normal
Wattage: 1,900/2,200
TwinBooster, Level 1:
2,700/3,100
TwinBooster, Level 2:
3,350/3,850
Rear Left Burner Output:
Normal Wattage: 1,900/2,200 TwinBooster, Level 1:
2,700/3,100
TwinBooster, Level 2:
3,350/3,850
Center Burner Output: Normal
Wattage:
1,700/1,950
Booster:
2,250/2,600
Rear Right Burner Output:
Normal Wattage: 2,200/2,500
TwinBooster, Level 1:
2,700/3,100
TwinBooster, Level 2:
3,350/3,850
Front Right Burner Output: Normal
Wattage: 1,250/1,450
Booster:
1,700/1,900
Center Front Size 12″
Center Front Type Dual
Center Rear Power 4800/2800W
Center Rear Size 12″
Center Rear Type Dual
Left Front Power 2500W/1800W
Left Front Size 7″
Left Front Type Bridge
Left Rear Power 2500W/1800W
Left Rear Size 7″
Left Rear Type Bridge
Right Front Power
2500W/1800W
Right Front Size 7″
Right Front Type Bridge
Right Rear Power
2500W/1800W Right Rear Size 7″
Right Rear Element-Burner Type Bridge
Large:
10 1/2″ 2,600/3,700 Boost Watts
Medium:
(4) 8″ 2,100/3,000 Boost Watts
Left Front Heating Element: Flex Zone Plus, 1800W (Boost 2600W)
Left Rear Heating Element: Flex Zone Plus, 1800W (Boost
2600W)
Right Front Heating Element: 8″, 2200W (Boost 3200W)
Right Rear Heating Element: 6″, 1400W (Boost 1800W)
Center Heating Element: 7″/11″, 3600W (Boost
4800W)
Heat settings
The settings on each burner go from 1-9, and setting 1 or 2 is to
keep items warm
N/A
12 heat level settings
N/A
15 power levels
Flex zone
No
Yes
No
No
Yes,
7 11/16″ x 15 3/4″
Power Boost
No
Yes, TwinBooster Function
Yes, Performance Boost
Yes, Boost Mode
Yes
Cooktop control features
All-Off Control
Control Lock Capability
Kitchen timer
Melt Setting
Sync-Burners Capability
Pan/Pan-size sensors
Stop & Go function
Minute minder
Automatic switch-off for all rings
AutoBoost
Keep-warm function
Automatic function Con@ctivity 2.0
Safety cut-out
Lock function
Overheating protection
Residual heat indicator
Simmer Function Pan
Size Detection
Control Lock
Cookware Sensing
Melt Setting
Independent Timer up to 99 minutes
Control Panel Lock
Power Boost
WiFi Connectivity Bluetooth Connected to Hood
Melt Setting
2-Stage Residual Heat Indicator
Child Safety Lock
Safety Shutoff
Power/rating
Amp Rating at 208V: 50
Amp Rating at 240V: 50
KW Rating at 208V: 9.6
KW Rating at 240V: 11.1

240/208V, 60Hz, 50A

50 amps, 240 volts
Supply: 3-Wire, 240/208 VAC, 60 Hz
Service: 50 Amp Circuit
240V, 60Hz, 45 Amps
Dimensions
Approximate Shipping Weight: 55 lb
Cabinet Width: 36 in
Cooktop Size: 36 in
Cutout Dimensions (Width x Depth) (In.): 33-7/8 x 19-1/8
Net Weight: 48 lb
Overall Depth: 20 3/8 in
Overall Height: 4 5/8 in
Overall Width: 36 in
Dimensions in in. (width): 36 1/8 (915)
Dimensions (depth) in in.(mm): 21 1/2 (544)
Weight in lbs. (kg): 59 (27) Cutout
dimensions (width) in in.(mm): 34 1/2 (876)
Cutout dimensions (depth) in in.(mm): 20 1/2 (518)
Depth 21 5/16
Height 3 1/8
Width 36 5/16
Cutout Depth 19 5/16
Cutout Height 0
Cutout Width 33 1/16
Overall Width: 36″
Overall Depth: 21″
Overall Height: 2″
Cutout Width: 35″
Cutout Depth: 19 1/2″
Weight: 61.0 Lbs.
Shipping Weight: 70.0 Lbs.
Cooktop Width: 36″
Cooktop Height: 4″
Cooktop Depth:
21 1/4″
Shipping Width:
40 1/6″
Shipping Height: 7 5/16″
Shipping Depth: 25″
Cutout Width: 33 3/4″
Cutout Height: 4″
Cutout Depth: 19″
Cooktop Weight: 58.8 Lbs.
Shipping Weight: 69.9 Lbs.
LED lights
Indicator LED lights: 5 Hot
Surface
Red
Setting Level Indicators
Surface Element "ON"
Yes
Yes
indicators including boost mode, illuminate on the control panel.
LED Surface lights shine onto pans to give the visual of gas
cooking
Power cord length
36″
3 (1.2)
N/A
4 Ft. Flexible
N/A
Warranty
Parts and Labor: 1 Year
Parts and Labor: 1 Year
Parts and Labor: 1 Year
Parts and Labor: 1 Year
Parts and Labor: 1 Year