36″ Bosch NIT5666UC 500 Series – a state-of-the-art electric induction cooktop
For various reasons (among which but not limited to ease of use, time and energy saving, easier cleaning and maintenance) cooktops have become a more and more reliable alternative to gas cooking. There are lots of cooktops out there, coming in various sizes, colors, features and prices, and all that makes it even more difficult to decide on a specific model.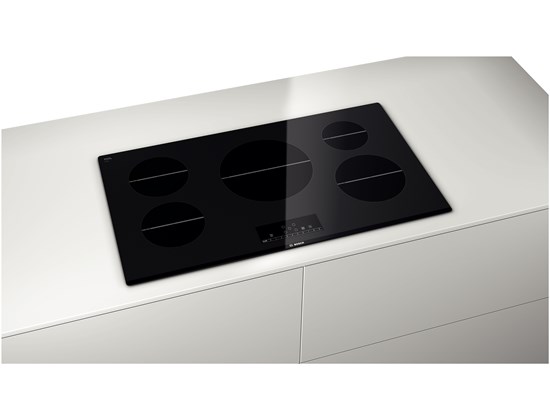 Today we have the Bosch NIT5666UC 36″
500 under the scope and we will show you why it is an appliance you should consider. For starters, it is a German brand, and Germans are known to be very reliable when it comes to designing and crafting effective machines, be it a power drill or an electric cooktop. And the NIT 5666UC is no exception.
Available in black only, it is slim but solid, packed with a range of features to make cooking a walk in the park. And for those out there concerned with protecting the environment or merely cutting down on the electricity bill, it has built-in Eco functions to turn off the device when not used and thus save energy. But enough chattering, let's see the details.
Controls
First of all, the Bosch NIT5666UC 500
has independent controls for each of the five heating elements: touch control buttons, LCD indicator with power level 0 – 9, including a residual heat indicator, and SpeedBoost control for rapid heating. Apart from those, there is an On/Off button, a general Panel Lock/Child safety button, and a timer button.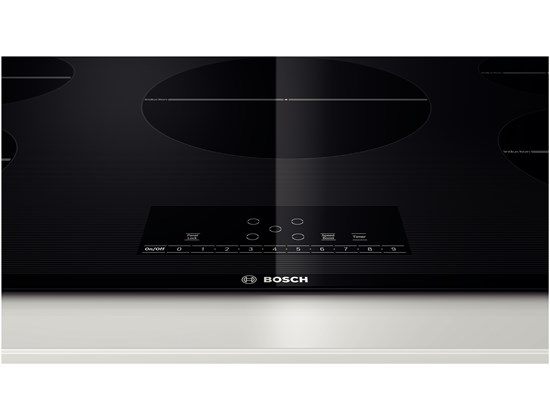 The control buttons allow setting the temperature for each element, ranging from the lowest (0) to the highest (9). The SpeedBoost button/feature boils water twice as fast as conventional electric cooktops, a very useful feature when in a hurry.
Furthermore, the residual heat indicator will show the user which element is not cold yet (even with the element turned off, the indicator will stay lit while the cooktop is still hot).
Should you forget to turn the heating element off after removing the pan, the residual heat indicator and the selected power level indicator will flash alternatively. Turning the element off is as easy as setting its power level to zero.
Surface
The glass ceramic surface of the appliance can be easily cleaned with a paper towel or a sponge. There are, however, some precautions you should take while doing so.
Clean the surface when it is completely cool, except for removing dry sugar, sugar syrup, tomato products and milk. This should be done immediately using a razor blade scraper. Spatters can be wiped off with a clean, damp sponge or a paper towel but only after the surface has cooled enough to avoid burns or other injuries.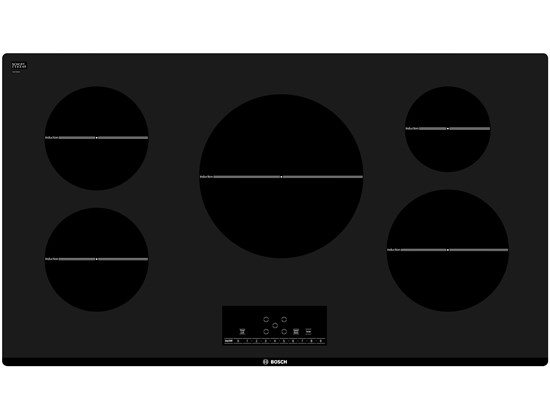 In order to make cleaning easier, the cooktop has a touch Clean Lock. The respective indicator above it will light up when activated . The control panel is locked for approximately 35 seconds in order to prevent changing any setting while wiping off the stains. After the time has elapsed a beep will sound and the Clean Lock will be deactivated.
The Clean Lock function does not affect the main switch. You can turn off the cooktop at any time.
Heating Elements
Each heating element can be configured individually. Below there are the maximum power levels for them:
Power of Front Left heating element 1,800 W
Power of Front Left heating element (in boost) 2,500 W
Power of Back Left heating element 1,800 W
Power of Back Left heating element (in boost) 2,500 W
Power of Center heating element 2,800 W
Power of Center heating element (in boost) 3,600 W
Power of Back Right heating element 1,400 W
Power of Back Right heating element (in boost) 1,800 W
Power of Front Right heating element 2,200 W
Power of Front Right heating element (in boost) 3,700 W
Burners with booster – All
Sensors
PotSense – the size of the cookware item is automatically detected.
ChildLock – prevents the appliance from being accidentally turned on. It also locks the temperature level during the operation of the appliance.
SafeStart (see "Safety Features" for further information) – the appliance will not start if there is no pan on any of the five heating elements.
Ventilation
Ventilating the appliance should be easy to do as long as the below specs are observed:
Required cutout size (HxWxD) – 4 1/8″ x 34 7/8″ x 20″
Minimum distance from counter front – 2 1/4″
Minimum distance from rear wall – 2″
Safety Features
If there is no cookware on the induction cooking zone, the heat setting display blinks. After a while, the cooking zone will switch itself off. If cookware has been placed on the cooking zone before you turn on the cooktop, it will be detected within 20 seconds after you have touched the main switch and the cooking zone will be selected automatically.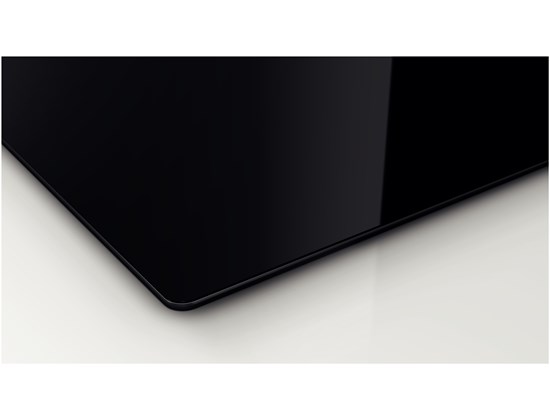 Once detected, set the power level within the next 20 seconds, otherwise the cooking zone will turn off. Even if there are several pots and pans on the cooktop when it is switched on, only one piece of cookware is detected.
Also, an automatic shutoff function is activated when the settings have not been changed over an extended period of time. The time when automatic shutoff is activated is based on the temperature selected. The Shutoff Activated indicator will appear in the display (resembling "F8") and the operation will be interrupted.
Apart from that, when touching several controls at once, nothing will happen, i.e. settings will not change. This is a safety feature allowing the user to safely clean any food that spilled over.
Accessories
(sold separately)
Any induction cooking suitable cookware (made of ferromagnetic metals such as cast iron or enameled steel) with a diameter ranging from 8" to 10".
Also, there are few other accessories you might need, such as
Cerama Brite Cooktop Cleaner
, Cerama Brite Burnt-On Grease Remover, or a Complete Cooktop Cleaner Kit packed with all the tools and substances needed for the maintenance of the appliance.
Dimensions
Overall appliance dimensions (HxWxD) – 5/16″ +4 1/8″ x 36″ x 21 1/4″
Net weight – 50 lbs
Gross weight – 60 lbs
The five cooking elements vary in dimensions, making it easy to use pans or pots of the desired size. Here are the specific dimensions:
Dimension of Front Left heating element – 7″
Dimension of Back Left heating element – 7″
Dimension of Center heating element – 11″
Dimension of Back Right heating element – 6″
Dimension of Front Right heating element – 8″
Although installation is quite easy provided you have the tools needed, it is recommended to be done by a qualified technician in order to ensure proper wiring and fitting and to avoid the risk of injury and/or fire.
Pros
Cons
Customer rating
The Bosch NIT5666UC got very few reviews on selling sites such as Amazon, Sears Outlet or Johnson's Mertz. There is one complaint on Amazon
about the device turning off automatically, but we have already covered that above, it is a feature, not a malfunctioning problem.
Price
The item is currently on sale on Amazon
, which is the lowest price for the time being.