7 Best 3 Burner Induction Cooktops Comparison Chart
Cooking with induction cooktops is a real pleasure as they are very fast, efficient, great energy savers and easy to clean.
Induction cooktop ensures you the possibility to save time and effort creating delicious culinary delights.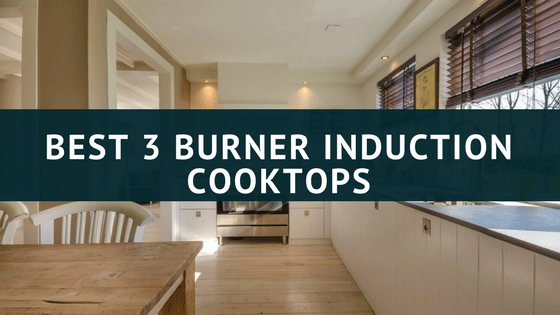 The cooktop surface itself does not get as hot as a gas or electric stovetop thanks to the heat is transferred directly to the cooking vessel.
Having a 3-burner cooktop, you will get more flexibility while cooking.
It is so simple to separately adjust the settings for each individual burner in order to meet your culinary needs.
And do not worry about the place of such cooktops: despite any individual kitchen of an apartment or house where the cooktop can be installed, they can be used in commercial kitchens, restaurants, or other business establishments where food is dispensed.
The following list with the best 3-burner induction cooktops will help you make a decision if you want to redecorate your kitchen or simply, you need a cooker.
Have a look at all the characteristics of cooktops and choose the unit you need.
1. True Induction
1.1 True Induction TI-3B 3 Burner Induction Cooktop
True Induction TI-3B Energy Efficient Induction Cooktop is considered to be one of the best induction cooktops on the market and if you are looking for such a unit, here you have your solution.
Being UL 197 Commercial Certified, there is no secret anymore that this cooktop could be used in commercial kitchens, restaurants, or other business establishments where food is served.
Forget about other three burner induction cooktops on the market that require direct 220V wiring: the TI-3B can run off two 110V outlets and this eliminates the need to hire an electrician.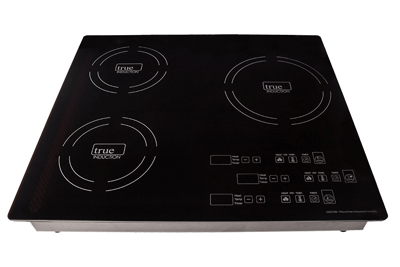 Also, consider the fact that the optimal cookware for induction cooktop needs to have a flat bottom and a diameter of 4.5 to 10 inches.
What you have to do is to be sure that each plug has a dedicated breaker for optimal cooking conditions. It has 2 chords, each requires a dedicated line to the fuse box.
Since there is no heat generated in the actual cooktop clean up is such a breeze since nothing gets burned onto the glass surface also making it super safe for kids around.
Each burner has its own set of controls and these controls are simple to use and do not have any unnecessary buttons. And with its safety features, it guarantees you a safe cooking: it has a sensor that knows when a pot or pan is placed on the burner and when it is taken off.
If you forget to turn the burner off but did remember to take the pot or pan off the burner, the cooktop will register this; after a standby time the cooktop will automatically turn off allowing for a safer cooking environment.

One small disadvantage is given by the fact that you cannot lock the buttons so every time you go to clean it, it beeps that it is turned on but there are not pots there, just a minor inconvenience.
However, its seamless ceramic-glass cooking surface design makes the cooktop easy to clean and as there are no crevices on the cooktop, you longer have to worry about crumbs getting stuck in those hard to reach areas.
2. Miele
2.1 Miele KM6320
Miele KM6320 24 Inch Induction Cooktop is another option when it comes to induction cooktops that offer 3 variable zones, where different sized pans can be placed anywhere on the cooktop.
You will also enjoy PowerFlex technology that allows you to combine two zones into unique large one.
Particularly high-performance cooking can be ensured by the combination of the power of two separate cooking zones into a single zone and this is what Miele TwinBooster technology does.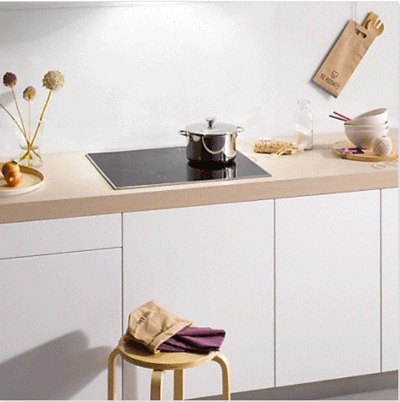 There are other reasons why you should purchase Miele KM6320: first, it is all about Con@ctivity 2.0 communication between the cooktop and hood, and then, Direct Selection Plus control.
Regarding the design, this stainless steel-mounted black Ceran glass cooking surface is ideal for its sleekness and ease-of-use that consumers have come to rely on from the Miele brand.
Safety while cooking is guaranteed by the fact that if liquid or another item gets onto the surface by mistake, the cooktop automatically switches off as well.
So you are always protected from unintentional power adjustment. Also, the overheating protection automatically switches off the heating element of the cooking zone in the case of extreme use before the ceramic glass or other components can overheat.
With zones and burners in different shapes and sizes, this allows you to use pans of every shape and size on the cooktop. With the Stop&Go function, all cooking zones can be reduced to power level one with the single touch of a button. In this way, the cooktop can be left unattended for a short period without food overcooking or burning.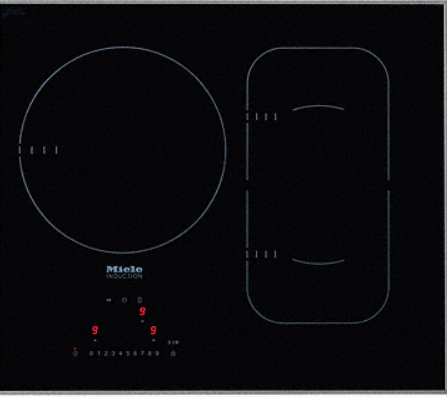 Auto heat-up function means that you can turn down the heat from its initial power (for fast heating up) to a lower temperature (for further cooking): so, you can turn down the heat in time-saving energy, and food will not burn.
Get your Miele KM6320 induction cooktop with touch controls and with the PowerFlex cooking area for maximum versatility and performance!
3. Wolf
3.1 Wolf CI243CB 3 Burner Induction Cooktop
Take your time to meet Wolf CI243CB 24 Inch Contemporary Induction Cooktop with its sleek surface that dwells a cooking technology of startling precision and power.
Also, this unit is perfect for any kitchen as it is highly efficient, exceptionally safe and easy to clean because the cooktop stays relatively cool.
With its three elements to accommodate a variety of pan sizes and dish preparation and compact design coordinates nicely with any kitchen especially apartment-sized, you have found the best alternative to induction cooktops.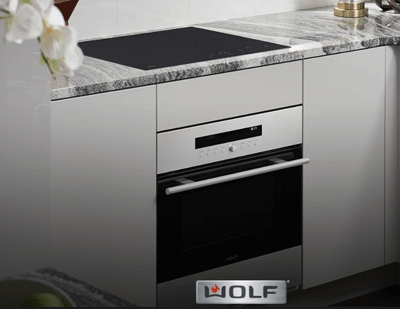 And do not worry about anything as the black ceramic glass surface resists scratching, staining, impact, and heat. Get surprised by the illuminated white LED sliding touch controls that are crisp and easy to read.
Choose to mount the frameless contemporary induction cooktop flush with the top of a countertop or sitting on top of the countertop surface.
And from now on, just enjoy the flexible cooking area as the three elements and a bridging option accommodate a wide variety of pan sizes and dish preparation.
The incredible control that provides means that you are going to experience a delivery of lightning-fast high heat or very low lows, with a melt setting for gentle heat and a true simmer setting to prevent scorching; this will not be possible for a low-end finesse other induction cooktops.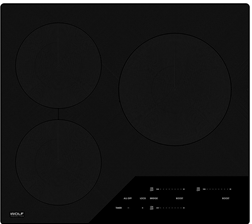 If you have decided to purchase Wolf CI243CB, you would get a limited five-year warranty from the date of original installation and Wolf Appliance promises to repair or replace the defective parts in materials or workmanship.
Also, the full 2-year Wolf Appliance product warranty covers all parts and labor to repair or replace, under normal residential use, any part of the defective product in materials or workmanship.
4. Bosch
4.1 Bosch Benchmark® NITP068UC 30″ 3 Burner FlexInduction® Cooktop
Or give it a try to Benchmark® 30″ FlexInduction® Cooktop, NITP068UC, Black Frameless. Certainly, you will consider it very soon a perfect addition to your kitchen.
You get a FlexInduction feature capable to provide more flexibility by combining two cooking zones into one larger zone. Also, there is a PowerMove that divides the FlexInduction into 3 preset power level zones.
For changing the power level, there is so easy to do: Simply move your cookware to change the power level.
Another function, SpeedBoost makes boiling water twice as fast as conventional electric cooktops. Do not forget to always use the keep warm feature to bring the heat to a perfect level to keep meals warm or to simmer soups.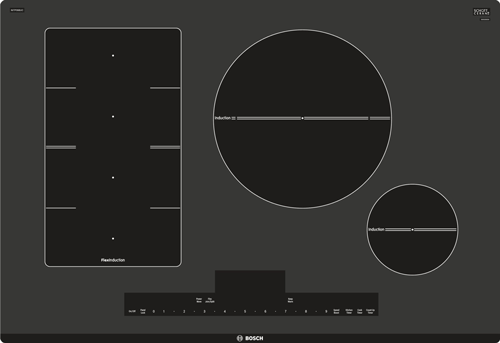 When cooking, you have to just select 17 different cooking levels using numerical controls, as opposed to scrolling through a confusing menu and these levels will make so easy your cooking tasks.
Some safety features are PotSense that will automatically recognize the bottom of the pan on a cooking element and only heat that area, and the SafeStart feature.
With the last function, your induction cooktop will be capable to accurately distinguish between pots or pans and smaller items like utensils that may accidentally be left on the cooktop.
So, you have nothing to do as each cooking element will only heat up if a pot is detected on the cooking surface.
And of course, your cooktop has a ChildLock that prevents it from being accidentally switched on and locks temperature settings if in use.
For cleaning, you have less to do: cleanup is simple as mild soap with a nonabrasive sponge is the way to go. Wipe off with a wet sponge or dish towel and dry with a paper towel; it will shine like new each time.
5. Smeg
5.1 Smeg SI5633B 3 Burner Induction Cooktop
Smeg SI5633B is another option for your necessity: it is a 3-burner induction cooktop manufactured by Smeg.
Smeg is known as an Italian home appliance manufacturer producing built-in appliances to suit a variety of cooking styles, food preference, and kitchen layouts.
It is very famous as it has worked with renowned designers to create a wide range of built-in appliances.
The unit has a total number of 3 induction cook zones with 9 power levels (each cook zone has a Booster cook zone for more power and control when cooking).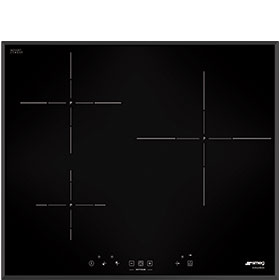 Perfect cooking is ensured by the cooktop options: simmering function, end cooking timer, end of cooking acoustic alarm, residual time indicator, control lock and child safety and limited power consumption mode.
For safety, make sure that your electrical connection will work with the new cooktop; the necessary electrical requirements are electrical connection rating (W) 7200 W, current (A) 30.4 A, voltage (V) 220-240 V, voltage 2 (V) 380-415 V, cord type universal and frequency (Hz) 50-60 Hz.
For more protection, the unit is designed with technical features such as automatic pan diameter adjustment, protection against accidental start-up, residual heat indicator, pan presence detection, an indication of the minim pan diameter, automatic switch off when overheating and when overflowing.
6. Blanco
6.1 Blanco BIC63T
Why not Blanco BIC63T? It is an induction cooktop of 60 cm with 3 zones, touch controls, and bevelled edges.
From now on, you get 10 different settings including Boost you can select the ideal cooking temperature for all types of foods to provide the perfect cooking results.
With AcuSense technology, your cooktop can detect the size of pots and their position on it.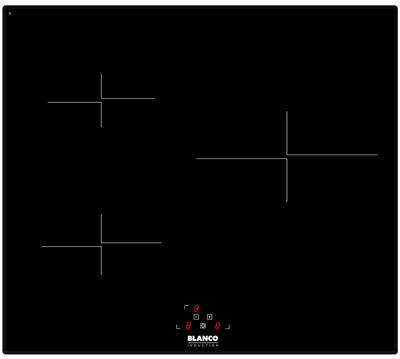 Cook using the large 27cm zone with 3000W power: this zone is big enough to accommodate most pots and pans and is powerful enough to cook even the most heat demanding dish.
Or why not, use the Boost function to get to the maximum power level and it will stay on maximum power for 5 minutes (unless deactivated) before dropping back to power level 9.
EGO G5 induction technology means that all the three powerful individual zones are utilized to its full extent, without cold spots.
With its own 99-minute timer function, each burner provides you a convenient and easy way to program the cooking time on any cooking zone.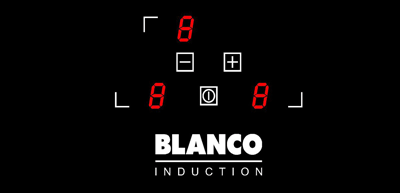 Do not worry if the unit will shutdown automatically; this is possible if the pan is boiling over and spills on to the touch controls or a damp towel is placed over the touch controls.
Stop N Go Function helps prevent children from accessing cooktop controls, as you can either 'lock' the cooktop whilst in operation or when it is off.
7. AEG
7.1 AEG HK673520FB PURE 3 OPTIZONE INDUCTION COOKTOP
AEG HK673520FB PURE 3 OPTIZONE INDUCTION COOKTOP is considered to be a must-have for contemporary kitchens as it provides superior cooking efficiency and flexibility in a striking design.
It is an induction cooktop and this means that it is going to heat only the cookware, not the surrounding air, and the cooking process is more focused, more energy efficient and safer.
It is the time to enjoy the contemporary design as the cooktop has a pure black surface that lights up when switched on to reveal backlit. Of course, the touch controls and the OptiZone cooking surfaces are other reasons why AEG 60cm Pure 3 OptiZone Induction Cooktop fits any kitchen.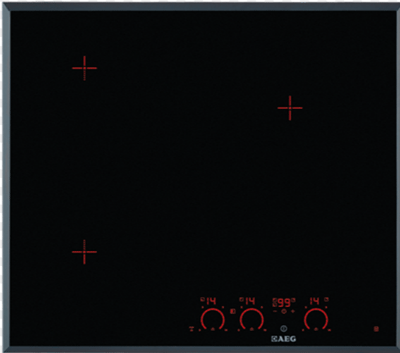 Its cooking zones are known as OptiZone: they are not circular cooking areas, but however, detect the presence and location of your cookware offering you greater flexibility.
You have a Bridging function which means that you can place cookware across paired zones for an increased cooking surface.
Do you want to reduce your cooking time? This is possible as the unit integrates AEG's AutoMax technology which is going to detect the zone you are cooking in, to quickly bring the temperature to the max, then to reduce it to your desired heat.
Such a cooktop cooks very well, from the most extreme heat to the lowest simmer. The touch controls are easy to adjust and you will have no trouble working out how to use the different functions.
And the ceramic top is simple to clean. It is true that it is a little on the expensive side, but worth spending the extra for a quality and easy-to-use product.
8. Comparison Table
Brand
True Induction TI-3B Energy
Miele KM6320
Wolf CI243CB
Benchmark® 30″ FlexInduction®
Cooktop, NITP068UC
Smeg SI5633B
Blanco BIC63T
AEG HK673520FB PURE 3
Design
ceramic glass and metal housing
stainless steel-mounted black Ceran glass induction cooktop from
the Miele KM63 series
Ceran glass-ceramic surface for scratch resistance and easy
cleaning.
Black surface with stainless steel fram
ultra-low profile installation, ceramic glass
bevelled edge
frontal controls
touch controls and bevelled edges
black ceramic glass and bevelled sides only
Power requirements
It runs off two 110V outlets or can be wired direct to 220V power
240/208V, 60Hz, 40A
3-Wire, 240/208 VAC, 60 Hz, 30 Amp Circuit
Amps: 30A
Volts: 208/240V
Current (A): 30.4 A, Voltage (V): 220-240 V, Voltage 2 (V): 380-415
V, Frequency (Hz): 50-60 Hz
Single Phase 220-240V – 28 amp
Double Phase 280-415V – 16 amp – hard wiring required
Type of connection: hardwired, Connected load KW: 7.4
Maximum Wattage
3300 watts
3,850, a unique large zone (9″ x 15″), up to 7,700W
3,150 Boost Watts
N/A
2100W, Electrical
connection rating (W): 7200 W
3000W
3200 W
Dimensions
23.2″ W x 20.5″L x 3.5″ H
Width:
24 5/8″
Depth:
21 7/16″
Height:
4 3/4″
Overall Width: 23 5/8″
Overall Depth: 21″
Overall Height: 2 1/2″
Width: 31″
Depth: 21 1/4″
Height: 1/4″
N/A
590W x 520D mm
H x W x D: 55 mm x 590 mm x 520 mm
Weight
25.0 pounds
45 Lbs.
42.0 Lbs.
N/A
N/A
N/A
N/A
Safety features
the sensor that knows when a pot or pan is placed on the burner
and when it is taken off and after a stand-by time, the cooktop will
automatically turn off
Auto heat-up, pan size recognition, overheating protection, child
safety lock and safety switch-off
Control Panel Lock, Cookware Sensing
PotSense,
SafeStart,
ChildLock
automatic pan diameter adjustment, pan presence detection,
automatic switch off when overheat and overflow, residual heat indicator,
protection against accidental start up, controls lock / child safety
Stop N Go Function, Overflow Cut Off, AcuSense Technology
safety cut off, overheating protection, safety child lock,
function lock, sound off, automatic pan sensing
Diameter of pot
the bottom must be flat with a diameter between 4.5″ to
10″ inches.
Only pots and pans
with smooth bases
N/A
N/A
N/A
N/A
N/A
Usability
It can be used as a counter inset or could as a portable unit, in
commercial kitchens, restaurants, or other business establishments where food
is served
Con@ctivity 2.0 communication between the cooktop and hood
It can be mounted flush with countertop.
N/A
functional characteristics of quality with a design that combines
style and high technology
N/A
A must-have for contemporary kitchens
Warranty
2 years
N/A
Full two year warranty, limited five
years warranty
N/A
1 year
2 years
5 years